Top 5 innings of 2017 postseason so far
A look at the moments that have best captured magic of October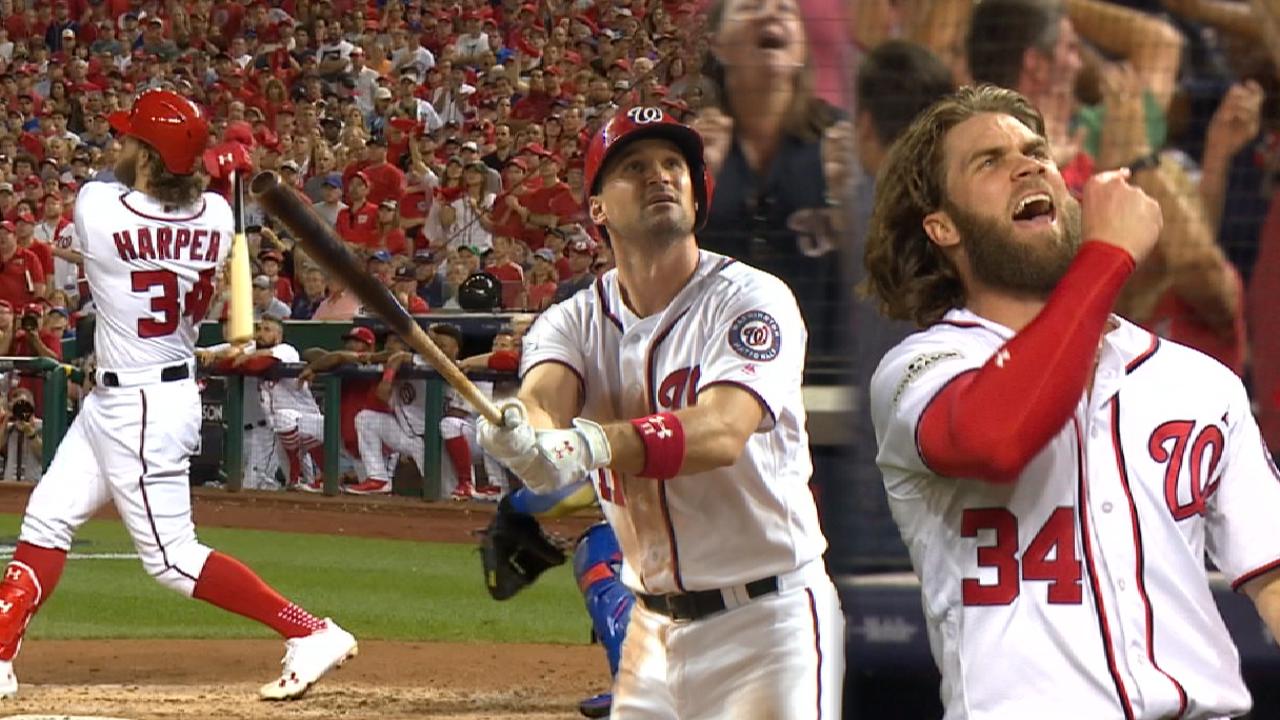 We've seen enough October baseball this year to remember that feeling. It's the way everything slows down for the importance of each pitch. It's the crispness in the air and the way a ballpark can go from abject silence to utter pandemonium with one well-timed crack of the bat or one back-and-forth inning that seems like an epic series in itself.
There's already been plenty of unforgettable drama during the opening rounds of the 2017 postseason. Here are the top five individual innings that thus far have best captured the magic of October in Major League Baseball:
1. Eighth inning, National League Division Series Game 2, Cubs at Nationals, Oct. 7
Coming off a Game 1 loss at home, the Nationals hadn't generated much noise in Nationals Park, heading to the plate down, 3-1. Adam Lind stirred things up a bit with a leadoff single to left field against Cubs reliever Carl Edwards Jr., and after a strikeout by Trea Turner, the fans got to their feet as Bryce Harper strode to the dish.
Harper hadn't homered since coming back from his knee injury, but the heart of the Nationals delivered a much-awaited signature moment, hitting a no-doubt homer to right field to tie the game and send the stadium into a frenzy. Then, after an Anthony Rendon walk and Daniel Murphy single, the soul of the team, veteran Ryan Zimmerman, followed suit with a homer to left that put the Cubs away.
"I think everyone has a thing where we're all pulling that same rope every single day," Harper said. "You play for 27 outs, and that's what we do."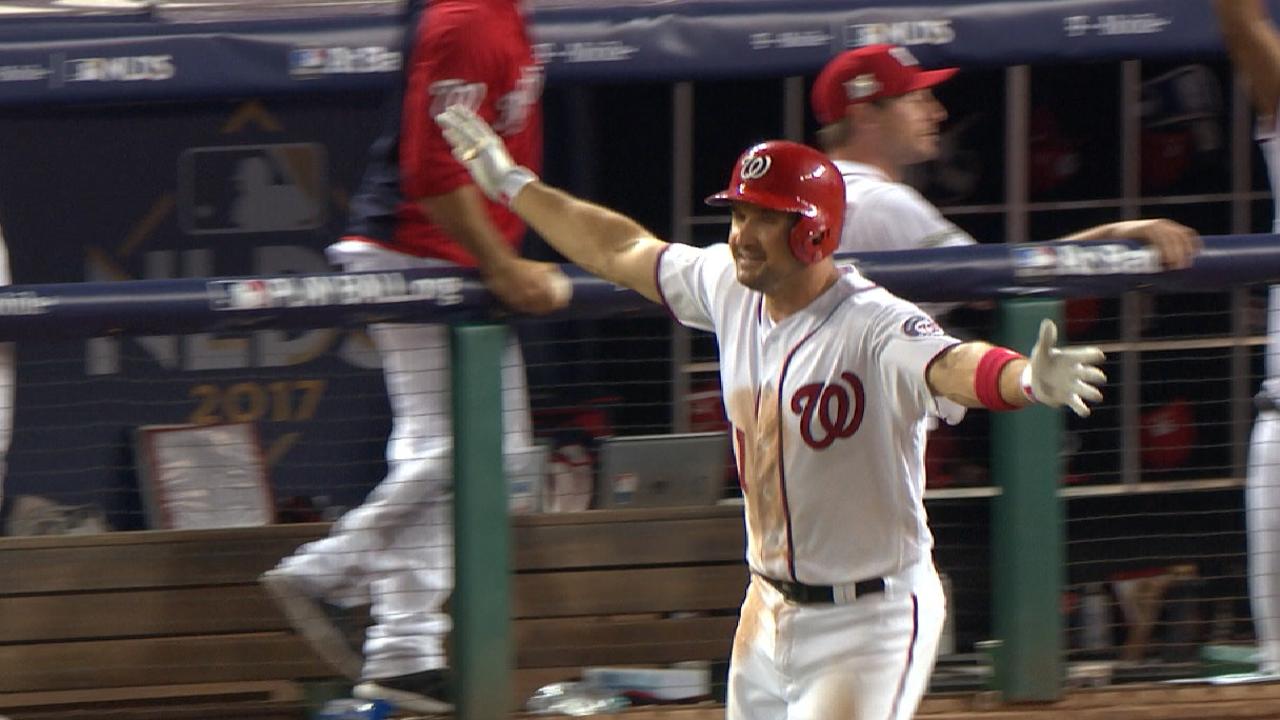 2. Sixth inning, ALDS Game 2, Yankees at Indians, Oct. 6
The favored Indians won Game 1, but the Yankees were putting on pressure in hopes of leaving Cleveland with a split. They knocked around starter Corey Kluber (six earned runs in 2 2/3 innings) and had an 8-3 lead in the sixth, and they had watched as Indians slugger Edwin Encarnacion left the game with an ugly ankle injury. That's when things got even more interesting.
From the depths of silence at Progressive Field came a bit of a spark when Carlos Santana worked a leadoff walk against New York starter CC Sabathia. That dissipated slightly with a Jay Bruce lineout, and, after the Yankees replaced Sabathia with one of their best relievers, Chad Green, an Austin Jackson flyout.
But the Indians weren't done. Yan Gomes doubled to left, Green hit Lonnie Chisenhall with a pitch and, with the bases loaded, Francisco Lindor made the biggest swing of the year, blasting a grand slam off the right-field foul pole to put his team right back in the game, trailing only by a run in a suddenly electrified ballpark. Seven innings later, Gomes finished off the unlikely win with a walk-off single in the 13th.
"The way everyone battled and everyone got together, that was pretty special to watch," Lindor said. "And one of the most amazing experiences of my life."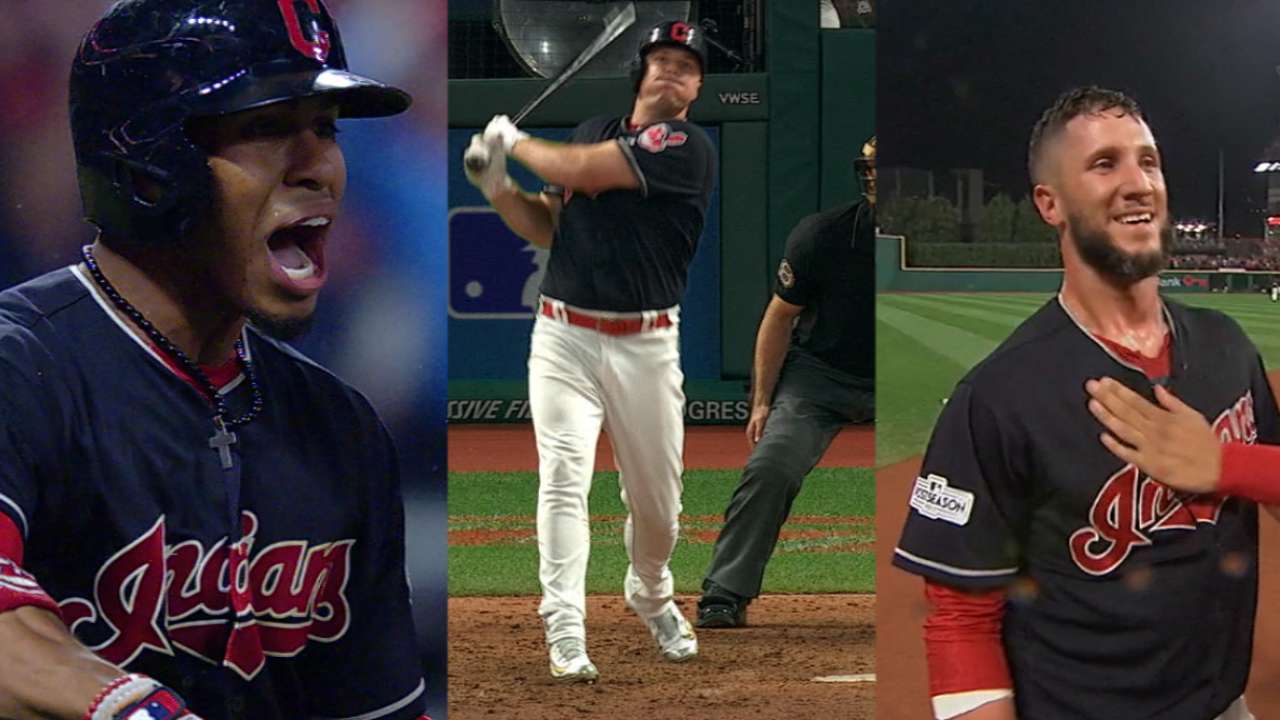 3. Eighth inning, American League Division Series Game 4, Astros at Red Sox, Oct. 9
Red Sox ace Chris Sale entered out of the bullpen in the fourth and kept his team in it, despite facing elimination. That was dramatic enough to begin with. Then, he began the inning with a 3-2 lead that quickly evaporated when Astros third baseman Alex Bregman led off with a home run, quieting Fenway Park.
Two batters later, Evan Gattis added to the crazy with a base hit on a strange ground ball that clipped the third-base line right before skipping toward the bat girl, who mistakenly touched the fair ball in play. Umpires kept Gattis at first base, and he was replaced by pinch-runner Cameron Maybin. Sale got Brian McCann to line out to right field, and Boston manager John Farrell turned to closer Craig Kimbrel.
Kimbrel threw a wild pitch to George Springer, allowing Maybin to take second base, en route to a walk. That set the stage for Josh Reddick, who made his big league debut with Boston in 2009, but didn't seem like he wanted to sentimentalize about it. He rifled an opposite-field single to left to give Houston the lead for good as the Astros wrapped up the series on the road.
"Our guys just hung in there the whole time," Astros manager A.J. Hinch said. "We had a ton of opportunities early, so to be able to get back in the game, even though it was a one-run game, was pretty emotional. Our dugout woke up."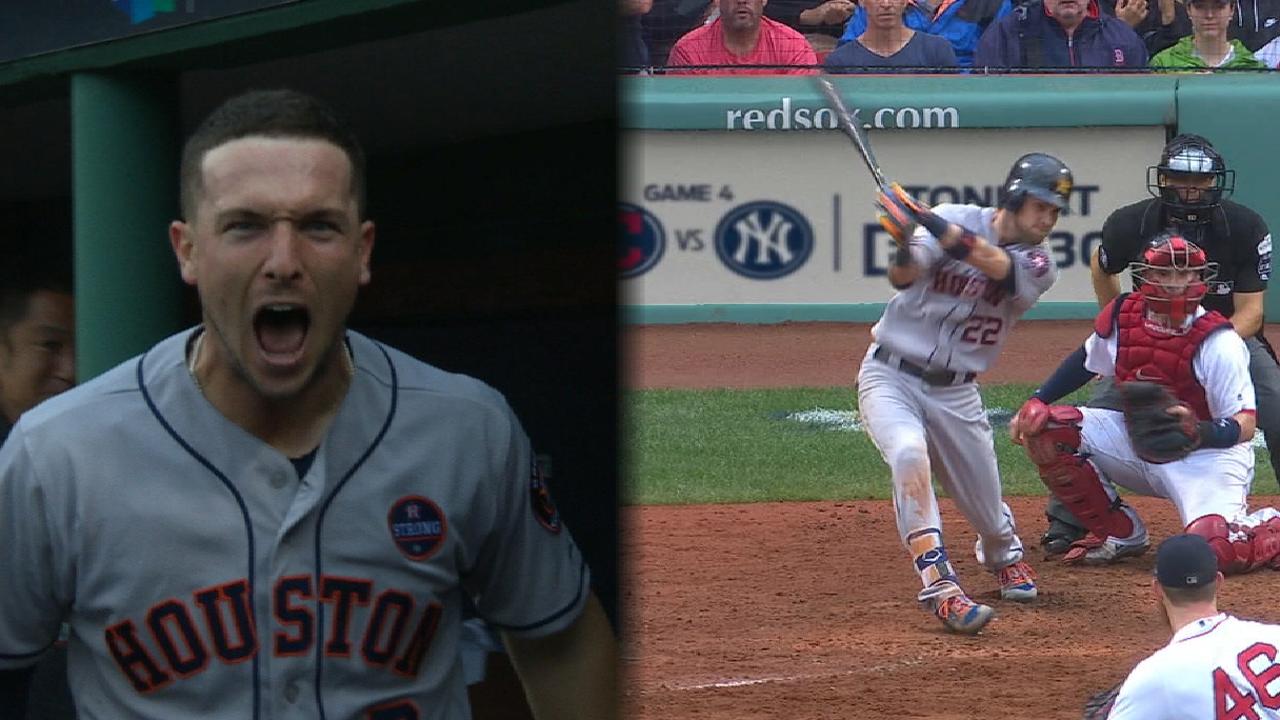 4. Eighth inning, NLDS Game 3, Nationals at Cubs, Oct. 9
We could have picked the seventh inning in this classic, when the home Cubs, losing 1-0, responded to Bill Murray's stretch-time call for some runs by tying the game on a Ben Zobrist double and Albert Almora Jr. single. But we don't want to disrespect Anthony Rizzo twice.
Rizzo became the story of the eighth inning and the game. With the score tied at 1, the Cubs started off the bottom of the frame with a Tommy La Stella walk against Brandon Kintzler. Jon Jay sacrifice-bunted pinch-runner Leonys Martin to second and Kris Bryant struck out. So with two outs, one might expect Nationals manager Dusty Baker to walk perennial MVP candidate Rizzo intentionally to create a forceout situation.
Baker chose to pitch to Rizzo instead with left-handed reliever Oliver Perez, and it didn't go well for Washington. Rizzo singled in the game-winning run, which prompted him to be caught on camera screaming, "Respect me!"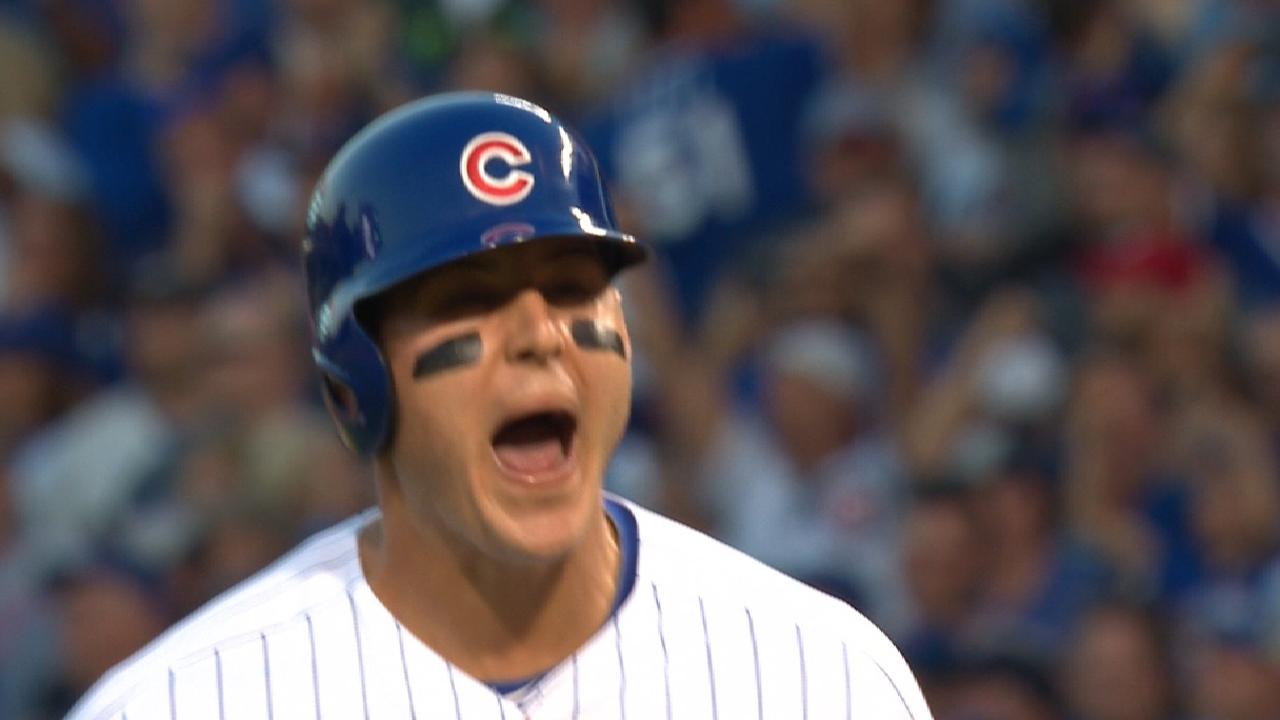 He didn't deny it afterwards.
"Yeah, that's the mentality I take always with the base open," Rizzo said. "I want to make guys pay. I hit where I hit in the order. I drive in runs, and that's just the mentality that I always take in. Usually, I keep that stuff behind the scenes and say that stuff, but just my emotions got me there."
5. Seventh inning, NL Wild Card Game, Rockies at D-backs, Oct. 4
This back-and-forth game that reinforced the "Wild" part of the title was never more wacky or exciting than in the seventh. The Rockies were down, 6-4, heading into that inning, but cut Arizona's lead to 6-5 with a well-executed squeeze bunt by Charlie Blackmon.
In the bottom of the inning, D-backs manager Torey Lovullo raised eyebrows by letting reliever Archie Bradley hit with two outs and runners on first and second. He then looked like an oracle when Bradley tripled to drive in two more huge runs.
"Archie … he's built for that moment," Lovullo said. "That's his personality. You're talking about an elite high school athlete that understands what it's like to be on the big stage. He steps up and he likes to be in that environment, and it translated."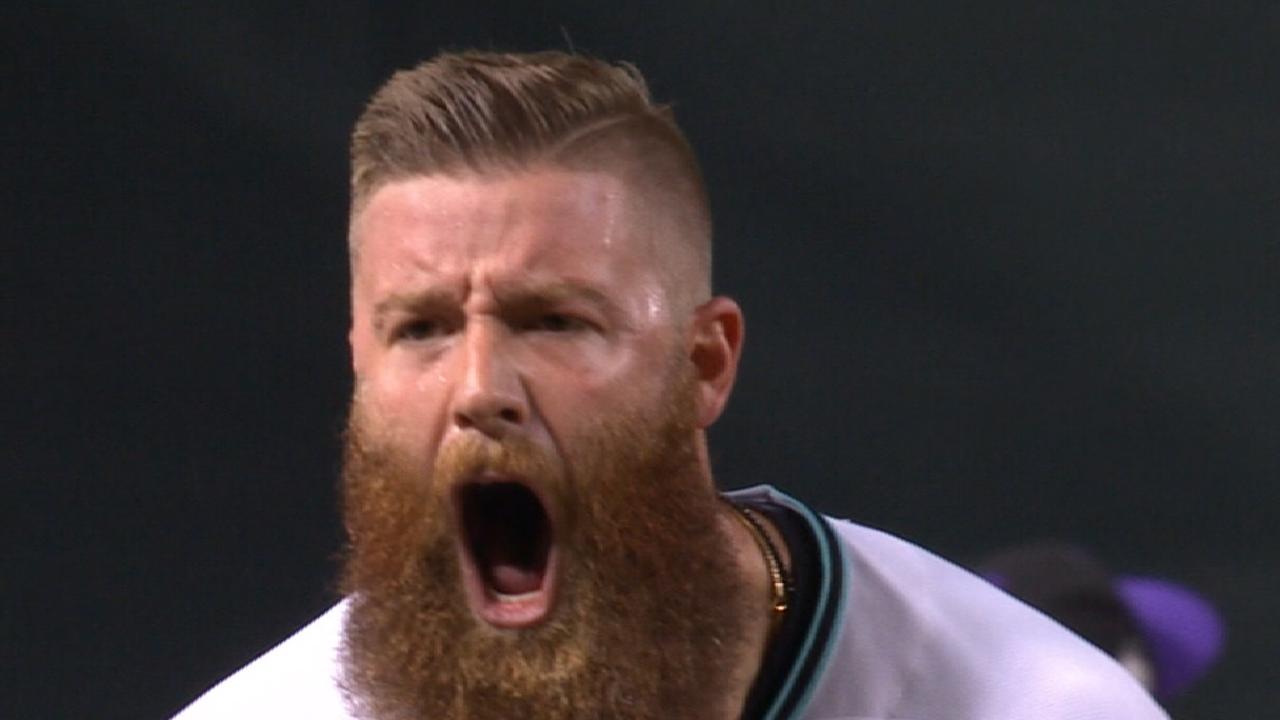 Doug Miller is a reporter for MLB.com. Follow him on Twitter @DougMillerMLB. This story was not subject to the approval of Major League Baseball or its clubs.