Key contributors combine, give NY momentum
Clutch performances help Yankees climb back from 0-2 hole to force decisive ALDS Game 5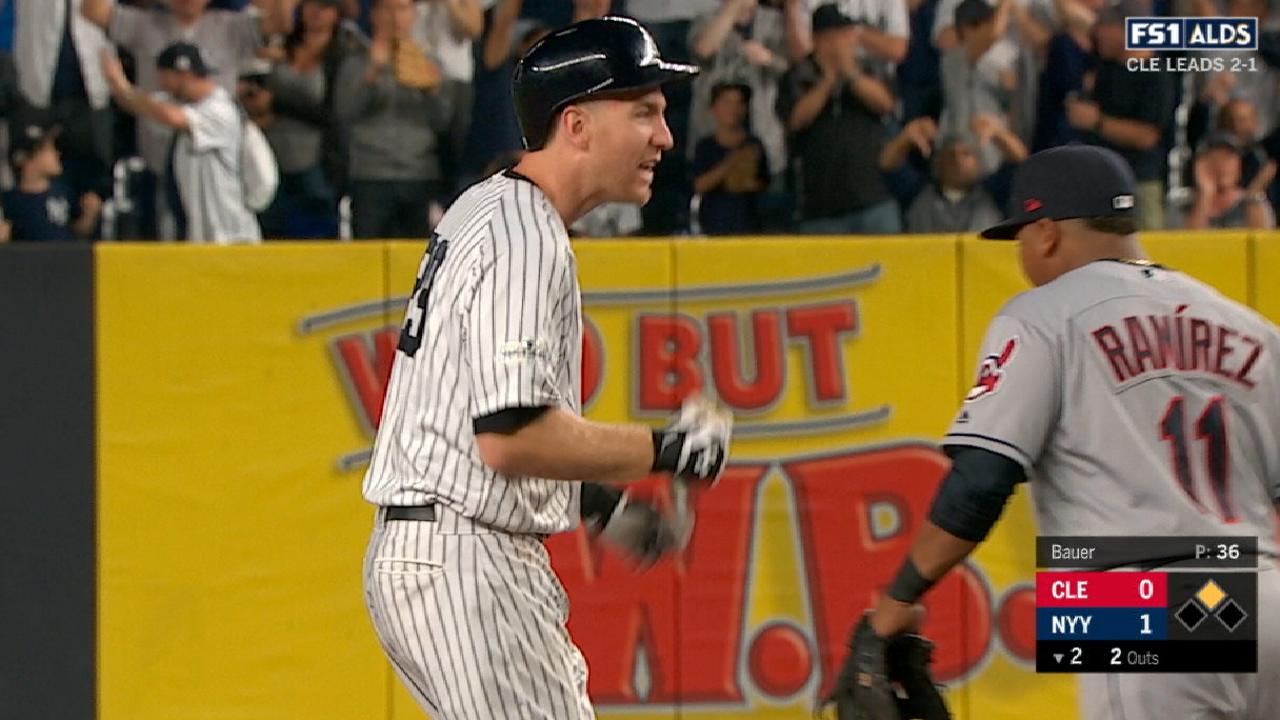 CLEVELAND -- The roster may be identical to the group that dragged their suitcases to the Progressive Field exits in the early-morning hours over the weekend, but these Yankees are not the same team that fell into an 0-2 hole in the American League Division Series presented by Doosan.
Having played and won three elimination games in a week, the Yanks believe momentum is on their side. As they prepare for tonight's decisive Game 5, the resilience that the Yankees showed in keeping the Indians from celebrating in the Bronx promises to pay dividends not only this month, but for years to come.
"I think the belief that a lot of our young players and the energy that they bring every day is part of that," manager Joe Girardi said. "We've been through a lot of this during the course of the season. I think most teams are going to go through those types of things, and I think it's helped everyone involved."
It started with Masahiro Tanaka's dominant seven innings in Game 3, which the right-hander called "probably the biggest win that I have gotten since I came here." The idea of pitching under the brightest lights dazzled Tanaka, part of the reason that he selected the Yankees as his destination, and he delivered on that promise with a seven-strikeout effort.
On a night when one run made the difference, Tanaka allowed none. Greg Bird's left-handed stroke produced the snapshot of Game 3, a majestic seventh-inning home run into the second deck in right field. That landed one inning after Aaron Judge's 6-foot-7 frame saved two runs at the wall, his leap denying Francisco Lindor's bid for a Yankee Stadium special.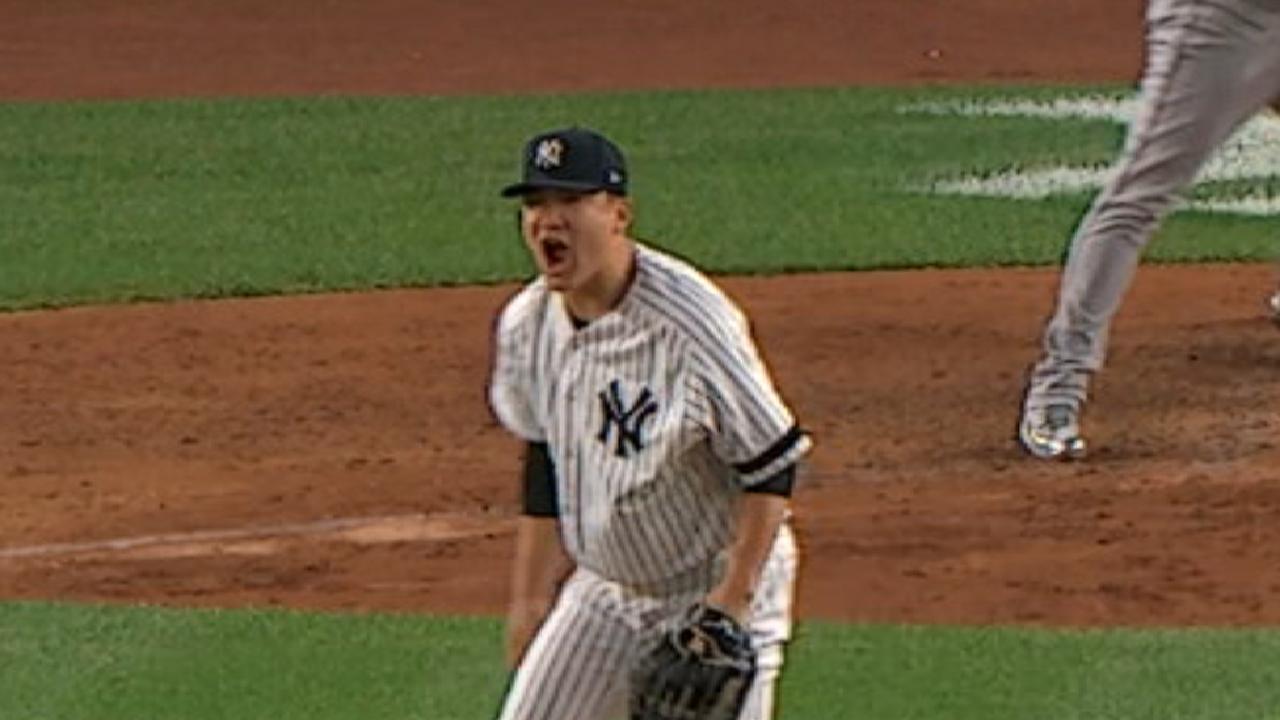 "I think that game was huge for us, for our pitching staff to just show that they can do their thing, and they bounced back and did that," Bird said. "So all around, a helluva game. I mean, the play Judgy made, and just the game Masa pitched after the loss the other day is huge."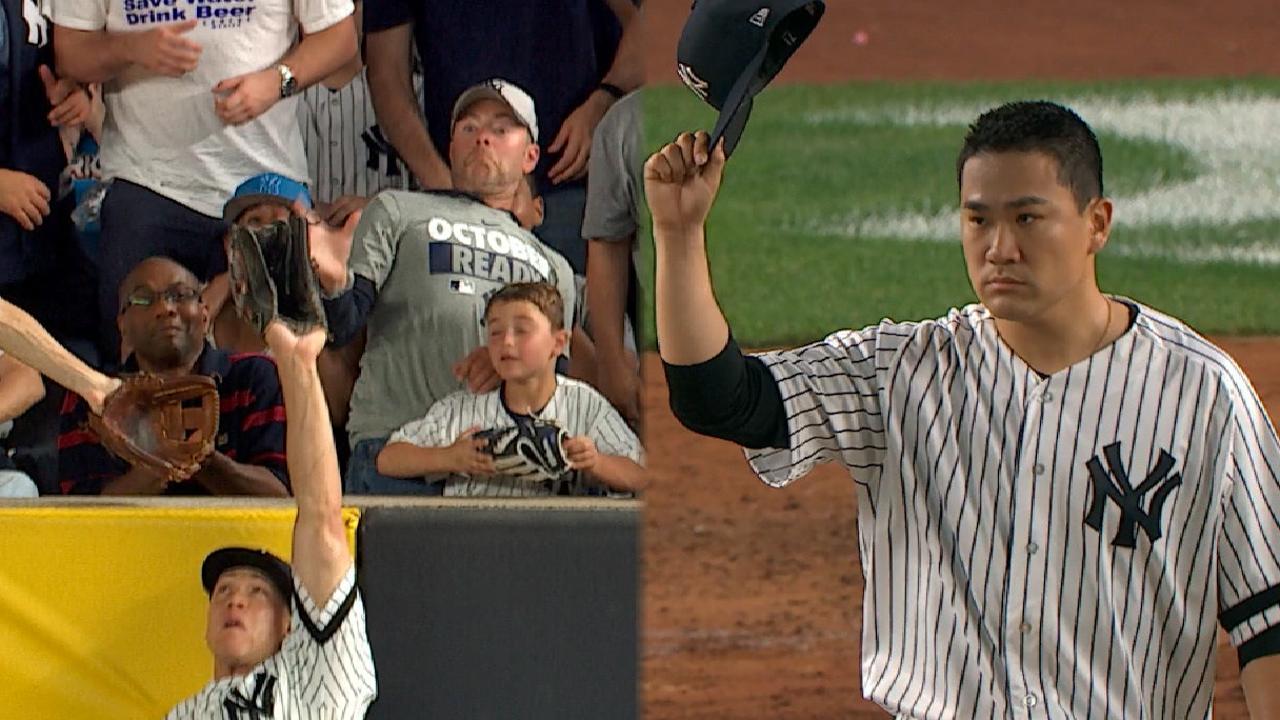 Judge and Gary Sanchez have become young stars thanks to their exceptional offense, but the duo's defense stole the show in Game 3. Sanchez sacrificed his body throughout Tanaka's effort, with the most meaningful blocks coming after Jason Kipnis' one-out triple in the fourth inning. With Sanchez's help, Tanaka used a lethal splitter to strike out Jose Ramirez and Jay Bruce.
"Every time I'm back there, every pitch that hits the dirt, I'm trying to block it," Sanchez said through an interpreter. "Like I've said before, I'm not going to block them all. But tonight, I had good results blocking the ball."
Judge has gone just 1-for-15 with 12 strikeouts in the ALDS, but his one hit was a big one -- a two-run, two-out double off of Trevor Bauer that gave the Yankees a 4-0 lead early in Game 4.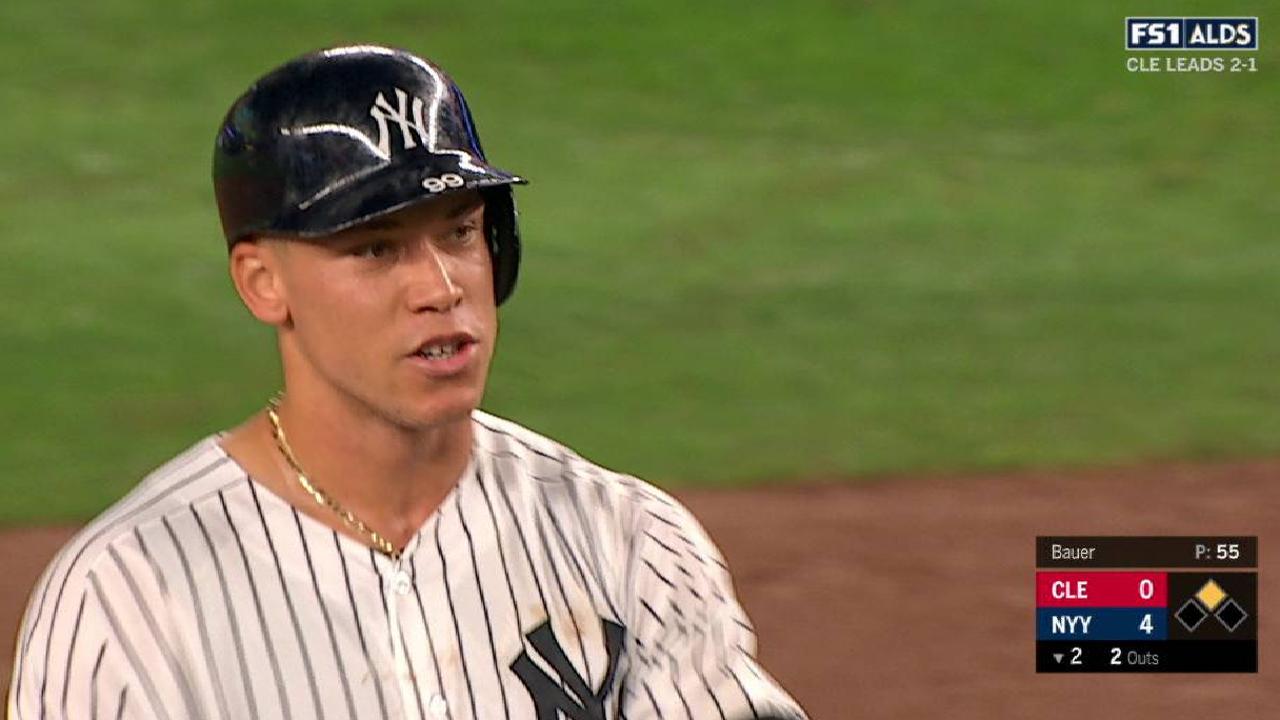 "It felt good," Judge said. "I'm not getting those mistakes. When they throw it over the middle of the plate, I've got to do damage, and I haven't been able to do that. It's been a grind, but we keep winning, and that's what is most important."
While Luis Severino dealt in a terrific bounceback from his disastrous start in the AL Wild Card Game, that inning produced a series of cheers from the sellout crowd. For a moment, Todd Frazier said that he was transported back to 1995, when he was a 9-year-old in the bleachers for New York's classic 15-inning Game 2 ALDS win over the Mariners.
"I can picture myself in the stands right now, cheering the team on every pitch, every at-bat," Frazier said. "I know the feeling of both. Now it's pretty cool, to be honest with you."
The New Jersey native was impacting Game 4 with both his bat and his legs. Frazier's double opened the scoring off Bauer, and he gambled in the fifth inning for an important insurance run, tagging up on a shallow fly ball to Kipnis in center field.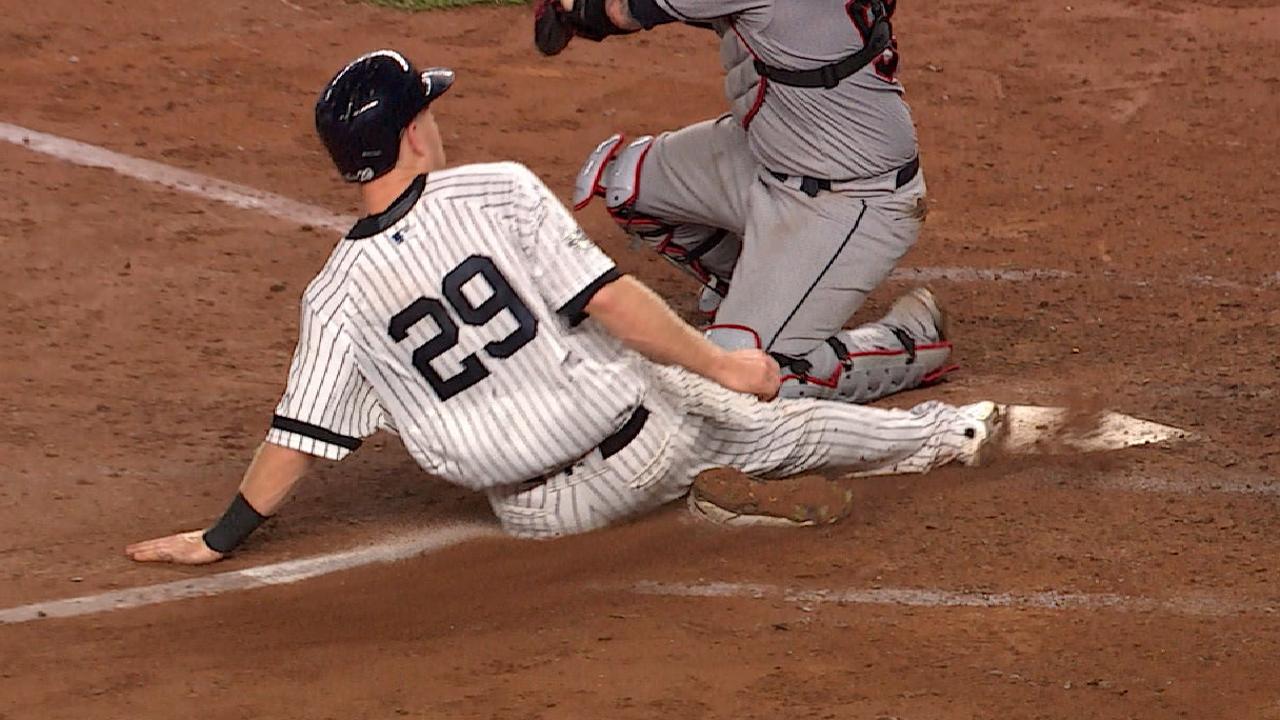 "He hasn't played there a lot, so why not take the chance?" Frazier said. "He could have easily thrown me out. Why not take the chance, up three runs? Maybe if it's closer, [third-base coach Joe Espada] holds me there. I took it upon myself, went and got the run in. It was a big run, too."
There have also been considerable contributions from Aaron Hicks, who missed most of the second half due to a pair of oblique injuries. After Hicks' three-run homer in Game 2 knocked Kluber out, the switch-hitter laced a run-scoring single in Game 4 that helped advance the attack while providing Girardi with what he believes is his best defensive outfield.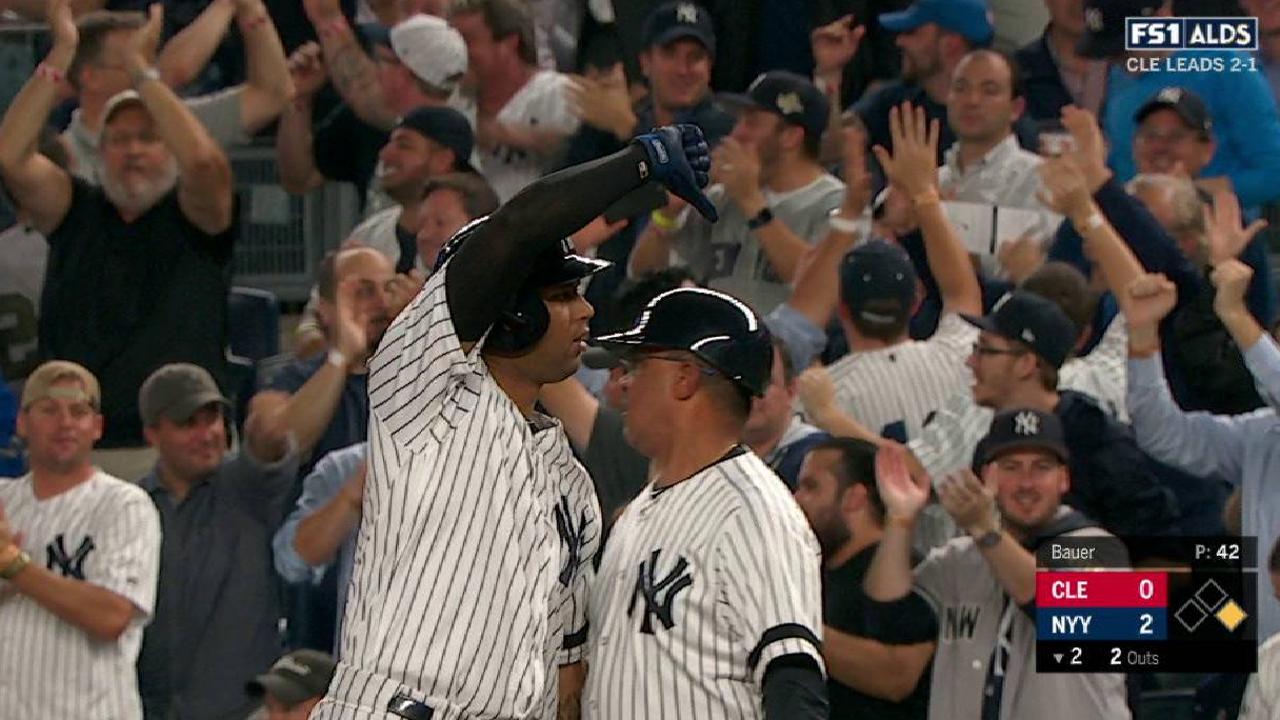 Though the Yankees' bullpen has not been perfect -- even after Girardi didn't challenge the Lonnie Chisenhall hit-by-pitch in Game 2, nothing forced Chad Green and David Robertson to give up homers to Lindor and Bruce, respectively -- the relievers have been a strength in evening the series.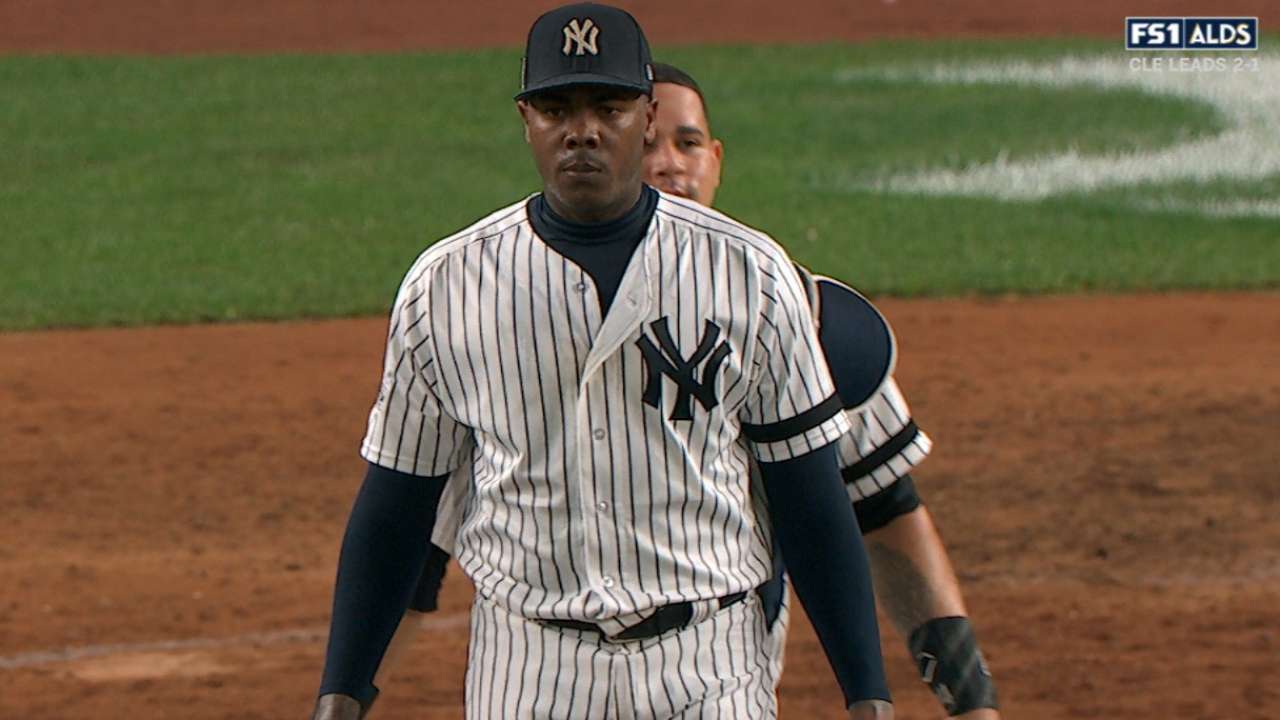 Aroldis Chapman extinguished the Indians with a sweaty five-out save in Game 3, striking out four, and Tommy Kahnle -- "the goofball of the team," as Frazier called him -- savored his most meaningful outing as a Yankee to date by locking down the final six outs of the Game 4 victory.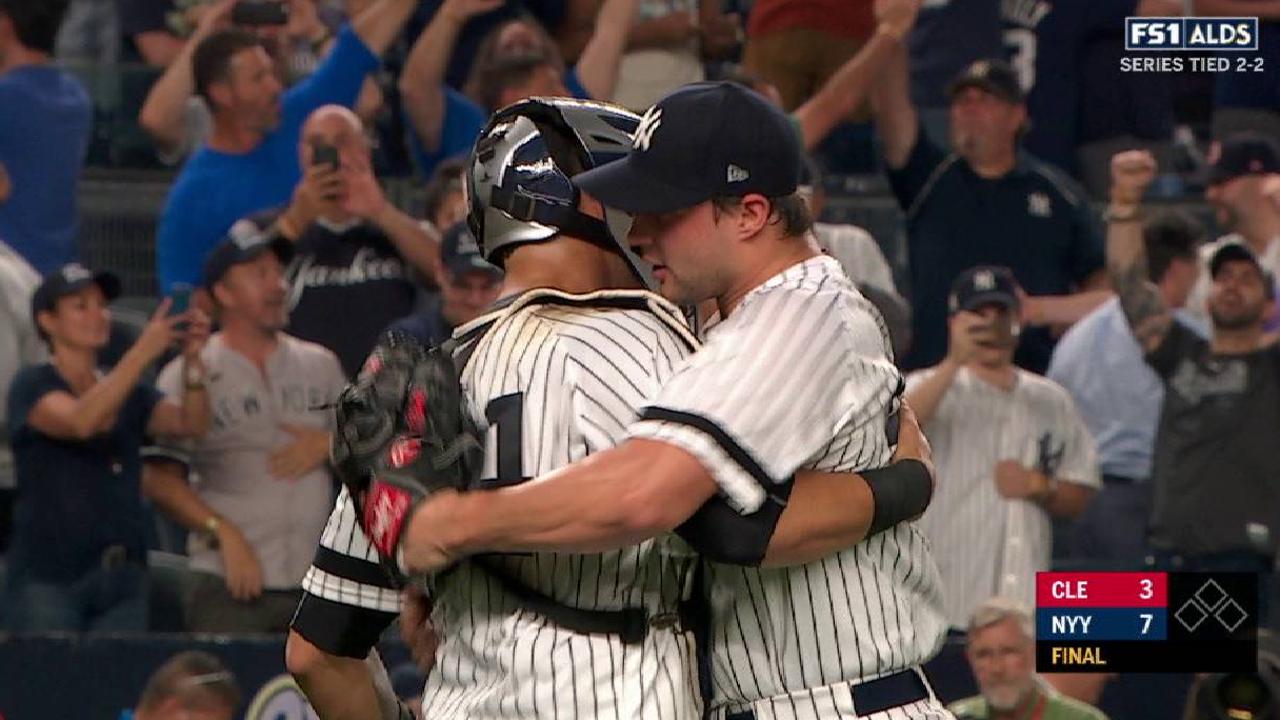 "We never got down," Kahnle said. "We always knew that we had the fight in us, and that's what we're going to keep doing -- keep battling and try to keep winning."
Bryan Hoch has covered the Yankees for MLB.com since 2007. Follow him on Twitter @bryanhoch and on Facebook. This story was not subject to the approval of Major League Baseball or its clubs.