Sanchez may be key to success vs. Kluber
Yankees catcher's HR in Game 2 set tone against Indians' ace
In Game 2 of the American League Division Series presented by Doosan, the Yankees accomplished something no team had done since early May -- hit Indians ace Corey Kluber hard and knock him out early.
The Tribe still rallied to win that game and grab a 2-0 lead in the series, but after the Yanks responded with a pair of victories in their home ballpark, it all comes down to tonight's decisive Game 5 at Progressive Field.
Now the Yankees must solve Kluber once again. Their best chance to do so might be the man who struck the first big blow in Game 2 -- catcher Gary Sanchez.
While the Yankees scored six runs over 2 2/3 innings against Kluber on Friday -- thanks in part to Sanchez's two-run homer in the first -- the AL Cy Young Award contender allowed only five earned runs over 33 innings against them in four starts over the past two regular seasons. Including postseason play, all current Yanks have combined to bat .184/.231/.313 in 173 plate appearances against Kluber.
In that context, Sanchez stands out from the crowd. Of eight Yankees who have faced Kluber at least 10 times, he is the only one with an OPS of even .650. Against Kluber, Sanchez is 4-for-11 (.364) with a double, two homers and a 1.364 OPS.
A small sample of results from a specific batter-pitcher matchup can be wildly misleading, but Statcast™ provides some more weight by showing that Sanchez has legitimately hit Kluber hard.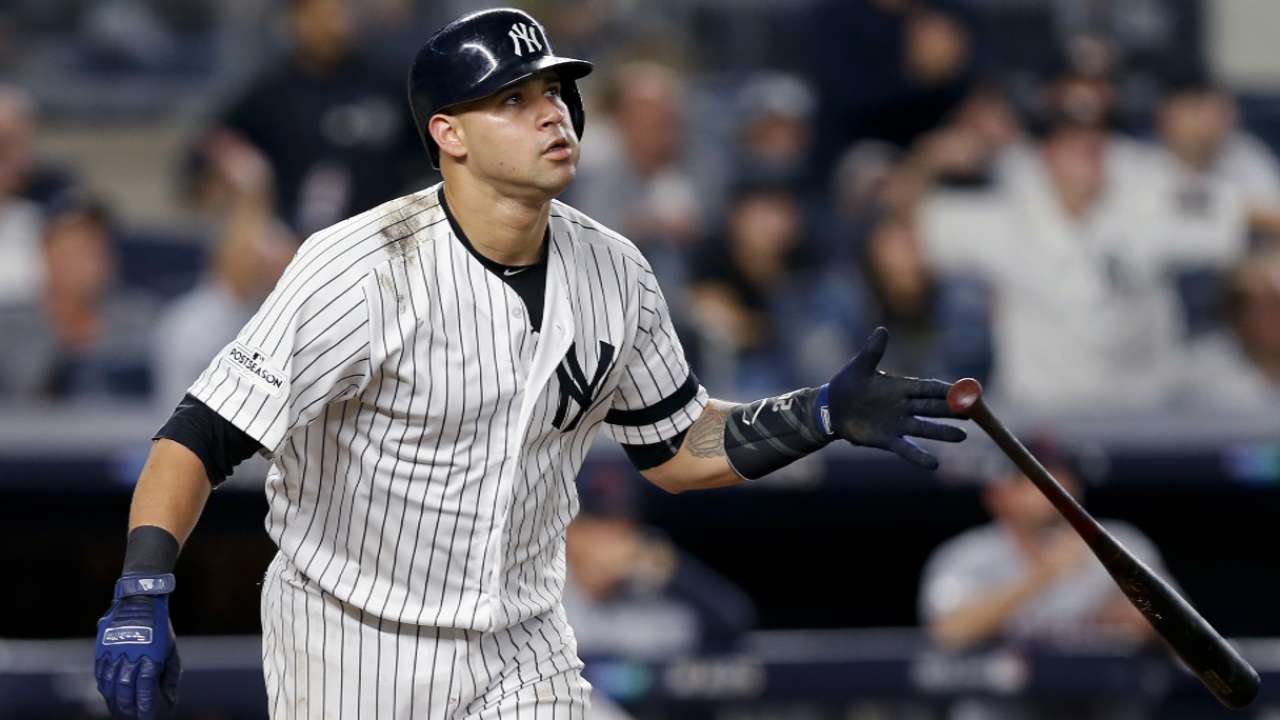 In 2017, Sanchez and Jose Abreu of the White Sox -- a division foe who faced Kluber in five different games -- are the only players to barrel three balls against Kluber. A barrel is a batted ball whose ideal combination of exit velocity and launch angle produces a minimum expected batting average of .500 and expected slugging percentage of 1.500.
On Aug. 3, Sanchez crushed a Kluber cutter at 109.3 mph, over the left-center-field wall at Progressive Field, a blast projected to travel 427 feet. It's the fourth-hardest homer Kluber surrendered all year.
On Aug. 28 at Yankee Stadium, Sanchez connected against Kluber with a 105.9-mph exit velocity and 37-degree launch angle. It's a combination that has produced a homer 65 percent of the time, but this one turned into a long out to dead center field.
Then, in the first inning of Game 2 at Cleveland, following an Aaron Judge walk, Sanchez got ahead of Kluber, 3-1, before ripping a 103.6-mph shot that cleared the wall in center field.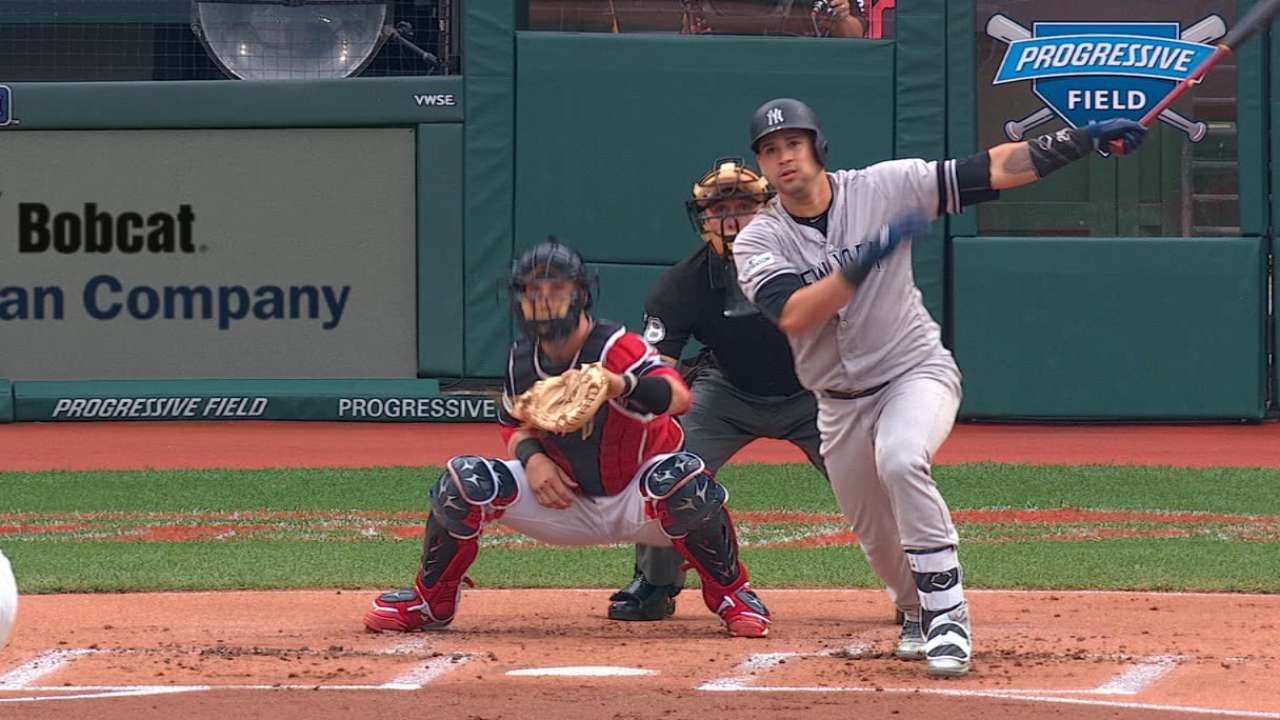 "We were out there giving it everything we had," Sanchez said after Game 2. "We were not swinging at bad pitches. We were swinging at good pitches to hit. We had good results doing that."
Sanchez later added a single against Kluber, and on Monday he smacked another homer, this one off reliever Bryan Shaw. That was Sanchez's eighth batted ball of the postseason to reach Statcast™'s 95-mph baseline for hard contact, which tied him with teammate Starlin Castro for first in the Majors entering Tuesday.
That makes him the player to watch as the Yankees look to overcome Kluber tonight and advance to the AL Championship Series presented by Camping World.
Andrew Simon is a research analyst for MLB.com. Follow him on Twitter @AndrewSimonMLB. This story was not subject to the approval of Major League Baseball or its clubs.