Kluber throwing hitters for loop with curveball
Callaway says key is how Indians' ace can change shape of breaking pitch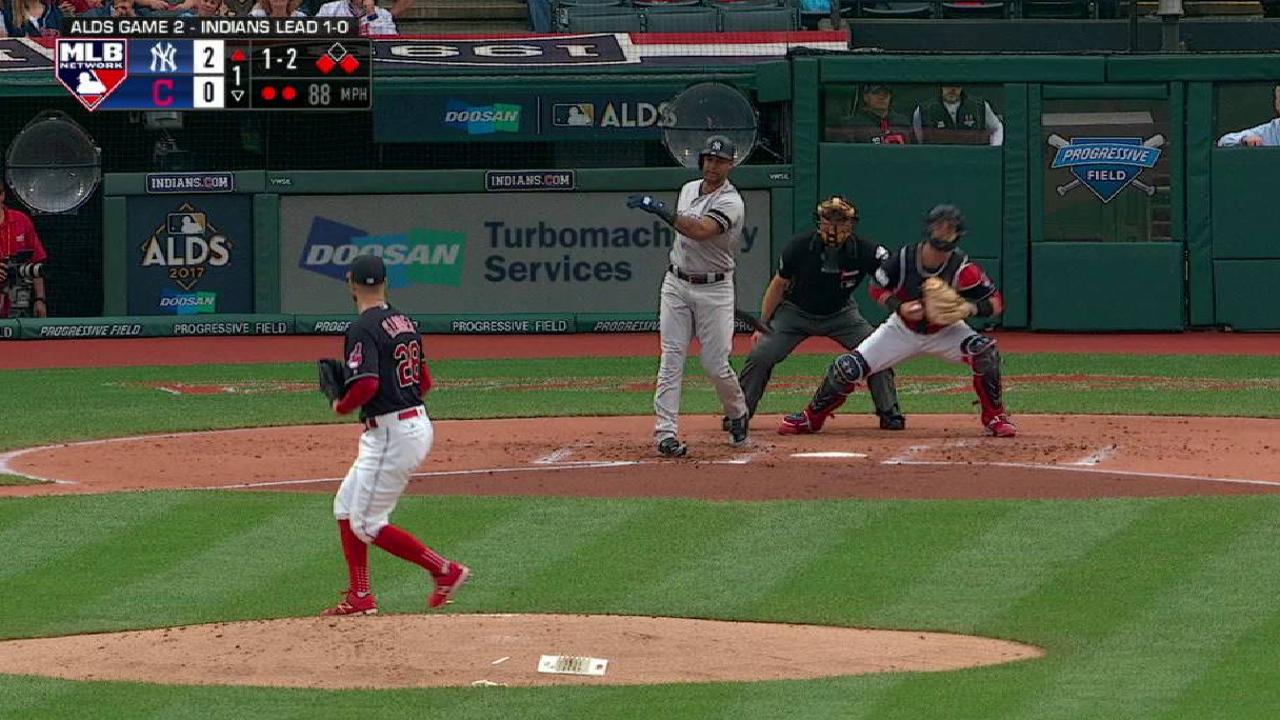 CLEVELAND -- Indians ace Corey Kluber retrieved a baseball from his locker and displayed the grip for the best pitch in baseball. There is only a fraction of difference between the positioning for his sinker. The index and middle fingers are together, running along the top of where the seams make a horseshoe. Most of the Commissioner's signature is covered.
The grip reveals this is not a traditional curveball. Kluber calls it a curveball. Without hesitation, Indians pitching coach Mickey Callaway says it is a slider. Different pitch classification systems have filtered the results in both categories. Josh Tomlin, who has a locker next to Kluber, should know, right?
"It's a slider, curve and cutter all in one," Tomlin said with a laugh. "I don't know, man. I just know it's nasty."
Told of the ongoing confusion over Kluber's confounding pitch, the creator let out an amused laugh from his home in Skowhegan, Maine, a small town west of Bangor with a population of about 9,000. More than a decade ago, Garrett Quinn was the pitching coach for Stetson University, where a young Kluber arrived raw but full of potential. One of their first tasks was to fix the slow, loopy curveball that he used against high school players.
• Shop for Indians postseason gear
Tonight, Kluber will take the mound against the Yankees in the decisive Game 5 of the American League Division Series presented by Doosan (8 p.m. ET on FS1). He will be armed with a devastating curveball that has helped him develop into an AL Cy Young Award winner, ace and leader of the Majors' best rotation. When the pitch leaves Kluber's fingertips, it begins straight. The hitter's brain has a fraction of a second to process the information relayed by their eyes. Is it a cutter, four-seamer, two-seamer or is it that breaking ball?
If the batter guesses wrong, there is not enough barrel on the bats that Quinn now produces for a living to catch up with the pitch as it sweeps away from the strike zone.
What is Kluber's breaking ball?

Kluber: "A curveball."
Callaway: "It's a slider."

Whatever it is, it's become baseball's best pitch. pic.twitter.com/IKBk5MghEk

— Jordan Bastian (@MLBastian) September 29, 2017
"He could always spin his curveball really, really well," Quinn said. "It was just a matter of reshaping a breaking ball for him. I used to tell people all the time, 'Let's forget the semantics and the "curveball" and "cutter" and "slider." Let's just call it a "breaking ball" and let's make your breaking ball unique to you, and make it as good as we can.' That's what I wanted to do with him."
Quinn laughs again as he recalls the first time Kluber rolled the ball in his hand, found the suggested grip and began testing out the pitch.
"He picked it up so fast it wasn't even funny," Quinn said. "It wasn't even out of my mouth yet and he was doing it. There's a genetic aspect to what he does that you can't coach into pitchers."
It took time for Kluber to fine-tune the offering into what hitters see now. It also took rearranging the rest of his repertoire to get the most out of his signature curve.
In college and during his early days in the Minors, Kluber relied mostly on his four-seam fastball, which has a little natural cut to it. It was not until 2011 that the right-hander began working extensively on a two-seamer to create movement in the opposite direction. Once that became a regular part of his approach, Kluber could continue to hone his cutter and breaking ball to create not only varying degrees of break, but multiple tiers of velocity.
"He picked it up so fast it wasn't even funny. " A Q&A with the coach who helped create Kluber's curve: https://t.co/79uiUPPoAl

— Jordan Bastian (@MLBastian) October 10, 2017
The pitch with no clear name has become his primary weapon.
For this season, Fangraphs has given Kluber's breaking ball a 37.8 pitch rating, which is the highest mark for any pitch in the Majors. Dating to 2014, its 97.9 rating also ranks first, with Dodgers lefty Clayton Kershaw's slider (77.1) coming in second. According to Statcast™, hitters have hit .105 with a .149 slugging percentage and .119 weighted on-base average against Kluber's breaking ball. The MLB average against sliders and curves combined are .216, .363 and .272, respectively.
"When I first started learning it, it probably was smaller. It was probably more of what my cutter is now," Kluber said. "And I think as I've gotten more comfortable with it, I've learned to manipulate it to make it a little bit different from my other pitches. It's just feel for me. I don't try to get too mechanical about it."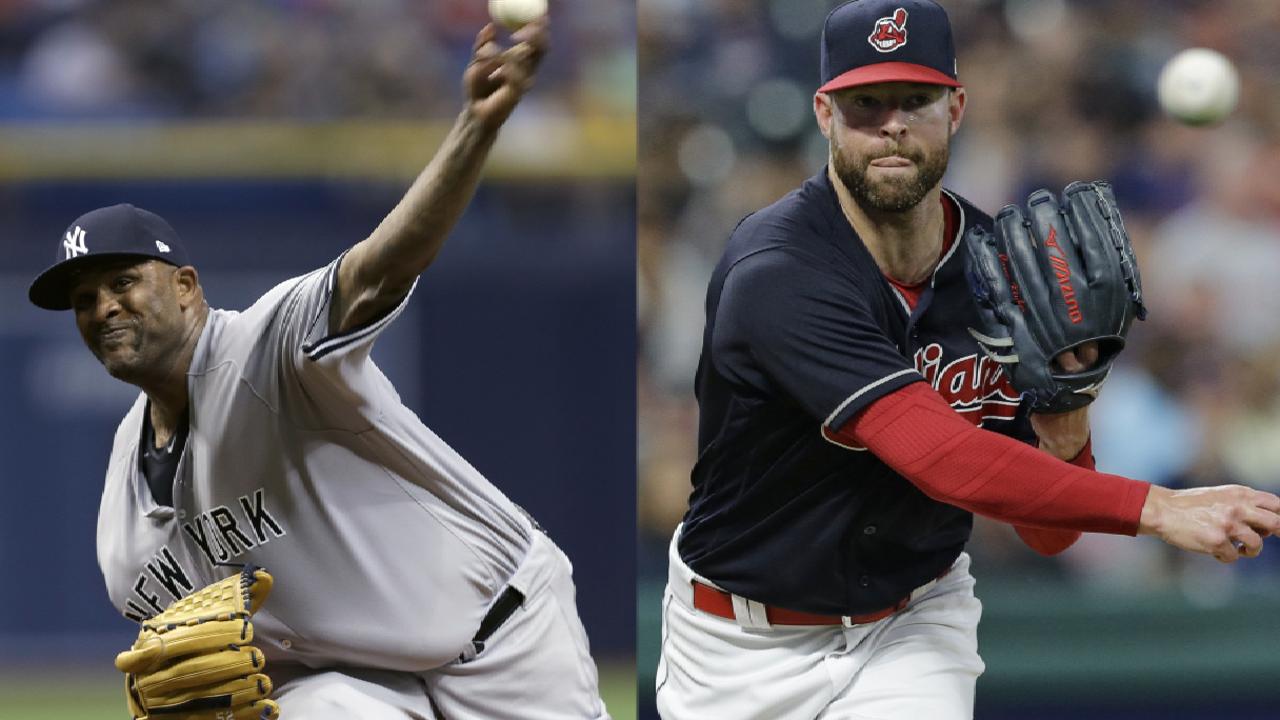 Callaway said the key to how Kluber can change the shape of his breaking ball -- tightening it up to look more like a cutter or creating a larger sweeping action -- is how the pitcher accelerates his arm speed at the end of his delivery. As Kluber nears the release point, he "rips" down through the ball, as Callaway phrased it.
"He can take his curveball and he can backdoor it," Callaway said. "He knows when he's going to bury it every single time. He can rip on it to make it break a little harder. He can change the shape of it, get on top of it, throw it for a strike. He can pretty much manipulate it however he wants to. There's really no limitations on the way he can use it."
Quinn was not surprised that Kluber credited his old pitching coach for helping create the pitch.
"He's such a humble guy. He's just so down to earth," Quinn said. "It is really cool to kind of watch him, to watch his evolution as a pitcher, and to see what he's able to do with his craft now. It's just really unbelievable. It's just a joy to watch."
But, enough's enough. What is the pitch called?
"You tell me," Kluber said with a grin.
Jordan Bastian has covered the Indians for MLB.com since 2011, and previously covered the Blue Jays from 2006-10. Read his blog, Major League Bastian, follow him on Twitter @MLBastian and Facebook. This story was not subject to the approval of Major League Baseball or its clubs.