Cubs, Nats announce NLDS Game 4 lineups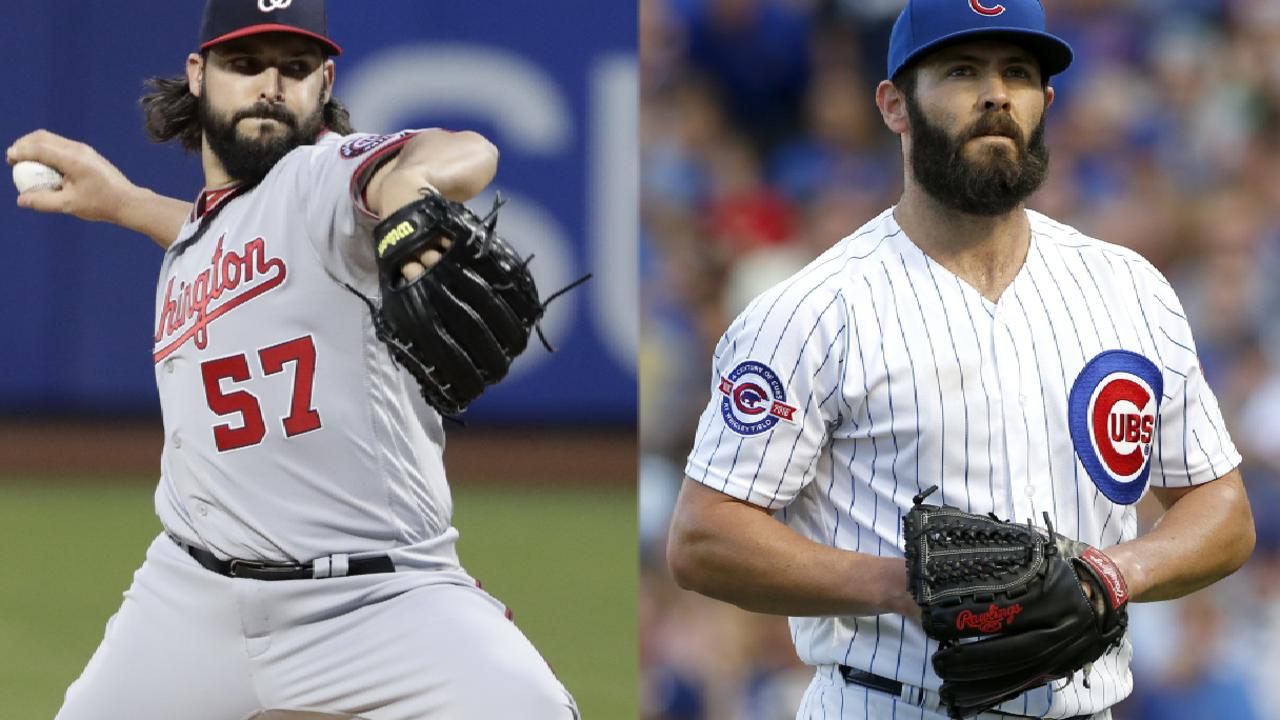 Looking to advance to the National League Championship Series for the third consecutive year with a victory today in Game 4 of the National League Division Series presented by T-Mobile, the Cubs will go back to a lineup similar to the one they used in a 2-1 win in Game 3 on Monday. Nationals skipper Dusty Baker, meanwhile, will mix things up as he tries to jump-start an offense that has generated just two runs outside of a five-run outburst in the eighth inning of the club's 6-3 win in Game 2.
Jake Arrieta will get the start for the Cubs and he'll be opposed by the Nationals' Tanner Roark at Wrigley Field, with Chicago leading the best-of-five series, 2-1.
For the Cubs, the lone personnel change in manager Joe Maddon's batting order is the addition of second baseman Javier Baez, who takes the place of right fielder Jason Heyward. The adjustment will shift Ben Zobrist from second base to right field. Addison Russell slides up to hit seventh, slotting in Baez before Arrieta.
Likely playing a factor in Maddon's decision is the defensive ability Baez brings to the table. He provides an upgrade up the middle over Zobrist, who remains a big piece to the Cubs' offensive puzzle. Zobrist recorded the first Cubs hit off Nationals starter Max Scherzer in Game 3.
Baez is also 1-for-3 with a home run off Roark, while Heyward is 0-for-18 in his career off the right-hander.
The rest of the Chicago lineup looks the same, as Nos. 2 and 3 hitters Kris Bryant and Anthony Rizzo have combined for three home runs in 29 combined at-bats vs. Roark. Leadoff hitter Jon Jay (2-for-5) and Kyle Schwarber (1-for-2) also have had success against Roark, albeit in a limited number of chances.
Baker will stick with the same eight players -- who have a combined 10 hits -- he's used all series. After going with an identical order for each of the first three games, Baker is moving Jayson Werth up to hit second ahead of Bryce Harper, and Anthony Rendon down to sixth for Game 4. Ryan Zimmerman and Daniel Murphy will flip positions in the lineup while Trea Turner continues to lead off, with Matt Wieters and Michael A. Taylor rounding out the final two hitters before Roark.
"This is our most successful lineup that we had, but I was kind of waiting on [Harper] to get some more reps, get some more ABs and to get a little sharper," Baker said. "And that's why. We had faced left-handers the first couple games, and so I shuffled and went back to our original. First time we've had that lineup in months since Harp got hurt. It feels pretty good."
Individually, the Nats have had their ups and downs vs. Arrieta, though Werth has two hits -- including a homer -- off the right-hander in nine at-bats against him. Neither Harper (4-for-14), Zimmerman (5-for-21), Murphy (5-for-17) nor Rendon (4-for-11) has taken Arrieta deep, but each has a double off him in his career.
NATIONALS
Trea Turner, SS
Jayson Werth, LF
Bryce Harper, RF
Ryan Zimmerman, 1B
Daniel Murphy, 2B
Anthony Rendon, 3B
Matt Wieters, C
Michael A. Taylor, CF
Tanner Roark, P
CUBS
Jon Jay, CF
Kris Bryant, 3B
Anthony Rizzo, 1B
Willson Contreras, C
Ben Zobrist, RF
Kyle Schwarber, LF
Addison Russell, SS
Javier Baez, 2B
Jake Arrieta, P
Oliver Macklin is a reporter for MLB.com based in Washington, D.C. Follow him on Twitter at @OMacklinMLB. This story was not subject to the approval of Major League Baseball or its clubs.