MLB.com Columnist
Joe Posnanski
Relentless Dodgers rekindle winning formula
After late-season slump, LA sweeps Arizona to advance to NLCS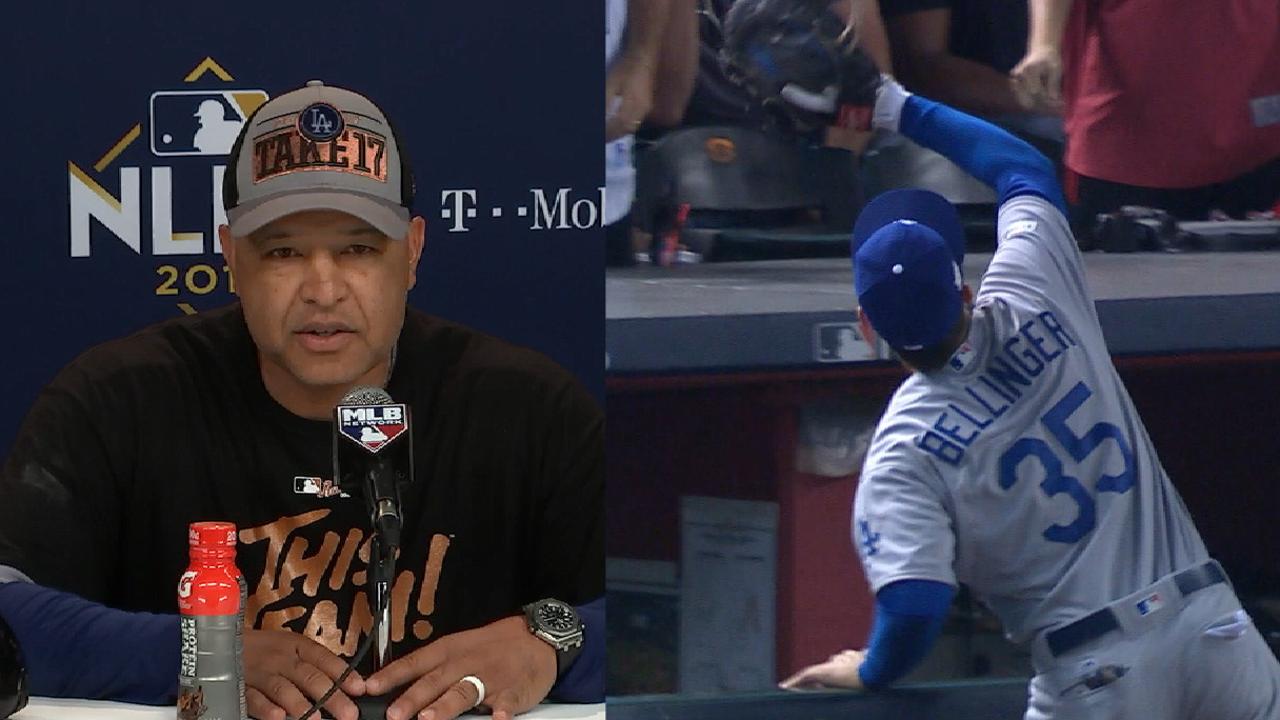 PHOENIX -- Well, look who showed up: the unbeatable Los Angeles Dodgers. For four crazy months this year, you might remember, the Dodgers played baseball about as well as it had ever been played. Then in late August and for much of September, yes, things got a little bit rough. There was the long losing streak. There were concerns. There were questions.
Then the NLDS against Arizona began and all that stuff melted away.
The thing about Los Angeles' 3-1 victory over Arizona on Monday night -- as well as their first two wins in the National League Division Series presented by T-Mobile -- is that the Dodgers did what they do best: They worked the body. That might take a bit of an explanation. You might remember the boxer Mike McCallum? They called him "The Body Snatcher," and for seven or eight rounds he relentlessly worked the body. At first, it seemed liked he wasn't accomplishing much. As the rounds went on, however, you could see his opponents beginning to wilt. By the eighth or ninth round, opponents would have their gloves all the way down in a hapless attempt to either (A) Protect the midsection or (B) Lure McCallum into hitting them on the chin and just ending the agony.
These Dodgers work the body, too. From April 25 to Aug. 25, they went an astonishing 82-25 -- tying the 1998 New York Yankees for the greatest four-month stretch of the last 100 years. The thing is, the Dodgers didn't win by bludgeoning teams with crazy high-scoring offense. They averaged just a shade less than five runs per game over that stretch.
• NLCS Game 1: Saturday, 8 p.m. ET/5 p.m. PT on TBS
Their pitching was excellent, of course, but their 3.00 team ERA for those games isn't mind-blowing either.
So how did they do it? Well, they won 22 games by one run, another 11 more by two. They won night after night after night by doing, well, exactly what they did Monday night.
On offense, they wore out Arizona ace Zack Greinke. They worked him and worked him until he was exhausted. The Dodgers, according to Statcast™, chase fewer pitches than any team in baseball, something Greinke fully understood coming in. He did not want to reveal how he would counter the Dodgers patience, but he had a plan.
"Zack will be up for this challenge," D-backs manager Torey Lovullo said before the game.
Yes, he was was up for it … but the Dodgers were even more. The first batter of the game, Chris Taylor, made Greinke throw six pitches. Taylor then doubled. Corey Seager drew a walk on seven pitches. Justin Turner made Greinke throw four more. Cody Bellinger only lasted two pitches, but he hit a run-scoring ground ball. Then Yasiel Puig sparred with Greinke for a draining 10-pitch at-bat.
That's 29 pitches in the first inning. That's a lot of pitches.
The second inning, the Dodgers didn't score, but they made Greinke throw 25 more pitches. That's 54 pitches after two innings; and it was clear before the game had even gotten going that Greinke would not be able to go too deep into the game.
But the thing about the Dodgers is that they don't stop. The body blows kept coming. Greinke did not have his best stuff, but he battled, getting out of a bases-loaded jam in the third, and holding the Dodgers down in the fourth. Still, they were working the body.
In the fifth inning, on his 98th pitch of the night, Greinke left a changeup too much over the plate and Bellinger (you will hear that name again) crushed it over the left-center-field wall for the Dodgers' second run.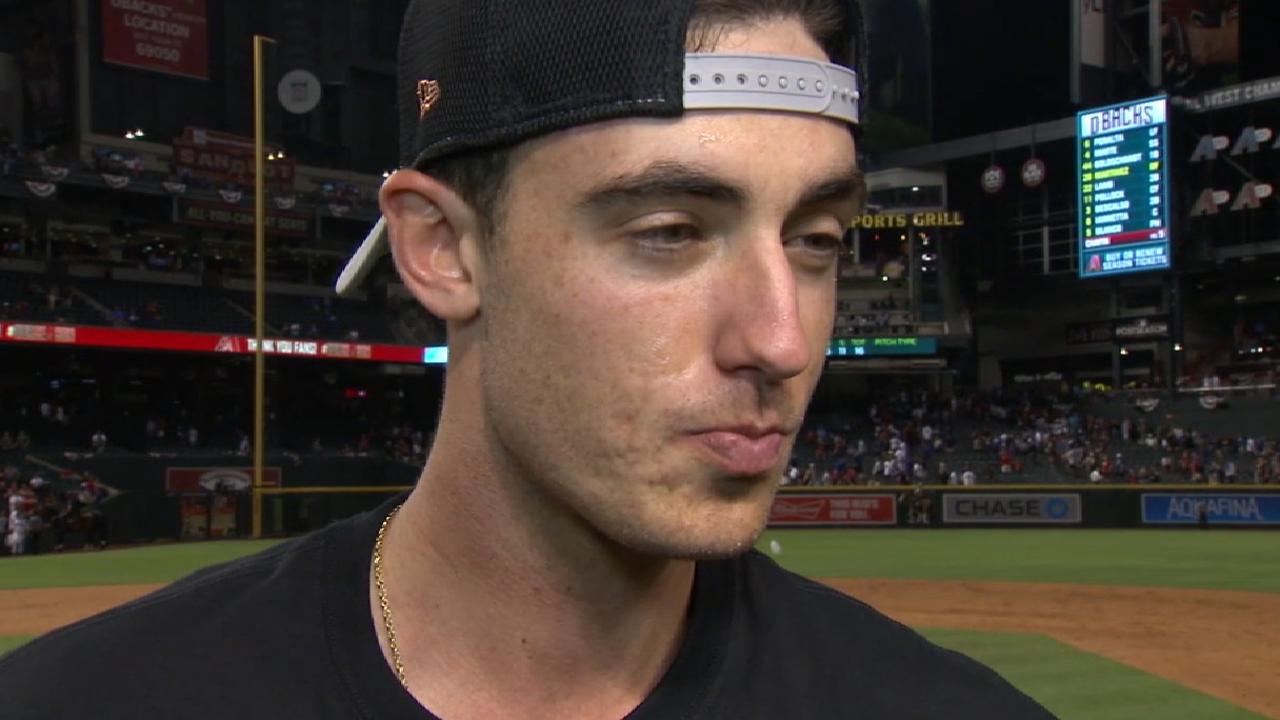 Lovullo hoped to get one more out from Greinke in the sixth inning, even though he looked done. And Dodgers catcher Austin Barnes hit an 89.5-mph fastball over the wall for the Dodgers' third and final run of the game. Three runs is not a lot of of offense. But on this night, it was enough.
"The at-bat quality we had, tonight and in the last game against Robbie Ray, was special, from the first pitch," Dodgers manager Dave Roberts said. "We were relentless every single pitch and really made Zack labor."
Then there was the Dodgers pitching. Lovullo came into Monday's matchup with Yu Darvish with a simple hope.
"When he's on, he's really good," Lovullo said. "When he's not, he's beatable. … So we're hoping that the hostile environment that this facility can offer us have him come in here and maybe not execute to the best of his ability. That's what we're hopeful for."
Hope faded quickly; Darvish was electric from the first inning. He mixed his mid-90s fastball with a devastating swing-and-miss cutter and slider, and the D-backs could not muster anything more than Daniel Descalso's solo homer.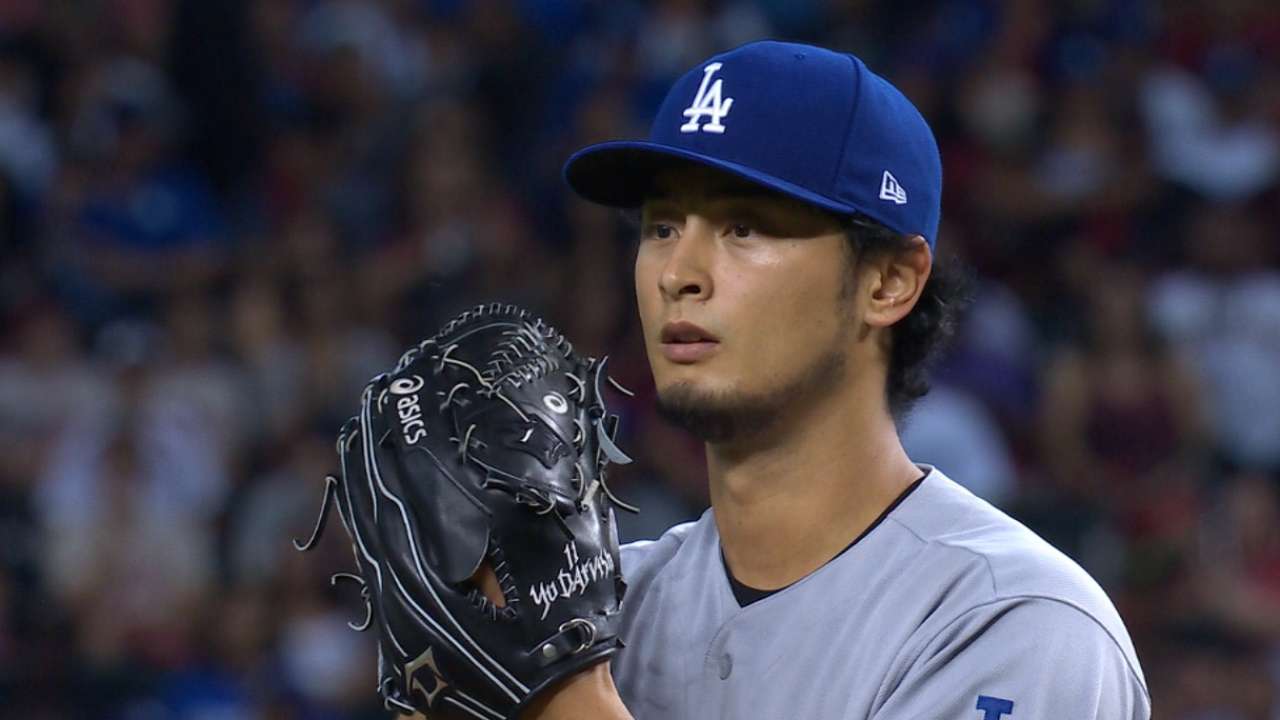 The thing that was special about Darvish -- about all the Dodgers pitchers on this night, really -- was the aggressiveness. The Dodgers didn't walk a D-backs batter. The Arizona hitters only twice even managed to get it to a three-ball count. The D-backs were just stifled and frustrated all night.
The second of those three-ball counts, by the way, happened in the last at-bat of the game. Arizona's best player, Paul Goldschmidt, perhaps the National League MVP, worked to a 3-2 count against Dodgers closer Kenley Jansen. The crowd roared. This was the one moment, the only moment, when it felt like Arizona had a chance.
Then Goldschmidt swung and missed on a nasty Jansen slider that broke a foot off the plate.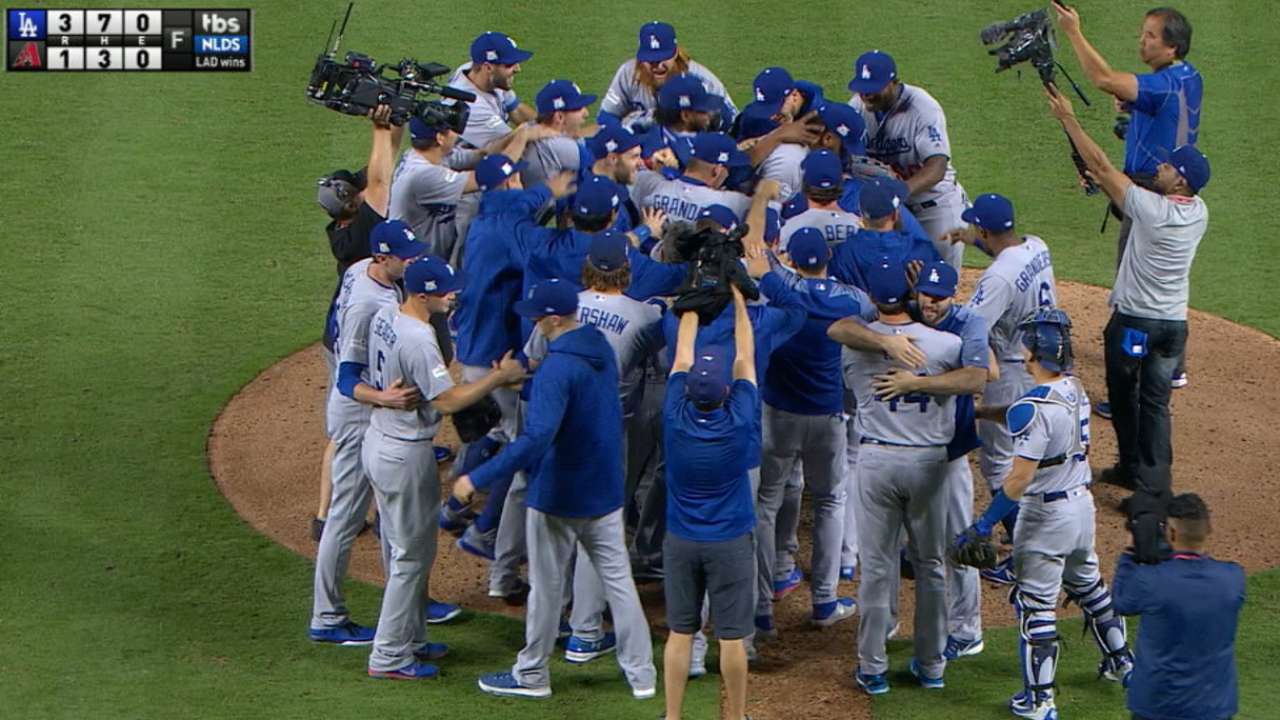 We should also mention the Dodgers' defense; it was solid all night and better than solid at times. Bellinger made two great plays. On the first, he caught a foul ball while leaning over the railing at the Dodgers' dugout; he actually flipped over and tumbled into the dugout after catching the ball.
"I should have moved faster," Roberts said of not catching Bellinger.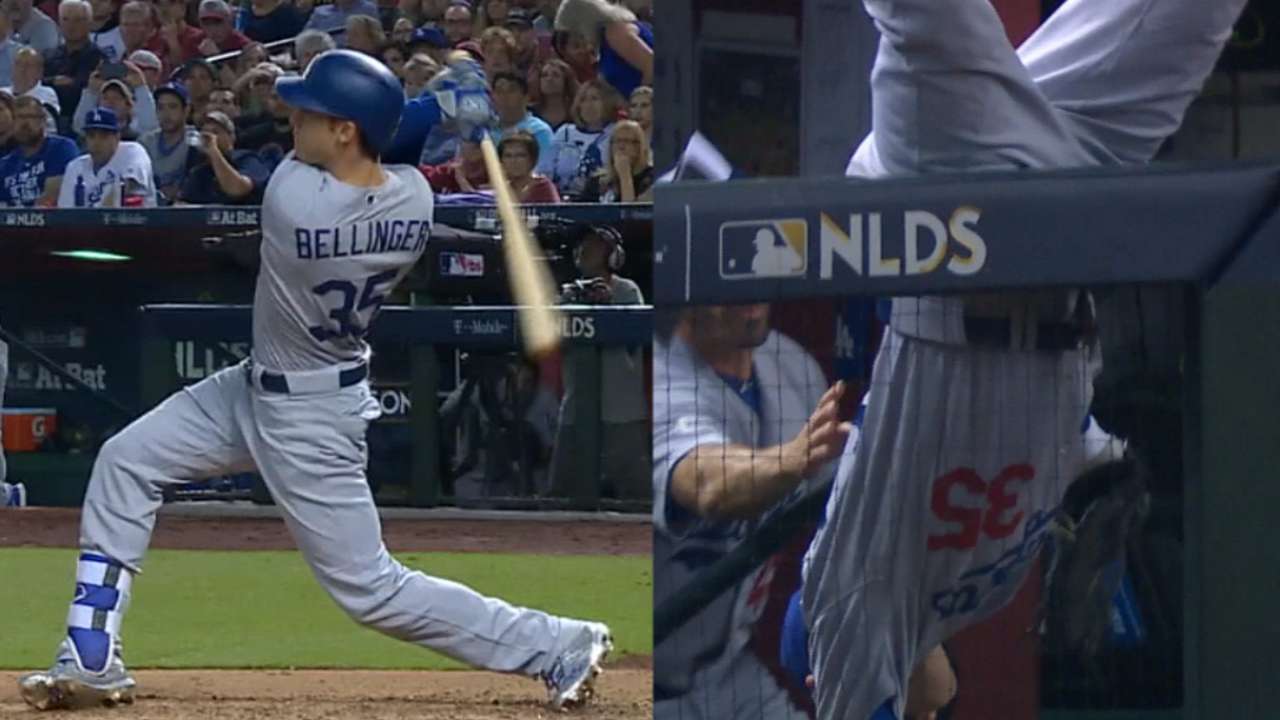 That was the most spectacular play, but the more devastating one came the next inning when he cleanly fielded a ground ball by Arizona's David Peralta and, with a special throw, began a 3-6-3 double play that ended even the thought of an Arizona rally.
All of it simply left Arizona with no answers. "A team win," Roberts calls these overwhelming victories, and nobody is better at them than Los Angeles. Yes, there might be teams with better lineups, better rotations, better bullpens. But when the Dodgers play this kind of baseball, it's hard to imagine them losing.
"There's a period of time the L.A. Dodgers were the best team that I'd ever seen," Lovullo said before the game. And there really was nothing to add afterward. Those Dodgers are back.
Joe Posnanski is a No. 1 New York Times best-selling author, an Emmy Award-winning writer and has been awarded National Sportswriter of the Year. This story was not subject to the approval of Major League Baseball or its clubs.