J.D. heads to FA with fond D-backs memories
Slugger in line for big payday after 45-homer season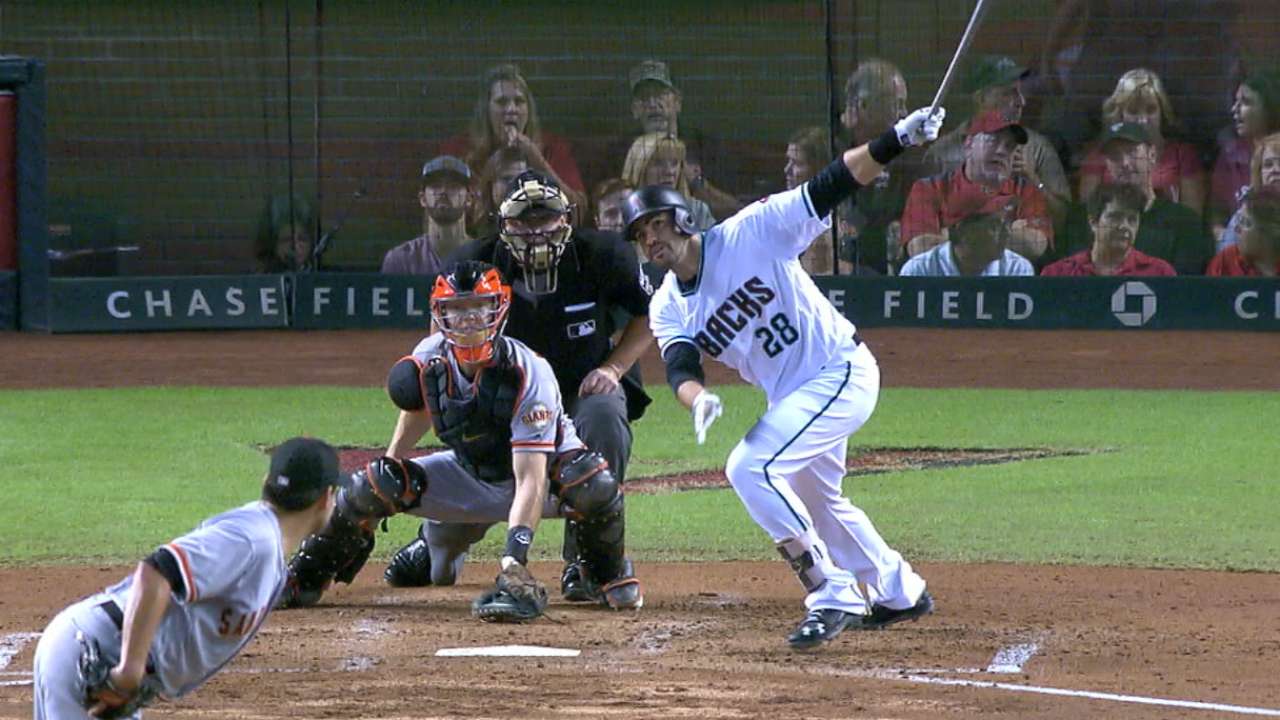 PHOENIX -- Outfielder J.D. Martinez is confident that the future is bright for the Arizona Diamondbacks, but whether he will be part of it is not as clear.
The D-backs' season ended Monday night with a 3-1 loss to the Dodgers in Game 3 of the National League Division Series presented by T-Mobile, and after the World Series, Martinez will become a free agent for the first time in his career.
"This is a young clubhouse," Martinez said. "If you look around here, there's a lot of guys who are still going to be back here next year -- a lot of guys with a lot of talent that have had unbelievable years. You look at this team from the outside and it's kind of like, 'Let's watch these guys, because they could keep growing. They're going to keep growing.'"
Martinez was acquired from the Tigers on July 18 for three Minor Leaguers, and he was a beast during his time with D-backs. In 62 games, he hit .302/.366/.741 with 28 regular-season homers and another in the NL Wild Card Game. Without his presence, it's hard to imagine the D-backs would have gotten as far as they did.
While Martinez's monster numbers helped the D-backs return to the postseason, reaching 45 total homers for the season likely also drove up his value on the free-agent market.
So would Martinez like to be back in Arizona next year?
"Arizona was awesome," Martinez said. "This team was great. This is obviously some of best times I've had in my life in playing professional baseball. Going down the stretch and being a part of this -- especially with this group of guys -- it's awesome. Obviously I would love to come back, but I don't know what the future holds or where God wants me to go. I hope it's here, but if it's not, Arizona will always hold a special place in my heart."
Martinez, 30, bonded almost immediately with his new teammates, and that made the sudden end to the season tough for him to take.
"Some of these guys I'm sure I'll be in contact with and I'll be friends with the rest of my life, the rest of my baseball days," Martinez said. "And it's just a bunch of guys that if I'm not here and I'm on the other team, I'm going to walk over and be really excited to see everybody and give everybody hugs and shake everybody's hand and talk about how their families are."
Steve Gilbert has covered the D-backs for MLB.com since 2001. Follow him on Twitter @SteveGilbertMLB. This story was not subject to the approval of Major League Baseball or its clubs.