NLDS Game 3: Yu Darvish postgame interview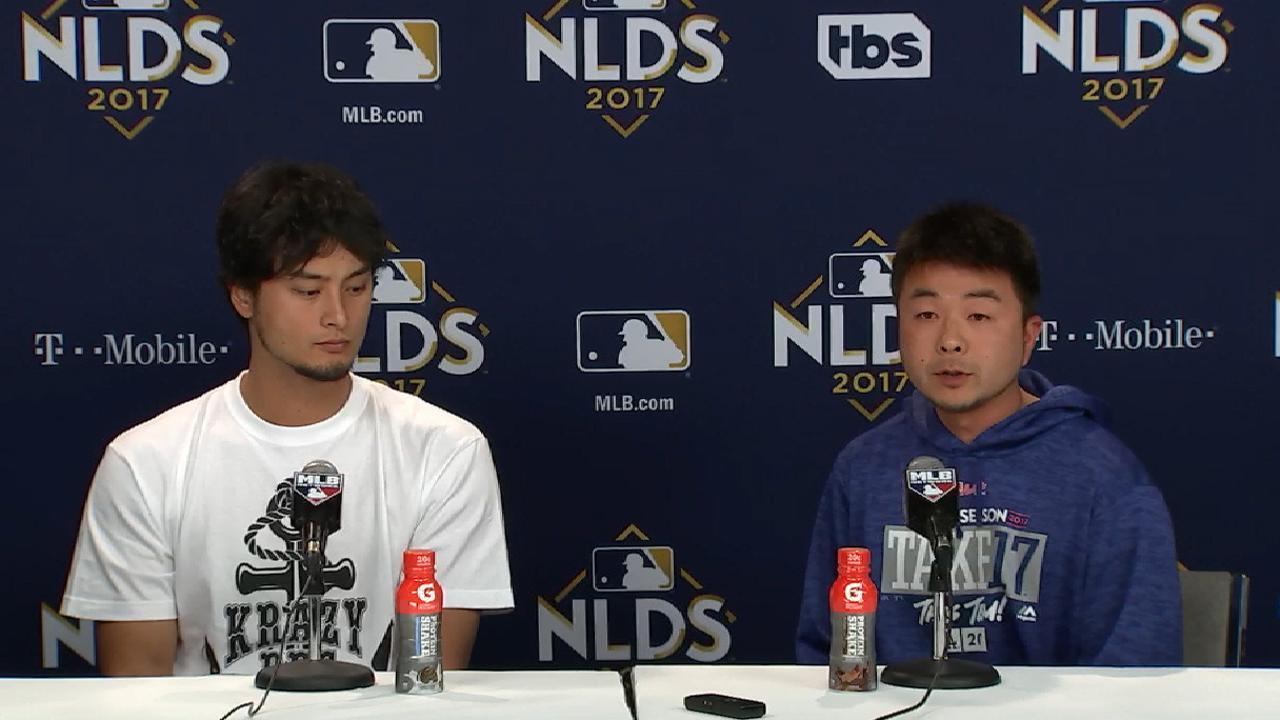 Q. First of all, congratulations. You pitched great today for five innings. How did you feel about today's outing?
YU DARVISH: Most of the time I threw here, the roof was closed and my off-speed pitches were actually moving great. Today the roof was open, and when I threw the pitches in the bullpen, it wasn't quite the same.

So it's almost like Colorado, like for me to have to execute almost perfectly to make my off-speed pitches move. But overall, I pitched well.

Q. In the beginning after you got traded, like you mentioned, you don't want to pitch bad. Now that you're in the playoffs where they traded you for this and you pitched well, do you feel relieved?
YU DARVISH: Before the game I was talking to Doc, and it's not about my personal like how am I going to pitch. I was telling him, "Hey, Arizona has no tomorrow; we're going to finish them off today." He said, "Exactly, that's what we're going to do."

So it was about finishing them off. Because if they take this game, the momentum could go their way, and we wanted to get this game, and I'm glad that we got today's win.


Q. You have that long time between your last start and today's start. Physically and mentally it seems like it was tough for you to prepare, but how did you feel about having a long time in between starts?
YU DARVISH: I was able to throw a simulated game in between, so I wasn't concerned about having to rest too long. It's like I said before, we wanted to get this game so that we don't give them any chance to come back and win.

Q. About the pitch selection, you started using the cutter, because you started throwing more cutters, that makes your four-seamer slider better, but how did you feel about your pitch selection?
YU DARVISH: Actually, it wasn't the four-seamer, I was throwing the two-seamer, and it was working really well. And I had a plan for one more time around the lineup, but before that I was out of the game.

Q. When you got off the mound, the pitch count wasn't that high. It seemed like too early, but how did you feel about getting off the mound at that point?
YU DARVISH: I support his decision. Like it was 3-1, and it was a really close game, like I said. We didn't want to give them any chances. So if I was the manager, I'd do the same thing, like use all the bullpens because we're going to have an off-day tomorrow and day after tomorrow.

It was just one of those things that we do everything and we didn't want to give any chances.

Q. It seems like on the mound that you stay really calm, but at the same time it's a high-pressure game and you showed some emotions. Mentally, how were you today?
YU DARVISH: I was trying not to make that situation where I get too overexcited at that point. So I was going one pitch at a time and making sure that I focused on their weaknesses and my strengths and all that stuff.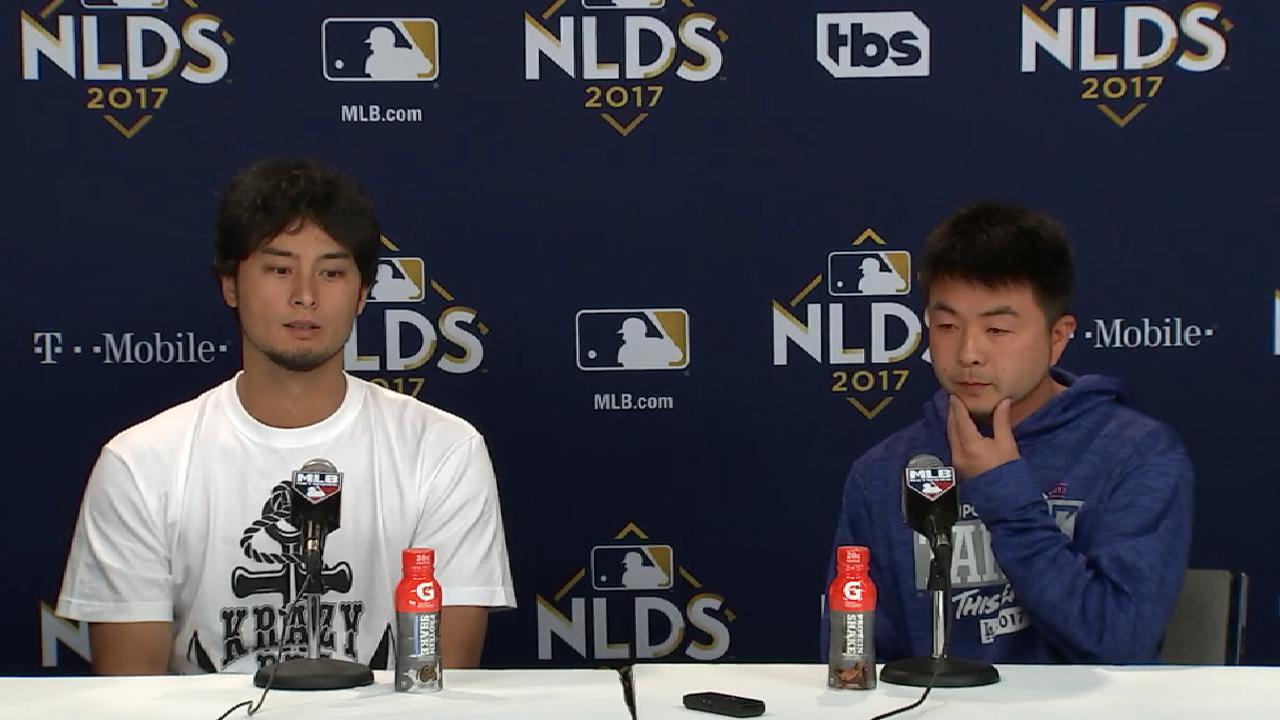 Q. You mentioned that you support Dave's decision to take you out in that spot, even though you had only thrown the 74 pitches. As you watched the game after that point, did you sort of get the sense when Tony comes in and immediately gets the double-play ball that the game was in good hands?
YU DARVISH: Yes, like I said, I support his decision 100 percent. Cingrani got great double play after that, and that was crucial. I felt like when I got off the mound that the team's ready to use all the bullpen to get almost like one pitcher for one out. We're going to do everything we can to win this game, so I support his decision.

Q. This is your first playoff win, and you clinched the Division Series for the first time. Is this something different from previous experiences?
YU DARVISH: What made me happy the most today is everyone was happy for me. I pitched well today and everyone congratulated me, and that made me very happy. So I'm satisfied with that.

We've still got eight more wins that I need to get. So going forward, we need to keep working hard.