DYK: Division Series Game 5 history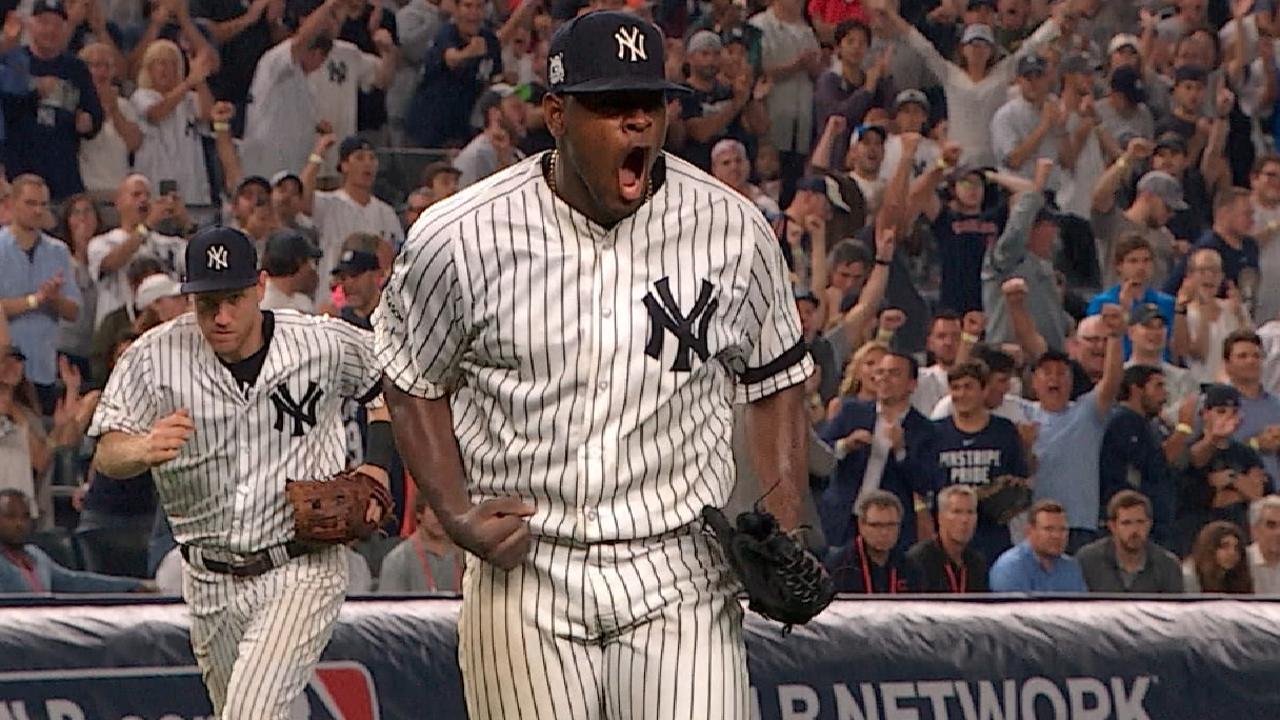 The Yankees returned home on the brink of elimination. Now they head back to Cleveland for a winner-take-all showdown.
New York's 7-3 victory on Monday night at Yankee Stadium, in Game 4 of the American League Division Series presented by Doosan, sets up Game 5 at Progressive Field, with a ticket to the AL Championship Series presented by Camping World against Houston on the line. It also brings this series to a relatively rare place.
Entering 2017, just seven of 56 teams to fall behind 2-0 in any Division Series had come back to win, including four of 40 in the current 2-2-1 format. But even forcing a Game 5 in that situation is an admirable feat. Out of those previous 56 Division Series to go 2-0, there had been only 12 in which the other team roared back to win the next two. History doesn't strongly favor either side in that scenario, with the Games 3-4 winners posting a record of 7-5 in Game 5. Home teams, meanwhile, have gone 6-6 (and 13-17 in all Division Series Game 5s).
• Shop for Yankees postseason gear
Here is a quick look at what happened in each of those back-and-forth Division Series (listed with Game 5 score):
* Series had 2-3 format
2015 ALDS: Blue Jays 6, Rangers 3
Toronto won three straight after dropping the first two at home, with Jose Bautista's iconic three-run homer and bat flip capping a four-run seventh inning that erased a one-run deficit in Game 5 at Rogers Centre.
2012 ALDS: Tigers 6, Athletics 0 *
The A's forced a Game 5 at home after winning Games 3-4 there, but momentum is only as good as the next day's starting pitcher. Justin Verlander tossed a four-hit, 11-strikeout shutout to lead Detroit to the ALCS.
2012 National League Division Series: Giants 6, Reds 4 *
On their way to the second of three championships in five seasons, San Francisco recovered from losing the first two games at home by taking three in a row in Cincinnati. Buster Posey's grand slam off Mat Latos capped a six-run fifth inning that broke a 0-0 tie.
2011 NLDS: Brewers 3, D-backs 2 (10 innings)
The home team won every game in this series, a pattern Cleveland hopes holds up on Wednesday. In this one, Nyjer Morgan sent Miller Park into a frenzy with an NLDS-ending walk-off single in the 10th.
2010 ALDS: Rangers 5, Rays 1
This series was the opposite, in that the road team went 5-0. Cliff Lee's 11-strikeout complete game lifted Texas past David Price and Tampa Bay at Tropicana Field in Game 5.
2003 ALDS: Red Sox 4, Athletics 3
Boston staved off elimination in Games 3-4 at Fenway Park. In Game 5 at Oakland, Pedro Martinez outdueled Barry Zito, with Manny Ramirez hitting a go-ahead three-run homer in the sixth inning.
2001 ALDS: Yankees 5, Athletics 3
Yes, the Yanks have won the last three games of an ALDS before. In this case, Games 3-4 came on the road and Game 5 at home, as Mariano Rivera's six-out save shut the door in the Bronx.
1999 ALDS: Red Sox 12, Indians 8
Cleveland fans, cover your eyes. The Tribe grabbed a 2-0 lead at home, then lost three straight, including Game 5 back in Cleveland. The Indians' pitching staff allowed 44 runs over those three defeats, including Troy O'Leary's go-ahead three-run shot in the seventh inning of the finale.
1995 ALDS: Mariners 6, Yankees 5 (11 innings) *
Here, the Yanks were on the other end of an ALDS comeback, losing the final three at Seattle's Kingdome. New York grabbed a one-run lead against Randy Johnson in the 11th inning of Game 5, but Edgar Martinez's walk-off two-run double scored Ken Griffey Jr. to end the series.
1981 ALDS: Yankees 7, Brewers 3 *
In '81, a strike-shortened schedule split the season into halves, creating Division Series between first- and second-half champions, 14 years before that round became a permanent fixture. In this one, the Yanks recovered from losing Games 3-4 at home to send the Bronx crowd home happy, thanks in part to Reggie Jackson and Oscar Gamble's back-to-back homers in the fourth.
1981 NLDS: Expos 3, Phillies 0 *
Montreal won its only postseason series by taking Games 1-2 at home and then Game 5 in Philadelphia, as Steve Rogers threw a shutout and went 2-for-3 with two RBIs to outduel Hall of Famer Steve Carlton.
1981 NLDS: Dodgers 4, Astros 0 *
The Dodgers rallied with three straight wins in Los Angeles to advance, capping off a series in which they allowed six runs. Jerry Reuss tossed a Game 5 shutout, while the Dodgers scored three off Nolan Ryan in the sixth to snap a scoreless tie.
Andrew Simon is a research analyst for MLB.com. Follow him on Twitter @AndrewSimonMLB. This story was not subject to the approval of Major League Baseball or its clubs.