Tribe looking for Lindor, Ramirez to set table
Duo is combined 3-for-28 at plate against Yankees in ALDS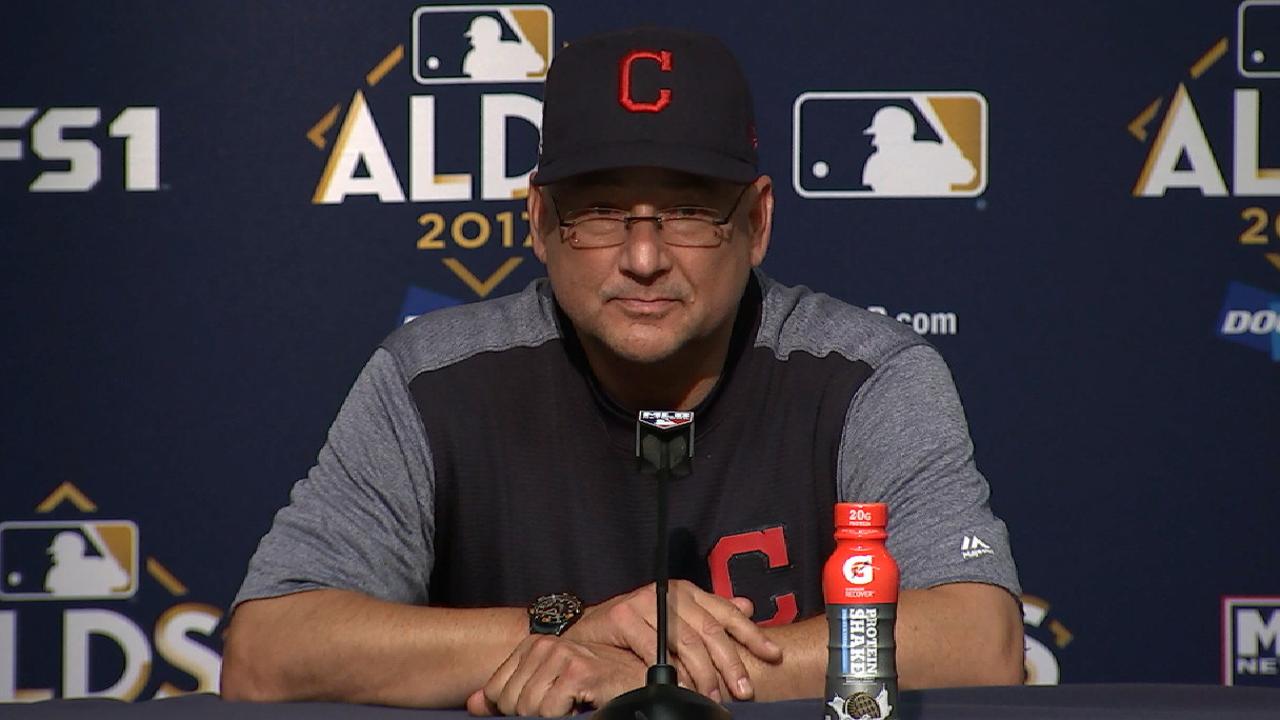 NEW YORK -- The frustration finally fell over Francisco Lindor's face, a rare sight for the usually smiling shortstop. Both hands clasped the helmet he brought to his feet in disgust. Scraped of context, the angst spurred by Lindor's hard lineout in the fourth could've said a lot about the Indians' surprisingly sloppy 7-3 loss on Monday night in Game 4 of the American League Division Series presented by Doosan, where little went their way at Yankee Stadium.
But it more specifically gave face to the struggles of Lindor, who has cooled off considerably since his dramatic grand slam in Game 2 on Friday night.
"We can't win if we don't score," Lindor said. "It's a little tough when you have people on base and you want to get the job done, but it's part of the game. None of us are perfect. You have to stay positive, stay happy."
• Shop for Indians postseason gear
By and large, that's what the Indians are trying to do heading into Wednesday night's winner-take-all Game 5 at Progressive Field. They're happy to be going home, so much so that they cleared out of the visiting clubhouse at Yankee Stadium in record time. Happy to put a four-error, 14-strikeout night behind them, and happy to have ace Corey Kluber on the hill in the next game.
What would make them happiest would be a win, and getting the top of the lineup going could go a long way toward that happening. Lindor is 1-for-11 this series, and 0-for-9 since tying Game 2 in grand fashion. Cleveland second baseman Jose Ramirez is 2-for-17. Those two made up the best double-play duo east of Houston during the regular season, and if the Tribe wants to move on to face the Astros in the AL Championship Series presented by Camping World, they'll need them to deliver against the Yankees in Game 5.
"What we ultimately care about is when it's over, that we're one run better than them, however we do it," Indians manager Terry Francona said. "But it makes it easier when the guys up top are setting the tone."
When they didn't in New York, and Cleveland's offense stalled, Masahiro Tanaka and a duo of flamethrowing righties combined to strike out 25 Indians in Games 3 and 4. The Tribe managed three runs over 18 innings, all on two swings on Monday against Luis Severino. Outside of that, the offense went 7-for-59 across two games, and 2-for-29 in Game 4.
Lindor and Ramirez combined to go 1-for-15 over Games 3 and 4, which Cleveland played without slugger Edwin Encarnacion looming behind them.
"He drives in a lot of runs," Lindor said. "But the guys that are here, [Michael Brantley] and [Jay Bruce], they are doing a great job. We haven't been able to get on base for them."
Brantley and Bruce combined to go 2-for-13 in New York. But to Lindor's point, a good chunk of the Indians' offense in Game 4 came from Carlos Santana, who hit between them in the middle of the order.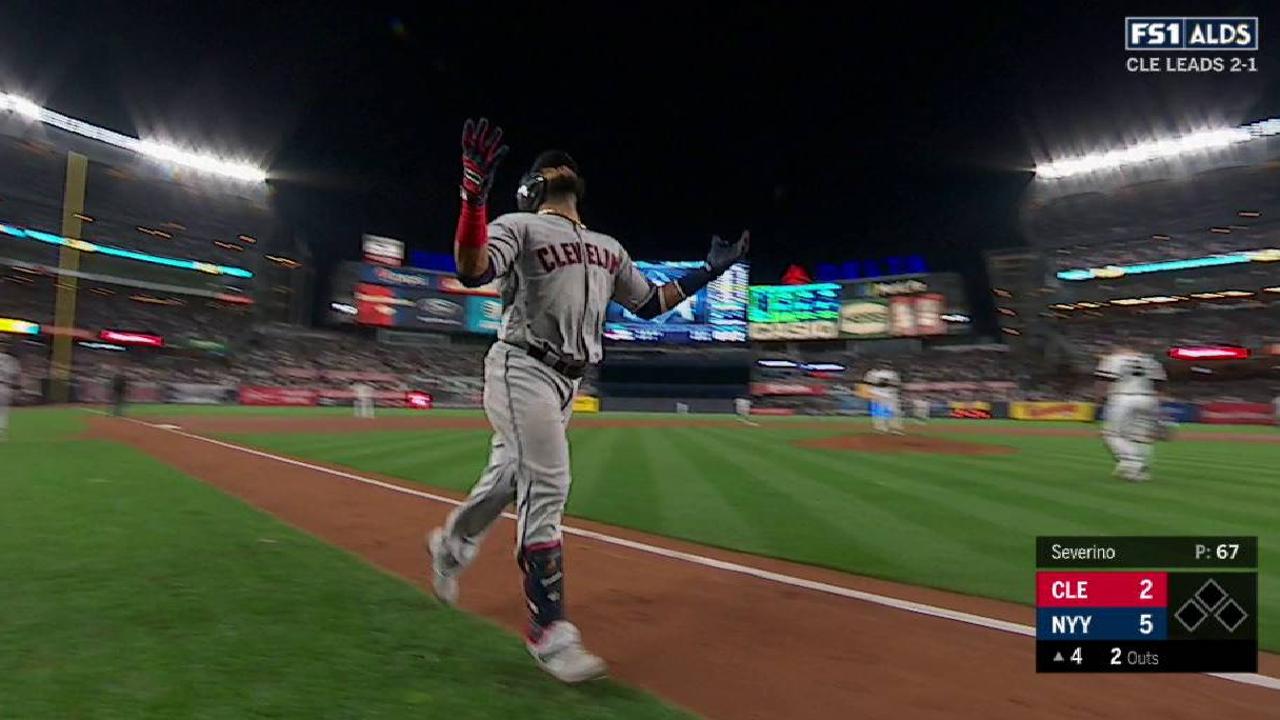 Santana's first homer of the series came in Game 2 against Yankees starter CC Sabathia, who will face the Indians in Game 5. That'll force the switch-hitting Santana, Lindor and Ramirez to flip over to the right side, and that might be the break the Tribe's offense needs. All three have been excellent in the past against Sabathia.
Santana is 11-for-21 (.524) in his career against Sabathia. Lindor is 5-for-11 (.454). Ramirez is 4-for-10 (.400). While Santana and Ramirez sport fairly even platoon splits, Lindor was a considerably better right-handed hitter this season, adding nearly 50 points to his average and 75 points of OPS from that side.
"Nobody cares about what I did in the past, to be honest. Everyone is looking forward to seeing what we can do in the future," Lindor said, smiling again.
Joe Trezza is a reporter for MLB.com based in New York. Follow him on Twitter at @joetrezz. This story was not subject to the approval of Major League Baseball or its clubs.