Almora, Cubs back Schwarber after error in LF
Left-handed-hitting slugger misplays fly ball that leads to Nationals run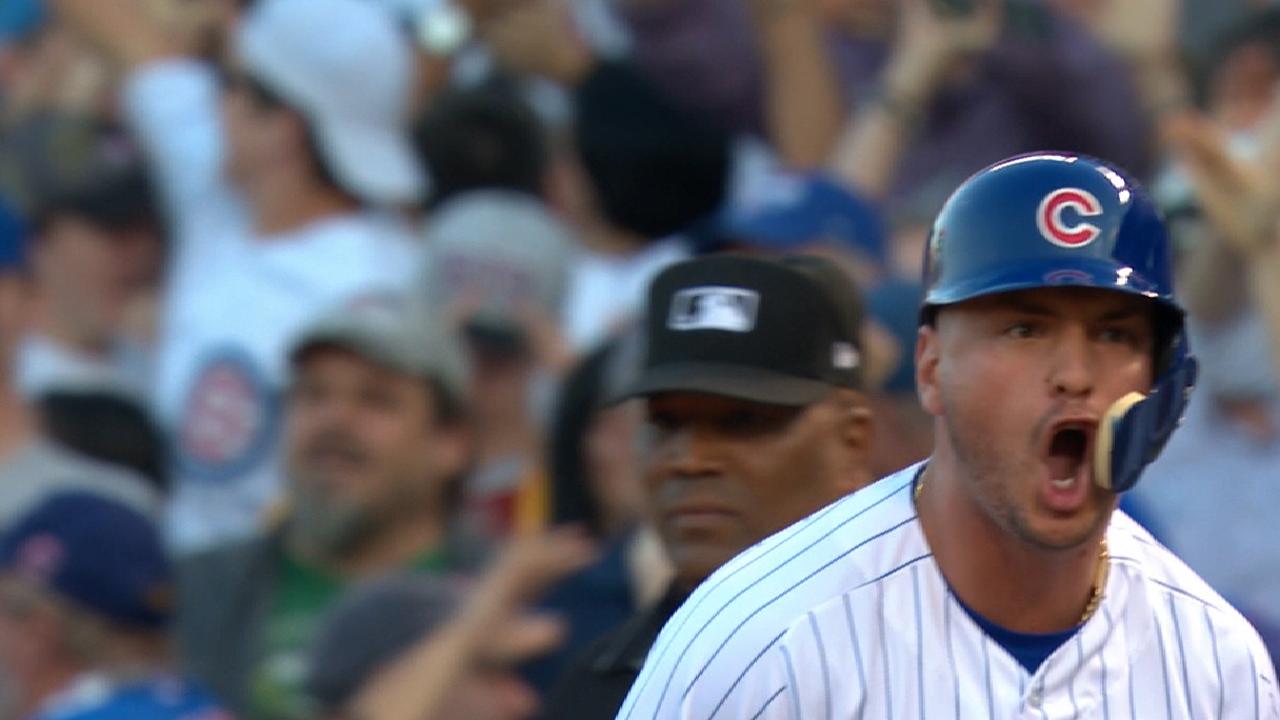 CHICAGO -- Almost before anyone could ask Kyle Schwarber about why he muffed Daniel Murphy's fly ball after Game 3 of the National League Division Series presented by T-Mobile, the Cubs' outfielder shouldered the blame.
"I should've caught that ball, and I didn't and it led to a run," Schwarber said. "It's my fault. The ball should've been caught. For us to come back like that, that speaks volumes about this team. We're not going to give up and we have each other's backs."
Schwarber not only didn't catch Murphy's fly ball in the Nationals' sixth inning, he also kicked it and was charged with two errors. Murphy scored on Ryan Zimmerman's double to give the Nationals a lead, but the Cubs rallied for a 2-1 win over the Nationals and a 2-1 series lead.
And the player who delivered the game-tying run was Albert Almora Jr., called on to pinch-hit for Schwarber in the seventh after the Nationals replaced Max Scherzer with lefty reliever Sammy Solis.
"I think the team did a really good job when the [sixth] inning was over to say, 'Hey, there's three innings left,'" Almora said of the reaction to Schwarber's error. "He took it hard, like a real competitor should. When I got my chance, I did it for [Jose] Quintana and Schwarber."
Quintana struck out seven over 5 2/3 innings and allowed one unearned run in his first career postseason start. He could only watch as Ben Zobrist doubled with one out in the seventh for the Cubs' first hit off Scherzer. Almora was called upon to face Solis and singled Zobrist home to tie the game at 1. It was his first career postseason hit, ending an 0-for-14 stretch.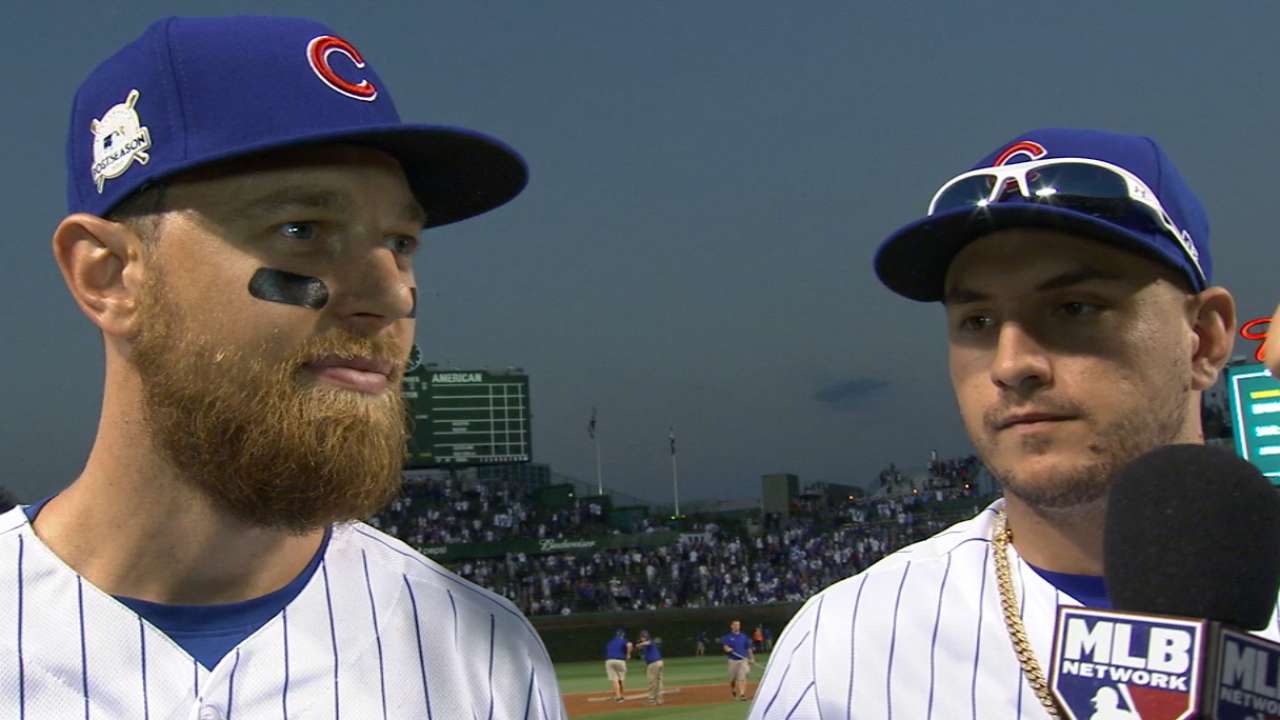 Schwarber got his second NLDS start because manager Joe Maddon wanted as many left-handed bats as he could get against the right-handed Scherzer.
"Schwarber works his butt off, literally, to get better in the outfield," Maddon said. "And here's the thing about that: That's a routine play. That's not over the top and that's not an exceptionally great play, and it's something that he knows he can make 11 out of 10 times.
"I have such faith in the fellow and the guy and his work ethic and how much he cares. After the game, all the guys are going up to him, every one, and reinforcing him. ... He's going to continue to get better on defense. But you've got to love his heart, man."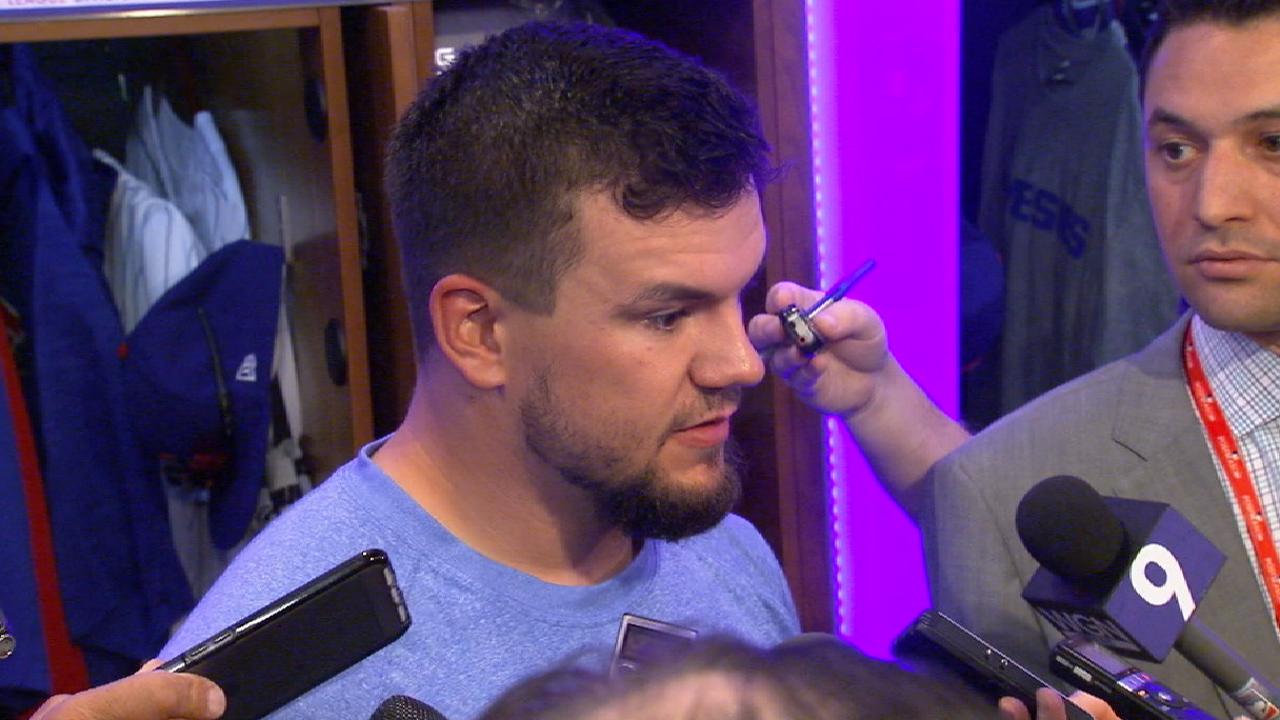 Cubs outfielders Jason Heyward and Jon Jay both talked to Schwarber immediately after the play while Quintana was being taken out of the game.
"You've got to go on to the next thing and relax and understand the game's not over," Heyward said. "Just give him some love there. It's a tough spot and we know he wants to come through."
"I'm frustrated, I'm mad," Schwarber said. "They're telling me, 'Everything was going to be all right.' That's the way this team is. It's a special team. I think that was a prime example of how this team has gone through the whole year and was able to battle back and take that win there."
After Zimmerman's run-scoring hit, Schwarber yelled into his glove -- "A lot of bad words," he said -- because he knew the inning should've been over.
"I'm always going to own up to my mistakes, and there's no excuse," Schwarber said.
Almora is usually Maddon's first pick off the bench against lefties, despite his previous playoff history.
"He doesn't swing and miss often," Maddon said. "I don't care who's pitching, how hard he throws and how good of a breaking ball [he has], especially against a lefty. He's a contact guy. That's what really makes him attractive as a pinch-hitter."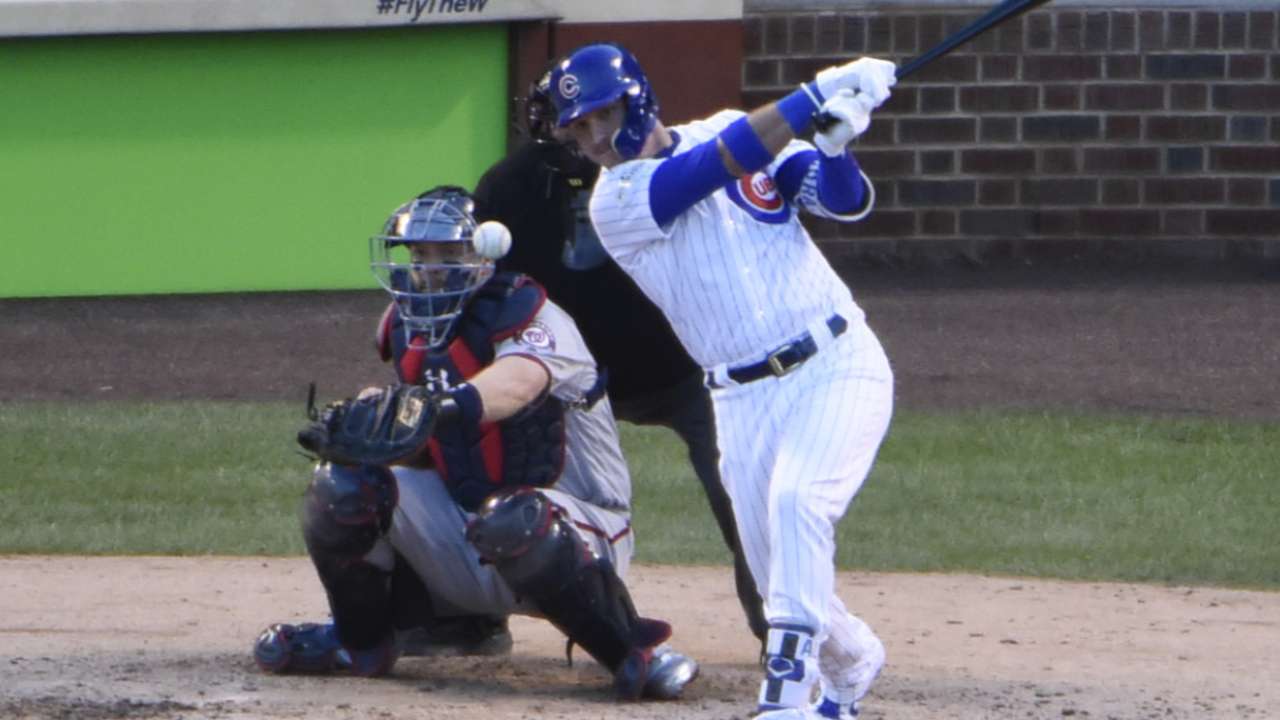 Almora led the Cubs with 14 hits off the bench this season, batting .341 as a pinch-hitter.
"I'm just trying to do my job when I get the opportunity," Almora said. "I know Joe believes in me, I know the whole team believes in me and I believe in myself. I'm not trying to do too much, I'm not trying to be a hero. I'm just trying to help the Chicago Cubs win."
And when he did single, he looked at the Cubs' dugout, and saw Schwarber standing on the top step of the dugout cheering.
"I know it meant a lot," Almora said. "Obviously, this was one of the highlights of my career."
Carrie Muskat has covered the Cubs since 1987, and for MLB.com since 2001. She writes a blog, Muskat Ramblings, and you can follow her on Twitter @CarrieMuskat. This story was not subject to the approval of Major League Baseball or its clubs.