MLB.com Columnist
Mark Feinsand
Debatable decisions don't go Dusty's way
CHICAGO -- Max Scherzer had a very good night Monday. Dusty Baker, well, the jury's still out on that one.
The Nationals dropped another closely contested game to the Cubs, whose 2-1 win can be attributed in part to a pair of questionable pitching decisions by Baker.
Washington now finds itself trailing Chicago two games to one in the best-of-five National League Division Series presented by T-Mobile, leaving the Nats one loss away from another disappointing first-round postseason exit.
Rewind to the seventh inning, where a brilliant Scherzer had shaken off a minor hamstring injury to hold the potent Cubs lineup without a hit through six.
Scherzer had induced an inning-ending double play off the bat of Anthony Rizzo -- remember that name -- to end the sixth, pumping his fist in a fashion typically reserved for the final out of a series. The no-hitter was alive, but more importantly, Scherzer had preserved the 1-0 lead his team had given him in the top of the inning, thanks to a pair of errors on the same play by left fielder Kyle Schwarber and another timely hit by Ryan Zimmerman.
"You've got a 1-0 ballgame going into the seventh," said Scherzer, who had 90 pitches after six. "The game's on the line."
• Shop for Nationals postseason gear
Scherzer struck out Willson Contreras to start the seventh, but Ben Zobrist doubled to left-center, ending Scherzer's no-hit bid. It also put the tying run in scoring position with two left-handed hitters coming up, bringing Baker out of the dugout.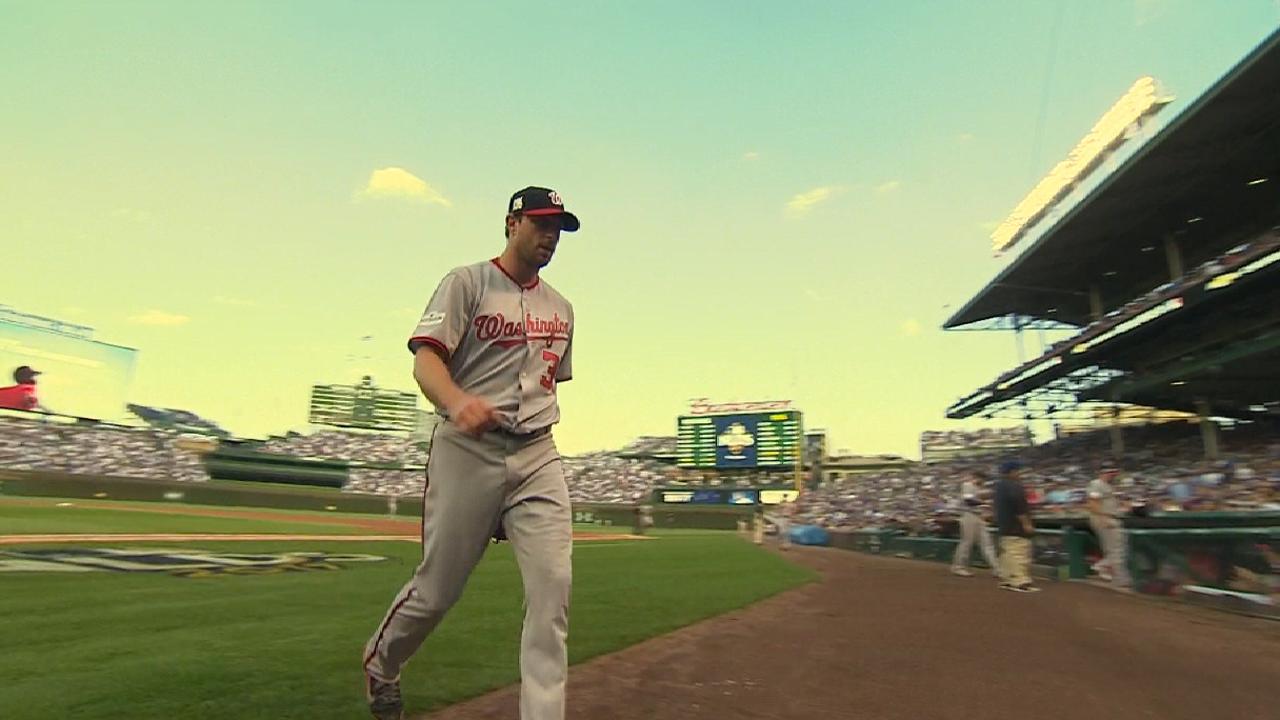 With Schwarber due up, Baker had three likely choices: Stick with Scherzer, bring in righty Brandon Kintzler to face Schwarber, or call on lefty Sammy Solis, who would likely face a right-handed pinch-hitter.
Baker chose Solis, not wanting to tempt fate against Schwarber.
"It was very difficult, but we thought Max had had enough, especially coming off the injury," Baker said. "Schwarber is a dangerous man. I probably couldn't live with myself if Schwarber had hit one out of the park. So we thought we made the right decision."
Scherzer walked off the mound shaking his head, a stunned look on his face. If it appeared that he was upset about being lifted -- and make no mistake, that's how it looked -- the veteran said after the game he supported his manager's decision.
"We were all kind of 50-50 on what was going to happen," Scherzer said. "We kind of looked at it and thought that Sammy Solis was the best option for us. I know you guys are probably going to second-guess that, but these guys are here to make a decision. When they made that decision, I wasn't going to override anybody.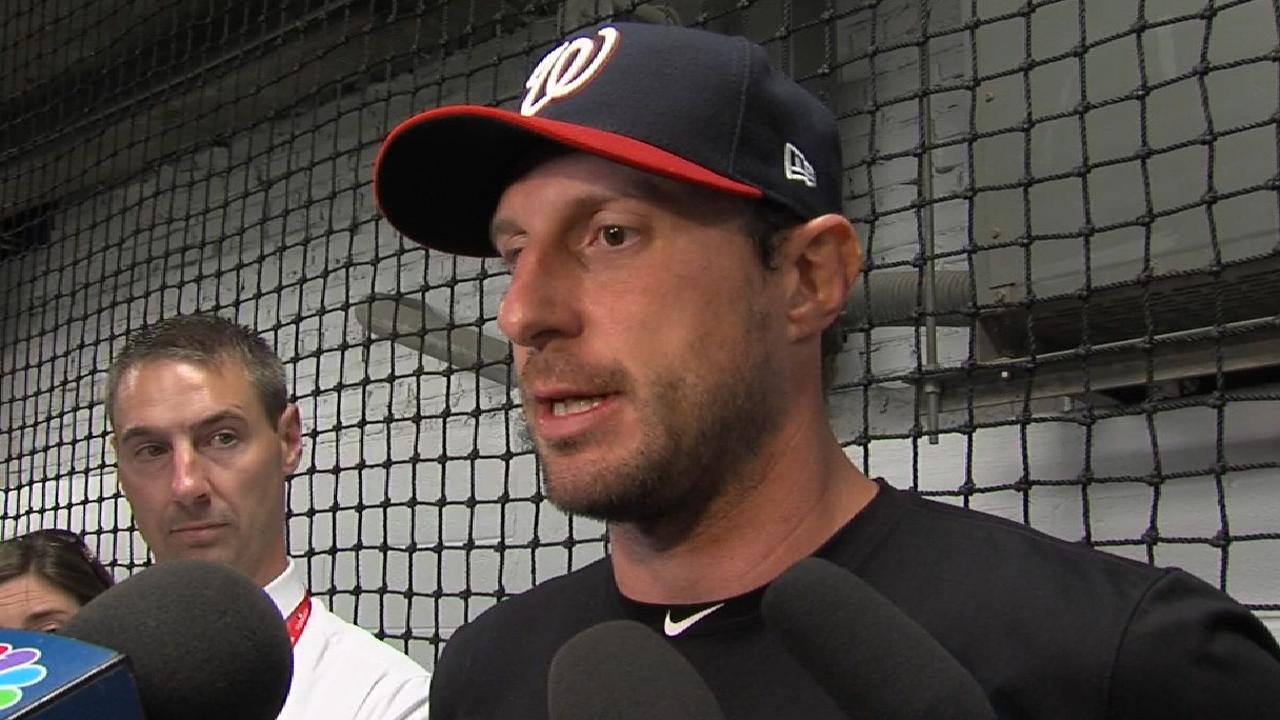 "I was behind it as well. I was just juiced out of mind with adrenaline. That's just how it is."
Pulling Scherzer in that spot is understandable, given his injury and the ensuing nine-day layoff.
Said Cubs manager Joe Maddon: "I'm certain that based on his injury and everything, he was not going to go much further than that, anyhow."
Bringing in Solis was a harder call. Righties had a .757 OPS against Solis this season, so was that a better option than bringing in Kintzler (.558 OPS vs. left-handed hitters), Ryan Madson (.489) or Matt Albers (.583) to face Schwarber?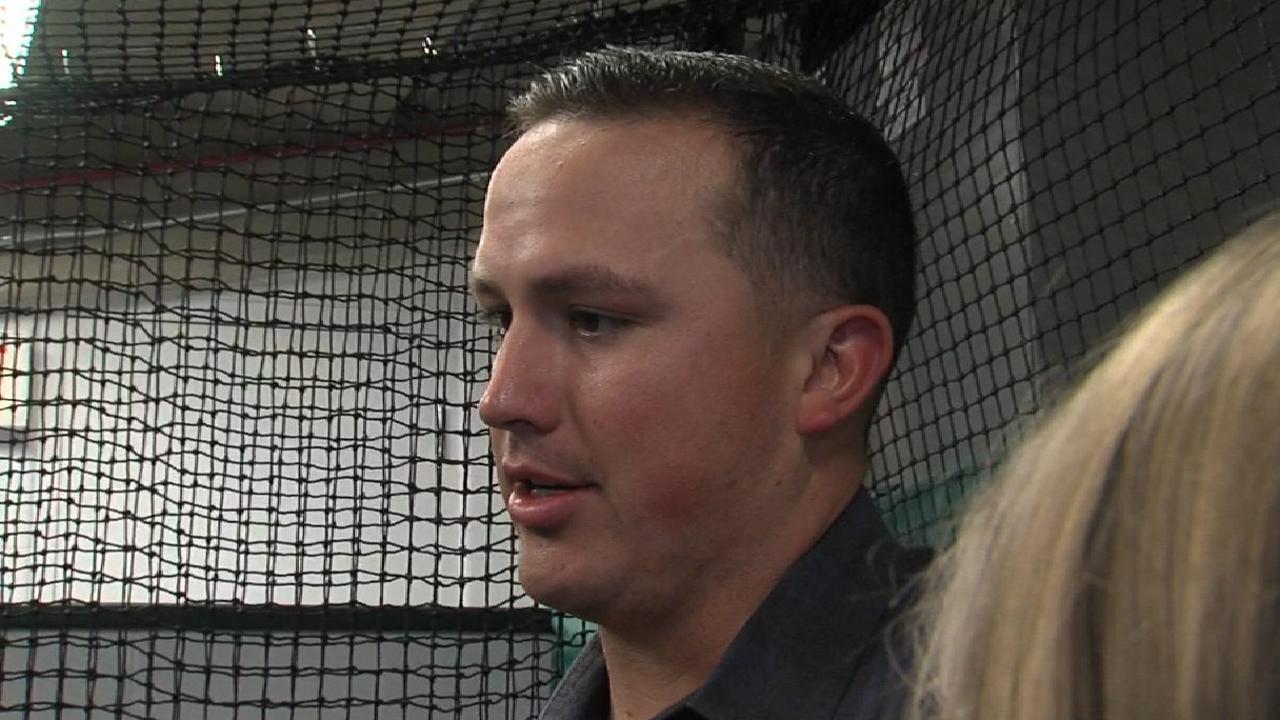 "We thought that was the right decision," Baker said in what became a familiar refrain.
The only person on the field as disappointed as Scherzer was Schwarber, who was hoping for a chance to atone for his fielding sin in the previous inning.
"I saw Scherzer trying to stay in there," Schwarber said. "I was like, 'Come on. Stay in there.' I knew as soon as that lefty was coming in, Albert [Almora Jr.] was going to be pinch-hitting."
The right-handed-hitting Almora ripped a single to left, scoring Zobrist to tie the game. Scherzer's effort had gone for naught on a night when he deserved better.
"If [Solis] made the pitch, we wouldn't be talking about it," Baker said.
No, but we might be talking about Baker's other debatable decision.
Fast forward to the eighth inning. The game was still tied when Kintzler, who had relieved Solis and recorded the final two outs in the seventh, issued a leadoff walk to pinch-hitter Tommy La Stella.
A sacrifice bunt moved the go-ahead run to second base, then Kintzler whiffed Kris Bryant for the second out.
Again, Baker was presented with a choice.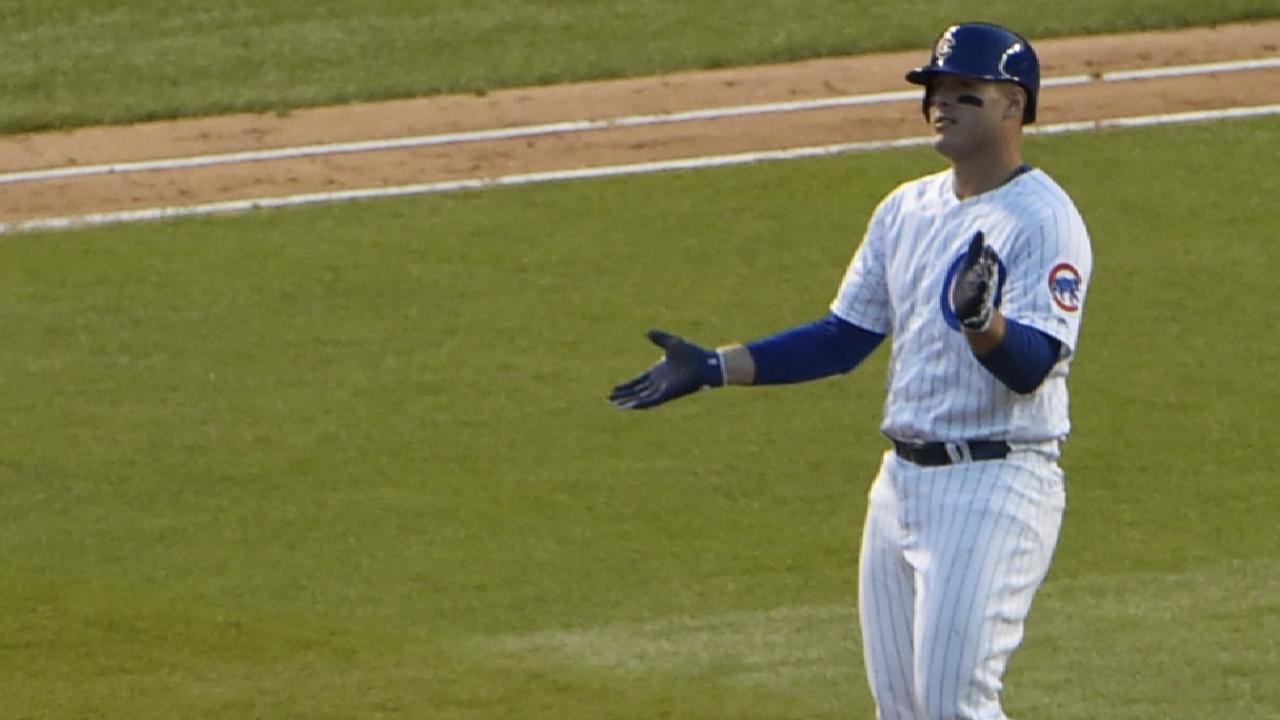 He could let Kintzler, who had the previously mentioned success against lefties this season, pitch to the left-handed-hitting Rizzo. He could intentionally walk Rizzo and let Kintzler go after Contreras. Or he could bring in southpaw Oliver Perez to face Rizzo despite the fact that he had allowed a higher OPS (.665) against lefties than Kintzler.
Baker went with the third option. Like the decision an inning earlier, it backfired.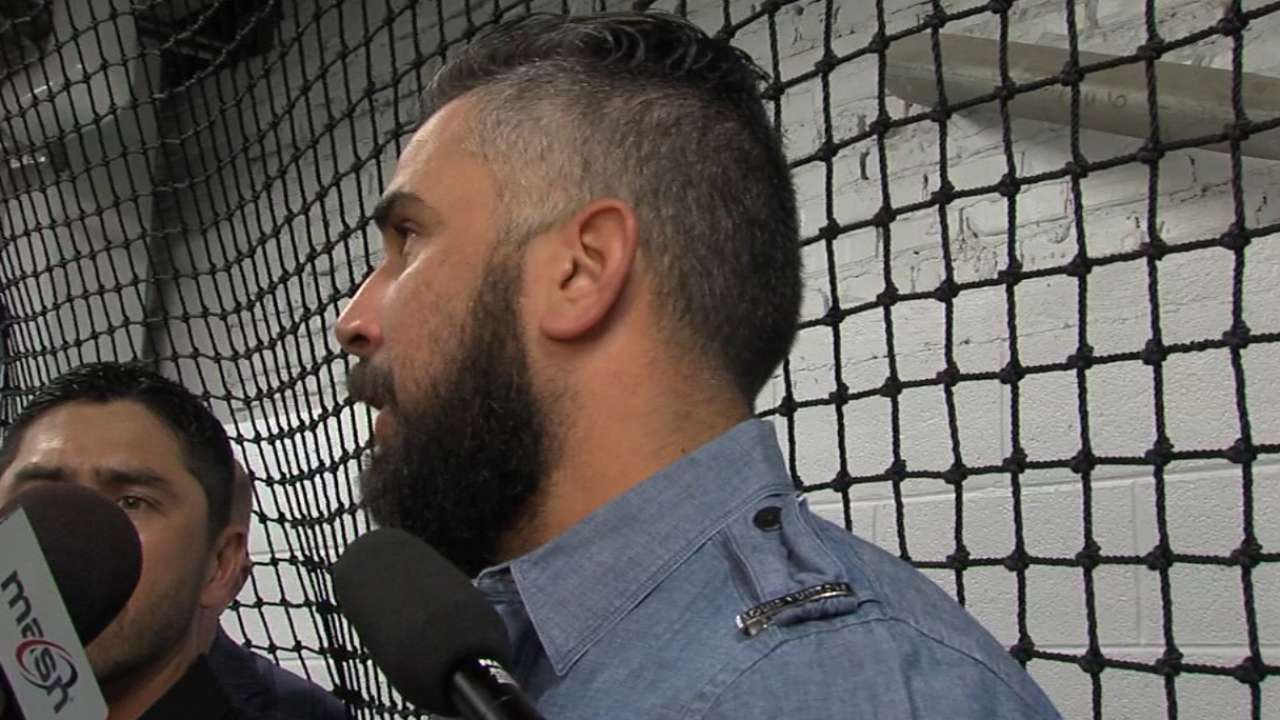 Like Buck Showalter with Zach Britton in last year's American League Wild Card Game, Baker put himself in position to lose a tight game without employing his best reliever (Sean Doolittle), not to mention his second-best reliever (Madson).
Rizzo hit a popup that found the perfect spot in the outfield, falling in between Jayson Werth, Trea Turner and Michael A. Taylor. Pinch-runner Leonys Martin scored, and three Wade Davis outs later, the Nationals were one loss away from another early winter. At least Doolittle and Madson will be well-rested for Tuesday's crucial Game 4.
"We decided to pitch to [Rizzo]," Baker said. "You couldn't have thrown a ball in there any better than he did. So that was the game."
Mark Feinsand, executive reporter for MLB.com, has covered the Yankees and MLB since 2001 for the New York Daily News and MLB.com. This story was not subject to the approval of Major League Baseball or its clubs.