D-backs shuffle order in Game 3 vs. Darvish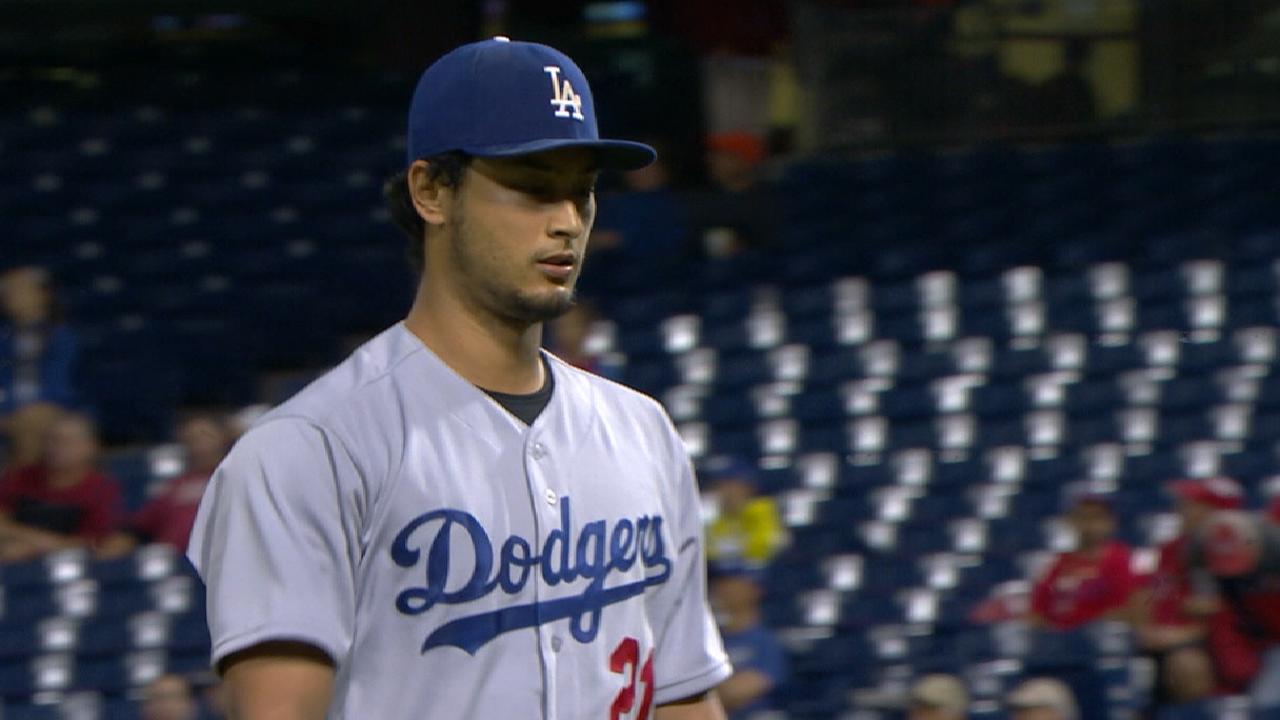 As the Dodgers look to get to the National League Championship Series presented by Camping World for the fifth time in the last decade, the scene for the NL Division Series presented by T-Mobile shifts to Chase Field in Phoenix tonight. Two right-handers with the ability to dominate opposing lineups take the hill in Yu Darvish for Los Angeles and Zack Greinke for Arizona.
Accordingly, Dodgers manager Dave Roberts and his counterpart, D-backs skipper Torey Lovullo, have put together lineups they feel maximize their chance to produce at the plate against two of the best right-handers in the game.
"It's a tough environment right now," Lovullo said. "We know what we're faced up with. And I know these guys are ready to link things together and go out and perform. I like this group of eight hitters plus Zack to go out and do what they know how to do."
Roberts keeps the first through fourth spots in the Dodgers batting order the same is in their Game 2 victory on Saturday. Chris Taylor leads off and plays center field, with Corey Seager, who is 6-for-11 with a double and two homers against Greinke, batting second and playing shortstop. Justin Turner, who is 4-for-8 with a double and 5 RBIs in the series, bats third. Turner is 7-for-22 (.318) with three doubles, a triple and a homer against Greinke. Cody Bellinger, just 1-for-10 with six strikeouts in the NLDS, plays first base and bats fourth. During the regular season, the rookie sensation was 3-for-9 against Greinke with a double and a homer.
"I think with Cody, there is a combo of mechanics," Roberts said of Bellinger's struggles. "There is a combo of trying to do a little bit too much, and to what they're doing to him. They're not throwing him strikes.
"If Cody is disciplined on the edges, it will be a good night. If he remains to be free swinging, it's going to be a tougher night for him. So he's aware of that. I've talked about it before."
Yasiel Puig -- who is 5-for-9 in the series with a double, triple and four RBIs -- plays right field and moves to fifth in the lineup after hitting eighth in Game 2. Catcher Austin Barnes is in the lineup and batting sixth ahead of Yasmani Grandal, who started Game 1.
"I think with Austin ... I've liked the at-bat quality," Roberts said. "Just to be able to get a hit, spoil pitches, and with Zack who obviously is a tactician on the mound."
Curtis Granderson, who has the most career at-bats (69) against Greinke of any active player, hits seventh. Roberts goes with more experience in the eighth spot, as well, with Chase Utley at second base ahead of Darvish.
Lovullo's lineup for Arizona is markedly different from Game 2 with a right-hander on the mound for the Dodgers. It is the same lineup he used for Wednesday's NL Wild Card Game win over the Rockies.
"I thought this was, in my mind, the best team against a right-handed pitcher, such as Darvish, that was going to go out and be able to execute a game plan," Lovullo said. "They complement one another.
"I feel like this group, the whole team does, but this group in particular links things together very, very well, and I thought it was the best chance for us to score runs."
David Peralta remains in the leadoff spot and plays left field. Shortstop Ketel Marte moves into the second spot in the order, a left-handed batter who is hitting .375 (3-for-8) with a homer in the NLDS. First baseman Paul Goldschmidt and right fielder J.D. Martinez hit third and fourth, respectively, while third baseman Jake Lamb moves from seventh in the order against southpaw Rich Hill during Game 2 to fifth tonight.
The bottom of the lineup is rounded out by center fielder A.J. Pollock, second baseman Daniel Descalso and catcher Jeff Mathis ahead of Greinke in the ninth spot. The only hitter in the starting lineup with an extra-base hit against Darvish is Martinez, who is 2-for-11 with a homer against him.
DODGERS
1. Chris Taylor, CF
2. Corey Seager, SS
3. Justin Turner, 3B
4. Cody Bellinger, 1B
5. Yasiel Puig, RF
6. Austin Barnes, C
7. Curtis Granderson, LF
8. Chase Utley, 2B
9. Yu Darvish, P
D-BACKS
1. David Peralta, LF
2. Ketel Marte, SS
3. Paul Goldschmidt, 1B
4. J.D. Martinez, RF
5. Jake Lamb, 3B
6. A.J. Pollock, CF
7. Daniel Descalso, 2B
8. Jeff Mathis, C
9. Zack Greinke, P
Manny Randhawa is a reporter for MLB.com based in Denver. Follow him on Twitter at @MannyOnMLB.

Fabian Ardaya is a reporter for MLB.com.

This story was not subject to the approval of Major League Baseball or its clubs.