Oct. 9 Dusty Baker postgame interview
Q. How difficult a decision was it to pull Max when you did?
DUSTY BAKER: Well, it was very difficult, but you know, we thought Max had had enough, especially coming off the injury, and you know, Schwarber is a dangerous man. I probably couldn't live with myself if Schwarber had hit one out of the park on you, which he's dangerous to do that.

So we thought we made the right decision. You know, he got a changeup up to Almora and you know, that was, you know -- they continue to get the clutch hits. You know, we haven't gotten them, yet. But we will.
Q. You said you thought Max had enough. He had a no-hitter till the last batter. Was it something you had seen?
DUSTY BAKER: No, but he was at a hundred pitches, and he had not been that far in a while. Like I said, Schwarber is a dangerous hitter. You know, if he made the pitch, then you know, we wouldn't be talking about it. But this -- you know, just sometimes, you can't throw the ball where you want to throw it.

Q. When you took Max out, was another potential choice to go with Kintzler who has reverse blitz and go after Schwarber?
DUSTY BAKER: No, because -- that wasn't even a consideration.

Q. You wanted to get Schwarber out?
DUSTY BAKER: Yes. And also, you know, Kintzler throws that sinker, and Schwarber likes the ball away from him. I've seen him hit that ball in the left field seats many, many times. We thought that was the right decision.

Q. One other decision, when you went to Perez, what other option might you have had?
DUSTY BAKER: Well, the other option might have been to walk him and then pitch to Contreras, but Contreras, like early in the series -- like I said, Perez is really dangerous with the runners in scoring position and two outs.

So you've got to pick one of the two, and you know, he blooped the ball in there. It was a clean hit but it was a blooper, and I thought that we had a chance to catch it.

Q. Would it be overthinking or overdoing not to call Perez but to bring in Madson for Contreras because Madson is such a good strikeout guy?
DUSTY BAKER: Yeah, but you hate to put extra men on base at that point in time in the game. We decided to pitch to -- shoot, I can't even think -- we decided to pitch to him. Like I said, you couldn't have thrown a ball in there any better than he did. So that was the game.

Q. On TV, it looked like Rizzo after the bloop hit was screaming something, might have been "Respect me", hard to read lips --
DUSTY BAKER: I don't care. I'd have screamed, too.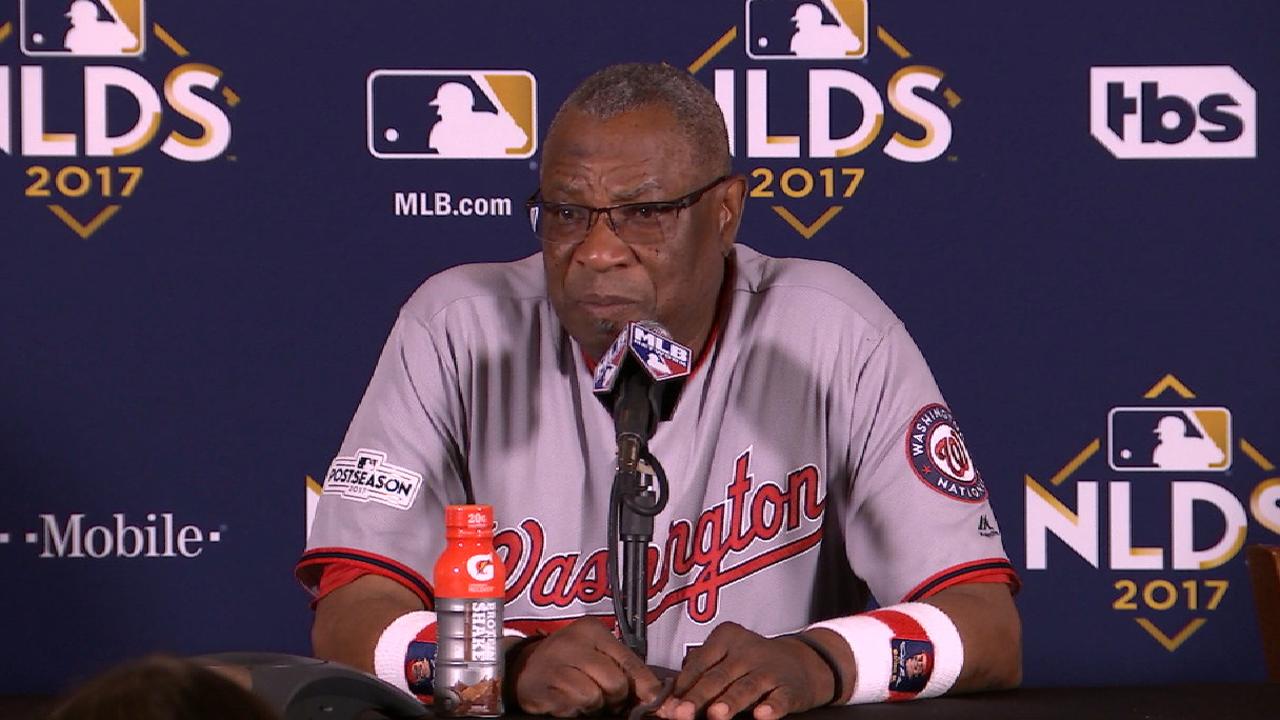 Q. The only thing I didn't hear asked: Would there have been any way to use Doolittle against Rizzo, or is that too early?
DUSTY BAKER: No, we didn't -- you know, we thought Perez could do the job, and he did the job. It's just that he found a hole.

Q. Does Rizzo seem like one of those guys who just gets hits at key moments, like one of those guys you see in the playoffs who just turns it on?
DUSTY BAKER: Well, yeah, I guess. I mean, it's not really turning it on when you bloop one in there, you know what I mean? So that ball is kind of in never-never land out there, between three merging players on our team.

Like I said, you couldn't have thrown the ball any better if he had thrown the ball in there.

Q. You said after Game 1, that you would like to see your hitters be a little more aggressive. Is there anything after another offensive output like tonight that you would like to see offensively from your group?
DUSTY BAKER: Well, you know, I mean, we are usually good at getting multiple hits, and we couldn't string together multiple hits. But you know, we know that it's right around the corner, and our back's against the wall, so we've got to get them tomorrow. We've got to get those hits, and hopefully they don't.

Q. How good were those two -- in the outfield that took away three runs?
DUSTY BAKER: Yeah, those are big. Especially the one by Jay. I thought -- you know, you could tell, that ball was coming back to Heyward, but I thought that the one out there to Jay, I thought we had a chance to get a couple runs on that one.

You know, that saved the game, really, for them, those defensive plays in the outfield.