ALDS Game 4: George Springer, Alex Bregman postgame interview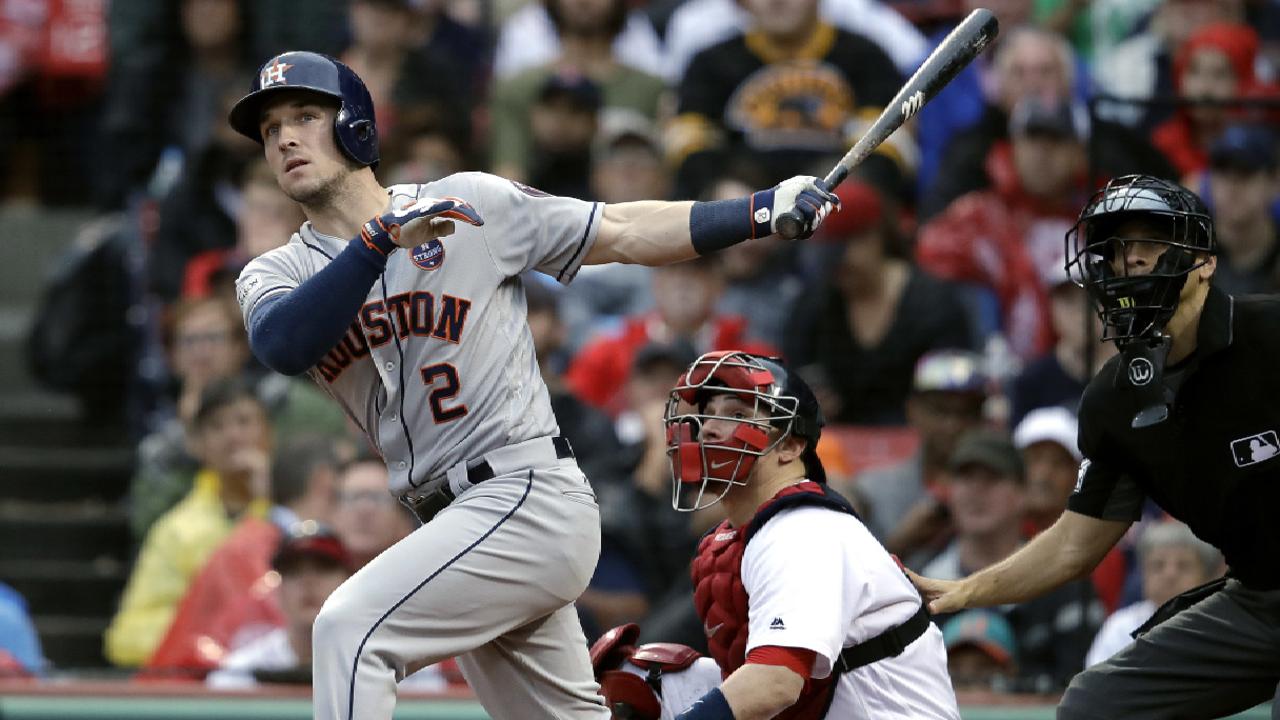 Q. Can you just talk about your emotions. It's been a long time since you guys were in West Palm in February and to get to accomplish this next step.
GEORGE SPRINGER: Yeah, first and foremost that's a great team over there and for to us come out and beat them is obviously huge for us. And it's been a long year, it's been a great year for us and I'm glad our team could take the next step.

Q. It was a very tense afternoon, Sale's rolling through things, and it's like, what was the tension level, the nervousness, waiting for somebody to do something?
GEORGE SPRINGER: Yeah, when they took the lead it was, at least for myself, it was, all we got to do is just score one and breathe. And this guy hit the homer here and obviously whenever a guy like Sale comes out of the bullpen you know it's not going to be easy. Him and Price both were electric. And for us to scratch and claw like that was obviously big.


Q. What was the mood, tension like or was it lifted when he hit the ball over the Monster?
GEORGE SPRINGER: Man, that was a sigh of relief, to know that it's at least put back even and now I have to score again. And that was the game therefore him to hit that homer off of him was huge.

Q. George, what's it mean to do it here so close to your hometown or your hometown ballpark?
GEORGE SPRINGER: Yeah, it's obviously cool, it's great. I have my family is here, my fiance's family is here, so it's cool. But I don't care if it's here or somewhere else, I'm just happy to be going on.

Q. Alex, could you talk about the at-bat against Sale and what he was trying to do to you and how you got what you wanted?
ALEX BREGMAN: Yeah, when we were back home he started me off with a changeup and then he ended up striking me out my third at-bat when we were back home on a changeup. And I was looking for it the whole day. I got a little anxious my first at-bat and kind of came off it and popped it up to center, because I was so excited that I got it and I guessed right. I told myself that I would get it again, I just needed to stay close and stay on it and I was fortunate enough to put a good swing on it.


Q. What was it like? What was the emotions as you're rounding the bases and now there's light at the end of the tunnel for the club?
ALEX BREGMAN: It's huge. I had all the confidence in the world that we were going to find a way to scratch and claw like we have done all year and get the lead back. I was in the dugout and Alex Cora came up to me and said, hey, one at-bat, that's all that matters. I was 0-10 going into that my last 10 at-bats. And he said, one at-bat, that's it, have some fun, play the game how you did the beginning of the series, just having fun. I was fortunate enough to get a good pitch to hit and put a good swing on it.

Q. Would you guys, both of you, talk about now taking the next step and what you're feeling, the sense of accomplishment of what you've done so far, I know this is not the last thing you want to do, but this is pretty cool now you're in the final four.
ALEX BREGMAN: Yeah, this is, we envisioned ourselves being here since the beginning of the year and nothing really changes on our end. We're going to keep showing up to the yard every day, having fun, competing, playing the game the right way, playing it hard, and playing for each other. I think honestly this game, going to Game 4, coming down to the wire in a hostile environment's going to help us for the rest of the postseason and give us confidence moving forward.

GEORGE SPRINGER: Yeah, it doesn't matter who we play next, it's going to be a great team. Whether it's Cleveland or New York. And for us to at least be in this environment -- I know this is my first time -- it's going to be big for us, to know what we're up against, and it's a big step forward for us, but the goal is obviously at the end of it and our squad is going to go out and play our game and just keep having fun.

Q. And you're down by a run and Chris Sale's pitching and A.J. said, no, our guys don't get tense or nervous, it was just keep grinding, keep grinding, something will happen.
GEORGE SPRINGER: Yeah, but with that, as a hitter, you know the guy's going to make a mistake at some point and it's all about can you capitalize on that at that point in time. He did and that was huge. Beltran's at-bat in the 9th and that was obviously huge for us and to stay calm there facing Sale, I mean he's a Cy Young guy, my hat's off to that guy, he's unbelievable. For to us come out and scratch one across there was huge for us.

Q. So did you guys look up in the middle of the game and note that it was Verlander versus Sale?
GEORGE SPRINGER: Yeah, that was a little weird.

ALEX BREGMAN: Definitely. But I tell you this, when we saw Verlander run to the pen we said, our horse is on the mound, we need to win this game. That's kind of the whole energy that he's brought since we brought him over here. He's brought an energy with him that, hey, when he's out there, we're going to win. There's something special about him.

Q. I was going to ask sort of the same question, but with both aces in the game does that drive the point home that this is a big moment and it's really the time to rise?
ALEX BREGMAN: Yeah, for sure. Both teams were throwing their guys and that's what you live for, that's what we live for as baseball players, those moments, big-time situations. But I tell you what, our team puts pressure on ourselves and each other in practice and so that way when the pressure situations come in the game, we're prepared.