Yankees will start CC in potential Game 5
Girardi praises Sanchez's improved defense, says Judge could argue more close calls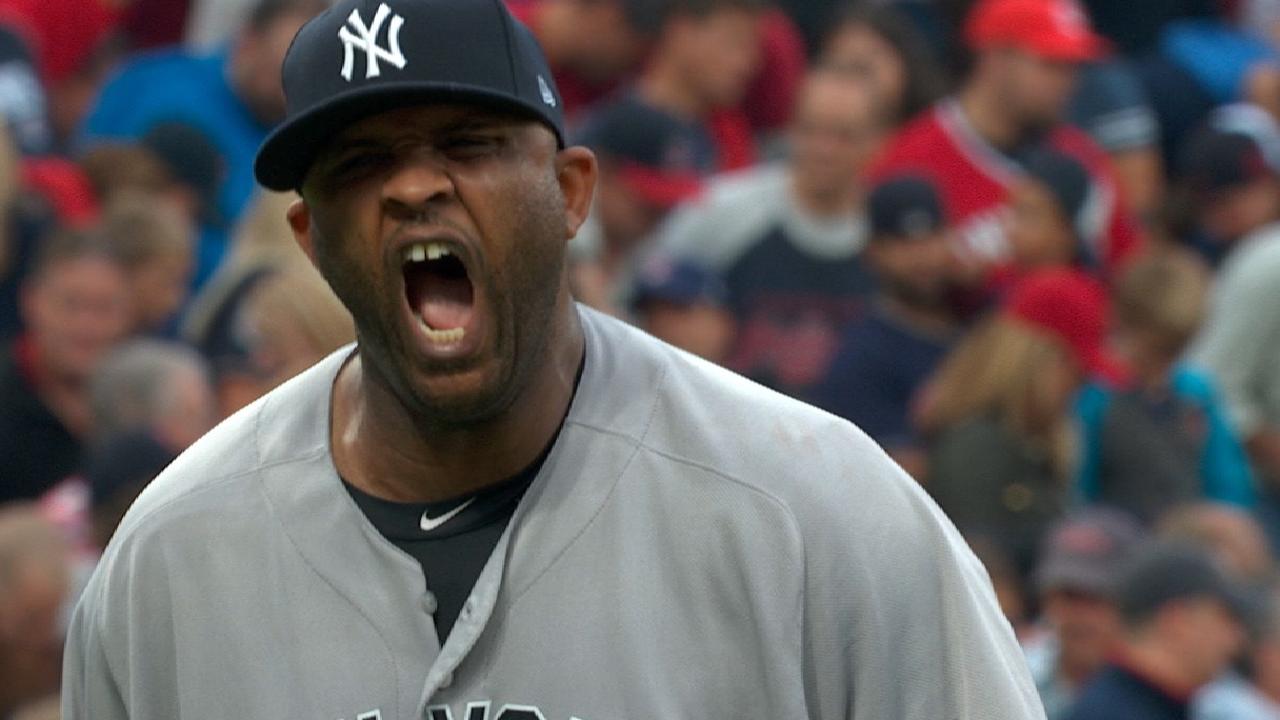 NEW YORK -- Should the Yankees force a Game 5 of the American League Division Series presented by Doosan, CC Sabathia would start a decisive winner-take-all game on Wednesday against the Indians at Progressive Field, manager Joe Girardi said.
Sabathia started Game 2 at Cleveland on Friday, limiting the Tribe to four runs (two earned) and three hits over 5 1/3 innings, walking three and striking out five. The Yankees held an 8-3 lead at the time of Sabathia's exit, but they dropped a 9-8, 13-inning decision to fall into an 0-2 series hole.
The Indians would likely counter with right-hander Corey Kluber, who locked up against Sabathia in Game 2, representing a matchup of former AL Cy Young Award winners.
• Shop Yankees postseason gear
Girardi also could have opted to have right-hander Sonny Gray pitch in Game 5, but Gray struggled in the ALDS opener, lasting just 3 1/3 innings and taking the loss in New York's 4-0 defeat. Gray permitted three hits and four walks while striking out two, serving up a two-run homer to Jay Bruce in the fourth inning.
The Yankees will try to extend their season on Monday behind right-hander Luis Severino, who is starting Game 4 opposite right-hander Trevor Bauer.
Gary's glove story
It was during an August series in Cleveland during which Girardi publicly challenged Gary Sanchez, saying that the catcher's defense "needs to improve, bottom line." Two months later, the Yankees believe that it has, as exhibited in a terrific performance behind the plate during Sunday's Game 3.
Sanchez made several key blocks on Masahiro Tanaka's diving splitter, none more crucial than in the fourth inning, when the Yankees were able to pin Jason Kipnis at third base after he'd ripped a one-out triple off Aaron Judge's glove in right field. With Sanchez's help, Tanaka recovered to strike out Jose Ramirez and Bruce.
"Every time I'm back there, every pitch that hits the dirt, I'm trying to block it," Sanchez said through an interpreter. "Like I said before, I'm not going to block them all. But [on Sunday], I had good results blocking the ball."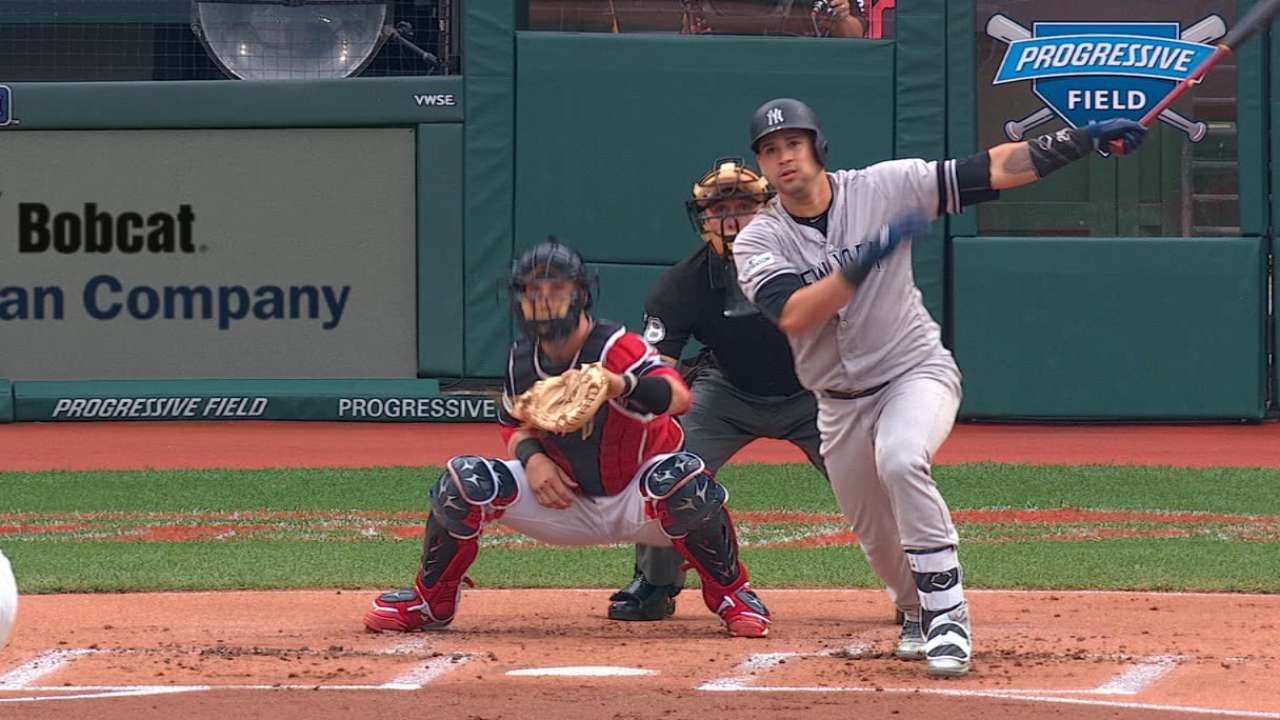 In a reversal from the harsh August assessment, which Girardi also delivered directly to Sanchez, the manager said that he went out of his way to compliment Sanchez's performance after Game 3 and told him that he has done a great job.
"I think it was important. He has that ability," Girardi said. "The guys that he caught last year, he was really comfortable with and he's done a really good job. We had a couple of guys that came in during the middle of the season; that's a lot for a young catcher, that you've never seen them, you haven't faced them a lot. For me, I'm proud of what he did."
Approach the bench
Judge's name appears to be the one circled in red ink on the Indians' lineup card, as Cleveland has made it a point not to allow Judge to beat it in this ALDS. Tribe hurlers have held the rookie hitless in 10 at-bats through the first three games, and though Judge has worked four walks, he has struck out eight times. Girardi said that he would be fine with Judge protesting some of the close calls that he has received more vociferously.
"He's been a little bit more emotional," Girardi said. "If he thinks it'll help, then yeah. I think sometimes young kids are afraid to say something, but I definitely wouldn't have a problem with it. He's extremely respectful, but I don't necessarily think arguing for yourself is being disrespectful, if you do it in the right way."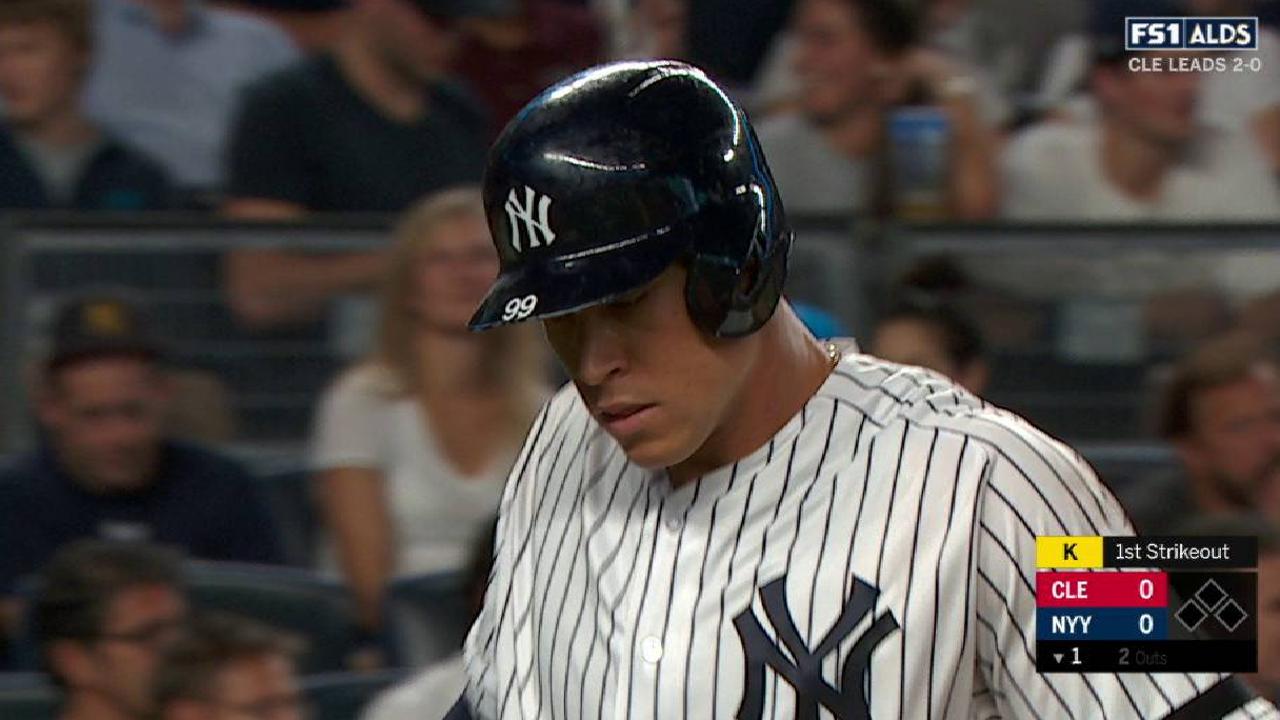 Please be seated
The Yankees announced that staff and volunteers from the Salvation Army and Red Cross -- who provided direct assistance for those affected by Hurricanes Harvey, Irma, Jose and Maria in Houston, Florida, the U.S. Virgin Islands and Puerto Rico -- have been invited to sit in the right-field Judge's Chambers for Game 4 on Monday.
Bryan Hoch has covered the Yankees for MLB.com since 2007. Follow him on Twitter @bryanhoch and on Facebook. This story was not subject to the approval of Major League Baseball or its clubs.