MLB.com Columnist
Mark Feinsand
Eiland proud of time in KC, awaits next chance
Pitching coach played key role in club's ascension to champion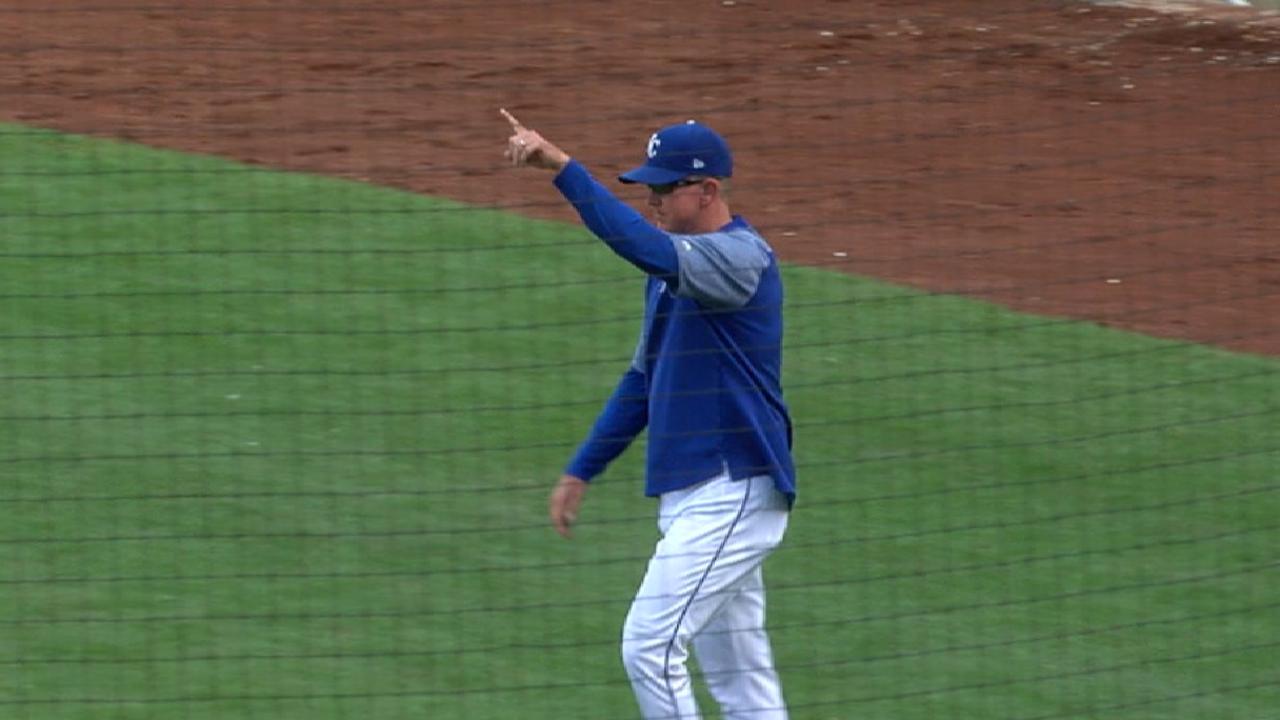 Baseball's best teams are spending the month of October trying to take a next step toward a World Series title. Dave Eiland knows how they're feeling, and the longtime pitching coach hopes to have that opportunity again in the near future.
Eiland, a two-time World Series winner as a pitching coach, is fresh off a six-year run with the Royals, playing a key role in Kansas City's ascension from perennial also-ran to champion.
Despite the Royals' success during the past few years, Eiland's time with the club came to an end last weekend, part of sweeping changes taking place in Kansas City. Familiar faces Eric Hosmer, Mike Moustakas, Lorenzo Cain, Alcides Escobar and Jason Vargas are all headed for free agency, while bench coach Don Wakamatsu was also let go when the season concluded.
"There's going to be a transition in Kansas City as far as the team on the field; there's going to be a lot of change," Eiland said. "Nothing lasts forever -- with players or coaches. It was just time for me to move on as well as Kansas City. There's nothing but admiration on both sides. No hard feelings. I leave there with a ton of respect for everybody there from ownership all the way down to the last batboy.
"It was a great run, but nothing is forever. It was time. I'm just looking forward to what's next."
Eiland, 51, served as the Yankees' pitching coach from 2008-10, overseeing a staff that won the 2009 World Series. He was hired by the Royals after the 2011 season, joining manager Ned Yost in an effort to boost a club that had averaged more than 92 losses over the previous five years.
"There wasn't much pitching there, and I knew there was a lot of work to be done," Eiland said. "My first encounter with Ned, they flew me up to his farm in Atlanta. We were driving around in his pickup truck and he said, 'Dave, if we can fix this pitching here, we can win a world championship.' I thought, 'Either there's something I don't know or he's the world's biggest optimist,' but I liked the way that sounded. I was ready for that challenge to roll my sleeves up and go to work.
"Then we did what we did."
The Royals won 86 games in 2013, then won 89 games in 2014 en route to the team's first pennant since 1985. Kansas City proved it wasn't a one-year wonder in 2015, winning 95 games and the team's first World Series title in 30 years.
Things regressed during the past two seasons as the Royals won 81 and 80 games, respectively. The fact that those were considered disappointments shows how much things have changed for the organization, which now expects to contend annually after posting only one 80-win season between 1994-2012.
Eiland's reputation as a mechanical guru and his willingness to embrace analytics in recent years should make him an interesting candidate for teams in search of a new pitching coach. He's already been connected to the Mets, where he would potentially be reunited with hitting coach Kevin Long, who was on the same 2009 Yankees staff with Eiland.
"There's not really one specific thing I'm looking for," Eiland said. "It's not like I'm thinking, 'I have to go to a ready-made contender,' or 'I want to do a rebuild.' It's all about what feels right and what opportunities are there. I don't know what that is or where that is, but hopefully there's something somewhere because I'm far from being done.
"I still want to do this. The fire, the passion, the competitiveness, it all burns as hot and deep as it ever has."
Mark Feinsand, executive reporter for MLB.com, has covered the Yankees and MLB since 2001 for the New York Daily News and MLB.com. This story was not subject to the approval of Major League Baseball or its clubs.