Indians-Yankees ALDS Game 4: In Real Life
The Yankees beat the Indians, 7-3, on Monday to force a deciding Game 5 in the American League Division Series presented by Doosan. We were at the scene in and around Yankee Stadium.
10:59 p.m. ET: Shipping off to Cleveland
After starter Luis Severino's electric seven innings, reliever Dellin Betances led off the eighth inning with a pair of walks before he was replaced by Tommy Kahnle, who sat the next three Indians down in order. Kahnle went back out for the ninth, punching out the three hitters he faced to seal the deal and send the series back to Cleveland for Wednesday's winner-take-all Game 5.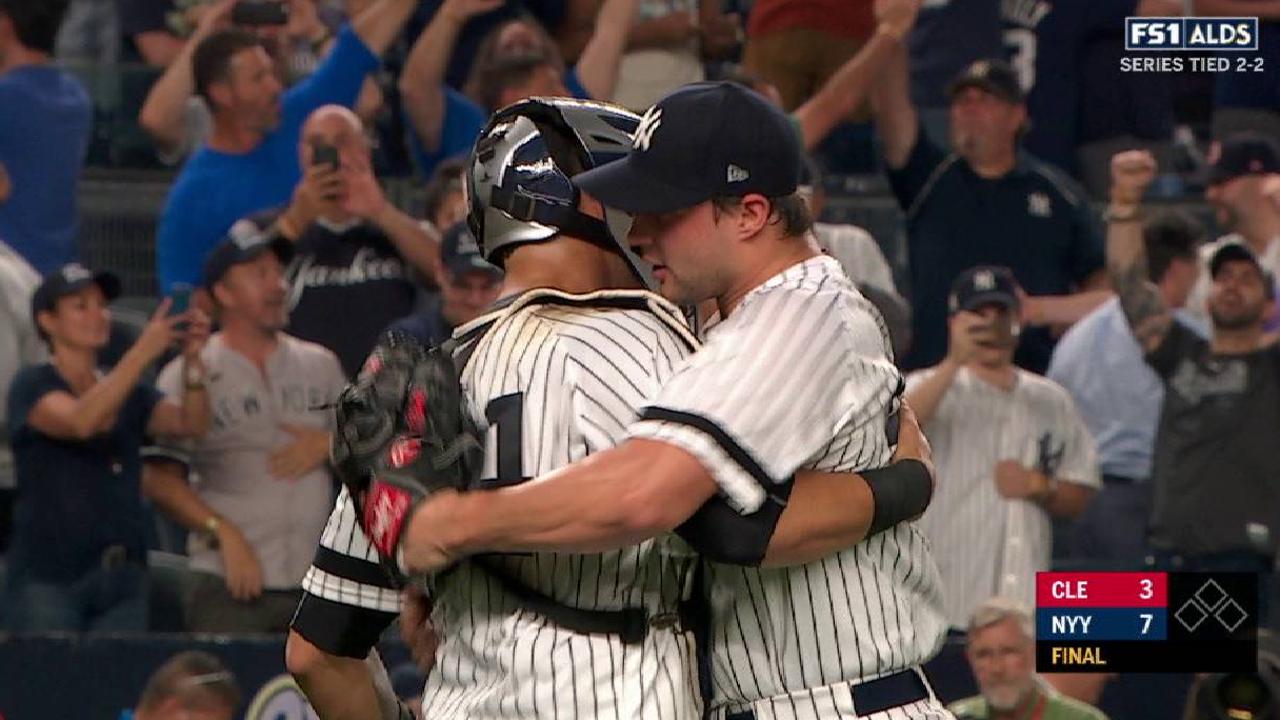 10:10 p.m. ET: Severino roars
It's hard to imagine anyone at Yankee Stadium feels better than Severino right now. The Yanks starter bounced back in a big way from his last start, a clunker during the AL Wild Card Game, striking out nine and holding the Indians to three runs on four hits and a walk over seven innings on Monday. The righty threw 113 pitches, 76 for strikes, and departed to deafening applause after retiring Roberto Perez on a grounder to complete his outing.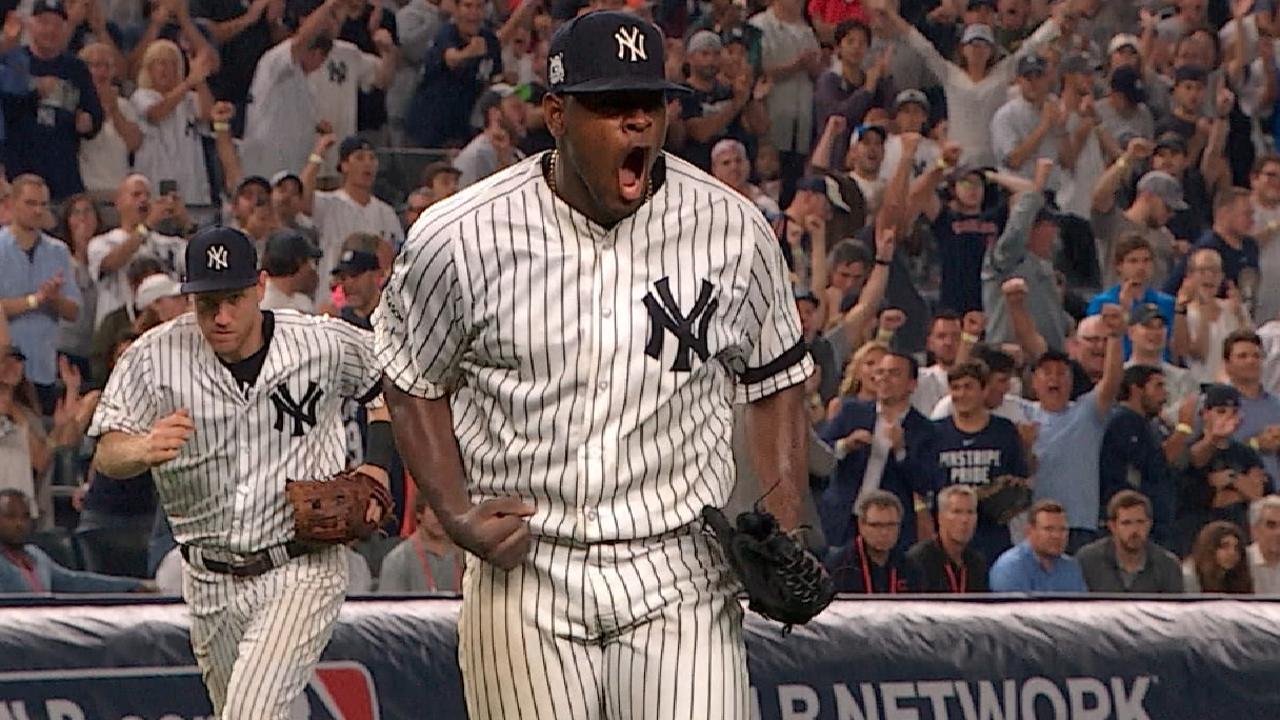 Severino put himself in line to become the youngest Yankees starter to win a postseason game since Dave Righetti in 1981. Now that's something to crow about.
9:51 p.m. ET: Tack on another one
Gary Sanchez joined in the Yankees' power display with a solo shot to right field to push New York's lead to 7-3 in the sixth inning. Cleveland was on its sixth pitcher in the game, with no end to the energy in sight.
New York scored its sixth run in the fifth, when Todd Frazier tested -- and beat -- Cleveland center fielder Jason Kipnis' arm on a shallow sac fly from Brett Gardner. He probably should've earned some style points for the finish, too:
Didn't quite stick the landing. 😅

But we'll take it! And Didi's reaction is fantastic. 🙌 pic.twitter.com/dmGgYyrej1

— New York Yankees (@Yankees) October 10, 2017
9:15 p.m. ET: Indians still chipping away
Not to be outdone by his teammate, Cleveland catcher Roberto Perez parked a 1-1 pitch from Severino in the right-field stands to tighten the Yankees' lead to 5-3 in the fifth.
Don't count the @Indians out yet!@RobPerez2015 goes deep, and suddenly it's a 2-run ballgame. #ALDS pic.twitter.com/99F1bbBvZP

— MLB (@MLB) October 10, 2017
8:52 p.m. ET: Play like Carlos Slamtana
Cleveland cut into the deficit in its half of the fourth inning with a two-run homer from Carlos Santana that brought the Tribe to within 5-2.
Santana's long ball traveled a Statcast-projected 421 feet and marked the slugger's first extra-base hit of the series. Of the Indians' first 15 runs in the ALDS, nine have scored via homer.
8:39 p.m. ET: The hits just keep coming
After a wild, four-run second inning, the Yankees continued to attack the Indians' bullpen by sending seven to the plate and adding another unearned run in the third. Starlin Castro doubled, then later scored on a throwing error from Giovanny Urshela, leaving Cleveland's Mike Clevinger to depart with two outs and the bases loaded. Danny Salazar then caught Aaron Judge on a called third strike to end the threat.
All of the Yankees' first five runs were unearned.
Trevor Bauer is just the 4th starter in postseason history to not finish 2 IP and allow 0 earned runs, and first since Jaime Garcia in 2015.

— Joe Trezza (@JoeTrezz) October 10, 2017
8:05 p.m. ET: Judge rises to the occasion
In what must have felt like a long time coming for Judge, the Yankees rookie finally got in the postseason hit column with a two-run double. Judge's poke put the Yankees up, 4-0, during an event-filled second inning that saw New York push Tribe starter Trevor Bauer from the game.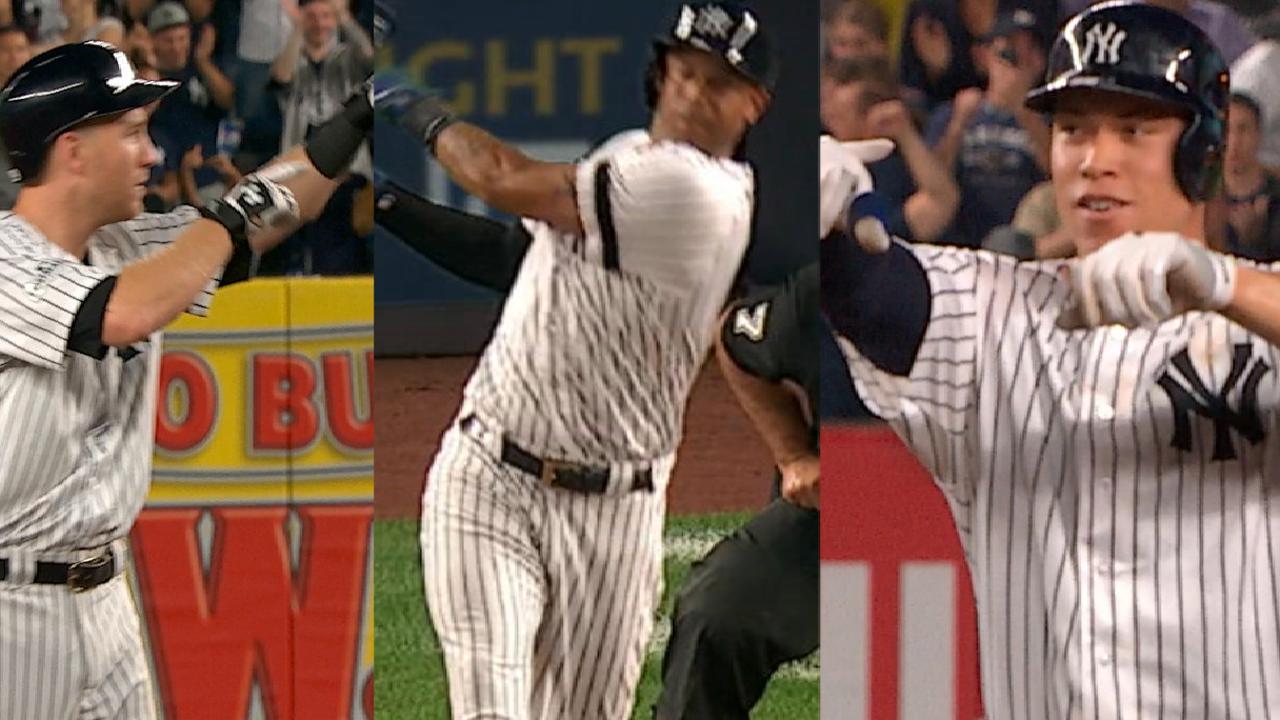 .@TheJudge44 doubles the lead! He drives in a pair, and the @Yankees have put up a 4-spot in the 2nd inning. #ALDS pic.twitter.com/F9Yy8ORmbQ

— MLB (@MLB) October 10, 2017
Earlier in the frame, Frazier lifted a two-out double down the line in left field that nearly hooked foul. Television replays showed his knock smacking down in the middle of the chalk line in deep left before bouncing sideways, scoring Starlin Castro with the game's first run. Aaron Hicks followed suit with a sharp liner to right-center to score Frazier and give the Yanks a 2-0 lead.
The Bronx is ROCKING!!!!!

Toddfather gets us on the board first with an RBI double! 👎👎👎 pic.twitter.com/ubzYVrNhD7

— New York Yankees (@Yankees) October 9, 2017
It was a costly inning in more ways than one for Bauer, who got the hook after 1 2/3 innings and 55 pitches. His final line: 4 H, 4 R (0 ER) , 2 BB, 3 K.
7:35 p.m. ET: Hey, Mo, whaddya know?
Legendary Yankees closer Mariano Rivera made a name for himself in his career by throwing the last pitch. He flipped the script tonight, tossing out the ceremonial first pitch to a warm reception at Yankee Stadium. Rivera, MLB's all-time saves leader and the last active MLB player to wear No. 42, looked right at home on the hill -- minus the dress clothes beneath his uniform top, of course -- as he fired a pitch right down the middle.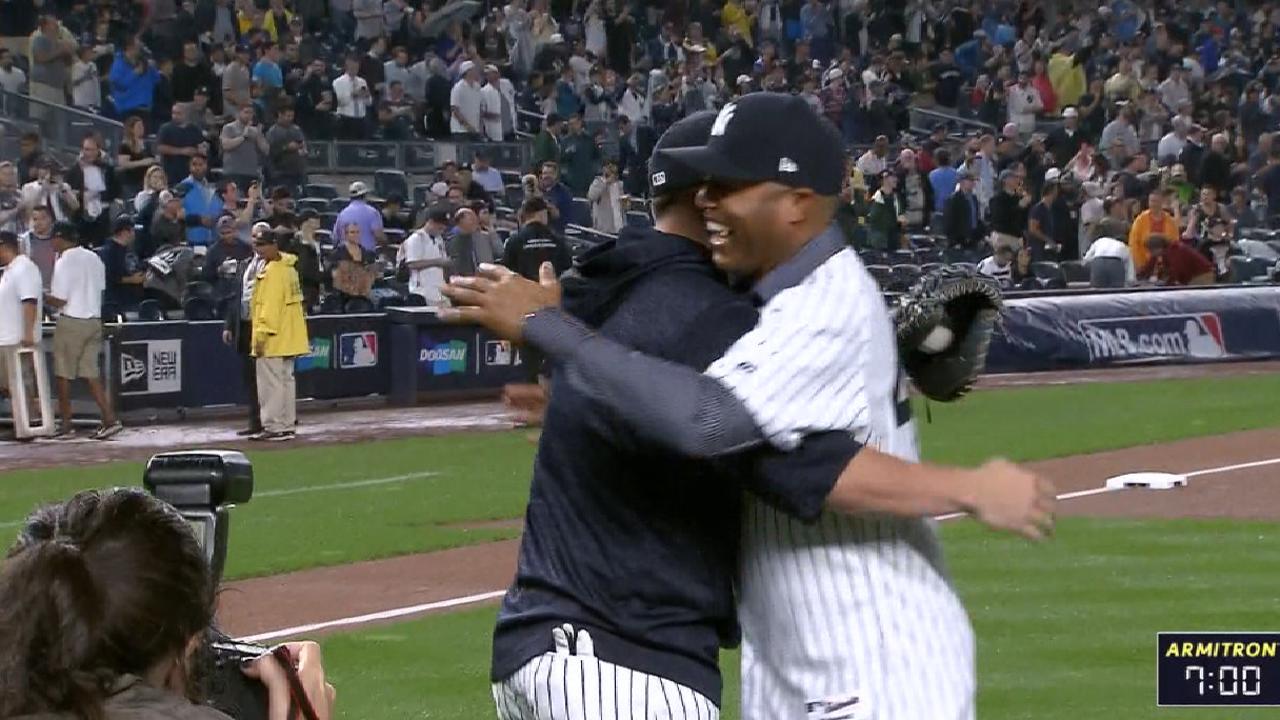 7:29 p.m. ET: Rain, rain go away
It was coming down pretty good in the Bronx at game time but Severino made the most of it, sitting down the Tribe in order. He's already effectively tripled the length of his last outing, struck out one and used 18 pitches (11 for strikes).
Bauer has gotten the better end of the deal weather-wise so far, as the rain fizzled into a light mist by the time he took the mound. Bauer showed his appreciation by fanning a pair of Yankees during a no-hit first, and threw 20 pitches (11 strikes).
5:50 p.m. ET: Threads count
The Indians will be sporting their gray away uniforms tonight at the Stadium.
Threads tonight: pic.twitter.com/i0uKEd8zVT

— AL Central champs! (@Indians) October 9, 2017
5:42 p.m. ET: Tarp comes off
The Yankee Stadium grounds crew rolls the tarp off the infield about an hour and 45 minutes before first pitch.
5:10 p.m. ET: Still no rain, but infield needs protection
With batting practice cancelled, the grounds crew puts the tarp on the infield to keep it dry for tonight's action.
Yankee Stadium is wet, but the rain has stopped prior to ALDS Game 4. pic.twitter.com/XEwu4fCilG

— Joe Trezza (@JoeTrezz) October 9, 2017
4:46 p.m. ET: Is Edwin available for cameo?
Indians manager Terry Francona shows off his gamesmanship when asked about Edwin Encarnacion's availability for tonight's game.
Tito on Encarnacion's availability off the bench: "If you see him strolling up to the plate, that means he's available."

— Anthony Castrovince (@castrovince) October 9, 2017
3:36 p.m. ET: Chisenhall replaces Jackson in Tribe lineup
Lonnie Chisenhall, whose hit-by-pitch was a topic of controversy in Game 2, gets the start in left field tonight, hitting seventh in place of Austin Jackson. Michael Brantley slides up to bat sixth, and the rest of the Indians' lineup remains the same from Game 3.
Another shot to close it out tonight.

Terry's pregame chat w/media will stream live on our Facebook page at 4:30PM. #RallyTogether pic.twitter.com/9EECIVELNh

— AL Central champs! (@Indians) October 9, 2017
3:16 p.m. ET: Yankees reveal starting lineup
Last night's hero Greg Bird moves up to fifth in the order as the Yanks shuffled their lineup around for tonight's game. Chase Headley starts at designated hitter in the No. 7 spot in place of Jacoby Ellsbury, who is hitless in the postseason over nine plate appearances.
We're 2-0 with this lineup graphic so we're sticking with it! Time to even the series! https://t.co/kIUoCBFMY9 pic.twitter.com/awdwuR67iP

— New York Yankees (@Yankees) October 9, 2017
2:43 p.m. ET: Judge's chambers to be filled with volunteers
Volunteers and first responders who provided aid to Hurricane-impacted areas will fill up the 18 seats of the Judge's Chambers in section 104 of Yankee Stadium for tonight's game.
Tonight, Judge's Chambers will be filled w/ volunteers from @RedCross & @SalvationArmyUS who provided aid to Hurricane-impacted areas. pic.twitter.com/G6fEMdNEcM

— New York Yankees (@Yankees) October 9, 2017
2:26 p.m. ET: Forecast clearing up?
Everyone's eyes are on the weather forecast as the remnants of Hurricane Nate creep up the East Coast. However, the tarp is off the field at Yankee Stadium, and no rain is currently falling in the Bronx. Scattered showers are forecast throughout, but major rain seems to have left the area for now, and the game is on target for an on-time start.
A momentary break in the rain. pic.twitter.com/BI2fp9H0XH

— AL Central champs! (@Indians) October 9, 2017