MLB.com Columnist
Tracy Ringolsby
Bird shows why Yankees sought to draft him
Scouts liked first baseman's character, work ethic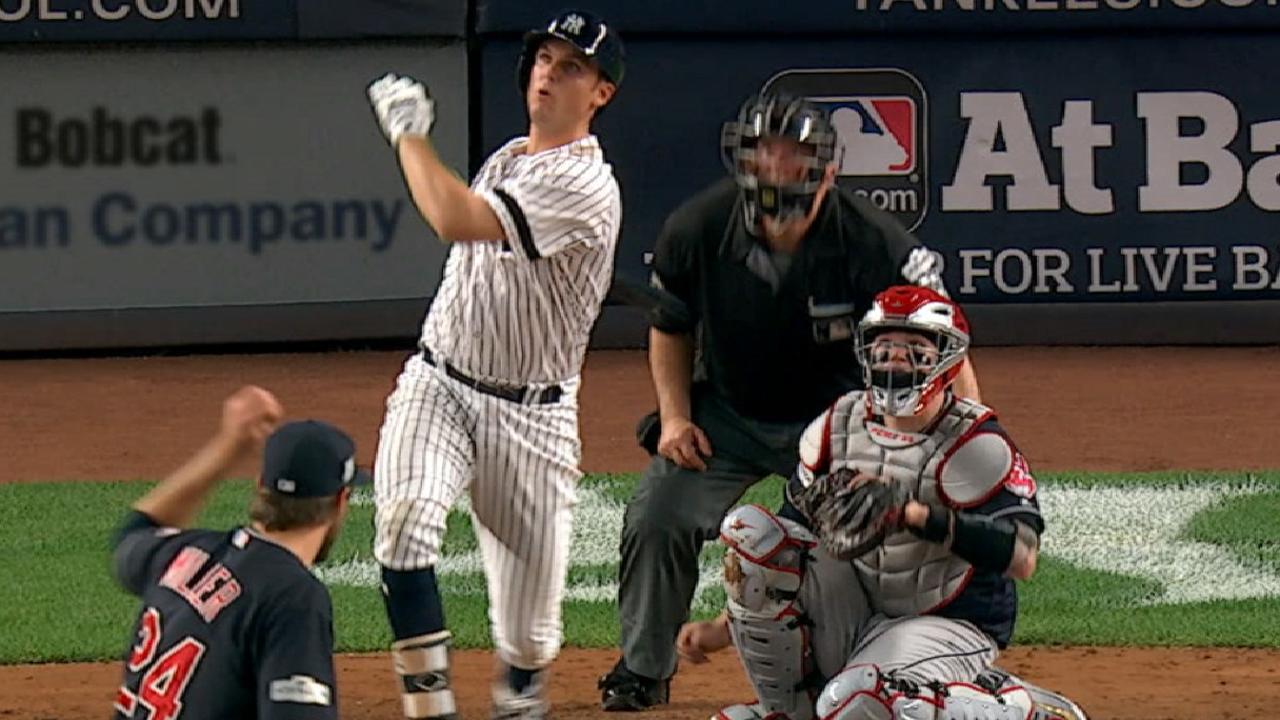 In a postseason that is becoming a showcase for the 2011 First-Year Player Draft, Yankees first baseman Greg Bird stepped to center stage on Sunday. It wasn't a told-you-so moment. That isn't Bird's way.
The emotion he showed, however, when he delivered that seventh-inning home run that provided all the offense in the Yankees' 1-0 victory against the Indians and kept the club alive in the AL Division Series presented by Doosan said plenty.
"He is a pretty calm guy, so to show the excitement that he showed obviously tells me it was important to him to go out there and demonstrate to people that he is healthy and he could do it on the big stage," said Damon Oppenheimer, Yankees vice president, amateur scouting.
Oppenheimer knows Bird. He scouted him, drafted him in the fifth round in 2011 -- the 179th player selected overall -- and then signed him to a bonus of $1.1 million. It was a larger bonus than any other player taken in the fourth or fifth rounds that year, but it was what it took to sign Bird, who turned down a scholarship to Arkansas to sign out of Grandview High School in Aurora, Colo.
And Bird, 24, now finds himself being mentioned along with others out of that 2011 Draft like Top 10 selections Trevor Bauer (No. 3 overall by the D-backs) and Francisco Lindor (No. 8) of the Indians, Anthony Rendon (No. 6) of the Nationals, Archie Bradley (No. 7) of the D-backs and Javier Baez (No. 9) of the Cubs.
Then there are other first-rounders, including George Springer (No. 11) of the Astros, Sonny Gray (No. 18 by the A's) of the Yankees, Matt Barnes (No. 19) and Jackie Bradley Jr. (No. 40) of the Red Sox, Tyler Anderson (No. 20) and Trevor Story (No. 45) of the Rockies, Andrew Chafin (No. 43) of the D-backs and Joe Musgrove (No. 46 by the Blue Jays) of the Astros.
And don't overlook Red Sox outfielder Mookie Betts (fifth round) and Carson Smith (eighth round Mariners) with the Red Sox, Dodgers lefty Tony Cingrani (third round Reds) and catcher Austin Barnes (ninth round Marlins), Cubs pitcher Kyle Hendricks (eighth round Rangers).
Oppenheimer has remained close to Bird, particularly in the last two years. Bird missed all of 2016 following shoulder surgery, and a month into 2017 he was sidelined with a foot injury that doctors finally determined in July would require surgery because of excessive bone growth.
Oppenheimer is based out of the Yankees' offices in Tampa, where Bird spent a lot of time the last two seasons rehabbing from injuries, and also dealing with unattributed reports this summer that questioned whether he was really hurt.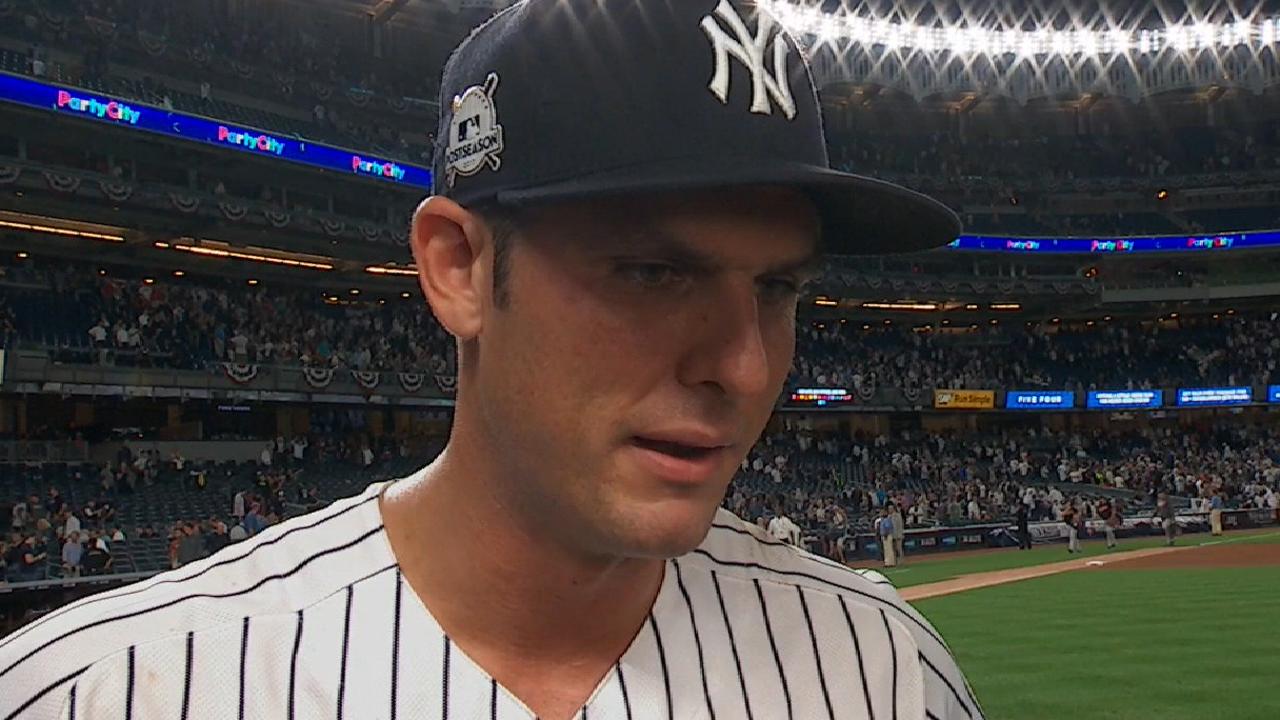 "I was around him quite a bit, and he works his butt off," said Oppenheimer. "He was doing everything he could to get the shoulder right. Then he was one of the best hitters in the game coming out of Spring Training this year and that foot thing happened. That kept him from being who he can be."
And then the media speculation.
"I've been around this kid enough to know he cares and cares a lot," said Oppenheimer. "He works his rear off every day, shoulder, foot, he just wants to play and wants to be one of those guys the team can count on."
So when Bird hit that home run Sunday, he showed some emotion, and so did Oppenheimer, who was watching from his home in Wesley Chapel, Fla.
"No," Oppenheimer said when asked if he screamed as he watched the home run clear the fence, "but I jumped up and threw up a fist."
Bird is one of those guys Oppenheimer and his scouts saw as a special talent when he came out of high school. Yes, he was a fifth-round pick, but Colorado high school players tend to matriculate to college, so once he slipped past the first round or two, clubs were reluctant to get involved with drafting him in light of the fact it was going to take an above normal signing bonus for where Bird was taken.
Oppenheimer didn't hesitate. From a talent standpoint, Oppenheimer said, it was a no-brainer. Bird had raw power, and he was a left-handed-hitting catcher.
"He had the college option and could have gone [to Arkansas] without any problem," said Oppenheimer. "He is an educated kid, and he did his homework. He knew what he could get three years later [after going to college], so the bonus was plenty over slot, that's for sure.
"But we had done our homework, too. We spent plenty of time scouting him and plenty of time with our mental-condition guys. We did everything we could and felt it was worth the investment."
Steve Kmetko, the Colorado area scout at the time and now a Yankees' national crosschecker, was full-speed ahead in his recommendations, and when Bird's high school team took a spring trip to Florida it meant other Yankees evaluators got a good look.
Then there was the input from Chad Bohling, who oversees the club's "mental conditioning department." He met Bird face to face and came away a believer in Bird's potential.
"Chad travels with the big league club, but he goes out and visits with some of the guys for the Draft," said Oppenheimer. "Instead of having them take a test, we do it face to face. Chad meets with them and being around big league guys he has a feel.
"He met with Greg and came back saying, 'He is one of the special ones.' He felt he was right, had good makeup, the right mentality."
When he has been healthy, Bird has been everything the Yankees could have wanted.
And never did he deliver at a bigger moment for the Yankees than on Sunday against the Indians.
Tracy Ringolsby is a columnist for MLB.com. This story was not subject to the approval of Major League Baseball or its clubs.