Cubs-Nationals NLDS Game 3: In Real Life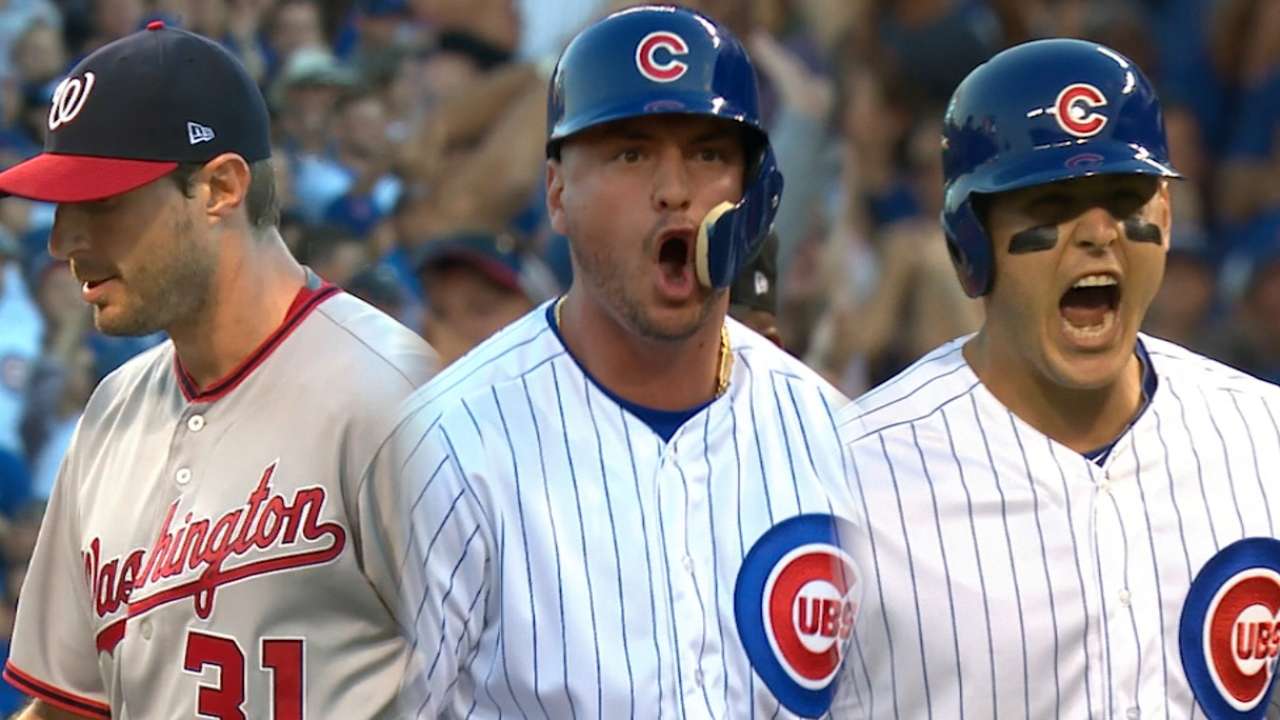 The Cubs beat the Nationals,2-1, in Game 3 of their National League Division Series presented by T-Mobile to take a 2-1 lead in the best-of-five series. We were on the scene at Wrigley Field.
7:20 p.m. ET: Inching closer
Bold strategy, but we're 2-0 this #postseason when being no-hit through five innings. #FlyTheW pic.twitter.com/rPlUSHZVlO

— Chicago Cubs (@Cubs) October 9, 2017
7:09 p.m. ET: Bloop, there it is
With two outs and speedy pinch-runner Leonys Martin at second base in the eighth inning, Anthony Rizzo came to the plate to face lefty reliever Oliver Perez. Rizzo lifted the first pitch he saw to shallow left-center field. The bloop single, which had a hit probability of 29 percent, according to Statcast™, dropped between left fielder Jayson Werth and Michael A. Taylor to bring home Martin and break the 1-1 tie. With a lead secured, the Cubs turned the game over to closer Wade Davis in the ninth. More >
.@ARizzo44 dumps an RBI single into no-man's land!#Cubs lead 2-1 after 8! pic.twitter.com/5oFLC935zv

— Chicago Cubs (@Cubs) October 9, 2017
6:37 p.m. ET: Rally time
The Cubs swiftly ended Max Scherzer's no-hitter and outing -- while also erasing a one-run deficit -- in the seventh inning. With one out, Ben Zobrist lined a double to left field for Chicago's first hit. That drew Washington manager Dusty Baker out of the dugout and to the mound, where he removed Scherzer. With left-hander Sammy Solis on the mound, Cubs manager Joe Maddon sent Albert Almora Jr. -- their most effective bench bat against lefties this season -- to pinch-hit for Kyle Schwarber. Almora ripped the game-tying RBI single into left field off Solis. The Cubs' rally ended when Addison Russell flied out to center and Jason Heyward, who singled, was doubled off at first base. More >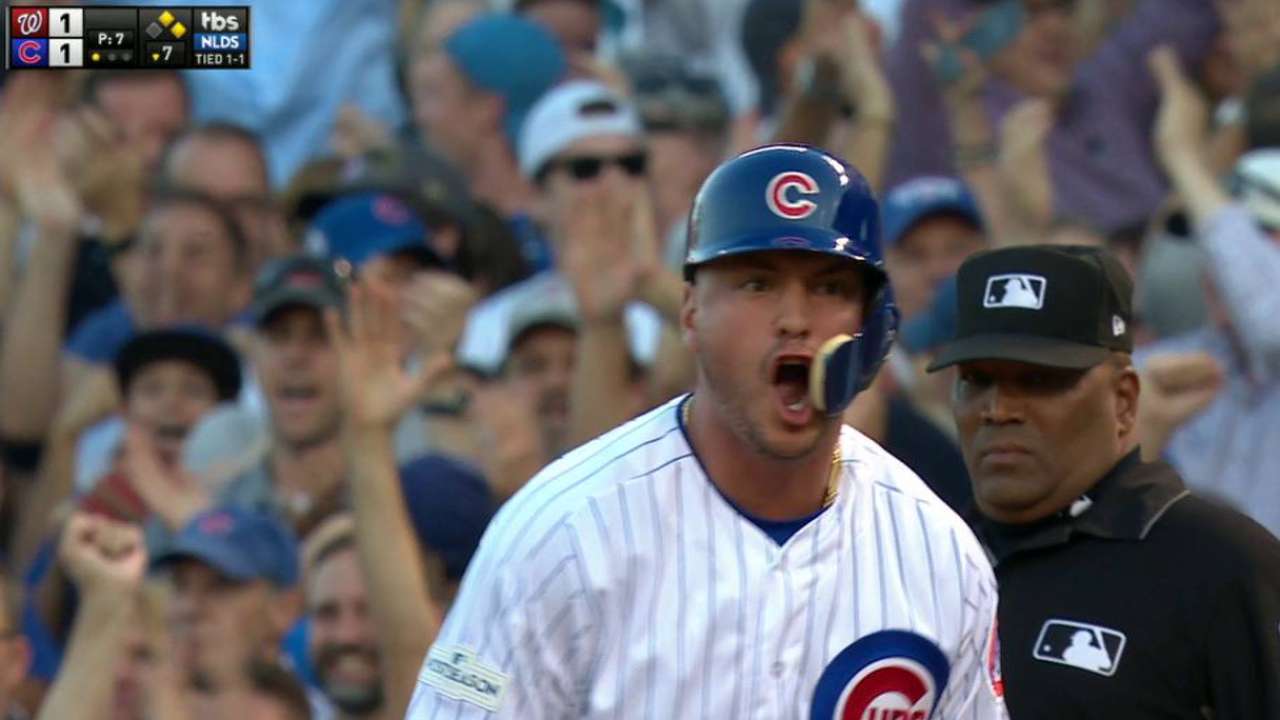 6:32 p.m. ET: Family affair
Bill and Joel Murray lead a rendition of "Take Me Out to the Ball Game" during the seventh inning. More >
The Murray duet. #LetsGetSomeRuns pic.twitter.com/rELD7IR5bQ

— Chicago Cubs (@Cubs) October 9, 2017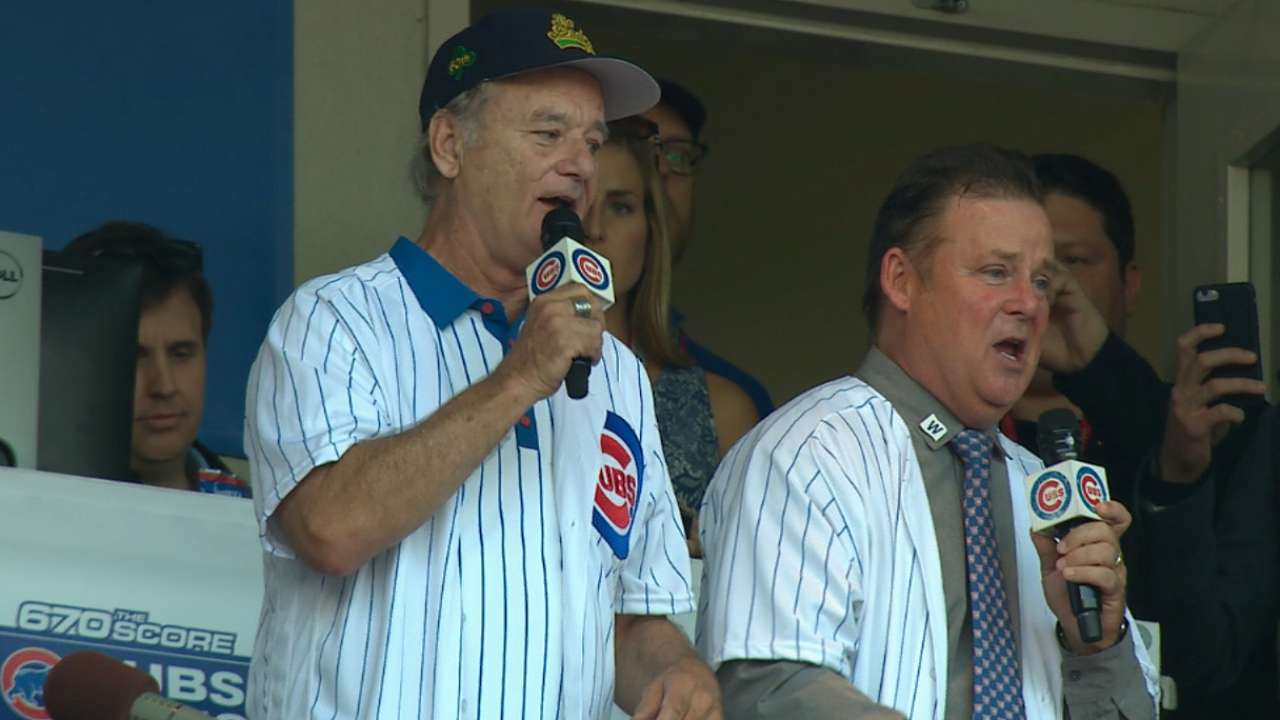 6:08 p.m. ET: Costly miscues
Ryan Zimmerman took advantage of a pair of Schwarber errors to give the Nationals a 1-0 lead when he greeted Pedro Strop with a two-out RBI double in the sixth inning. Zimmerman drove in Daniel Murphy, who reached third base when Schwarber dropped a two-out fly ball near the left-field line and then booted it as it rolled along the warning track. The play had an 82-percent catch probability.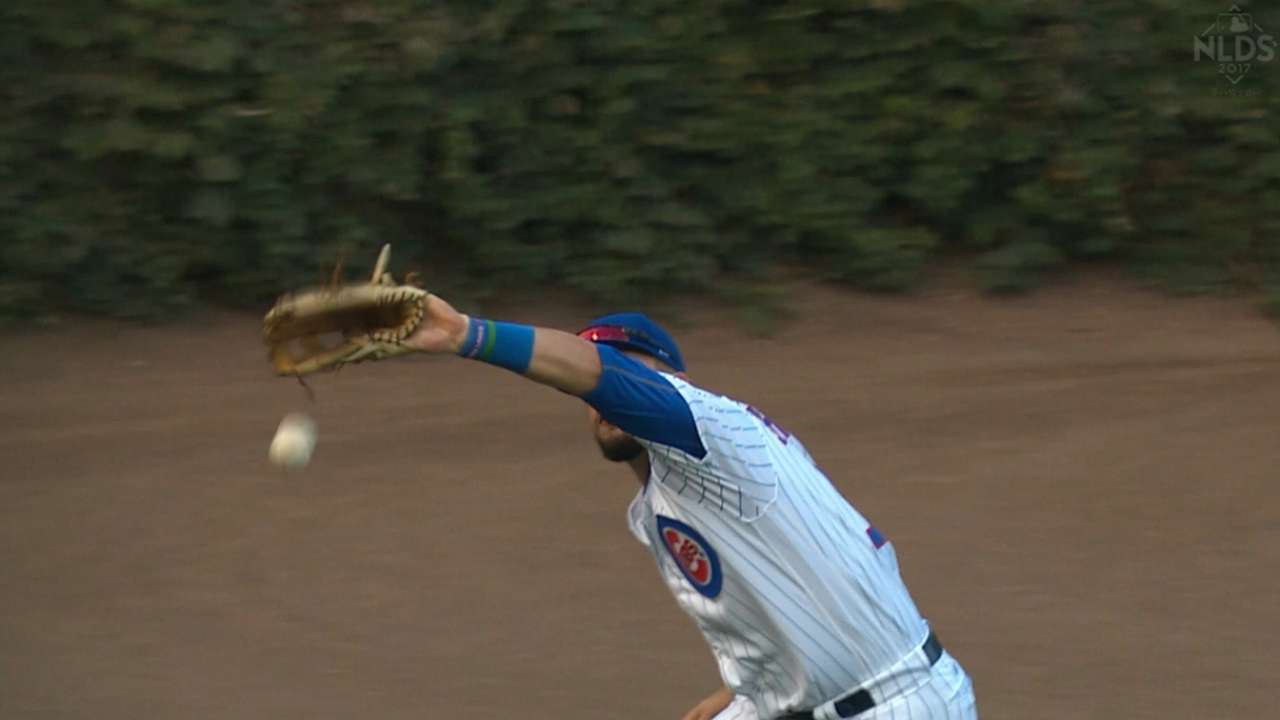 5:54 p.m. ET: Can't touch this
Like Stephen Strasburg in Game 1, Scherzer has held the Cubs hitless through five innings. Scherzer didn't allow a baserunner until the fourth and has since pitched around some potential trouble. He hit Jon Jay with a pitch and issued a two-out walk to Willson Contreras before getting a Zobrist groundout. Chicago squandered Schwarber's leadoff walk in the fifth on consecutive strikeouts by Russell and Jose Quintana.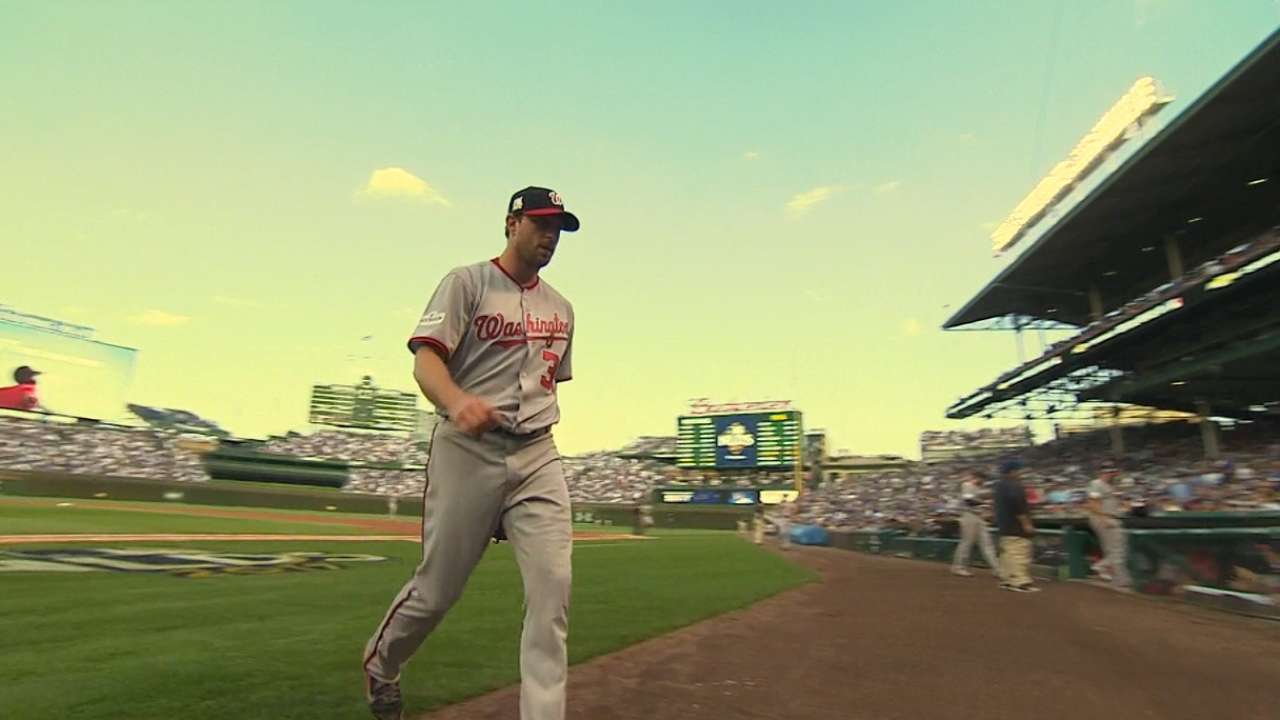 We're hitless through five innings.

Any advice? pic.twitter.com/MxiYwWRhcV

— Chicago Cubs (@Cubs) October 9, 2017
5:41 p.m. ET: Matching zeros
Quintana was clearly ready for his long-awaited postseason debut. The veteran left-hander went toe-to-toe with Washington ace Scherzer, allowing just two hits and one walk while striking out six through five innings. The Nationals put together a handful of long at-bats early in the game, forcing Quintana to throw 23 pitches in the second, but he recovered and finished the fifth with 85 pitches. One key for Quintana? Throwing 15 first-pitch strikes to the 19 Nationals he faced through five. More >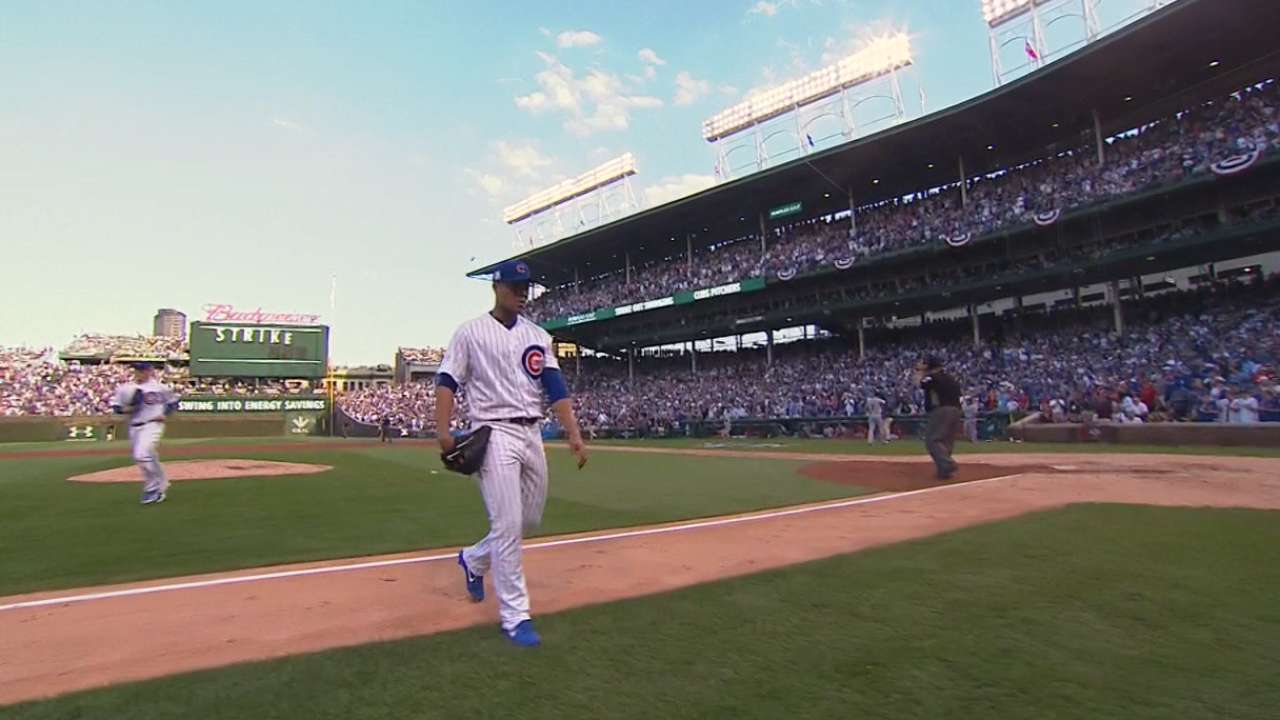 5:05 p.m. ET: Nine up, nine down
Scherzer's right hamstring has not been an issue as he has opened with three perfect innings on 39 pitches, striking out four batters. The Cubs' offense has provided little excitement outside of a long foul ball Schwarber sent down the right-field line with an exit velocity of 114.8 mph per Statcast™.
4:59 p.m. ET: Escaping trouble
A couple of defensive miscues by the Cubs set up a prime scoring opportunity for the Nationals in the third inning, but Washington could not capitalize when Heyward tracked down Anthony Rendon's fly ball in the right-center gap for the third out. Taylor reached on a leadoff single and took second when Quintana zipped a pickoff attempt right by Rizzo, who wasn't expecting the throw. Following consecutive outs, Bryce Harper slapped a hard ground ball to second base, and Zobrist -- starting over Javier Baez for offensive purposes -- couldn't glove it. Quintana fell behind in the count, 2-0, before Rendon ripped a 92.6-mph fastball to the warning track in right field that Heyward snared.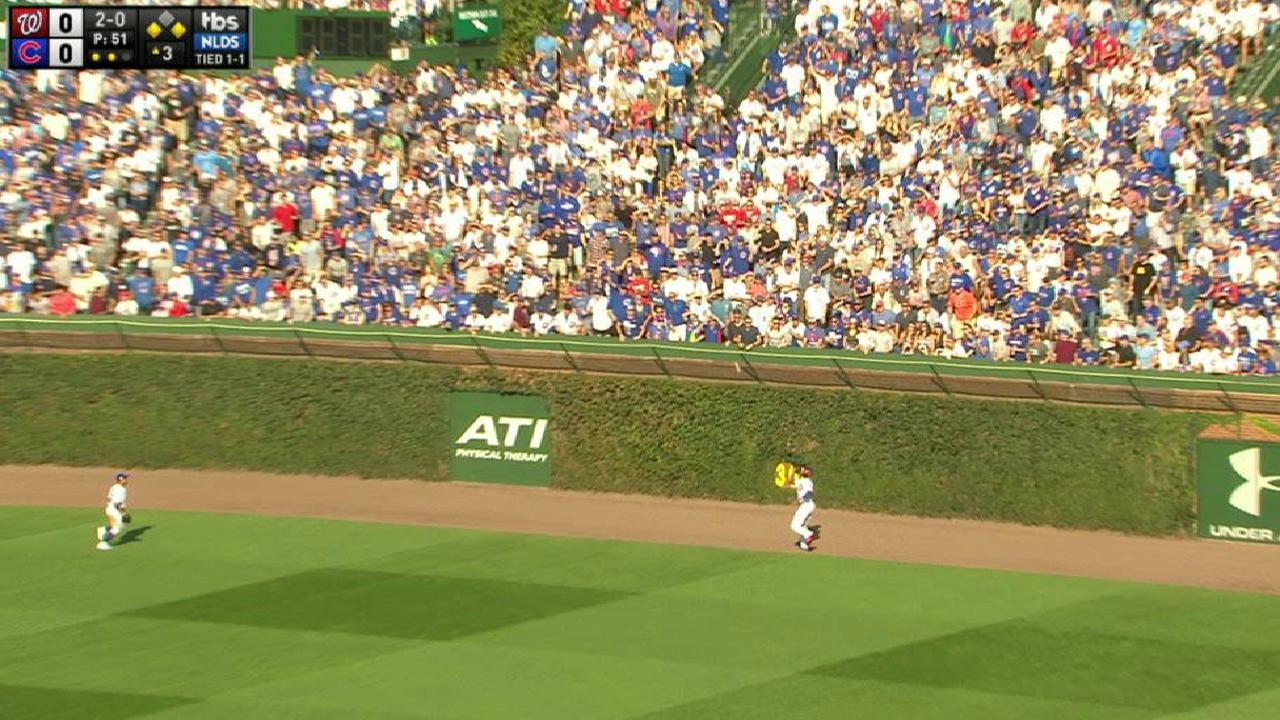 4:32 p.m. ET: Because you never know...
With Quintana and Scherzer on the mound, a dominant pitching performance is always a possibility. Nationals TV broadcaster F.P. Santangelo tweeted out, "There goes the no-hitter" after Werth's two-out single.
October 9, 2017
4:20 p.m. ET: All dressed up
A statue of Ernie Banks dons a jersey outside of Wrigley Field.
4:12 p.m. ET: Play ball!
Welcome to the House of Cubs. #NLDS #FlyTheW pic.twitter.com/qAK372bpy6

— Chicago Cubs (@Cubs) October 9, 2017
2:54 p.m. ET: Reach for the stars
Two Cubs fans scrawl on a wall outside Wrigley Field.
2:29 p.m. ET: Postseason Werth
Werth treads the grass at Wrigley during Nats batting and fielding practice before Game 3.
2:15 p.m. ET: Touching base
Maddon and Nationals bench coach Chris Speier catch up while their teams warm up for Game 3.
1:54 p.m. ET: Curly to rise?
Nationals fans make their presence felt outside Wrigley Field before Game 3.
Feeling right at home. #OnePursuit pic.twitter.com/ZaVj8Q6CsM

— Washington Nationals (@Nationals) October 9, 2017
1:48 p.m. ET: Happy to be home
The Bryzzo boys -- who are each hitting .375 this postseason -- hope the good times keep rolling at Wrigley.
Happy Monday! pic.twitter.com/dGQPMbFtac

— Chicago Cubs (@Cubs) October 9, 2017
1:35 p.m. ET: In good company
Hall of Famer Billy Williams (third from left) joins Maddon and president of baseball operations Theo Epstein behind the batting cage before Game 3.
1:21 p.m. ET: Huddle of Cub
Chicago gets in the zone ahead of Game 3.
12:45 p.m. ET: Broadcast besties
TBS broadcasters Ron Darling and Ernie Johnson warm up for Game 3 by having a catch at Wrigley Field.
• Cubs, Nationals announce Game 3 lineups
12:20 p.m. ET: Nats name Game 3 lineup
Nats Game 3 lineup: Turner SS, Harper RF, Rendon 3B, Murphy 2B, Zimmerman 1B, Werth LF, Wieters C, Taylor CF, Scherzer P

— Jamal Collier (@JamalCollier) October 9, 2017
11:22 a.m. ET: Cubs announce lineup
Here is today's #Cubs starting lineup.

NLDS Game 3 preview: https://t.co/noQuSGkh1v pic.twitter.com/2FN5VMi8g9

— Chicago Cubs (@Cubs) October 9, 2017