Monday Madness: 4 games, wall-to-wall ball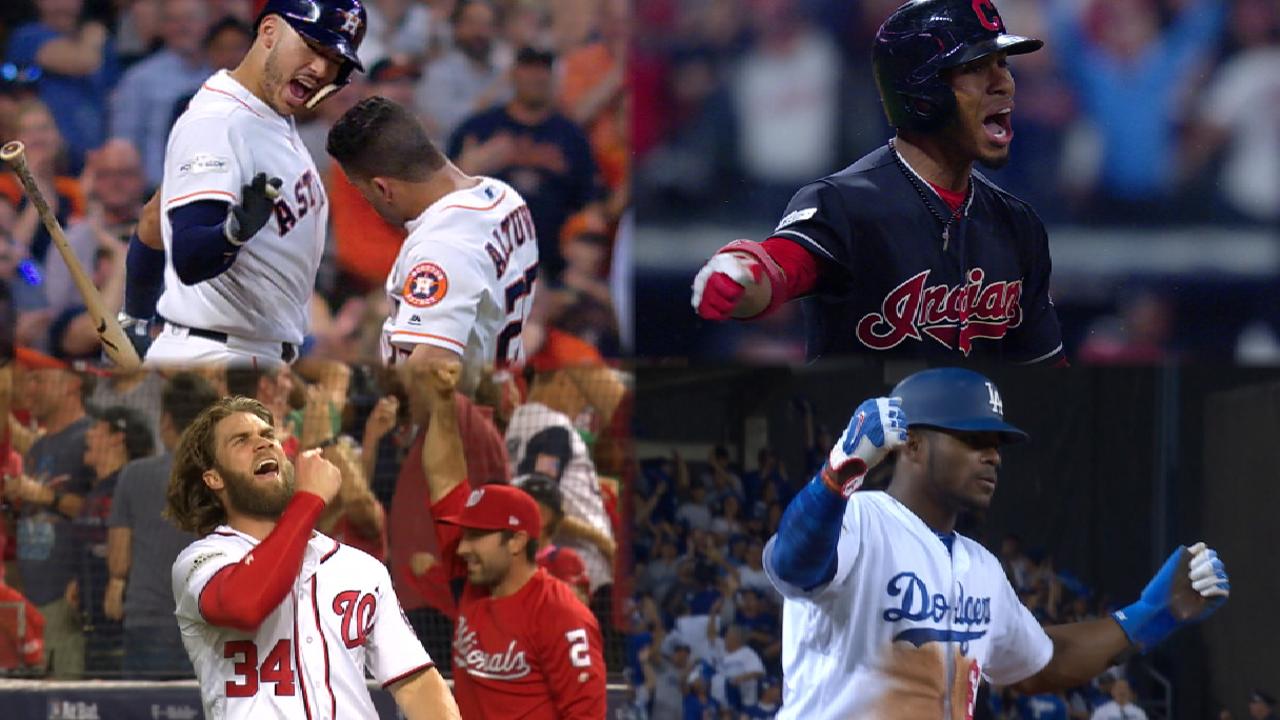 The chaos and drama that erupted in Major League ballparks over the weekend was the perfect setup for the week ahead in postseason baseball, and it starts with four games today.
That's right, all four Division Series will be in action, starting at 1 p.m. ET and going all the way through the last out of Dodgers vs. D-backs. All four games promise to have enormous impact on the road to the World Series.
Here's a rundown of the postseason "quadrupleheader" set for today:
Astros at Red Sox, 1 p.m. ET, FS1
We'll start at Fenway Park for Game 4 of the AL Division Series presented by Doosan, where the Red Sox will try to win their second straight over the Astros and move the series back to Houston for an all-deciding Game 5. The weather forecast is dicey with rain expected in New England, but this is a game worth waiting for, even if there's a delay.
Boston was facing a series sweep on Sunday, but the Red Sox got a breakout performance from their offense to lead them to a 10-3 win. Now they'll turn to Rick Porcello to extend the series and their season, and it would help if he's more like the guy who won the AL Cy Young Award in 2016 and not the 2017 version who went 11-17 with a 4.65 ERA.
"I'm definitely looking forward to this opportunity and giving us a chance to go out there and play a Game 5 in Houston," Porcello said. "So I couldn't ask for a better opportunity, and I'll go out there and do my thing."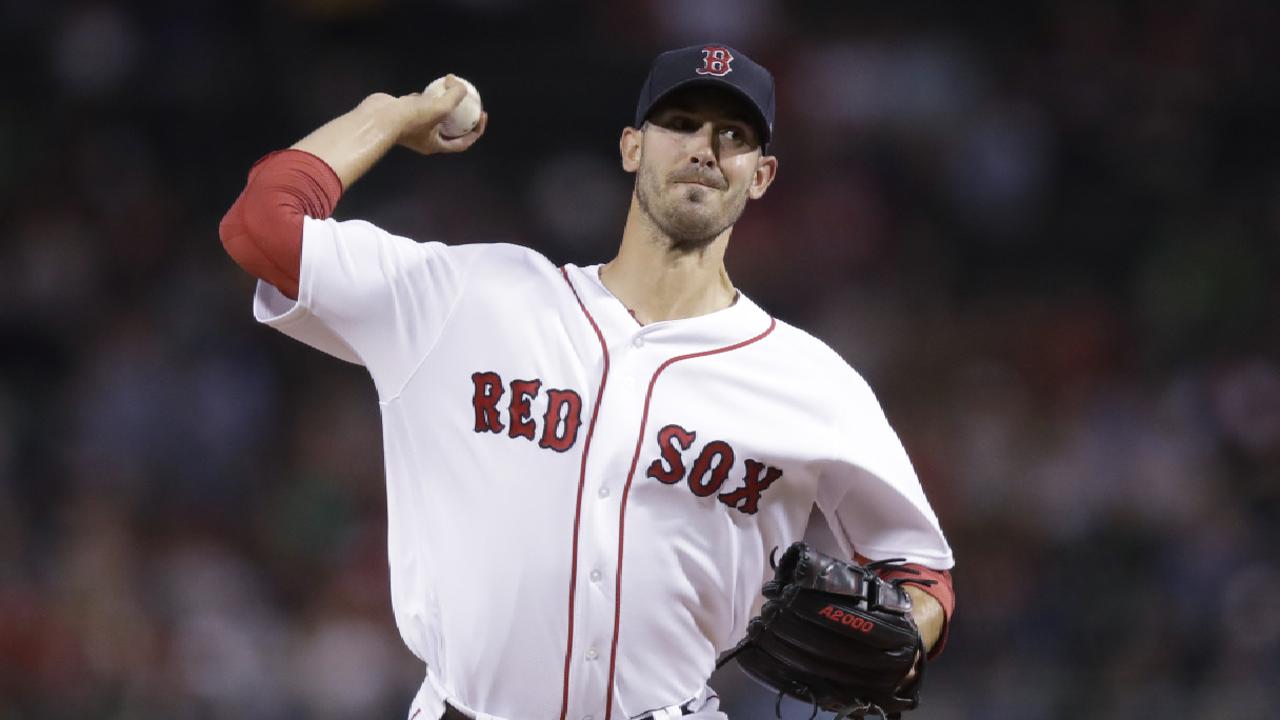 The Astros will lean on hard-throwing right-hander Charlie Morton in hopes of wrapping up a trip to their first AL Championship Series, and their first Championship Series since 2005.
"It's the playoffs," Morton said Sunday. "This is the biggest game I'll throw in all year, so I'm really excited about it. I'm excited to be here in Boston and pitch at Fenway against the Red Sox, and, yeah, I'm excited about tomorrow."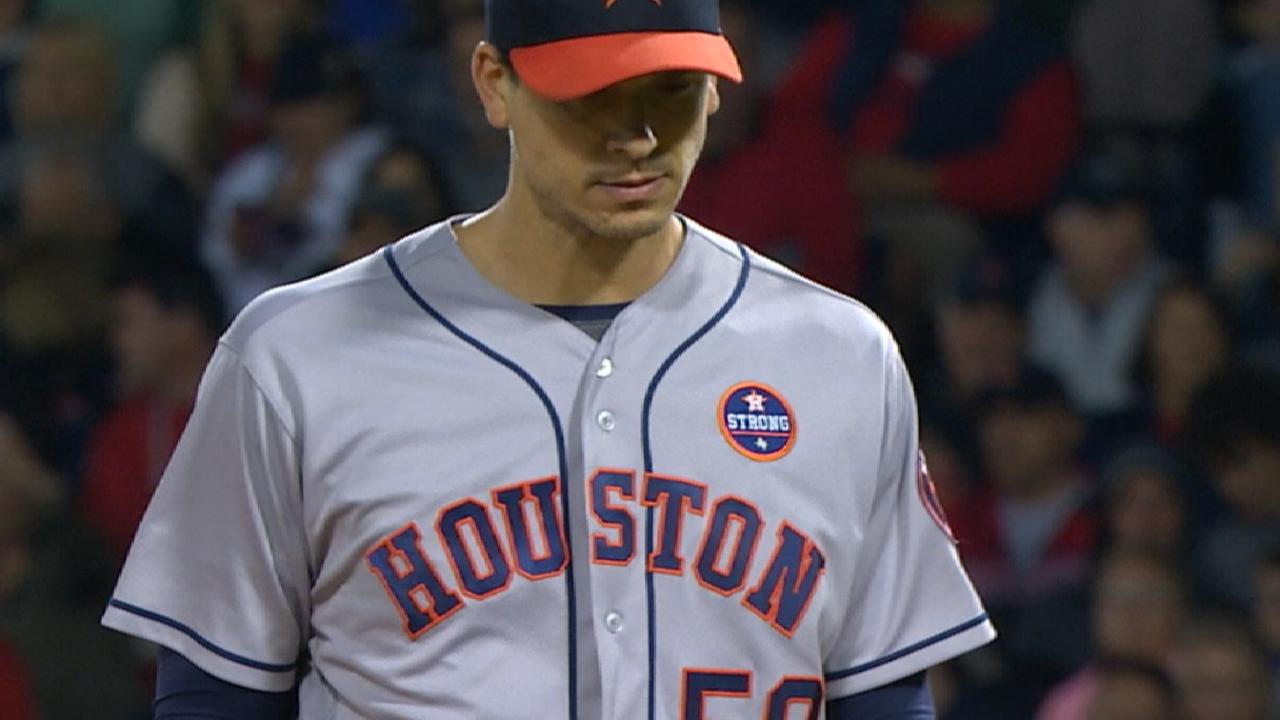 Nationals at Cubs, 4 p.m. ET, TBS
Next up is Game 3 of the NL Division Series presented by T-Mobile, pitting the Nationals against the defending World Series champion Cubs at the friendly confines of Wrigley Field.
Washington won Game 2 on Saturday thanks to a five-run eighth inning, so the North Siders will be looking to take control of the series at home. Left-hander Jose Quintana will make his first postseason start against a Nationals lineup that may have broken through with a pair of home runs from Bryce Harper and Ryan Zimmerman in Game 2.
"You have good baseball players that are well and rested, and you've got this fanatical fan base that is awesome, and you just respond to that," Cubs manager Joe Maddon said of playing at Wrigley Field. "And you have to."
The Nationals, meanwhile, have perennial Cy Young Award candidate Max Scherzer on the mound, and the only question regarding the right-hander is his health. This will be Scherzer's first start since sustaining a right hamstring strain in his final regular-season outing on Sept. 30.
"I think I'm very confident as soon as I toe the rubber that, hey, I'm going to be good on pitch one," Scherzer said. "It's, 'How long can I go without re-injuring this?' We've done everything we can to make sure that I can throw 100 pitches and not have this happen. When I get on the mound tomorrow, I'm fully anticipating being able to throw 100 pitches."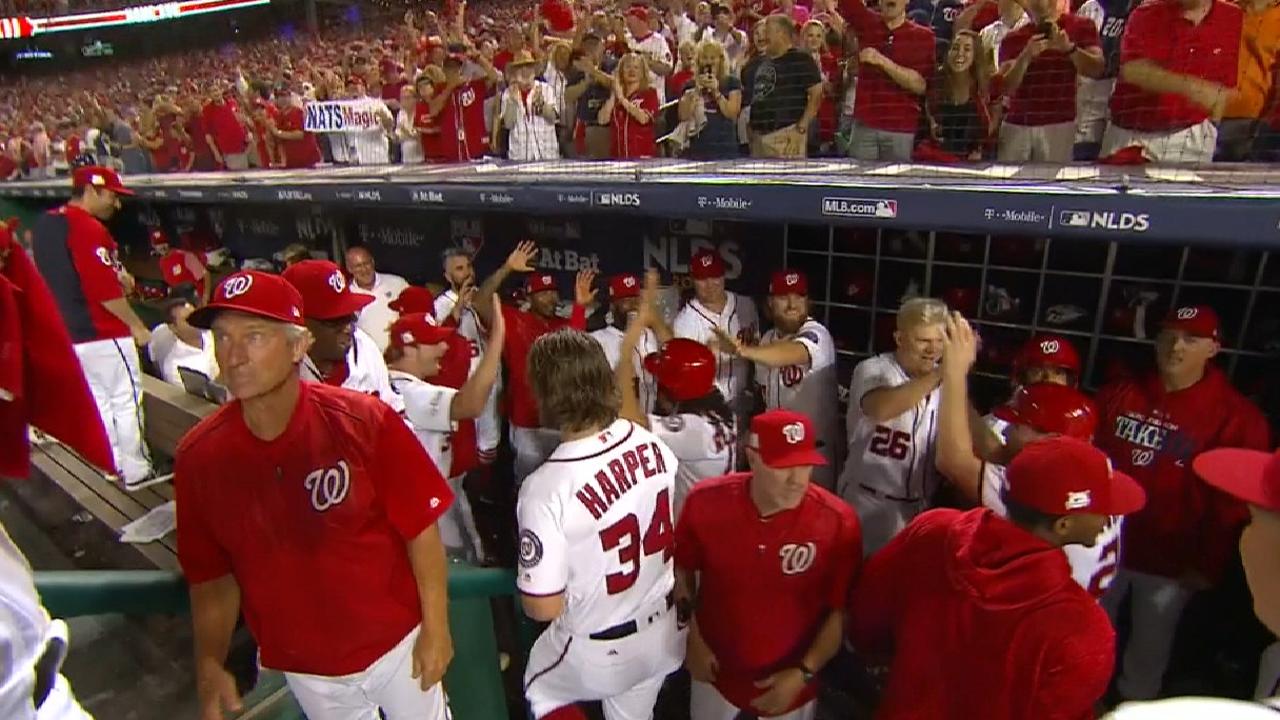 Indians at Yankees, 7 p.m. ET, FS1
The action will shift from the north side of Chicago to the south Bronx for the third game, as the Indians look to advance to their second straight ALCS in Game 4 against the Yankees.
New York did what it had to do in Sunday's Game 3, preventing a sweep at the hands of the team with a 1-0 win behind Masahiro Tanaka's impressive seven innings and Greg Bird's solo home run off Andrew Miller. The Yankees look to young right-hander Luis Severino, who didn't make it out of the first inning of the team's Wild Card Game victory over Minnesota, to help get the series back to Cleveland for a deciding Game 5.
"It sounds cliche, but every day is a must-win," Bird said. "So nothing's really changed. We've got to win, and that's what our plan is."
The Indians would love to put a stop to that plan, and they'll be pitching right-hander Trevor Bauer, who was dominant in Game 1, striking out eight over 6 2/3 innings in an Indians shutout win.
"Tonight was a fun game," Bauer said after Sunday's loss. "Looking forward to another one tomorrow. It's always more nerve-wracking being in the dugout watching than it is being out there playing. So looking forward to my opportunity tomorrow, for sure."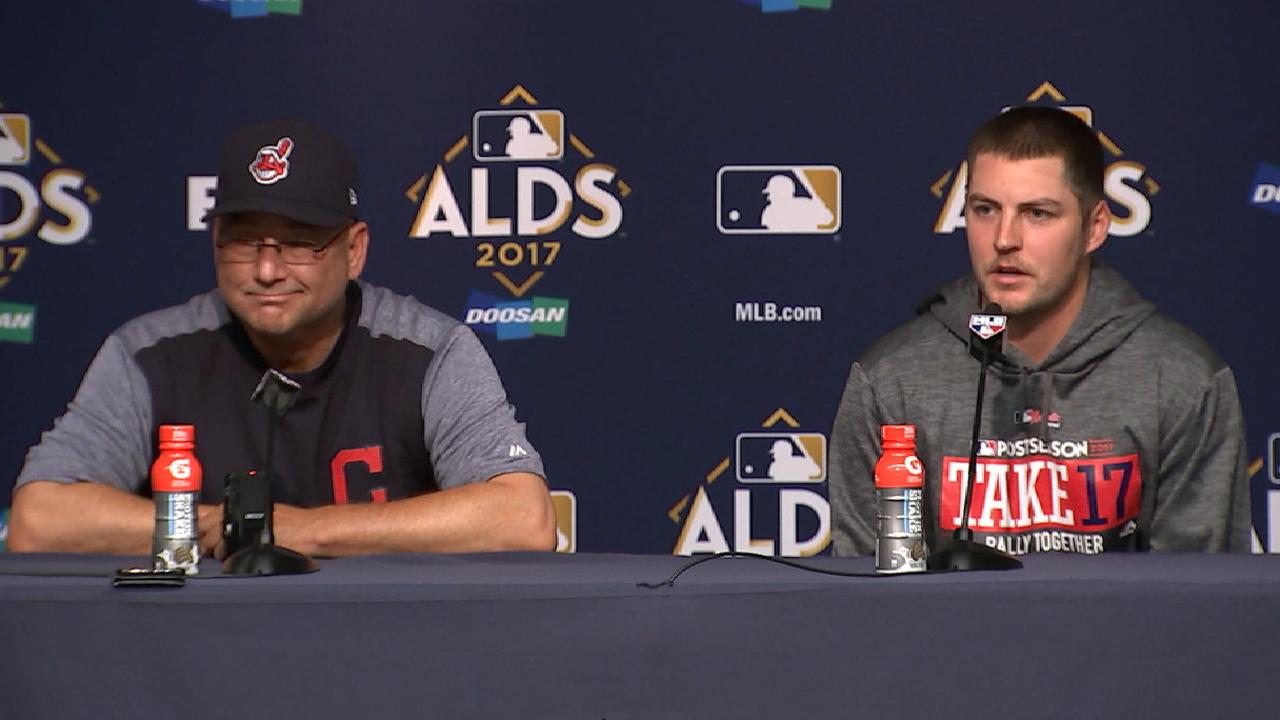 Dodgers at D-backs, 10 p.m. ET, TBS
Tonight's finale features Game 3 of the NLDS between the Dodgers and D-backs, where Los Angeles can sweep Arizona with a win at Chase Field.
The Dodgers jumped all over Arizona early in Games 1 and 2 back at Dodger Stadium, but now the D-backs are back home for Game 3 and have their ace, former Dodgers right-hander Zack Greinke, on the hill in a win-or-go-home game. Trade Deadline acquisition Yu Darvish will toe the rubber for Los Angeles.
Greinke, ever the low-key competitor, had no problem putting it all in perspective on Sunday.
"Just got to pitch as [well] as I can, and hopefully the results end up being good from that, but that's all I can do," Greinke said. "If I do what I can and it works out, that's great. But if it doesn't, then, you know, you did everything you can, and that's just kind of how I do it."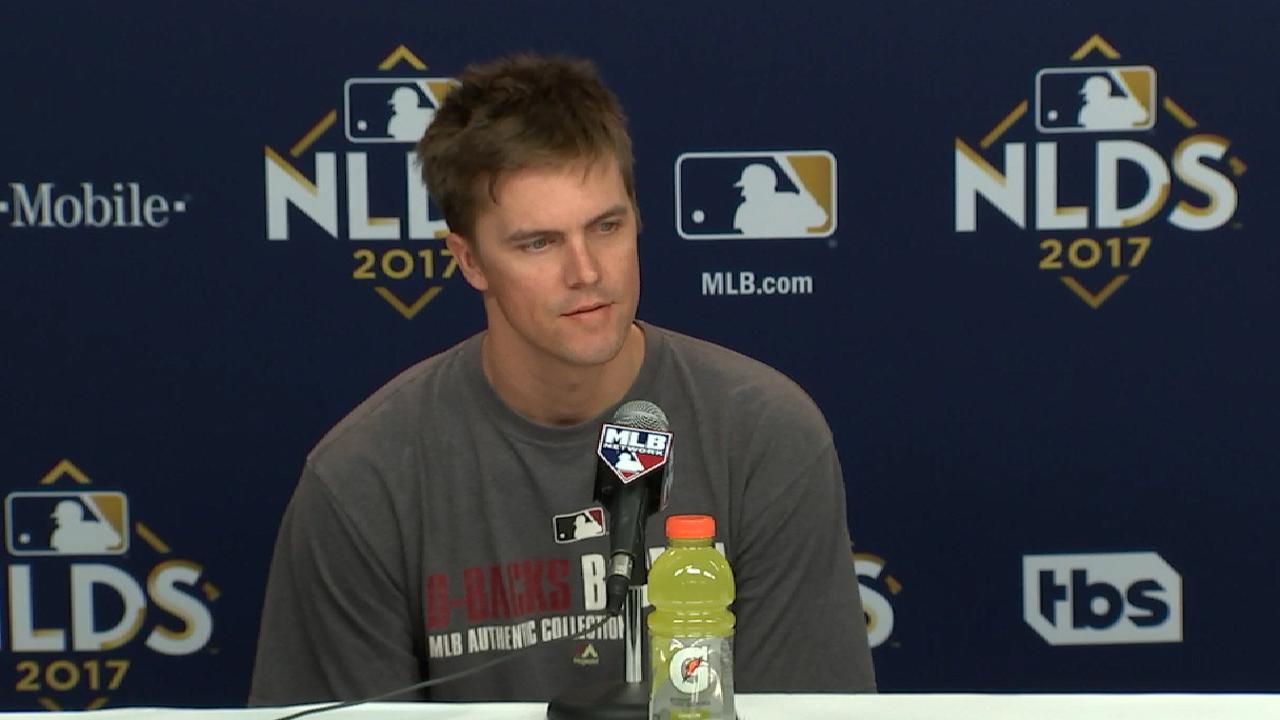 The Dodgers had the best record in the Majors this season and will be looking to finish this series off and return to the NLCS for a second straight year. If Los Angeles clinches at Chase Field, it will call to mind the game in 2013 when the Dodgers won the NL West in Arizona. L.A. irked the D-backs by taking a dip in the Chase Field pool.
Dodgers manager Dave Roberts said not to expect such celebrations in 2017 if his club does get it done tonight.
"That won't happen," Roberts said. "This is a completely different team, and I think we have bigger goals than to jump into a swimming pool."
Doug Miller is a reporter for MLB.com. Follow him on Twitter @DougMillerMLB. This story was not subject to the approval of Major League Baseball or its clubs.