Chapman dials it up with no room for error
Yankees closer hits 103.8 mph in five-out save of Game 3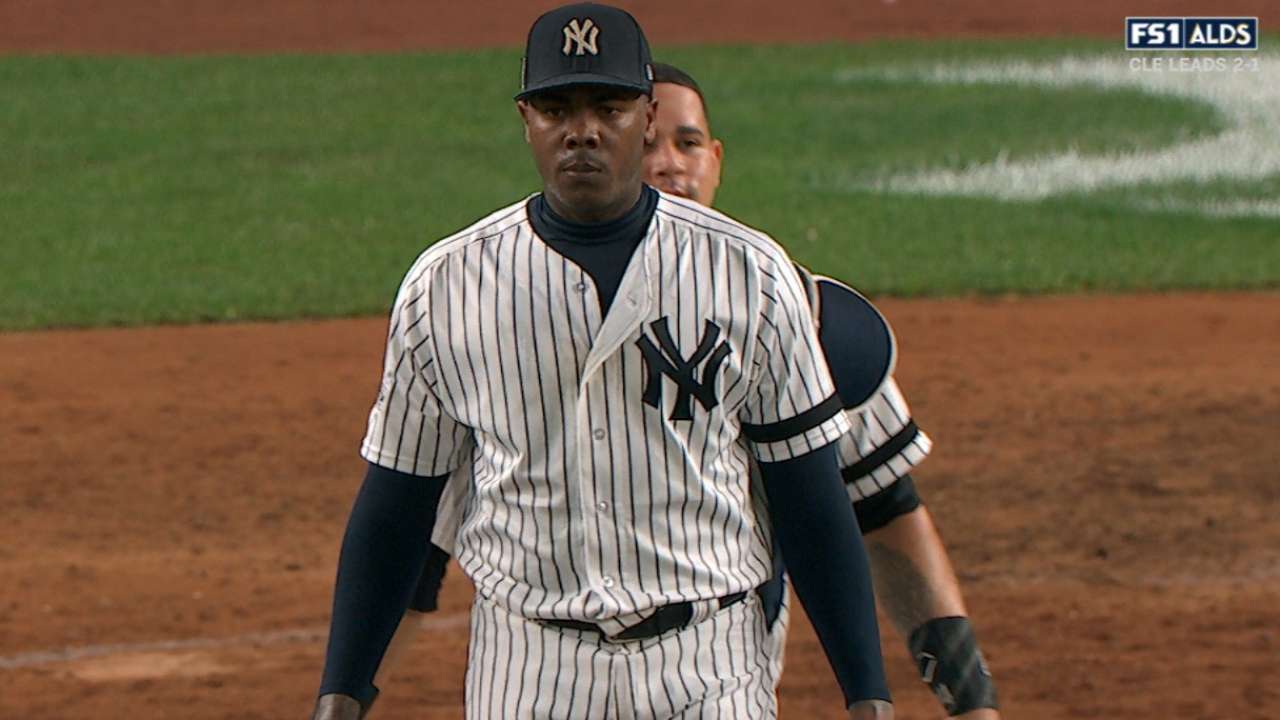 NEW YORK -- Blistering. Uncomfortable. Ridiculous. There are a lot of words for Aroldis Chapman's fastball, but for the Yankees on Sunday night, after watching their closer record five outs to preserve a season-saving 1-0 win over the Indians, there was just one: clutch.
Chapman stranded two runners in the ninth and struck out four over 1 2/3 innings against Cleveland, helping extend New York's hopes another day and force a Game 4 in the American League Division Series presented by Doosan.
"He's pretty good every time out, but I think tonight was as good as I've seen him," said Tribe reliever and former teammate Andrew Miller of Chapman's 34-pitch outing. "He was throwing the ball in good spots and throwing a lot of strikes. He wasn't behind anybody. When you're throwing that stuff, that's a pretty good recipe for success."
The flamethrower pelted the Indians' batters with high heat, with the majority of his pitches registering in triple digits. Chapman took over in the eighth after David Robertson issued a one-out walk to Michael Brantley with Yankees manager Joe Girardi signaling for the pitching change once Cleveland manager Terry Francona went to pinch-hitter Lonnie Chisenhall. Francona then countered by sending right-handed-hitting Yan Gomes to the plate.
It didn't matter.
Chapman blew a 99.7-mph offering past Gomes for strike one. He needed just four pitches to fan Gomes -- on a 102.2 mph heater -- and followed that up with a swinging strikeout of Giovanny Urshela that was clocked at 102.3 mph, per Statcast™.
• Shop for Yankees postseason gear
"This is a decisive game. You can't hold back," Chapman said through an interpreter. "Everything you have, you to have to go out there and give it all. Without tonight, there's no tomorrow."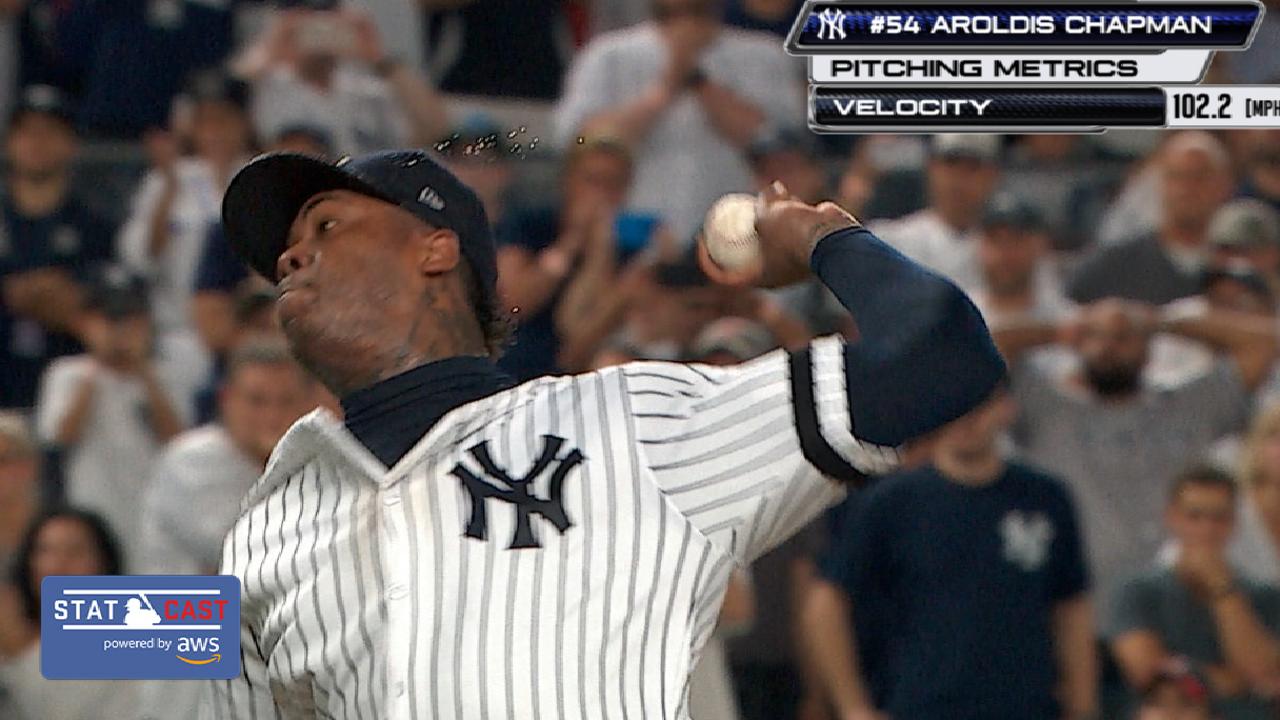 Chapman wasn't able to breeze through the ninth, as a one-out single by Jason Kipnis put the potential tying run aboard. Chapman got ahead 0-2 on Jose Ramirez, at one point throwing a 103.8-mph fastball -- the hardest pitch he's thrown since Statcast™ began tracking in 2015 -- that Ramirez fouled off. Ramirez then hit a sharp grounder that third baseman Todd Frazier made a terrific stop on but was unable to get a good grip on in time to make a throw. That put the potential tying run in scoring position and the go-ahead run on base.
But Chapman held firm, rallying from 2-0 against Jay Bruce to fire three consecutive triple-digit fastballs by him for the second out of the ninth.
"Chappy's been in so many big games, he understands. 'Fraz' dives for it and does everything he can to get the force out, is not able to do it," Girardi said. "Remember where Chappy was last year at the end of the year. He's been in these games."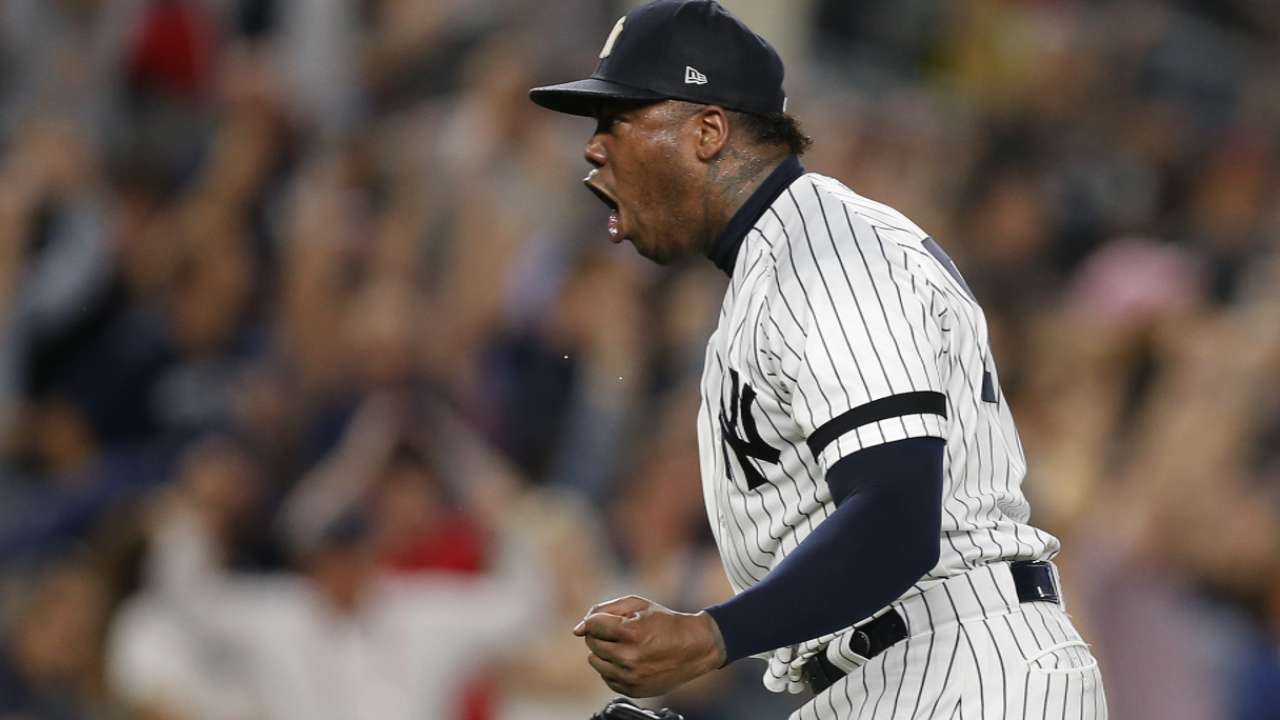 Chapman got a flyout from Brantley to seal the win and continue his recent roll. The 29-year-old closer, who finished September with 11 consecutive scoreless outings, has allowed just one run over his past 15 games, a stretch of 16 1/3 innings that includes 23 strikeouts and three walks.
"Everyone has seen Chapman pitch and everybody knows what he's capable of," Yanks catcher Gary Sanchez said. "[Earlier] in the regular season, he had some trouble, like we all do. But tonight he was so, so good. So sharp."
Will Chapman be available for Game 4? Chapman -- who recorded a five-out save last year for the Cubs during Game 5 of the World Series -- said he'll do his best to be ready, knowing his team faces elimination again.
Chapman didn't speak to Girardi before the game about going multiple innings, but he was ready regardless. The left-hander -- who said he had accidentally hit "like" on an Instagram post after Game 2 calling for Girardi to not return as manager -- said he apologized to Girardi for the move and wasn't surprised or upset in the least for getting the call in the eighth and having to go more than one inning.
"I'm going to do everything I can do to be ready for tomorrow," Chapman said. "If we don't win tomorrow, there's no Game 5. So whatever I can do to be ready to pitch, I'll do it."
Brittany Ghiroli has covered the Orioles for MLB.com since 2010. Follow her on Facebook and Twitter @britt_ghiroli, and listen to her podcast. This story was not subject to the approval of Major League Baseball or its clubs.