Bellinger feels right at home at Chase Field
Dodgers rookie played high school tournament at D-backs' park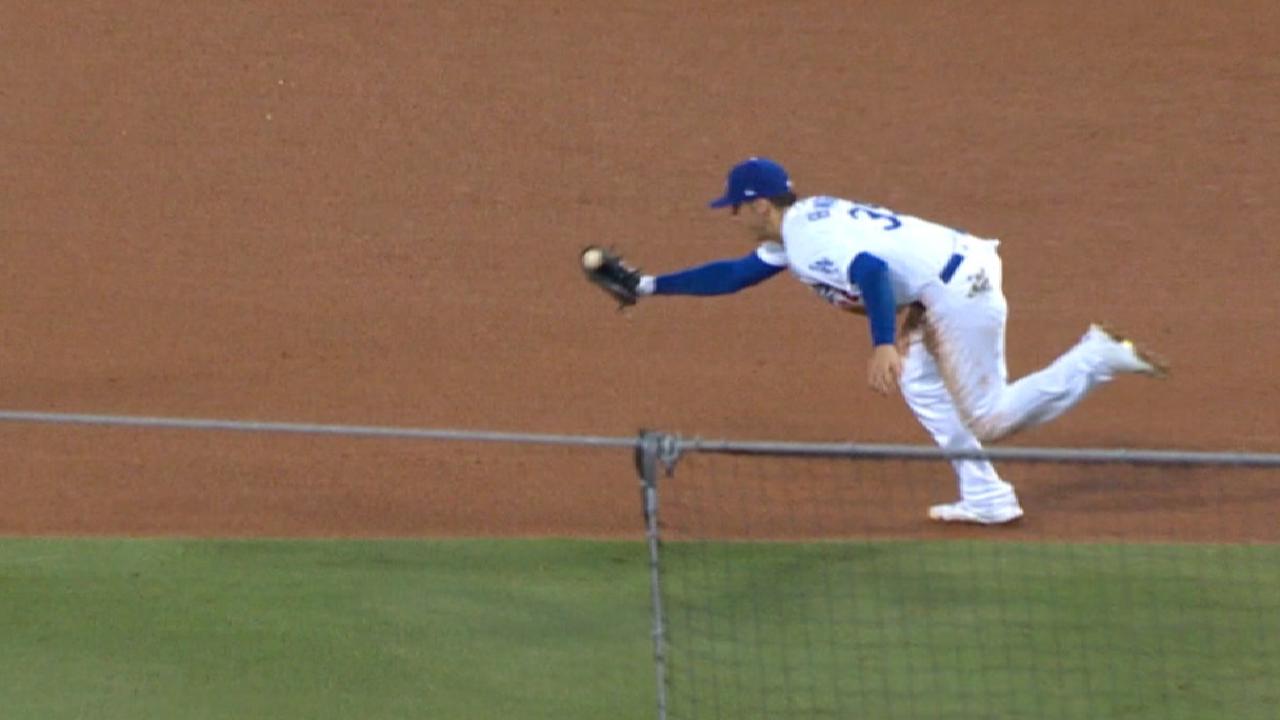 PHOENIX -- Cody Bellinger is right at home for the most important games of his life.
Or -- if he has it his way -- it'll be the most important game of his life, singular.
A native of nearby Chandler, Dodgers rookie Bellinger is in familiar territory at Chase Field, as L.A. and the D-backs are set for tonight's Game 3 of the National League Division Series presented by T-Mobile. He first played there in a tournament game during his senior year in at Hamilton High.
"The way we're playing right now, it's good to be going there with a 2-0 lead," said Bellinger, who has gotten off to a slow start this series. "I watched the D-backs on TV when I was growing up, so it should be a pretty exciting atmosphere."
Long before Bellinger set the National League rookie home run record with 39 this season, he made his mark locally. He moved to the area in 2005, and two years later propelled Chandler to the Little League World Series, reaching the national semifinals.
Bellinger was a Perfect Game All-American in high school, when he made his Chase Field debut. The lights will be a bit brighter tonight.
"It's definitely good to be going back at this time of year," Bellinger said.
Forgive Bellinger, however, for not being a D-backs fan growing up. His father, Clay, spent five seasons in the Yankees organization.
Clay and the rest of Cody's family attended Games 1 and 2 in Los Angeles. They'll be on hand tonight, as well. After all, Chase Field is only a short drive from Clay's day job as a firefighter in Gilbert.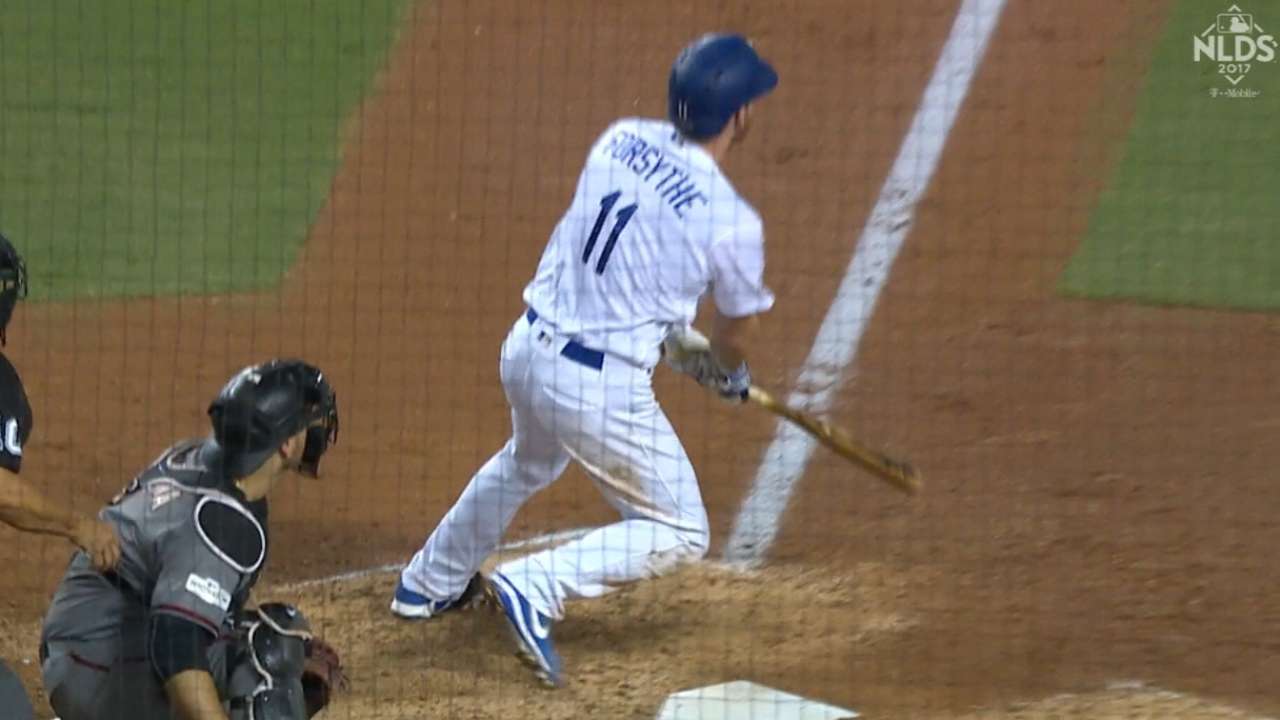 Perhaps a trip to Arizona is what Bellinger needs to reignite his swing. Through two playoff games, the 22-year-old first baseman is 1-for-10 with six strikeouts.
During Sunday's workout, Bellinger took some cuts against lefty reliever Luis Avilan in live batting practice. Manager Dave Roberts came away impressed.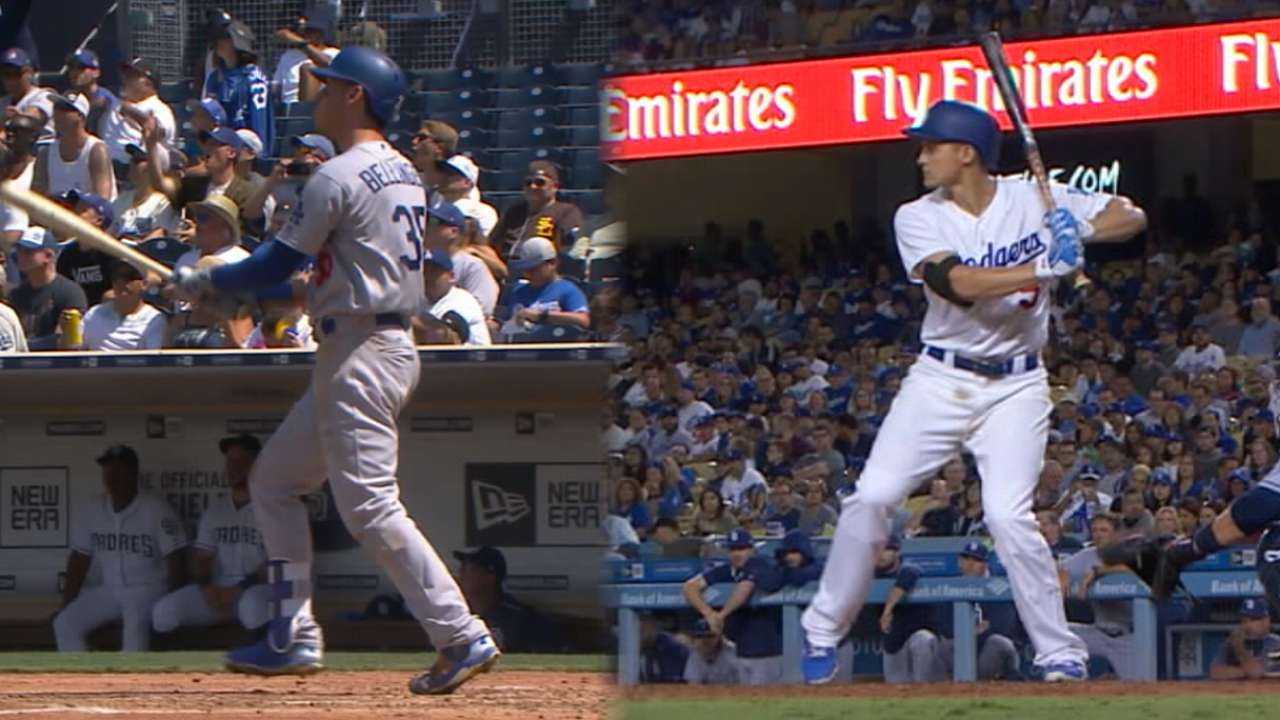 "It just boils down to Cody trying to stay bullish in the strike zone," said Roberts. "It's not like he's trying to swing at balls out of the strike zone, and that's obvious. He worked on some things today, batting practice was good, took some at-bats off Luis Avilan, and I think he looked good."
Tonight's task comes in the form of D-backs ace Zack Greinke. Bellinger has actually had some success against the veteran right-hander, with a single, a double and a homer in nine at-bats.
"Obviously Zack's very aware of [Bellinger's] aggressiveness outside of the strike zone," Roberts said. "To expect him to challenge him in the strike zone is unrealistic."
Despite the early struggles, Bellinger insists he's taken time to enjoy his first taste of postseason.
"It's been fun, playing in front of 50,000 every night," Bellinger said. "They've got the rally towels going. It's loud, fans are into it. ... I'm expecting the same [in Arizona]. I'm sure they're ready."
AJ Cassavell is in his seventh season as a reporter for MLB.com. Follow him on Twitter @ajcassavell. This story was not subject to the approval of Major League Baseball or its clubs.