MLB.com Columnist
Jonathan Mayo
Reds love Heatherly's raw stuff, willingness to learn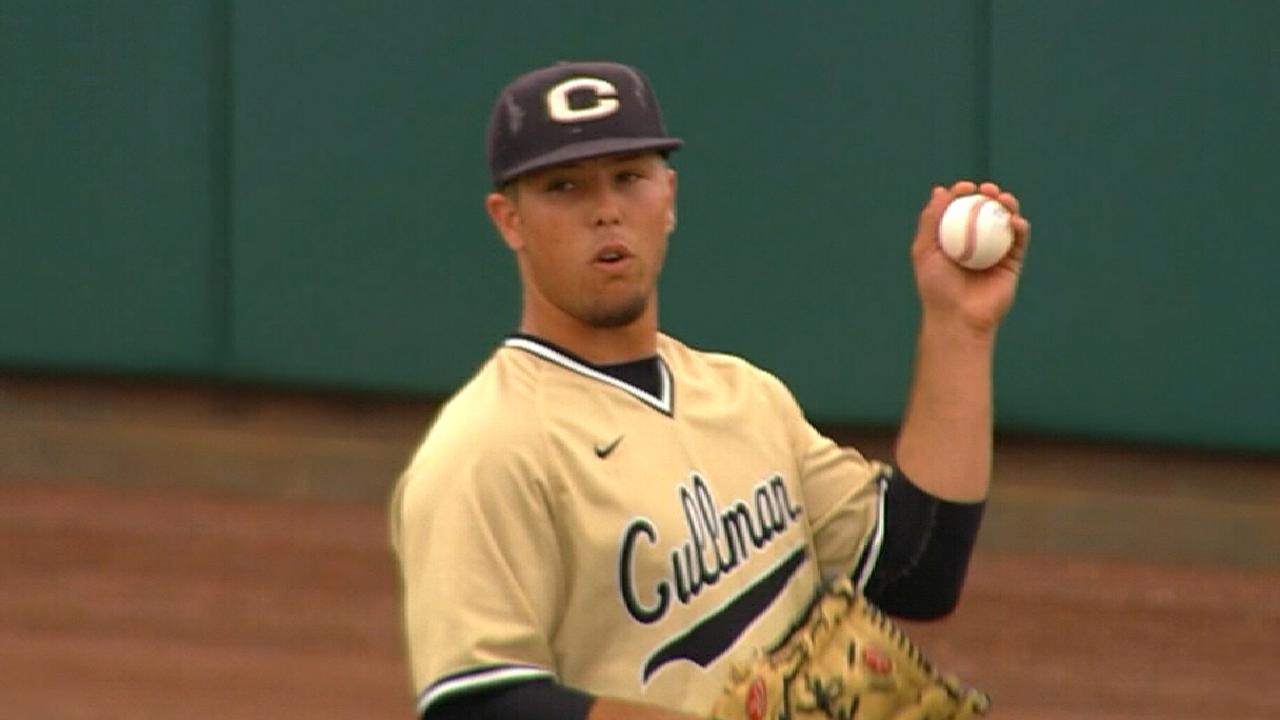 At the start of the spring, Jacob Heatherly looked like he might be one of the best high school left-handers in the Draft class of 2017. An uneven senior season in Alabama forced him to drop on Draft boards, something the Reds are now extremely grateful for.
After looking like a surefire first-rounder, Heatherly didn't hear his name called until the start of the third round, pick No. 77 overall. The Reds did give him just over $1 million to sign him away from his University of Alabama commitment, equal to second-round money and $300,000 above pick value.
The 19-year-old southpaw threw well enough during his debut in the Gulf Coast League to earn a late bump up to the Pioneer League, setting him up to potentially make a move to full-season Dayton to start the 2018 season. The Reds' No. 17 prospect continued to impress during instructional league play this fall, working to put a bow on his first pro experience.
"He's been really good," Reds farm director Jeff Graupe said. "He throws three pitches for strikes, it's plus stuff, and we love the way he goes about it. He's a good young left-handed pitching prospect, which there just isn't a ton of."
Heatherly's early success in the GCL was almost entirely attributable to him alone Typically, teams don't do much to alter what a player does during his summer debut, letting them go out and show how they compete with what made them a Draft prospect in the first place. He posted a 2.93 ERA, a .224 batting average against and a 1.71 groundout-to-airout ratio over 30 2/3 innings there before finishing with three outings up in Billings, which did not go as well.
Instructs is where the relationship between player and player development staff really starts to form. It's the first time Graupe and company have to sit, talk and come up with a plan for future success. In Heatherly's case, they obviously liked what they saw. Now it's a question of building from that. Getting the prospect to buy in is vital, and as much as they love Heatherly's raw stuff from the left side, the Reds love his willingness to learn even more.
"Any physical adjustments start here," Graupe said. "He's fairly clean and repeatable with his delivery. There are just some small adjustments with his posture, extension and direction. He's applied all of it and I think it's made all of his pitches play up a little. His ability to apply what we talk to him about is impressive."
Jonathan Mayo is a reporter for MLBPipeline.com. Follow him on Twitter @JonathanMayo and Facebook, and listen to him on the weekly Pipeline Podcast. This story was not subject to the approval of Major League Baseball or its clubs.