MLB.com Columnist
Anthony Castrovince
Tanaka rewards Yankees' faith, investment
Righty keeps season alive with seven scoreless innings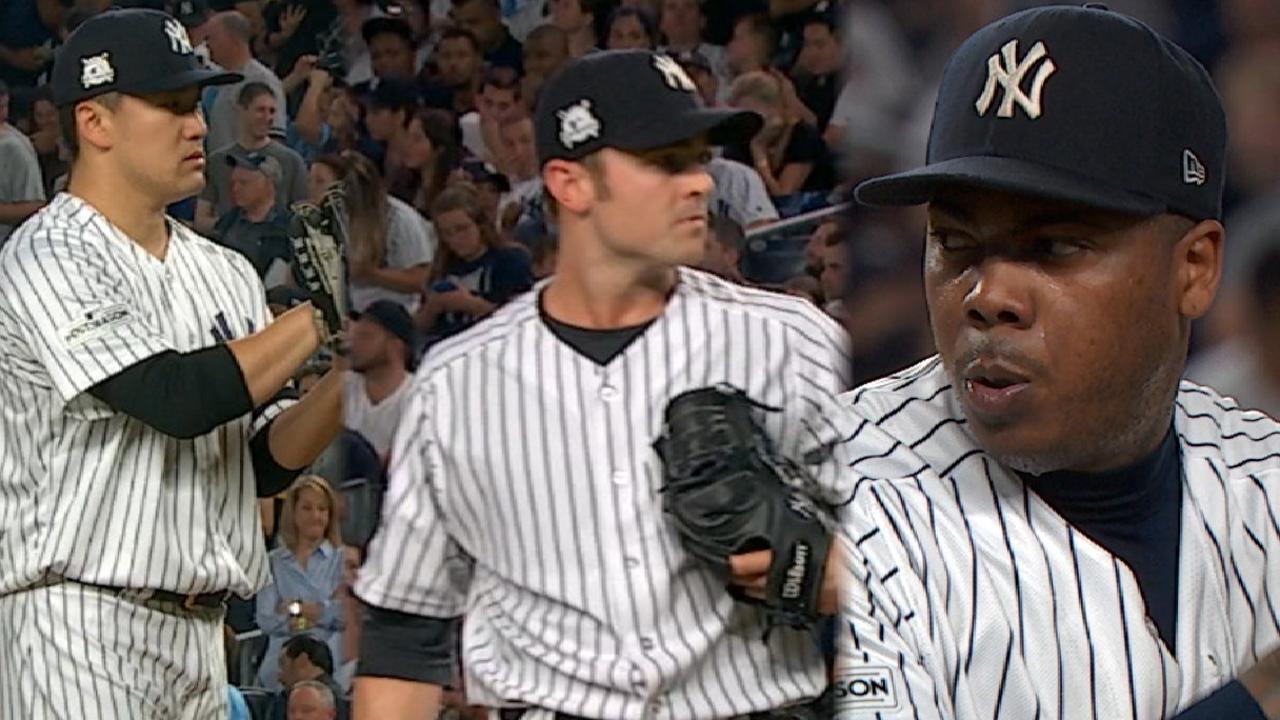 NEW YORK -- Go back to the very beginning -- to that day when an eight-person contingent arrived in California with the singular goal of wooing Masahiro Tanaka and his agent, Casey Close, on the appeal of the pinstripes -- and this is what the Yankees envisioned. This performance, on a night when the Yanks were feeling the heat in ways that had nothing to do with the odd October humidity in the air, was Tanaka at his big league best, and it simply saved their season.
Greg Bird had the key home run in the Yankees' 1-0 victory in Game 3 of this American League Division Series presented by Doosan, Aaron Judge had a key catch with his height-aided haul-in of a would-be homer off the bat of Francisco Lindor and Aroldis Chapman delivered a five-out save to seal the deal in front of an amped-up crowd of 48,614 fans at Yankee Stadium. But it was Tanaka who loomed largest, because the deep and scoreless effort he delivered on a night when no less would do.
"You can't ask for more than what he did tonight," said manager Joe Girardi. "On a night that one run wins it, he didn't give up any."
Girardi had been criticized in the tabloid headlines here after his regrettable non-challenge of that phantom hit-by-pitch in the sixth inning of Game 2 on Friday -- the moment when the Yankees' seemingly secure 8-3 lead really came unglued. It would have been easy for the Yanks to fold it up after that crazy collapse, and there was legitimate reason to wonder if Tanaka, given an inconsistent season that left his status from ace demoted to afterthought in the October rotation, was up to the challenge of turning the tide.
But Tanaka tamed Toronto with a splendid strikeout-laden outing in his final start of the regular season, and that inspired hope. And his Game 3 gem, in which he pitched seven scoreless while allowing just three hits and one walk, brought belief to a Yankees team trying to do what only seven Division Series teams have done in 56 best-of-fives series -- come back from an 0-2 deficit.
• Shop for Yankees postseason gear
"Probably the biggest win that I have gotten since I came here," said Tanaka, who was outpitched by the Astros' Dallas Keuchel in the 2015 AL Wild Card Game. "I came here to pitch in these types of games, and to be able to help the team win in these types of games."
The Bronx Bombers still have their work cut out for them, as Luis Severino opposes Trevor Bauer in Monday's Game 4 matchup, but it looks a lot less daunting thanks to what Tanaka did.
Tanaka established his fastball and then let his devastating splitter take the sizzle out of the Tribe's bats. He forced the Indians, who had won an incredible 35 of 39 coming in to the game, to expand their strike zone by driving them down, down, down. The movement on Tanaka's splitter was easy to appreciate and virtually impossible to catch up with.
"Filthy, absolutely filthy," teammate Todd Frazier said. "That splitter is something else, man. It'll start at your head and land at your feet."
Tanaka racked up 20 swinging strikes against Indians hitters who couldn't resist chasing his stuff below the lower reaches of the zone. He was at his most clutch in the fourth, after Jason Kipnis reached on a one-out triple that bounced off the glove of Judge in right. Tanaka calmly used the split to strike out both Jose Ramirez and Jay Bruce in succession.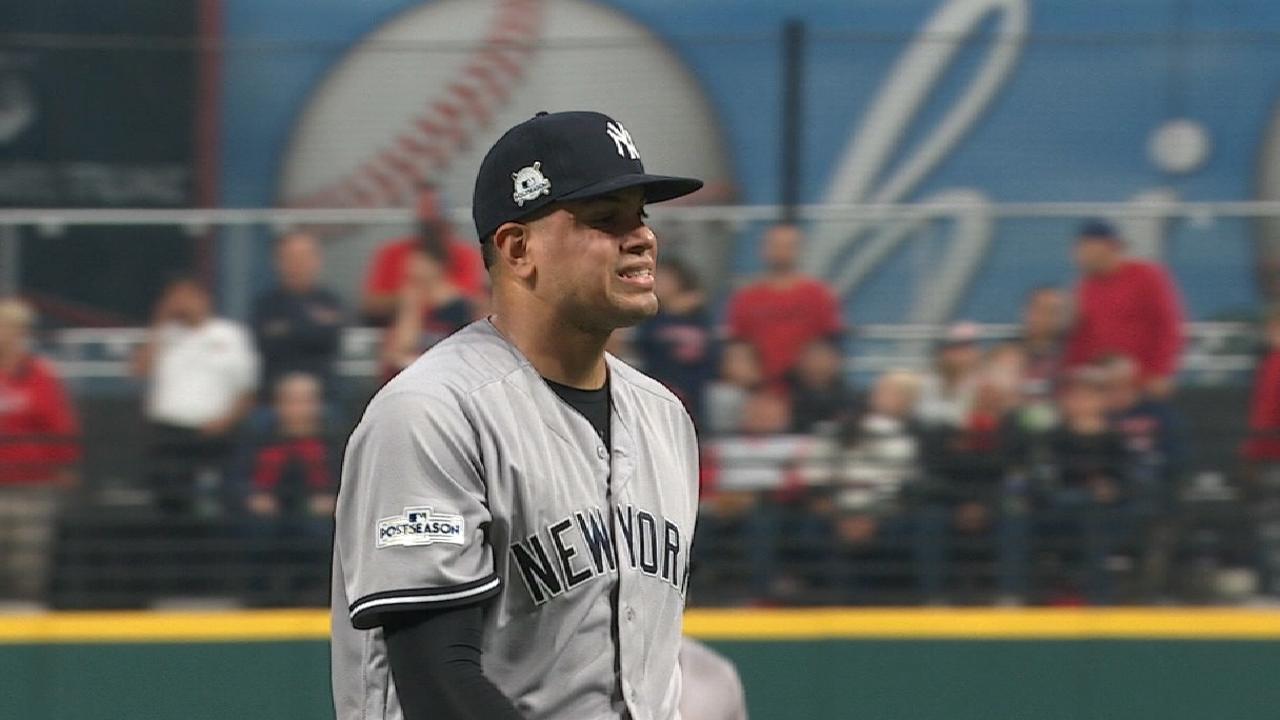 "That's as good as I've seen him," said Bruce, who was responsible for three of Tanaka's seven strikeouts. "He pitched at the bottom the zone all night. It looked like it had enough height to take a good swing at, and the bottom fell out of it. I think we all knew going in that if he was going to have success, that was going to be how he'd do it. He executed well."
It's no secret Tanaka has more than just his team's fate on the line these days.
With a built-in opt-out clause after this fourth year of the seven-year, $155 million deal he signed with the Yankees before the 2014 season, Tanaka will have a huge decision to make in the offseason. Teams might be concerned about his up-and-down '17 season, in which he had an adjusted ERA+ below league average (95) and drastic home/road splits (a key consideration when the Yanks mapped out their ALDS pitching plan). There's also the matter of that partial elbow ligament tear that Tanaka has been pitching through since his rookie year.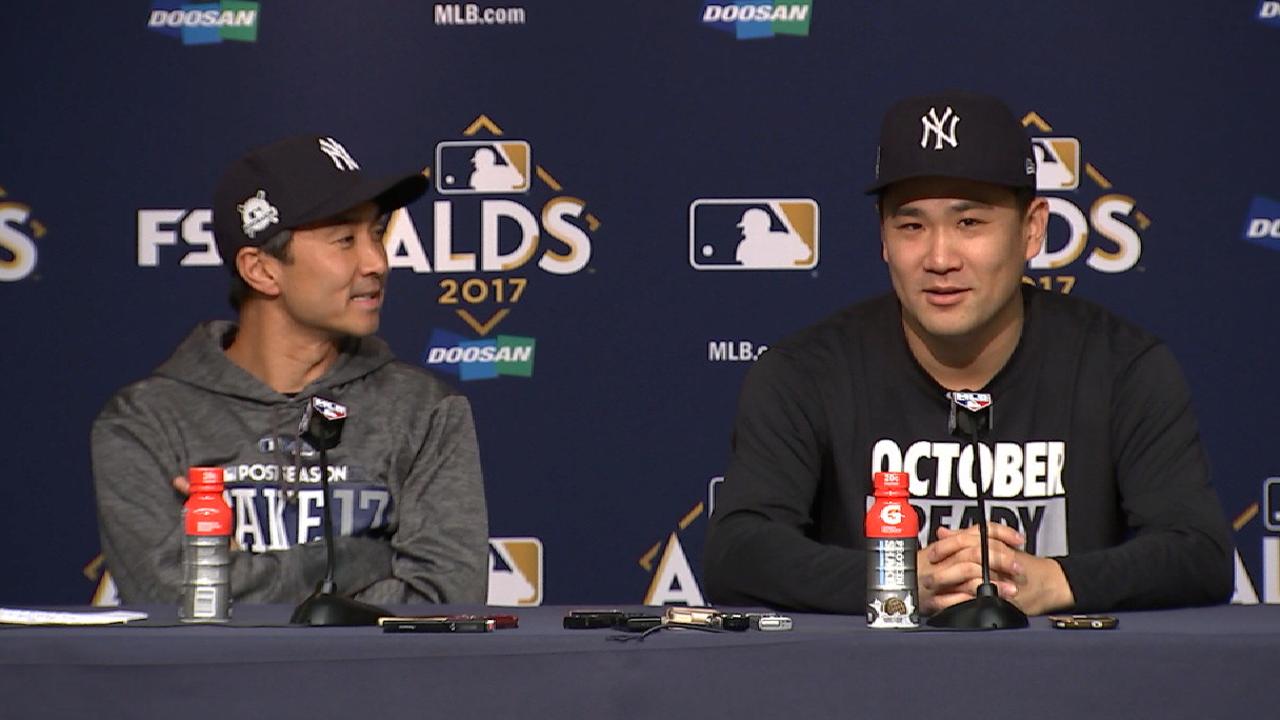 But when a player rises to the occasion in this environment, it can do wonders for his worth. And the way Tanaka pitched on Sunday night leads you to believe that if the Yankees can complete a crazy comeback of their own, he'd be a worthy recipient of the Game 1 starting duties Friday in the AL Championship Series presented by Camping World -- on regular rest, no less.
Before Sunday, there was reason to doubt Tanaka. Not anymore.
"I believed he could [pitch well]," said pitching coach Larry Rothschild. "Just didn't know to what extreme. A shutout? That's a different animal."
This was the kind of animal effort the Yanks signed up for several years ago. This was Masa the hero, swooping in with a splitter that both defied belief and also inspired it.
Anthony Castrovince has been a reporter for MLB.com since 2004. Read his columns and follow him on Twitter at @Castrovince. This story was not subject to the approval of Major League Baseball or its clubs.