One bad pitch: Miller laments Bird's homer
Tribe reliever allows rare long ball to a left-handed hitter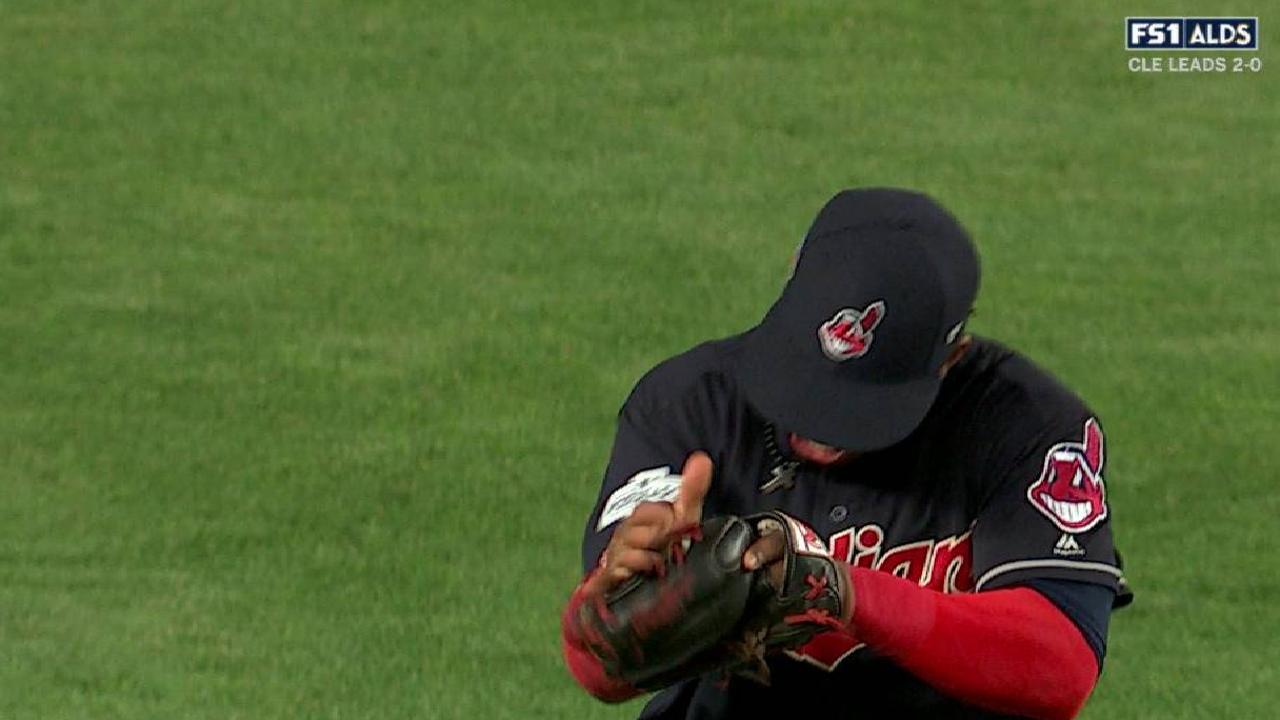 NEW YORK -- The way Andrew Miller saw it, his logic was sound. A 1-1 fastball, running away after two sliders -- that should lock up a left-handed hitter. Maybe it's put in play weakly, maybe it's missed, maybe it's taken. At the very least, it would set up the rest of the at-bat, the type of late-game postseason at-bats Miller is used to winning.
So even after Miller's seventh-inning fastball leaked out over the middle of the plate, then shot off Greg Bird's bat and into the right-field bleachers, sending Cleveland to a tense 1-0 loss in Game 3 of the American League Division Series presented by Doosan, the lefty pledged to learn from his first career postseason defeat.
"What I was trying to do was just wrong in that situation," Miller said. "Just threw the wrong pitch in the wrong spot."
And in a way, that's almost a silver lining. The first postseason home run Miller has allowed to a left-handed hitter was not the function of the right knee issue that sent him to the disabled list this during the regular season, and it won't shake Tribe manager Terry Francona's faith in him in big spots going forward.
"He only threw nine pitches," Francona said. "He might pitch forever tomorrow."
It was simply a blip. And maybe an anomaly.
• Shop for Indians postseason gear
Only one left-handed hitter, Dodgers rookie Cody Bellinger, took Miller deep during the regular season, and only two have homered off Miller since he joined the Indians last summer. Bird became the third on Sunday night, when his solo shot provided the only run of the game, keeping Yankees' season alive.
"Knowing Andrew is one of, if not the best, relievers in our game, I was just trying to swing at strikes and have a good at-bat," Bird said. "See ball, hit ball and kind of do my thing."
Left-handed hitters had been 2-for-19 (.105) against Miller over the past two postseasons leading up to Bird's at-bat. The way Miller attacked Bird was how he'd attacked so many of those others: sliders and fastballs, alternating from different angles, each pitch feeding off the other. After Bird fouled off a 1-0 slider in on the previous pitch, Miller's fastball was supposed to be far off the outside, then catch the black.
"It would have been nice if it was on the black or the corner of the strike zone," Miller said. "It wasn't. It was in the middle of the plate, and in hindsight, I should have just thrown a different pitch."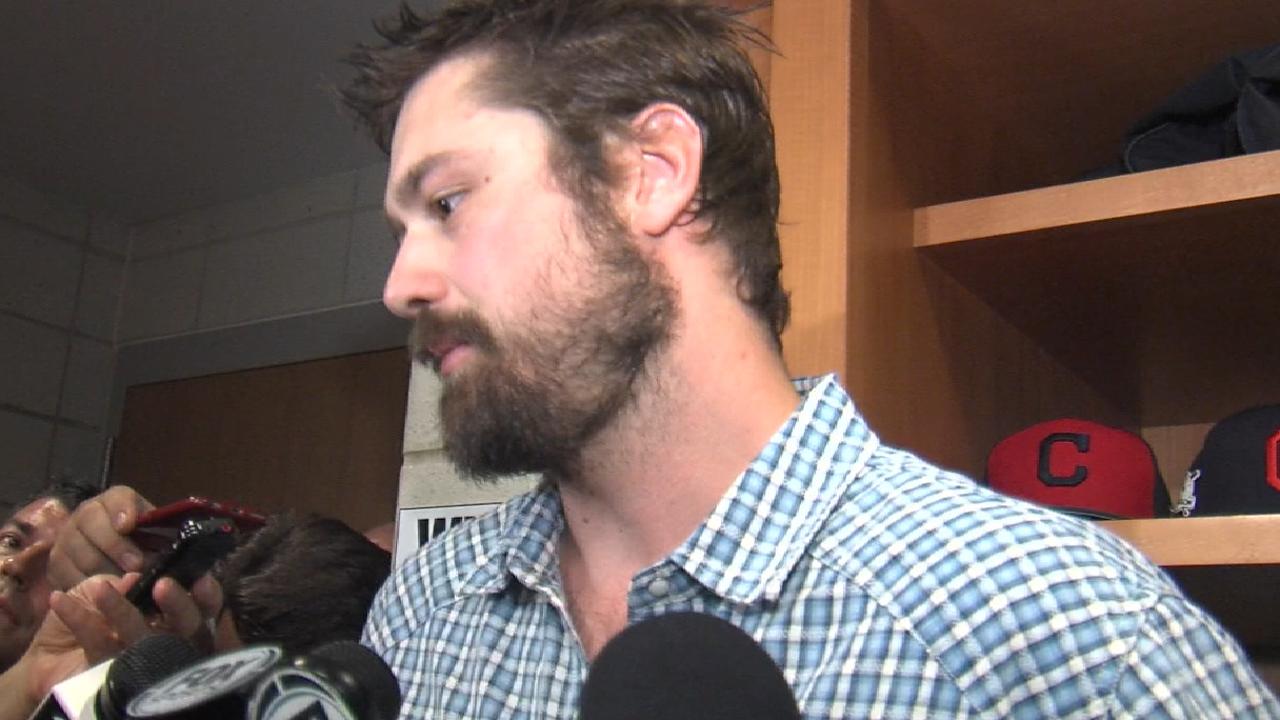 Bird's blast served as a jarring twist to a night that had, until that point, resembled so many of Miller's recent October appearances. Francona summoned him an inning before, to get starter Carlos Carrasco out of a bases-loaded jam in the sixth and preserve a scoreless game. Miller needed just two pitches -- both of them sliders -- to induce a harmless popup from Starlin Castro to escape the middle-inning jam, like he did so often during Cleveland's run to the World Series last October.
But Bird led off the next inning and changed the trajectory of the night. After Miller retired the next hitter, Todd Frazier, Francona replaced him with Tyler Olson, his team suddenly trailing. It was the first time Miller had been pulled during an inning for another left-handed reliever since last July, when he was with the Yanks.
"He's human," Indians shortstop Francisco Lindor said.
"I made a pretty big mistake tonight, but it was one swing of the bat," Miller said. "I'll be ready to go tomorrow."
Joe Trezza is a reporter for MLB.com based in New York. Follow him on Twitter at @joetrezz. This story was not subject to the approval of Major League Baseball or its clubs.