Bauer to start Game 4 vs. Yanks on short rest
Right-hander opened series with eight K's over 6 2/3 innings in win
NEW YORK -- The decision to start a pitcher on three days' rest in the postseason is far from routine. But Trevor Bauer is far from a routine pitcher.
"I consider this normal rest for me," Bauer said Sunday night after being announced as the Indians' starter for Game 4 against the Yankees at Progressive Field in the American League Division Series presented by Doosan. "I enjoy pitching on short -- I guess, technical definition of short [rest]. But if I could draw it out, personally, this is how I'd pitch every time.
"Took my normal two days' recovery after my start, and then do my day-before routine today and then roll it out there tomorrow. So I'm feeling very confident with where I'm at."
From the moment Bauer was announced as the starter for Game 1, he was expected to start a potential Game 4, even though it wasn't announced. His ability and desire to start on short rest has been expressed enough that Indians manager Terry Francona knew he could bring him back on short rest and have Corey Kluber available to pitch Games 2 and 5 (if necessary) on regular rest.
"Flexibility was one of the things we talked about early on," Francona said, "and now it's going to get a chance to hopefully really help us. That's the idea."
• Shop for Indians postseason gear
Bauer started on three days' rest during last year's World Series, taking the loss in Game 5 after starting Game 2. He tossed three scoreless innings before a three-run fourth knocked him out, though he struck out seven.
Bauer opened this year's ALDS with a 4-0 victory, tossing 6 2/3 innings at Progressive Field, giving up two hits and one walk while striking out eight. He held the Yankees hitless until Aaron Hicks doubled with one out in the sixth. With the Tribe one win away from advancing to its second consecutive AL Championship Series, Bauer has a 0.92 ERA over his past three starts, with 21 strikeouts and four walks.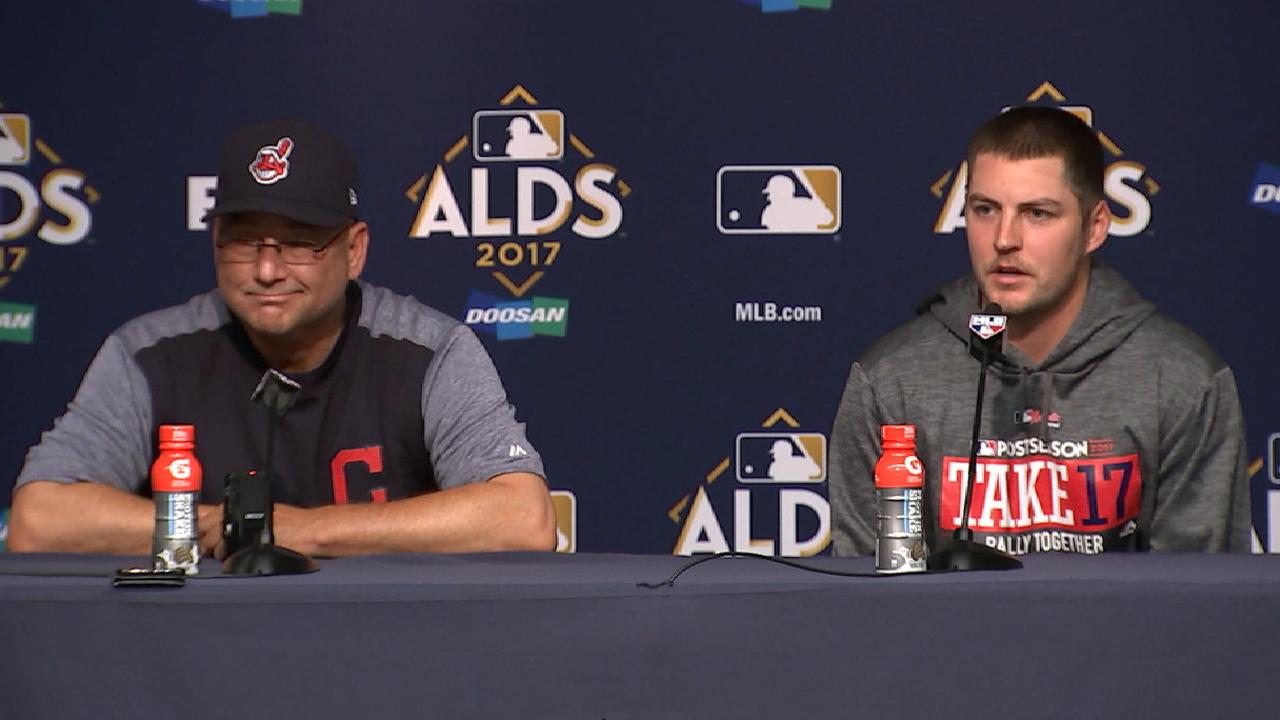 In three starts against the Yanks in 2017 (including Game 1), Bauer has a 0.92 ERA (two earned runs over 19 2/3 innings).
"I'm looking forward to it," catcher Roberto Perez said. "So is he. He's going on short rest. We believe in him."
Bauer used his curveball to devastating success in Game 1, drawing eight called strikes and four swings and misses. He coupled that with an aggressive fastball inside on hitters, a pitch that flummoxed the Yankees as the game went on.
Bauer's eighth and final strikeout in Game 1 demonstrated the combination that worked so well. He was down in the count, 2-0, to Yanks slugger Aaron Judge with Hicks in scoring position and two out in the sixth, but Bauer went with a 95-mph fastball, followed by a cutter and then a curveball at the knees to send the AL Most Valuable Player Award candidate down on a called third strike, ending New York's best threat of the night.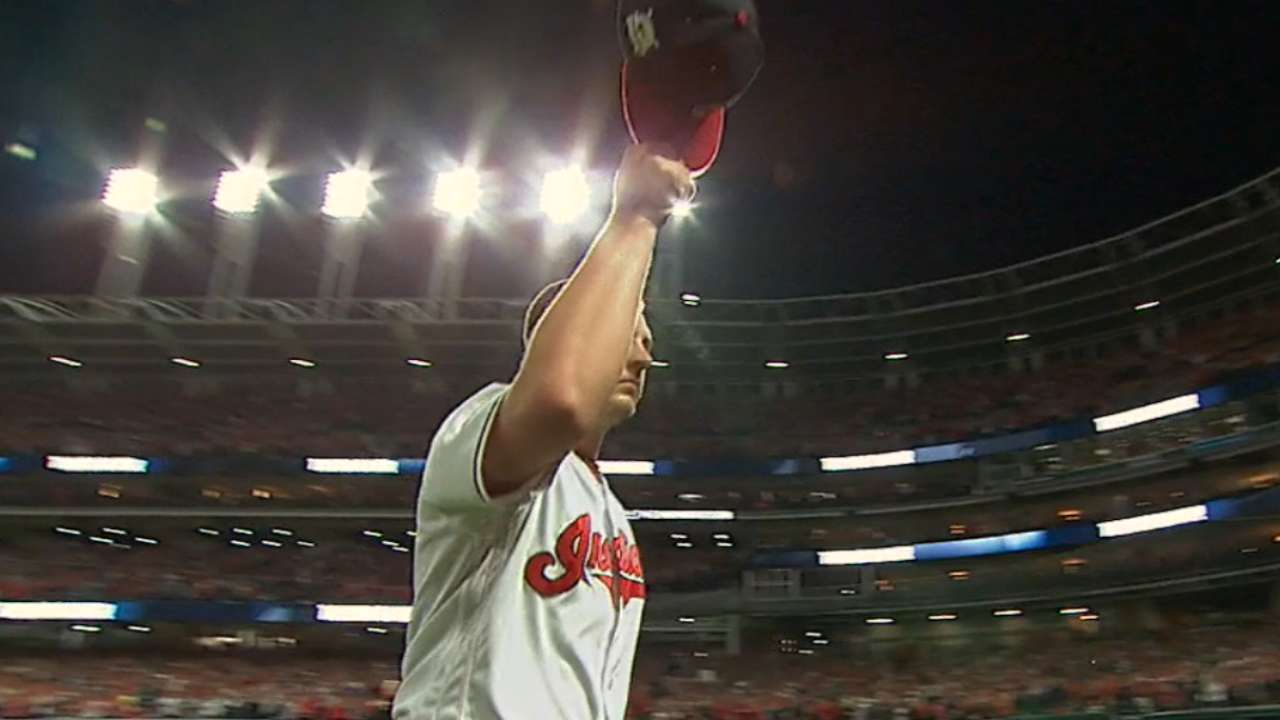 Bauer's approach wasn't a mystery to the Yankees, who had scouted his recent outings, but it was difficult to do much about it with how he was throwing it.
"You look at his second half, and he had better command," Yanks manager Joe Girardi said after Game 1.
Since that start, Bauer has watched the series unfold from the dugout. That ends Monday night.
"It's always more nerve wracking being in the dugout watching than it is being out there playing," Bauer said, "so I'm looking forward to my opportunity tomorrow for sure."
Jason Beck has been a reporter for MLB.com since 2002. Read Beck's Blog, follow him on Twitter @beckjason and Facebook. This story was not subject to the approval of Major League Baseball or its clubs.