Tanaka roars, quiets Tribe over 7 scoreless
Righty rises to occasion for Yanks in must-win Game 3 of ALDS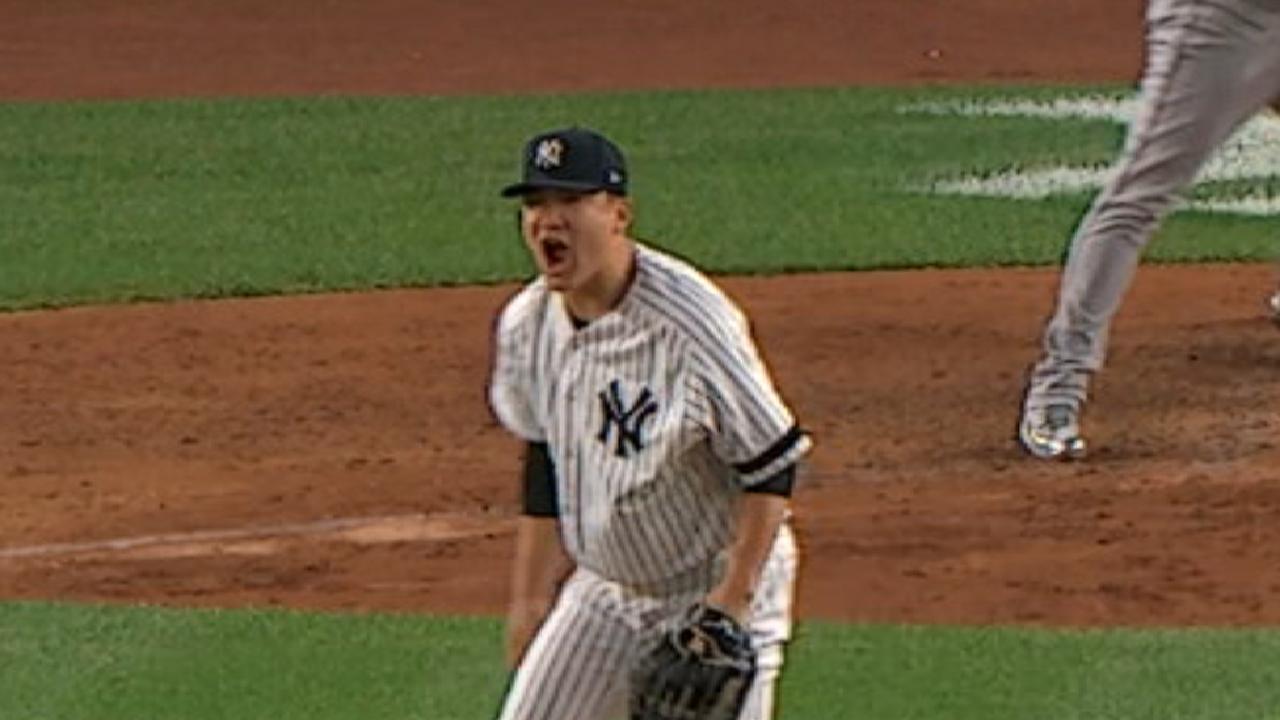 NEW YORK -- As his splitter dropped off the table and Jay Bruce flailed hopelessly over it, Masahiro Tanaka wheeled toward center field at Yankee Stadium, curled both of his hands into fists and roared. The sellout crowd -- 48,614 fans who got to see Tanaka pitch the game of his life in the biggest game of his Major League career Sunday night -- roared with him.
With the Yankees facing elimination against the Indians in Game 3 of the American League Division Series presented by Doosan, Tanaka kept New York in the postseason. He stymied Cleveland with seven scoreless innings, allowing only three hits and racking up seven strikeouts in the Yanks' 1-0 win, which pulled them to within 2-1 of the Tribe in the best-of-five series.
In the game's critical moments, Tanaka rose to the occasion, and even the often-stoic right-hander felt the emotion of the October stage. When Tanaka struck out Jose Ramirez, then Bruce -- who had homered in each of the series' first two games -- to strand Jason Kipnis on third base in the fourth inning of a scoreless game, he couldn't help but howl into the Bronx ether.
"It's probably the biggest win that I've gotten since I came here," Tanaka said after the game through his translator, Shingo Horie. "I came here to pitch in these type of games, and to be able to help the team win in these type of games."
• Shop for Yankees postseason gear
Tanaka's splitter was at its finest and was nearly untouchable. At-bat after at-bat, the Indians' hitters flailed over the top of it as it dove down and out of the zone.
"The difference, I want to say, was his split," said Yankees catcher Gary Sanchez through translator Marlon Abreu. "He kept it low in the zone. He never gave in. He never left it in the middle of the plate. He made it really difficult for the hitters to hit it."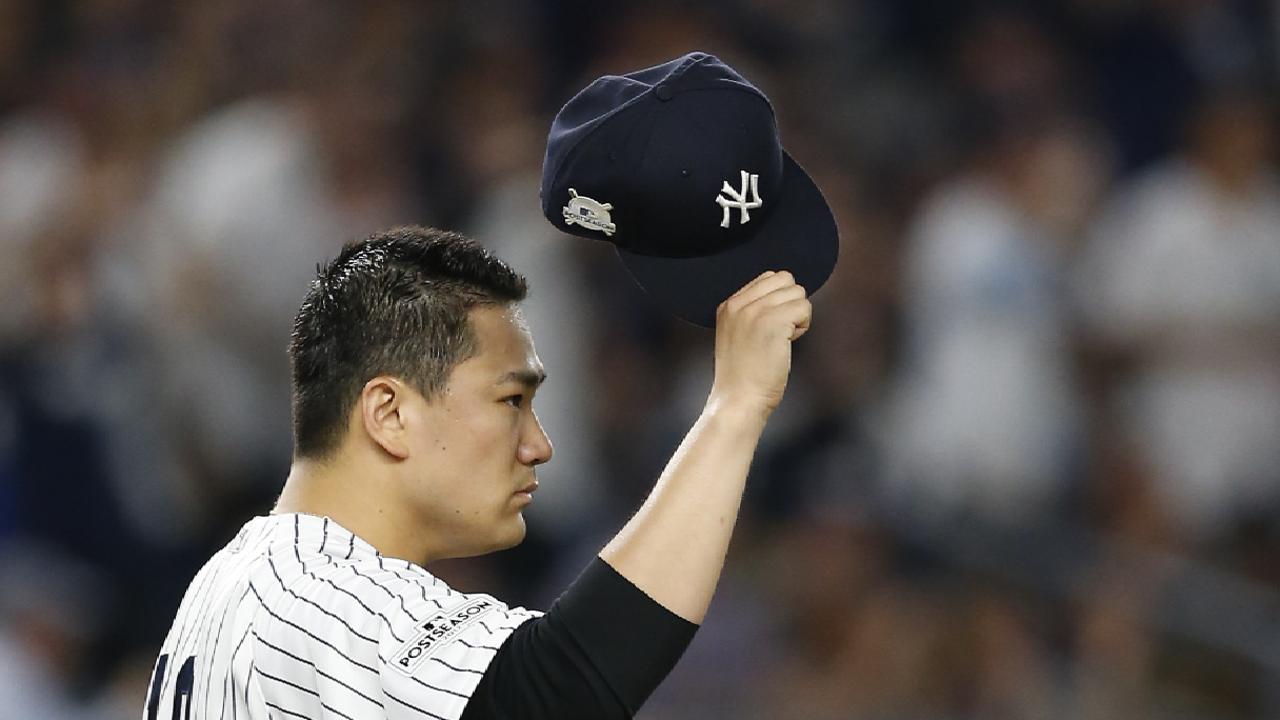 When Tanaka needed a big out against the Tribe's dangerous hitters, he went to the split-finger fastball. All seven of his strikeouts came on his splitter, and he was dialing it up. Tanaka struck out Francisco Lindor and Ramirez swinging in the first on splitters that came in at 89.8 mph and 89.7 mph, according to Statcast™. He retired Bruce at 89.3 mph in the second and Roberto Perez at 87.9 mph in the third. In the pivotal fourth, Tanaka buried Ramirez and Bruce at 91.3 mph and 90.2 mph, respectively. And he got Bruce one more time in the seventh at 89.9 mph.
• Castrovince: Tanaka rewards Yankees' faith, investment
"It's got so much movement to it, sinking down, and he's also got so much deception with it," Indians manager Terry Francona said. "Unfortunately, that was one of the better games we've seen all year."
The pitch. The reaction.

😳 #ALDS pic.twitter.com/U4WHX7Uose

— MLB (@MLB) October 9, 2017
Tanaka turned in the first scoreless start by a Yankees pitcher in the postseason since Phil Hughes in the 2010 ALDS against the Twins. It was the first time a Yanks starter threw at least seven scoreless innings with seven or more strikeouts in a playoff game since Roger Clemens in the 2000 World Series against the Mets.
Tanaka got 21 swinging strikes -- 20 outright whiffs and one foul tip -- tying him for the fourth-highest total in a playoff game in the last five years, and the seventh-highest of the last decade. The Indians, who only chased 25.2 percent of out-of-zone pitches during the regular season, per Statcast™ -- the second-fewest of any team -- went fishing for 45.1 percent of the pitches that Tanaka threw outside the zone. It was Tanaka's second-highest single-game chase rate in a season where he ranked second among starting pitchers in that category.
"He was brilliant," Yankees manager Joe Girardi said. "He gave us everything we needed, and you can't ask for more than what he did tonight. On a night that one run wins it, he didn't give up any."
The closest Cleveland came to scoring against Tanaka was in the sixth inning, when Lindor drove a fly ball deep toward the short right-field porch. But Aaron Judge, using all of his 6-foot-7 frame, leaped to rob Lindor of what would have been a tiebreaking home run, a potentially season-saving catch.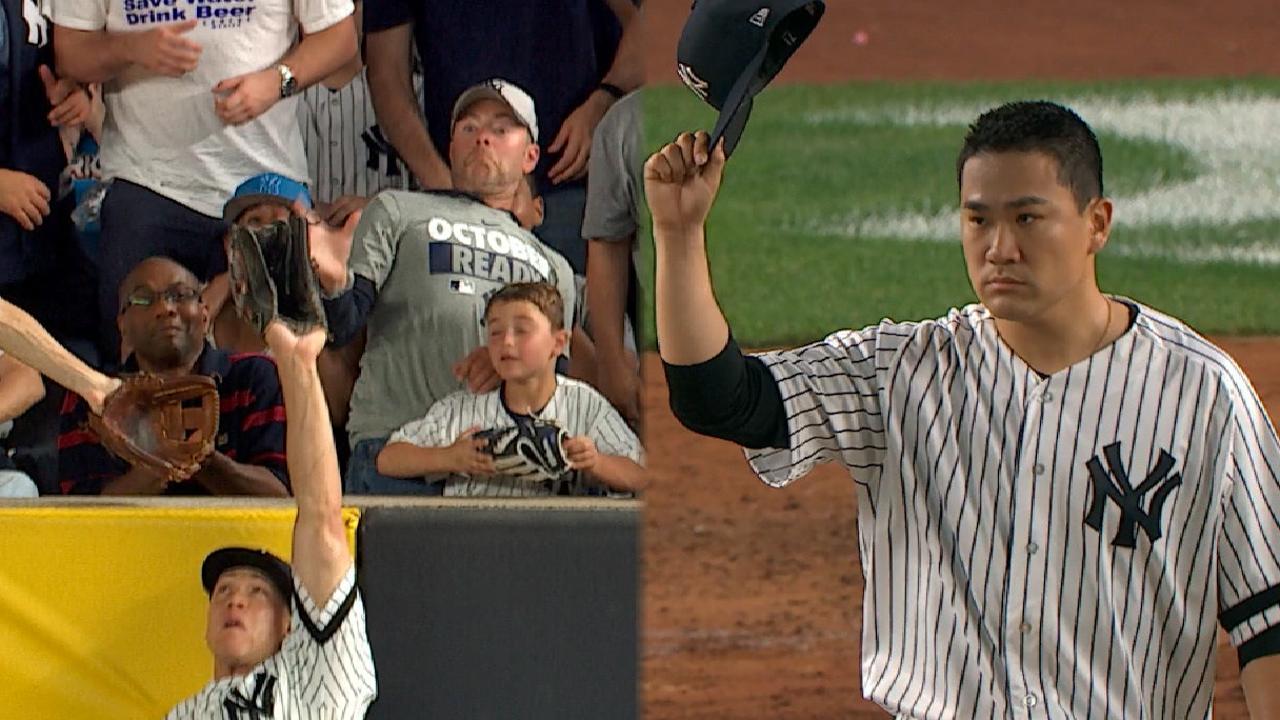 Tanaka bounced back with a 1-2-3 seventh and Greg Bird homered in the bottom of the seventh to break the scoreless tie. That put Tanaka, who arrived in New York from Japan four years ago with the reputation as a big-game pitcher, in line for his first MLB postseason win.
"That's as good as I've seen him," Bruce said. "He pitched at the bottom of the zone all night. It looked like it had enough height to take a good swing at, but the bottom fell out of it."
Both of the Tanaka's postseason starts in pinstripes have come in must-win games at Yankee Stadium. He also started the 2015 AL Wild Card Game for New York against Houston, a game in which he threw five innings of two-run ball but saw the Yankees shut down by Astros ace Dallas Keuchel. On Sunday, Tanaka exceeded himself.
"Obviously, the pressure was there. But you have to go out there and perform," Tanaka said. "My thought was that if we're able to get a win here, then we have a chance of turning this series around."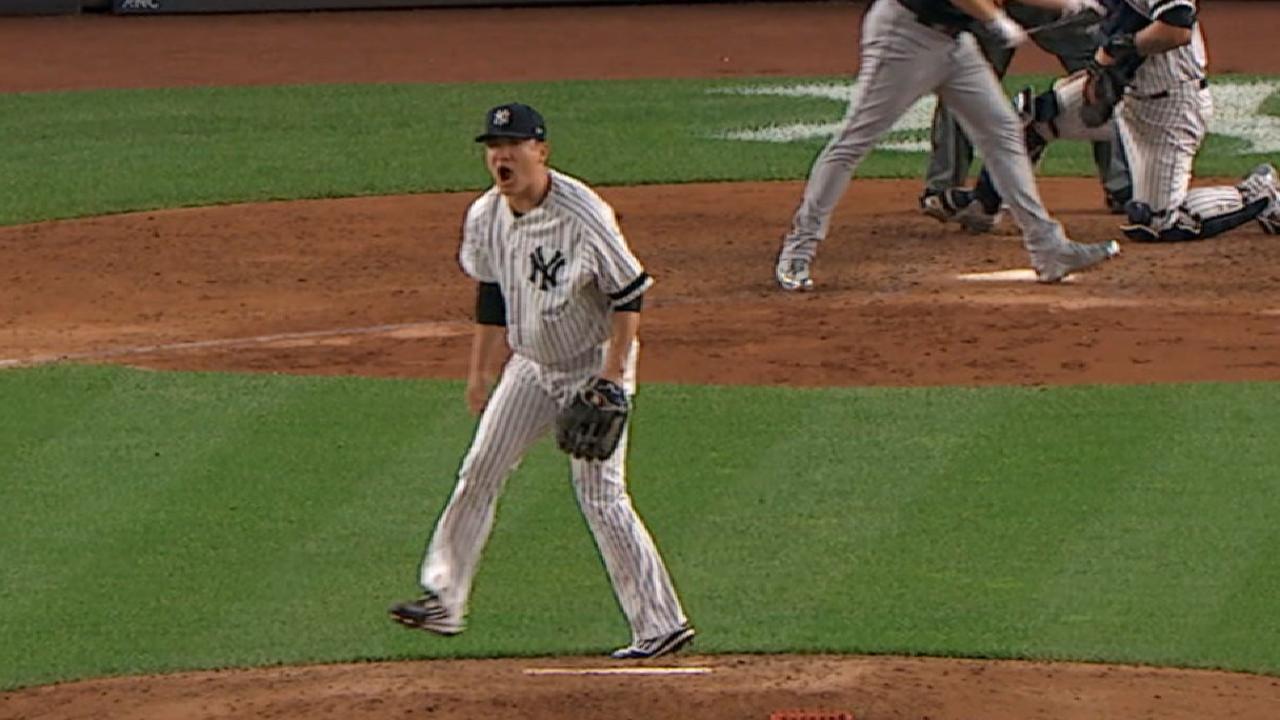 David Adler is a reporter for MLB.com based in New York. Follow him on Twitter at @_dadler. This story was not subject to the approval of Major League Baseball or its clubs.