Big Bird! Solo homer, 5-out save lift Yankees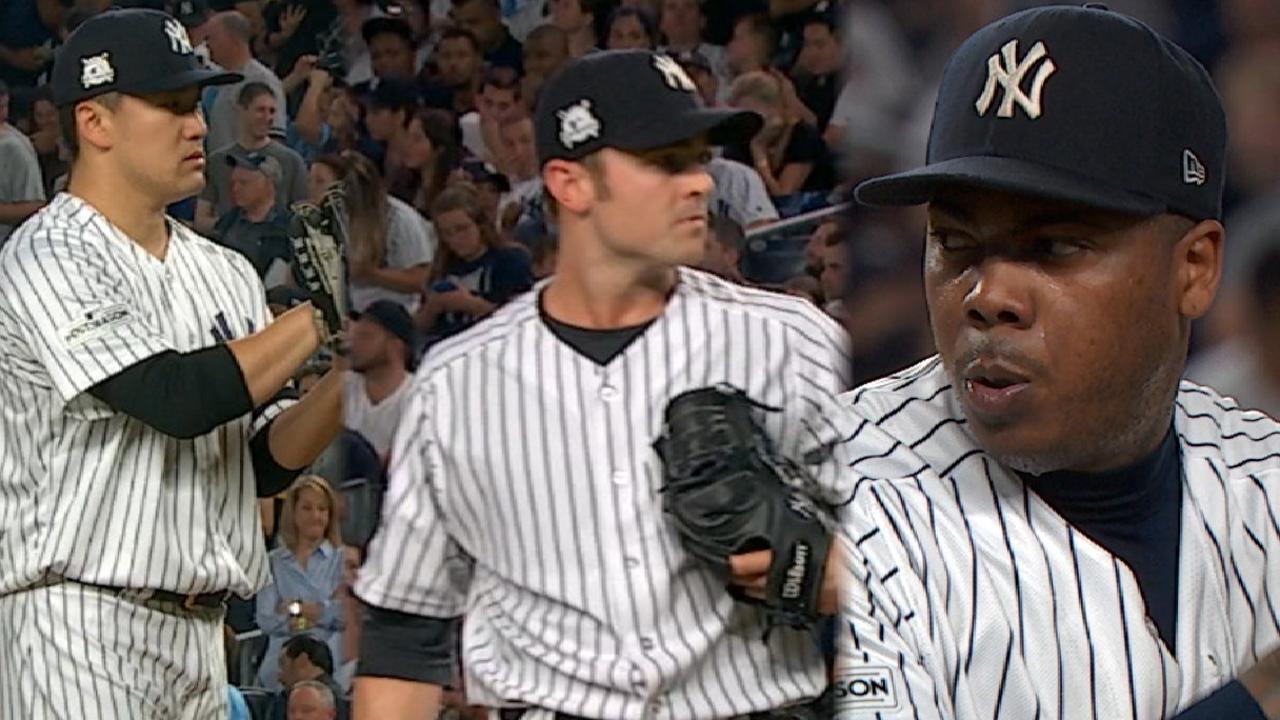 NEW YORK -- With the season on the line, Masahiro Tanaka delivered what he called his most important win as a Major Leaguer and Greg Bird cracked a majestic home run off Andrew Miller, extending the Yankees' hopes for another day with a 1-0 victory over the Indians in Sunday's Game 3 of the American League Division Series presented by Doosan.
Bird's second homer of the series, a towering drive into the second deck in right field, provided some desperately needed support behind Tanaka's dominant outing. With the Indians flailing regularly at his lethal splitter, Tanaka blanked Cleveland's formidable offense on three hits through seven frames, issuing one walk with seven strikeouts over a 92-pitch effort.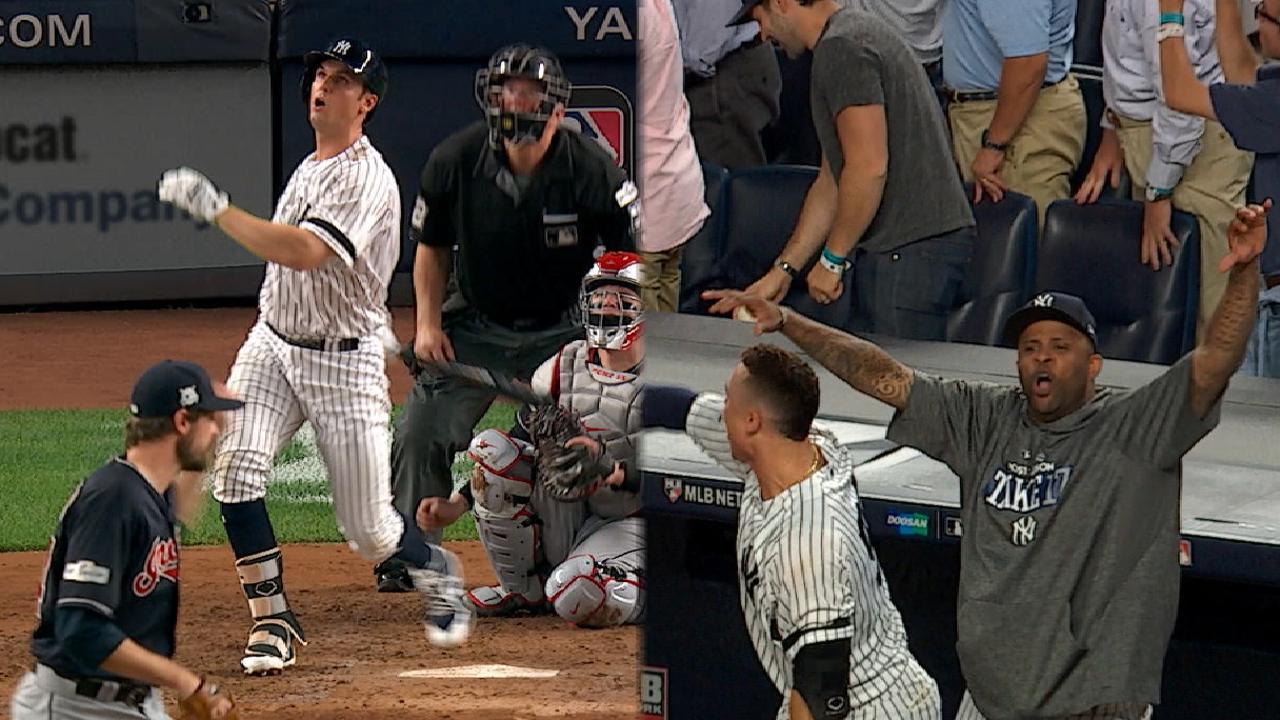 • Shop for postseason gear: Indians | Yankees
"I came here to pitch in these types of games, and to be able to help the team win in these types of games," Tanaka said through an interpreter. "As a player, those are the moments that you want to go in there and shine the most."
New York trails the best-of-five series, 2-1, with Game 4 set to be played at Yankee Stadium on Monday at 7 p.m. ET. It marked the Yankees' first 1-0 postseason victory since Game 3 of the 2001 ALDS against the Athletics, a series in which the Yanks rallied from an 0-2 deficit.
"Plain and simple, I'm not ready to be done playing and I don't think the rest of the team is," Bird said. "I'm just very happy with that and knowing it gives us a chance, really. It was an incredible experience, an incredible game, and we're not done."
• Judge, CC ecstatic over Bird's clutch HR
Offering the Yankees their longest start of the postseason, Tanaka had some help from his defense. Aaron Judge needed every inch of his 6-foot-7 frame to corral a deep Francisco Lindor drive in the sixth inning, taking a two-run homer away from the Tribe shortstop and drawing chants of "M-V-P!" from the crowd of 48,614.
"A great catch, ends up saving the game," Yanks manager Joe Girardi said. "I've said all along about Aaron Judge, he's a complete player. It's not just a home run hitter. It's a guy that runs the bases, that plays very good defense, and that drives in a ton of runs and is extremely productive as a hitter."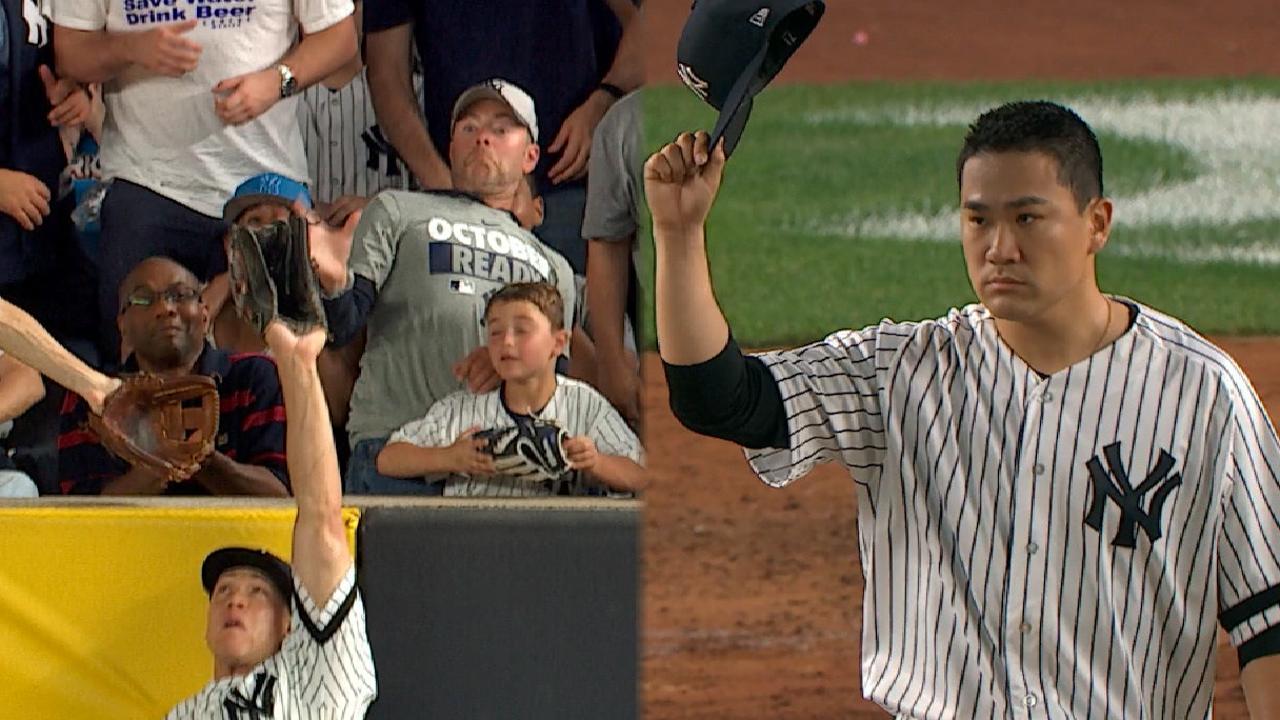 Off the bat, Lindor did not think his deep fly would carry as far as it did.
"Not at all. I just hit it off the end," Lindor said. "It was a pitch low and away. I didn't think I had it. For a second, I was like, 'Aw, it's popped up.' But then I saw it was carrying. That's when you start hoping, you know, you're like, 'Please, go, go.' But Judge made a good play on it."
Indians starter Carlos Carrasco limited the Yankees to three hits over 5 2/3 scoreless innings in the first postseason start of his career, walking three and striking out seven. Carrasco matched Tanaka into the sixth, when Tribe manager Terry Francona called upon Miller to retire Starlin Castro on a popout that left the bases loaded.
• 'Cookie' on target against Yankees
"I thought he was tremendous," Francona said of Carrasco. "He came out, looked like he was using the adrenaline to his advantage, throwing a nice, crisp fastball and real good offspeed. That's two of the better starting performers you're going to see, because Tanaka was, unfortunately, that was one of the better games we've seen all year."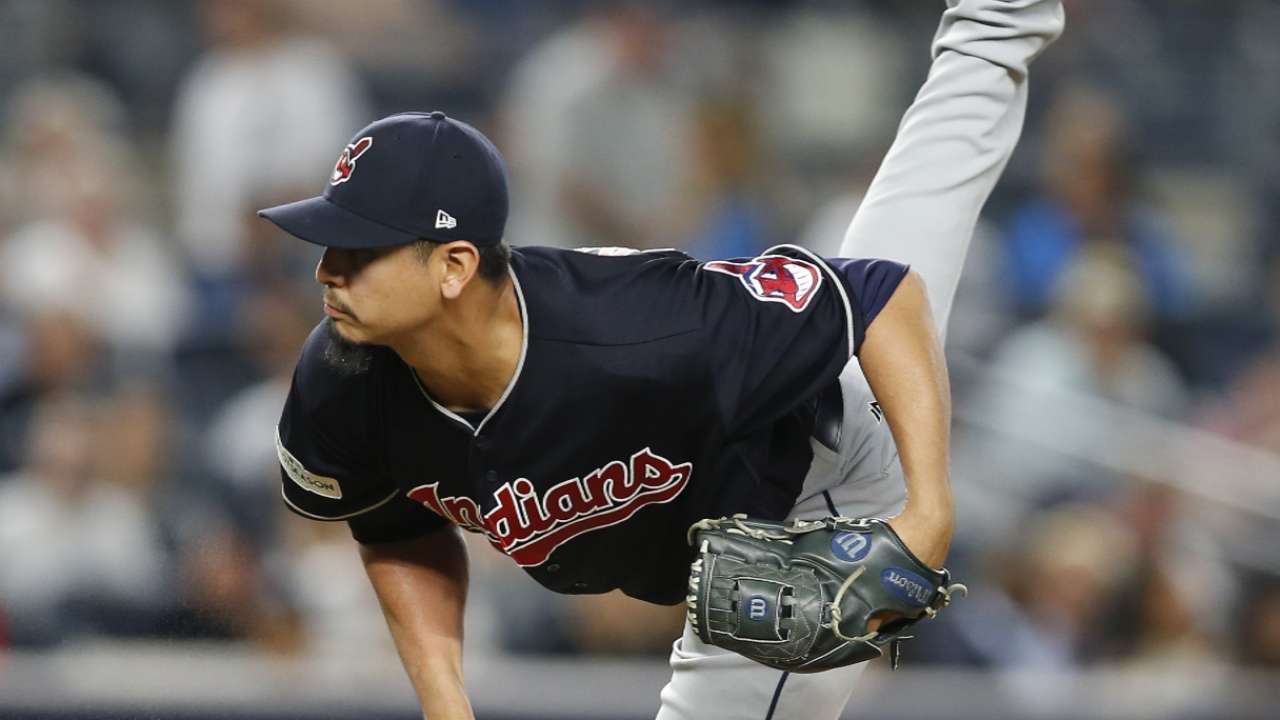 The Yanks used David Robertson for just one out in the eighth before calling upon closer Aroldis Chapman for a five-out save. Chapman pitched around a pair of singles in the ninth, retiring Carlos Santana on a flyout to center for the final out. Chapman recorded five or more outs just twice during the regular season, including a Sept. 18 save against the Twins.
"This is a decisive game. You can't hold back," Chapman said through an interpreter. "Everything you have, you have to go out there and give it all. WIthout tonight, there's no tomorrow."
• Tito forces Yanks to use Chapman for 5 outs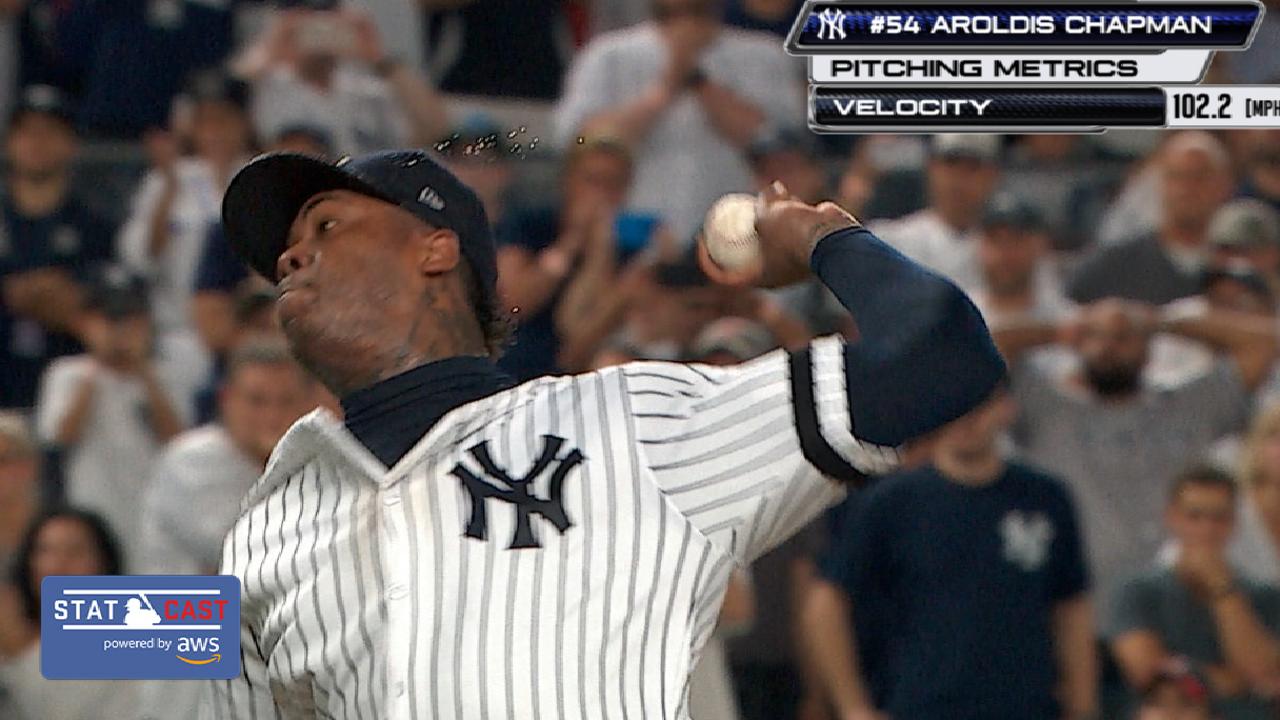 MOMENTS THAT MATTERED
Tana-KK: The Indians threatened in the fourth inning after Jason Kipnis squared up a Tanaka fastball for a one-out triple, scorching a 103.3-mph liner off of Judge's glove in right field. With help from catcher Gary Sanchez, who contributed several blocks on Tanaka's splitter that pinned Kipnis at third base, Tanaka kept the game scoreless by striking out both Jose Ramirez and Jay Bruce on pitches that dived out of the zone.
"That's as good as I've seen him," Bruce said. "He pitched at the bottom the zone all night. It looked like it had enough height to take a good swing at, and the bottom fell out of it. I think we all knew going in that if he was going to have success, that was going to be how he'd do it. He executed well tonight." More >>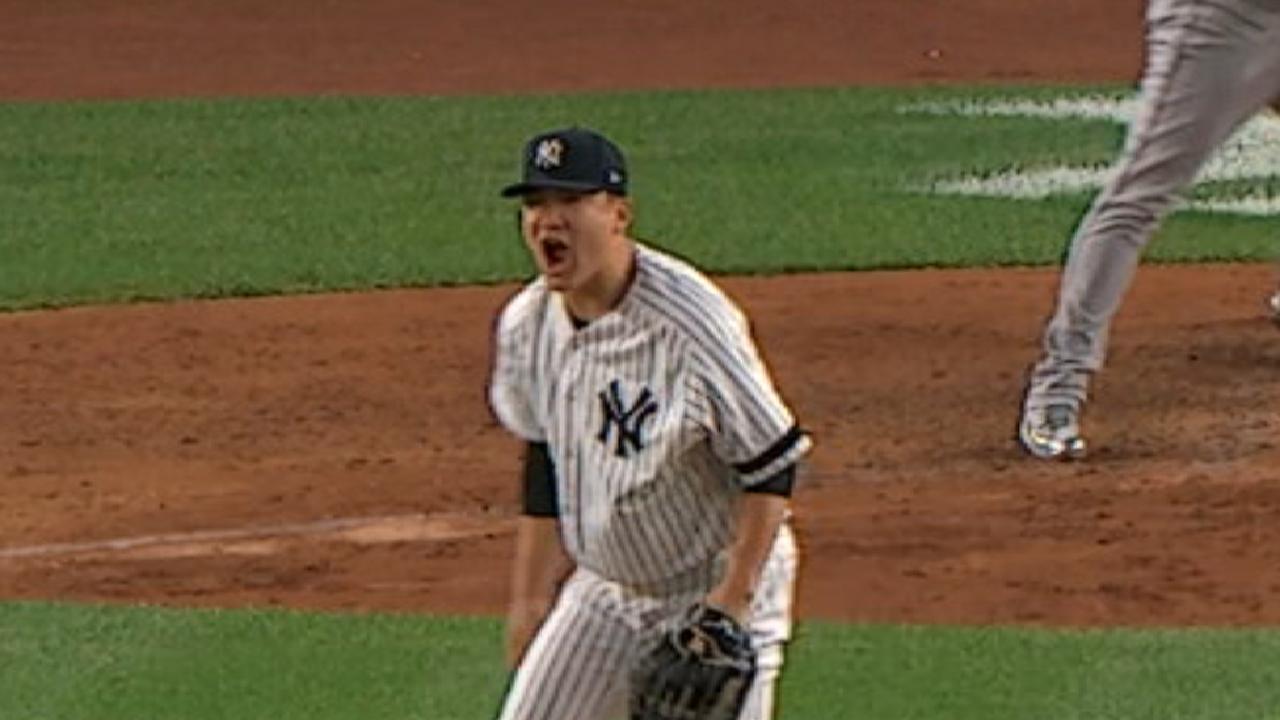 Judge's jump: Judge may have saved the Yankees' season in the sixth inning, leaping in front of the auxiliary scoreboard on the right-field wall to steal a two-run homer from Lindor. The drive came off of Lindor's bat at 93.7 mph and was calculated by Statcast™ at 357 feet, so Judge's leap prevented it from landing in the first few rows of the seating area.
"I wasn't obviously making any contact at the plate, so you've got to make an impact on the game somehow," Judge said. "Luckily, I was able to make that catch. Lindor, you never know what's he going to do. He's got some pop. So when he hit it up in the air, I started going back, thought I had a little bit of room. But once I felt the wall, I just gave it a little six-inch jump and went up to get it." More >>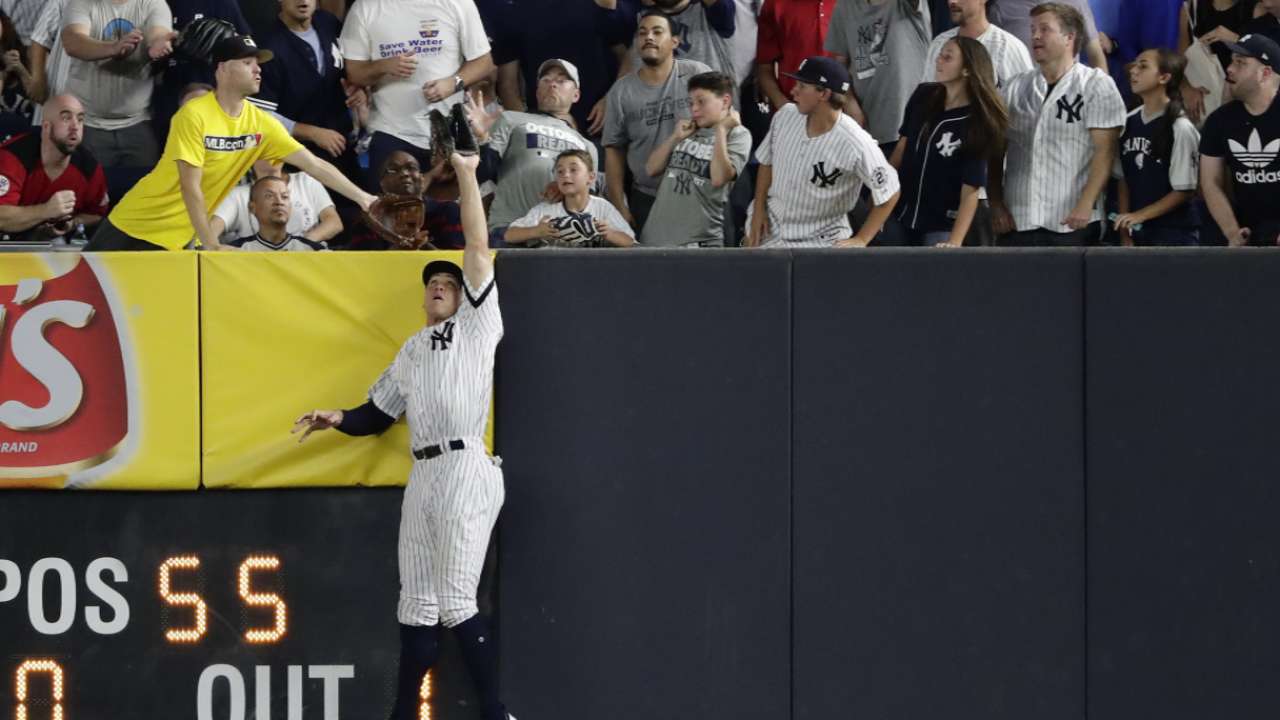 Miller time: Francona took no chances in the sixth, when Carrasco issued a pair of walks and allowed a single to load the bases with two outs. Miller was summoned from the bullpen to face Castro, who ended the inning by popping a slider up to shallow left field. After Lindor made the catch, the shortstop slapped his glove hard twice and let out a shout, while the Bronx crowd groaned. One inning later, Miller gave up the game-changing homer to Bird.
"I'm the guy that lost the game, lost a playoff game," Miller said. "But I feel good about the way I'm throwing the ball. I made a mistake both in location and what I was trying to do. You try to learn from it and move on. You face a lot of the same guys over and over in series like this. You tip your cap. It was a good swing. I think my thought process just was flawed." More >>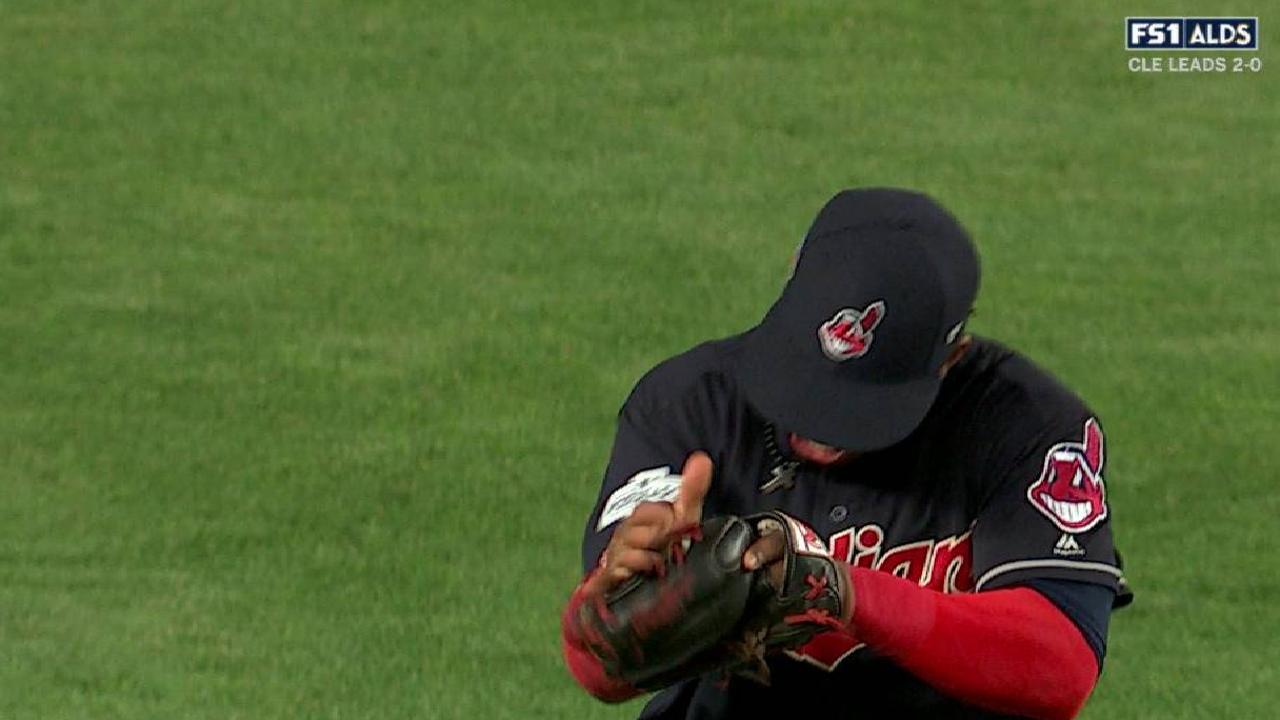 QUOTABLE
"I've seen them boo players and managers that have a lot more status than I do. So I was prepared for it. I prepared my family for it. I told my kids what was going to happen. But it's life. And, again, it's not going to change who I am. It's no fun to be booed. But they're passionate. Our fans are passionate and they want to win, and they get upset when we don't win or when someone makes a mistake in their eyes. So that's all part of it. But you get the good side of it too, like tonight. The emotion. The emotion Tuesday against Minnesota. So that's the trade-off." -- Girardi
"That's as good as I've seen him throw. He was really, really good tonight. That's saying something for him." -- Miller, on Chapman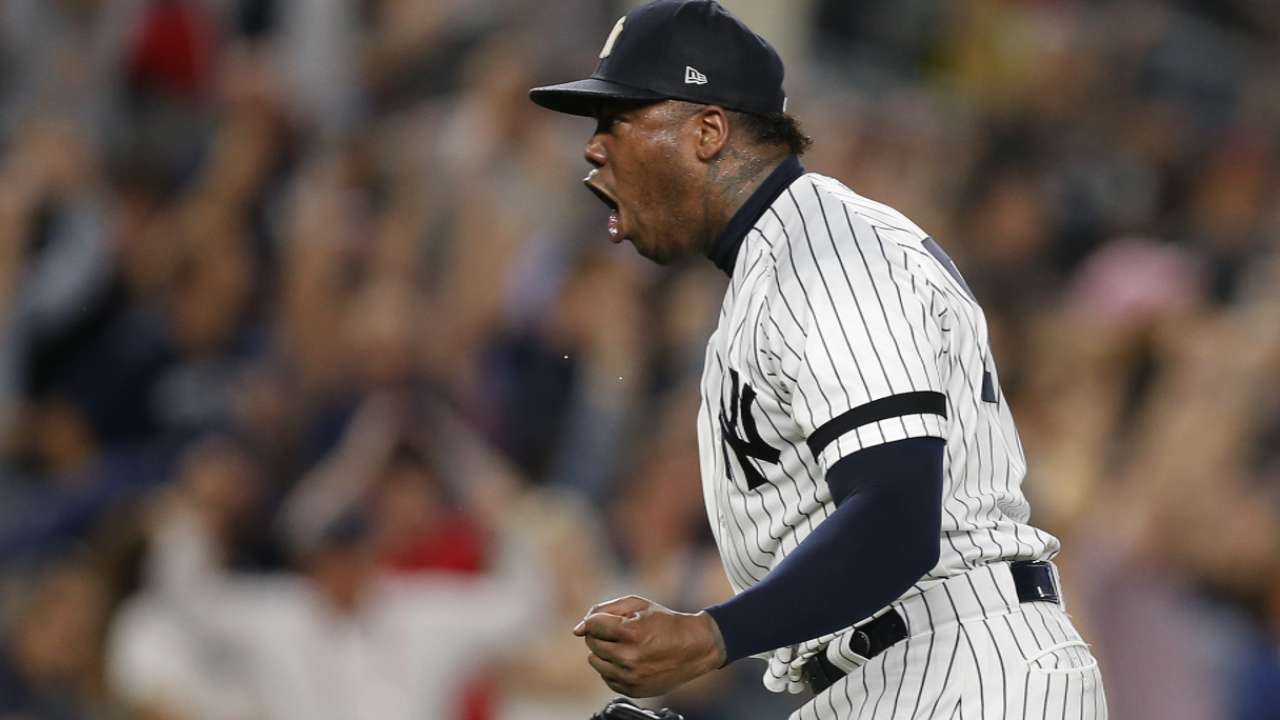 SOUND SMART WITH YOUR FRIENDS
This represented the first game in postseason history in which both starters recorded a scoreless start with at least seven strikeouts and three or fewer hits allowed.
• Indians-Yankees ALDS Game 3: In Real Life
WHAT'S NEXT
Indians: Cleveland will start Trevor Bauer on three days' rest for a 7 p.m. ET clash on Monday at Yankee Stadium. Bauer started Game 1 on Thursday with the idea that he could be a possibility for a Game 4 scenario. In that outing, he held the Yanks scoreless over 6 2/3 innings, ending with eight strikeouts and one walk. More >>
Yankees: As they attempt to send the series back to Cleveland, the Yanks will send right-hander Luis Severino to the mound in Monday's Game 4. Severino will be returning to the hill after lasting just one-third of an inning in the AL Wild Card Game on Tuesday night against the Twins. First pitch is scheduled for 7 p.m. ET at Yankee Stadium. More >>
Jordan Bastian has covered the Indians for MLB.com since 2011, and previously covered the Blue Jays from 2006-10. Read his blog, Major League Bastian, follow him on Twitter @MLBastian and Facebook.

Bryan Hoch has covered the Yankees for MLB.com since 2007. Follow him on Twitter @bryanhoch and on Facebook.

This story was not subject to the approval of Major League Baseball or its clubs.