Weather might throw curve in Astros, Sox plans
ALDS clubs plan for potential postponement of today's Game 4 in Boston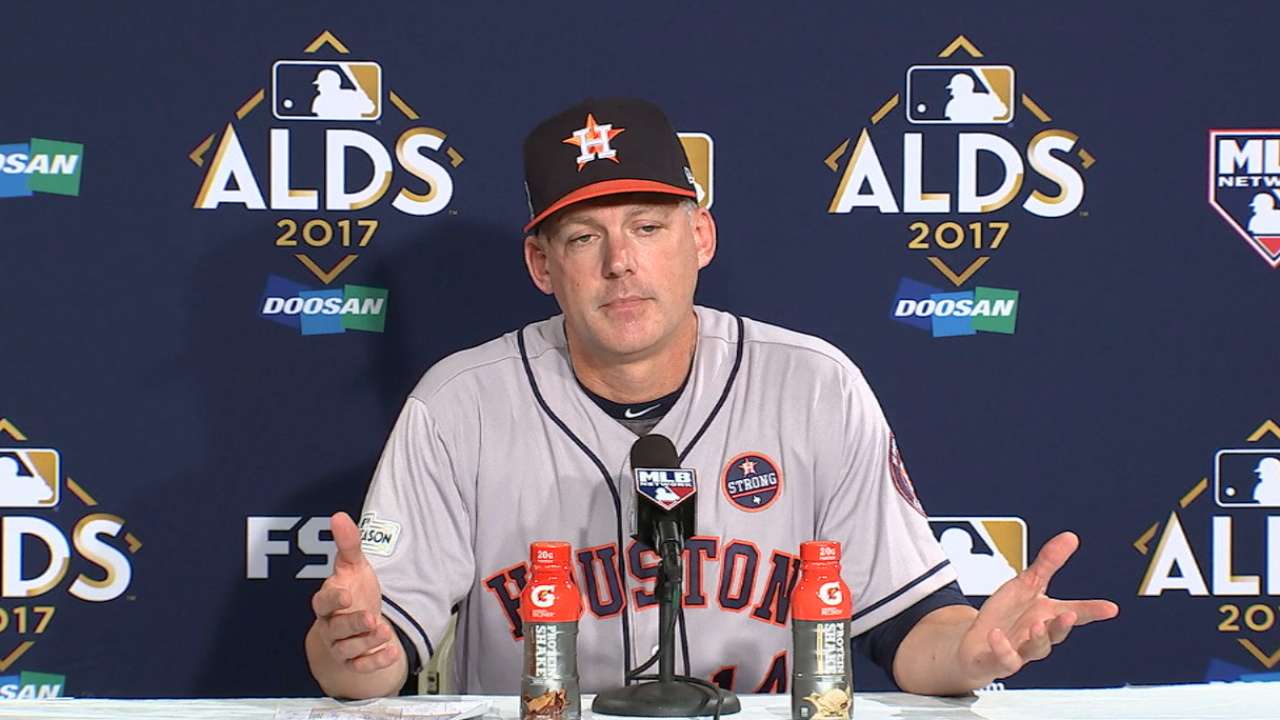 BOSTON -- All eyes now turn to the sky.
Not long after the Red Sox beat the Astros, 10-3, in Game 3 of the American League Division Series presented by Doosan on Sunday, the grounds crew pulled the tarp over the Fenway Park infield in anticipation of rain that's expected in the area today.
Game 4 of the ALDS, which the Astros lead, 2-1, is set for 1 p.m. ET/noon CT today, and the soggy forecast could alter both teams' pitching plans. The Astros are set to start right-hander Charlie Morton, with fellow righty Rick Porcello -- the 2016 AL Cy Young Award winner who is coming off a down season -- starting for Boston.
"The weather, we can't control," Astros manager A.J. Hinch said. "We have been watching The Weather Channel for a couple months now, so that's not unusual for us. We'll see how it goes. We'll watch the game tonight.
"Obviously, we'll know start time sometime around 10 o'clock tonight when their game's over, and then we'll adjust from there. We'll get to the ballpark tomorrow, get the weather forecast, meet with the umpires, we'll do the whole weather thing here. Not much we can do about it other than sit and wait and watch."
Only seven times (in 56 tries) has a team come back from an 0-2 deficit to win a Division Series, and the Red Sox have accounted for two of those comebacks -- in 1999 against the Indians and in 2003 against the A's. Those two Red Sox teams are also the only two clubs to ever come back from an 0-2 deficit in the current 2-2-1 format when having to win Game 5 on the road. This Red Sox team is trying to become the third club to pull off the feat, and they are now in wait-and-see mode -- along with the Astros -- as they watch the Columbus Day forecast.
If Monday's game is postponed, it would be rescheduled for Tuesday, which means both teams could bring back their Game 1 starters on the normal four days' rest. That sets up a possible rematch of aces, with the Astros' Justin Verlander facing off against the Red Sox's Chris Sale like they did in Game 1.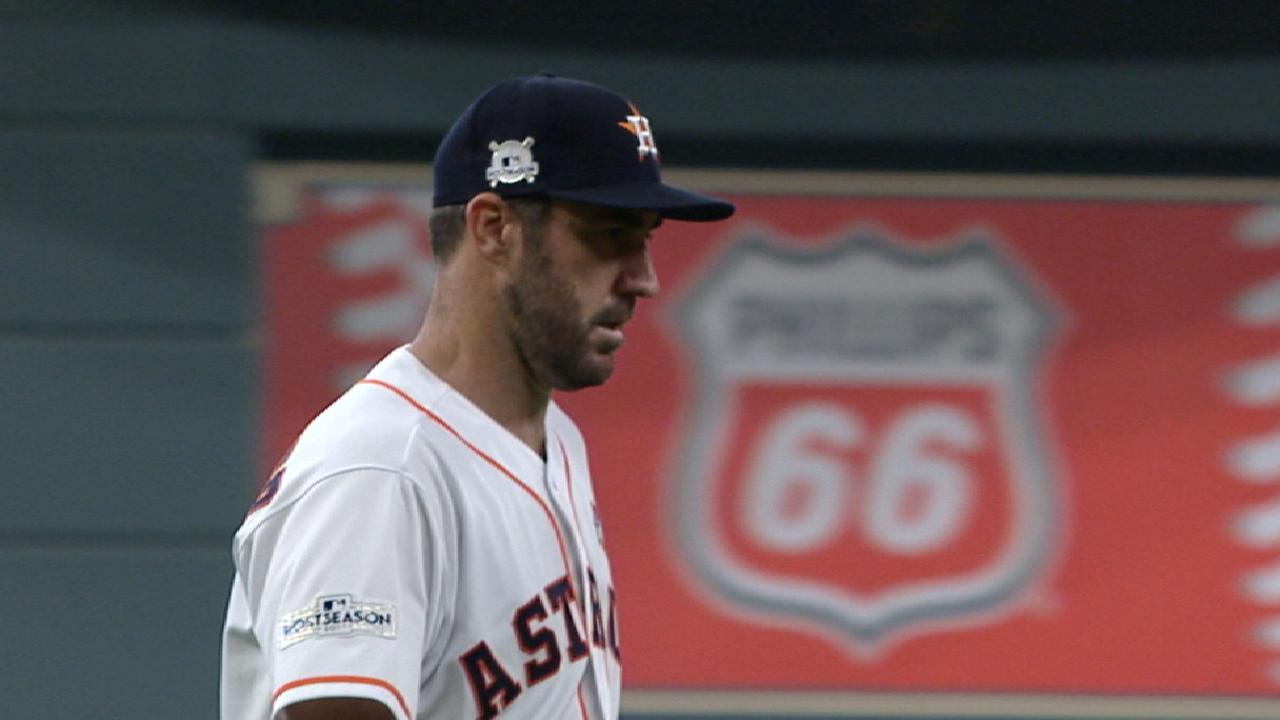 Verlander, who went 5-0 in five starts with the Astros following his Aug. 31 trade from Detroit, held Boston to two runs and six hits in six innings to win Game 1. Sale would love nothing more than the opportunity to avenge his Game 1 loss, when he was belted around for nine hits and seven runs over five-plus innings.
However, because the Red Sox still need to win two games to win the series, there's still a chance they could hold Sale back for Game 5, even if there is a rainout on Monday.
And if Game 4 is played as scheduled, Farrell left open the possibility of using Sale in relief, saying the lefty "would be available." That could loom large as the Red Sox will not bring back David Price after the lefty threw four scoreless innings of relief in Game 3.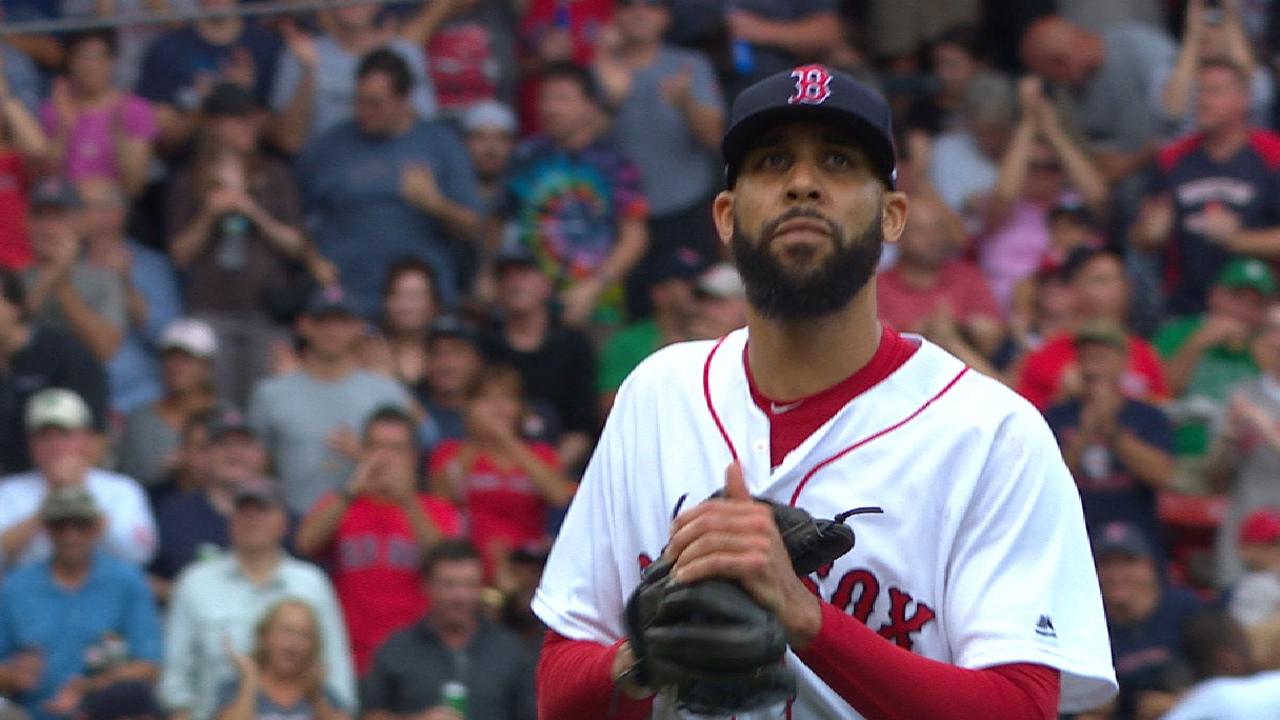 Therefore, a day off on Monday could create the possibility of Price coming back to pitch in Game 4, though that could be a bit much to ask since the veteran gave Boston 57 pitches out of the bullpen in a shutdown performance on Sunday.
It's just another level of intrigue to what is all of a sudden a very compelling series.
Brian McTaggart has covered the Astros since 2004, and for MLB.com since 2009. Follow @brianmctaggart on Twitter. Ian Browne has covered the Red Sox for MLB.com since 2002. Follow him on Twitter @IanMBrowne and Facebook. This story was not subject to the approval of Major League Baseball or its clubs.