Edwin sits out Game 3, still day to day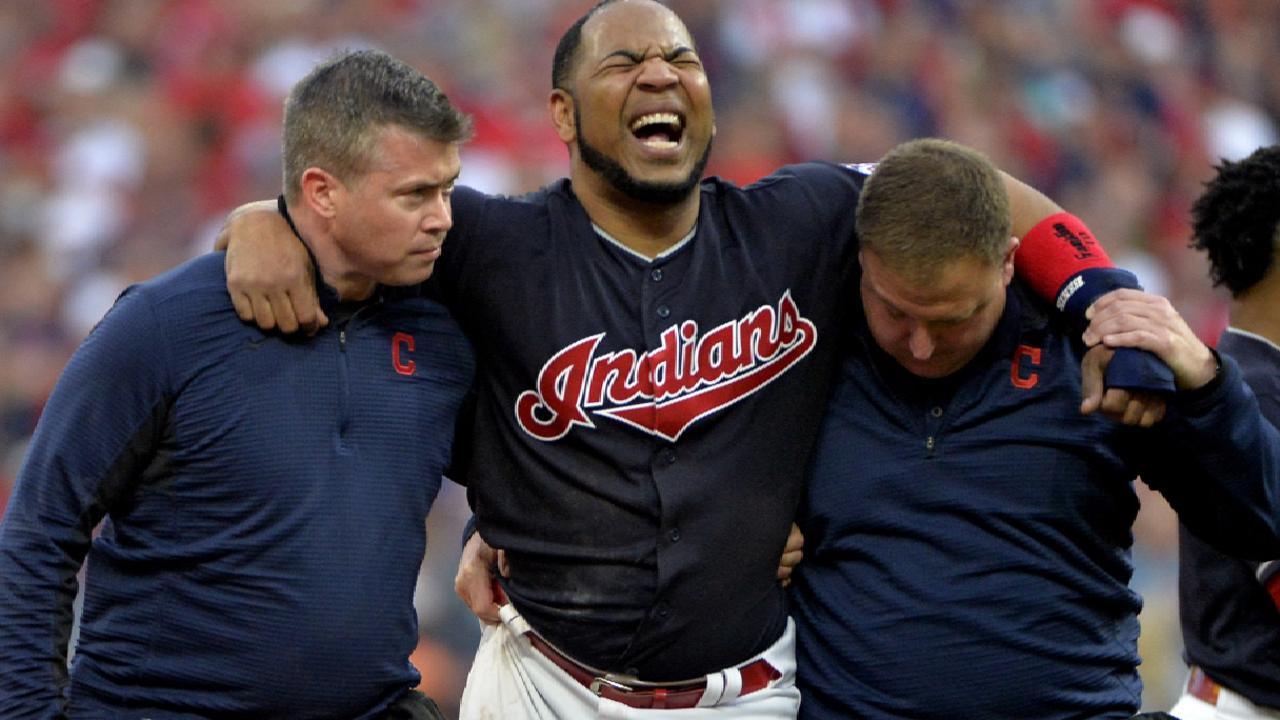 NEW YORK -- Edwin Encarnacion hit in the indoor batting cages at Yankee Stadium pregame, but his sprained right ankle kept him out of the Indians' 1-0 loss to the Yankees in Game 3 of the American League Division Series presented by Doosan on Sunday night.
"I doubt it," Indians manager Terry Francona said of the possibility of Encarnacion coming off the bench. "Unless you see him pulling a Willis Reed, he's probably not going to be available tonight. We'll kind of still go by the day-by-day thing and see how that goes."
An injured Reed famously emerged from the Knicks' locker room before Game 7 of the 1970 NBA Finals against the Lakers and joined the starting lineup. Encarnacion, on the other hand, was replaced by All-Star Michael Brantley as Cleveland's designated hitter for Sunday's game in the Bronx. In the first inning of the Tribe's 9-8, 13-inning win over the Yankees in Game 2 on Friday, Encarnacion's ankle buckled badly upon hitting second base.
Brantley is also recently back from a right ankle injury, so Francona slotted him into the No. 7 slot in the Indians' batting order.
"If we have an injury, it's awful nice having [Brantley] able to slide in there," Francona said. "We hit him seventh tonight, just because he hasn't been playing much. He's not a [No.] 7 hitter."
ALDS Game 4 pitching plans on hold
One of the reasons that right-hander Trevor Bauer started Game 1 of the ALDS against the Yankees is that the Indians feel the pitcher is durable enough to bounce back for a short-rest situation. Francona noted that Bauer will be available to pitch on three days' rest on Monday, if the ALDS reaches a Game 4 at Yankee Stadium.
What the Indians have not announced is whether Bauer, Josh Tomlin or Danny Salazar would be the starter for a potential Game 4 against New York.
"We kind of reserve the right to get through the game and see who gets used," Francona said. "We really weren't planning on using Tomlin [in Game 2], but you kind of see what happens. We'll see how the game goes tonight."
Worth noting
• Third baseman Yandy Diaz traveled with the Indians to New York and is staying ready in case Encarnacion needs to be placed on the disabled list. Francona also noted that outfielder Abraham Almonte is still going through workouts in Cleveland to give the club another option in the event of any necessary roster moves.
• Right-hander Joe Colon was sent outright to Triple-A Columbus on Sunday, removing the reliever from the Indians' 40-man roster. The move comes after Colon completed a suspension for testing positive for a performance-enhancing substance in violation of MLB's Joint Drug Prevention and Treatment Program.
Jordan Bastian has covered the Indians for MLB.com since 2011, and previously covered the Blue Jays from 2006-10. Read his blog, Major League Bastian, follow him on Twitter @MLBastian and Facebook. This story was not subject to the approval of Major League Baseball or its clubs.