Cubs confirm Edwards' confidence unshaken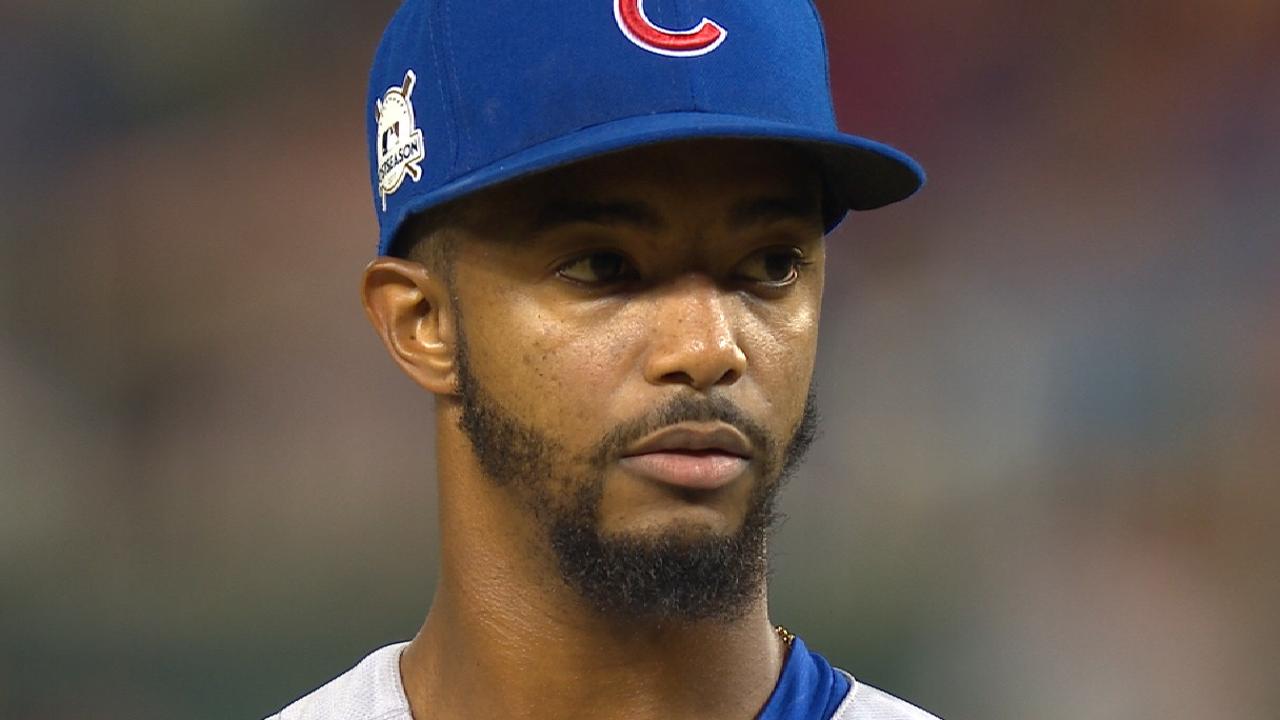 CHICAGO -- What's the first thing Carl Edwards Jr. wanted to do after serving up a game-tying homer to the Nationals' Bryce Harper on Saturday? Edwards was hoping he could pitch on Sunday. The problem with that is Sunday was an off-day for the National League Division Series presented by T-Mobile, which is tied at 1-1.
The Cubs led, 3-1, when Edwards took over in the eighth inning, but Harper tied the game with a two-run shot and Ryan Zimmerman hit a go-ahead three-run homer off Mike Montgomery for the 6-3 Nationals win.
"We all know it was a tough loss and a tough one to swallow," Cubs reliever Pedro Strop said Sunday. "Nobody said it would be easy. You have to give credit to the other team -- they're good, too. That's why they're here. I think [Edwards'] mind is good, he's good."
Strop made a point of talking to Edwards after Saturday's game.
"He just got beat with his pitch," Strop said of Edwards, who hung a curveball to Harper. "He's been throwing his curveball when he's behind in the count and [Harper] got it. Harper is one of the best hitters in the league. C.J. knows that, too.
"He's not frustrated," Strop said. "He wanted the ball today. I said, 'Bro, bro, we don't have a game.'"
• Cubs catcher Rene Rivera has felt helpless watching his homeland of Puerto Rico as it tries to recover from Hurricane Maria.
"When you're from Puerto Rico, you're going to live through hurricanes and you know how bad it can be," Rivera said. "But this is bad."
Rivera is not on the Cubs' NLDS roster, but he's staying with the team during its playoff run, and wasn't sure if he'll go down to Puerto Rico once the season is over. He has a home there, but he also has two young children.
"It's tough to live without power and water, and having two kids, it's really difficult," he said.
Martinez for manager
• As much as Cubs manager Joe Maddon would hate to lose Dave Martinez from his staff, Maddon said he'd like to see his bench coach be considered for some of the managerial openings. As of now, the Tigers, Mets and Phillies are looking for managers.
"He belongs in the group," Maddon said of Martinez. "I know all the people who are being considered and I promise, our guy matches up with every one of them. It's baffling to me a bit why [he's not mentioned].
"[Martinez] has been on a lot of winning teams, and just look at him as a player," Maddon said. "That's what drew me to him in the beginning with the Rays. I'd never been with him as a teammate, but I'd watched him play. He was such a heady, aggressive, gritty kind of player. He's bilingual -- all that matters. And he's not afraid to have tough conversations. I think a lot of times people in that position might shy away from that. ... I see all the [candidates'] names and I like all of these dudes, but to not put his name in there baffles me."
Carrie Muskat has covered the Cubs since 1987, and for MLB.com since 2001. She writes a blog, Muskat Ramblings, and you can follow her on Twitter @CarrieMuskat. This story was not subject to the approval of Major League Baseball or its clubs.