Devers youngest to hit postseason HR for Sox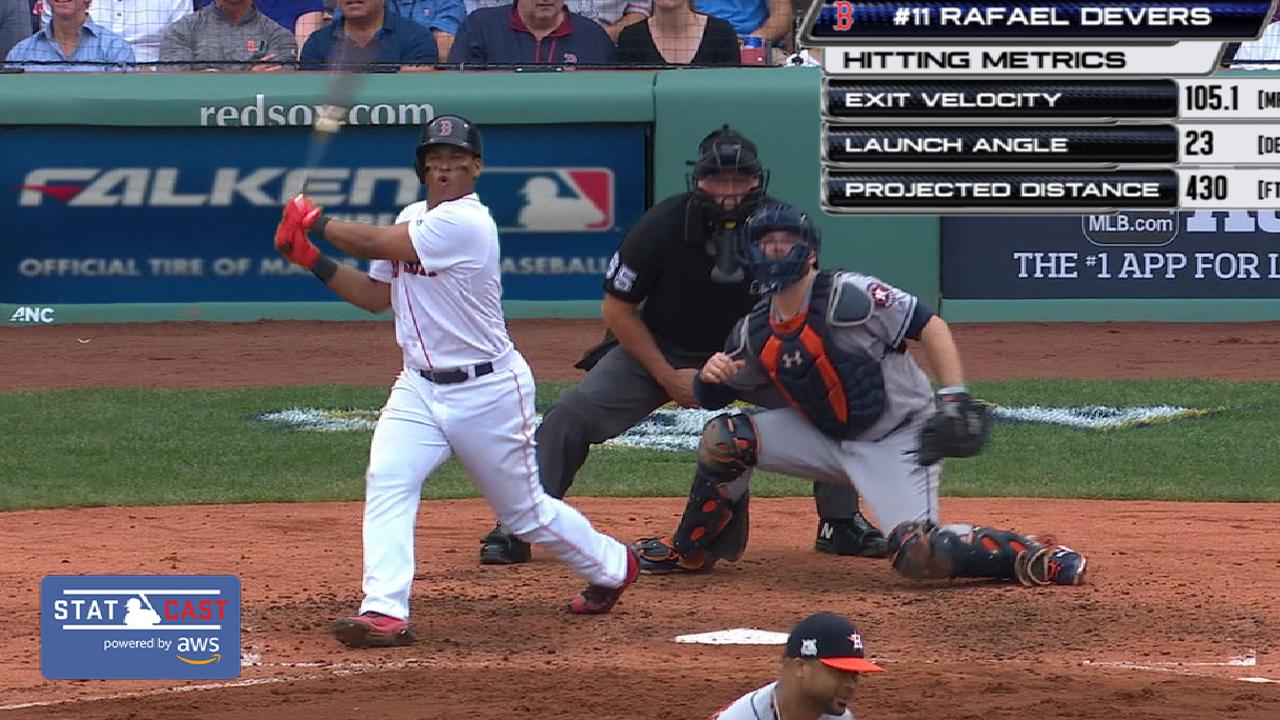 BOSTON -- Rafael Devers made history on Sunday afternoon, becoming the youngest player to hit a postseason home run for the Red Sox with his two-run, go-ahead shot off Houston's Francisco Liriano in the third inning of Boston's 10-3 win in Game 3 of the American League Division Series presented by Doosan at Fenway Park.
At 20 years and 349 days old, Devers surpassed Andrew Benintendi, who was 22 years and 92 days when he homered off Cleveland's Trevor Bauer in Game 1 of the ALDS last year. Devers is now the fifth-youngest player to homer in the postseason, after Andruw Jones, Bryce Harper, Manny Machado and Miguel Cabrera. Add in Mickey Mantle, and you have a list of all the players in MLB history to homer in a postseason game before turning 21.
An impressive group, to say the least.
Most important, Devers' homer gave the Red Sox their first lead of the series and helped them stave off elimination and force a Game 4 against the Astros on Monday.
"He's an extremely talented kid," manager John Farrell said. "I think we marvel at the fact that he's 20 years of age. He's come into this environment, come into this setting, this market, and has performed fantastic. Probably better than we anticipated. But the timing of this one is a big swing."
After Hanley Ramirez delivered an RBI double off Brad Peacock to cut the Astros' lead to 3-2, Houston manager A.J. Hinch decided to bring in the left-handed Liriano to face the left-handed-hitting Devers. But the move backfired, as Devers cranked an 0-1 slider 430 feet to right-center to put the Red Sox in front, 4-3.
The rookie third baseman could hardly contain his joy as he started to round the bases, fumbling his bat as he ran down the first-base line and then embracing Ramirez after crossing home plate.
"I just wanted to make good contact to help the team," Devers said in Spanish. "It worked out well, thank God. We won, we came out on the right side, and we're going to see if we can do the same thing tomorrow, too."
Added Farrell: "Turned the game around. Obviously, they're trying to match up, but he gets a pitch up out over the plate and put a beautiful swing on it."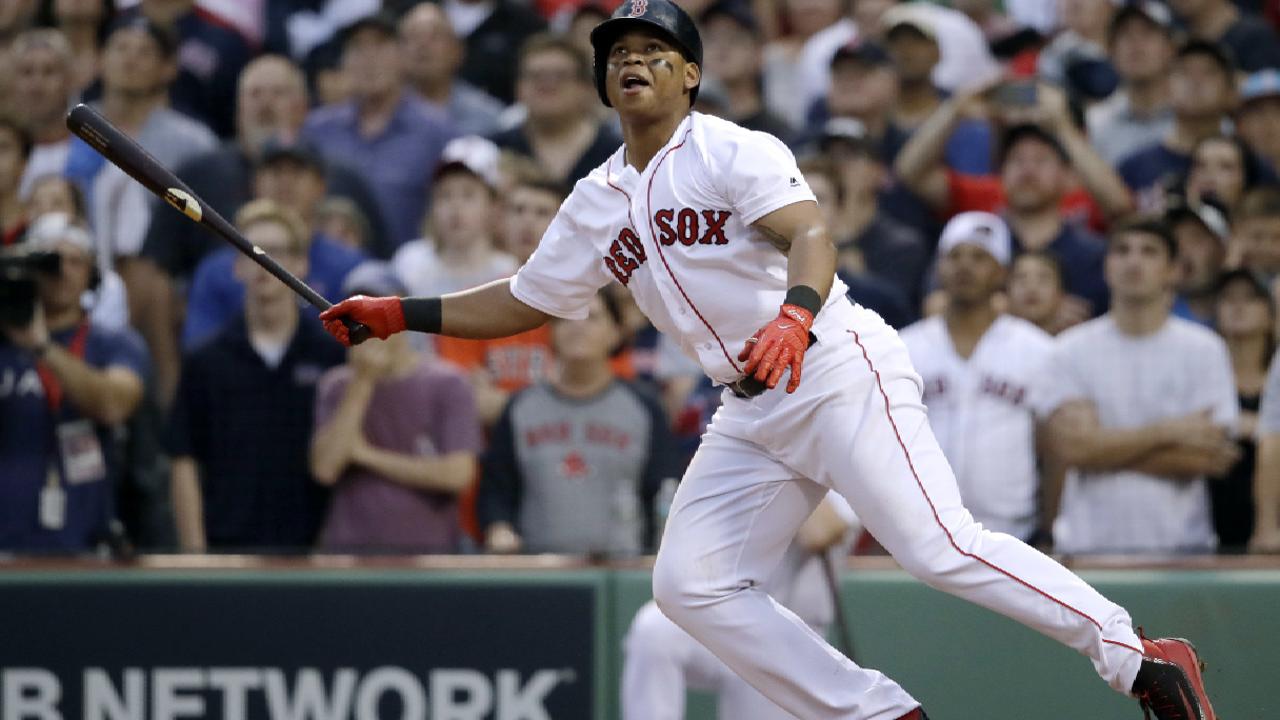 Though it's a moderately small sample, Devers had reverse splits during the regular season, slashing .400/.474/.600 with two home runs in 57 plate appearances against lefties compared with .250/.295/.448 with eight home runs in 183 appearances against right-handers. And according to expected wOBA (xwOBA), a Statcast-generated metric that accounts for quality of contact, Devers' .337 mark against lefties was the 14th highest of 85 left-handed batters against left-handed hitters this year (minimum 50 plate appearances). All of this suggests that he knows what he's doing against southpaws.
And, of course, on Aug. 13, Devers produced another memorable home run against a left-hander, blasting a game-tying, opposite-field home run off Yankees closer Aroldis Chapman in the ninth inning.
"He's an excitable player, and he's got the young baby face," Hinch said. "He got a good pitch to hit, and he delivered. I think it's tough to do. It's a young kid in a big moment that gets a hanging breaking ball and hits the ball out of the ballpark. He didn't have a ton of home runs. I think he only had a couple against left-handed pitching this year, but he won the big moment."
Maria Guardado is a reporter for MLB.com. This story was not subject to the approval of Major League Baseball or its clubs.