Oct. 8 Jose Quintana workout day interview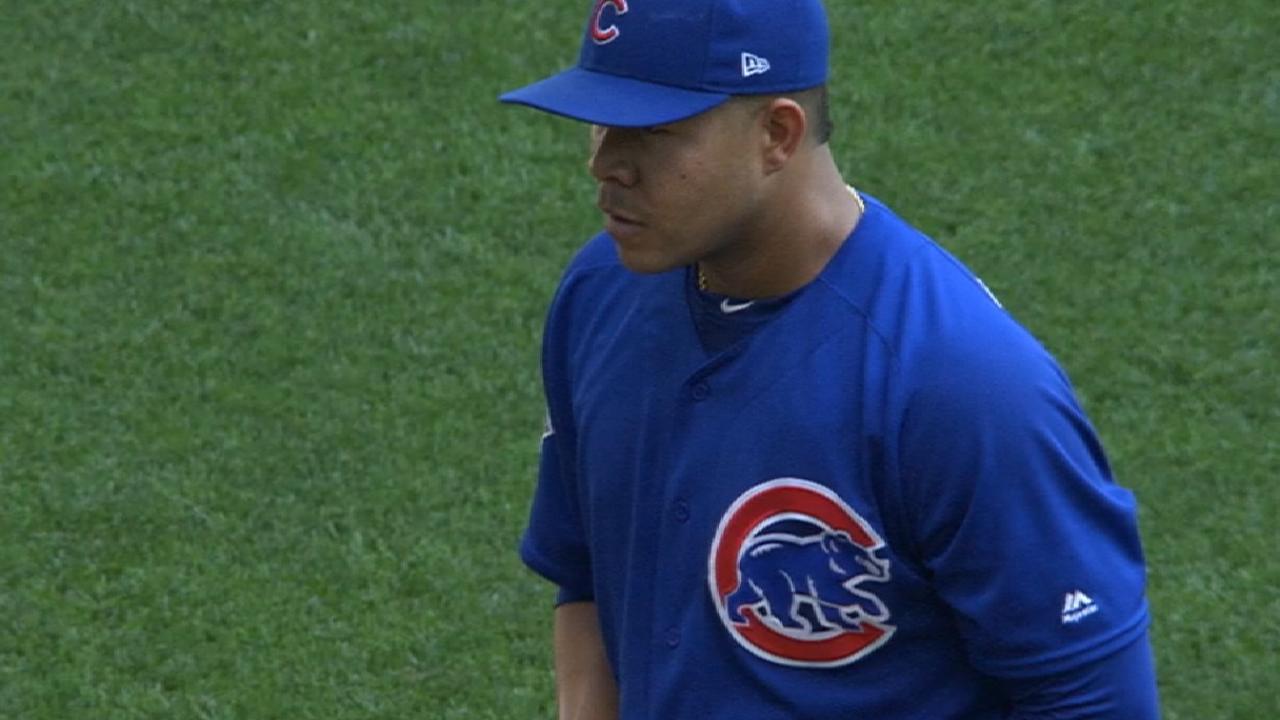 Q. We talked about it before, the big game thing is always talked about, you haven't pitched in the playoffs, but you pitched in the WBC. How big is that for you to use as a thought process going into this game tomorrow?
JOSE QUINTANA: It's a huge game for me. I think it's a huge opportunity, too. And for the first time, you know, I'm really excited to get this opportunity, and I appreciate that.

So I think we'll come back in this series, with a really good effort and tied the game in Washington.

I compare this game, the WBC, that's Postseason, so I think it's completely different and you know, in my mind, just never change nothing. It's the first time for me, but I'd just rather do my job and try to go as long as I can.

Q. How are you feeling? What's going through your head? I know you're excited, but overall how do you feel about tomorrow?
JOSE QUINTANA: I feel really good. I think I'm so excited, I try to be like, you know, cool, but be present and focus on my game.

Like I say, I don't want to change nothing. Just throw my ball well and just focus, pitch by pitch. At this time, a short series, it's really important, every pitch.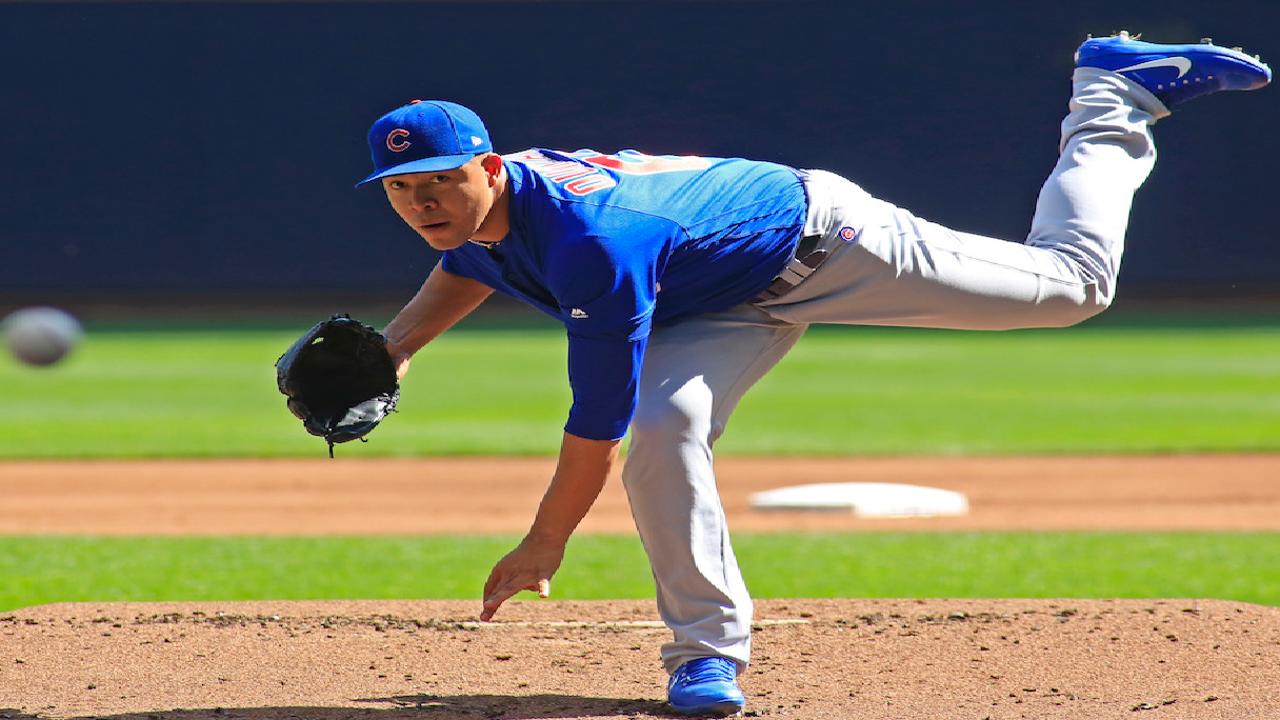 Q. When you face a lineup -- you haven't faced the Nationals, right? When you haven't faced a lineup, what's your thinking ahead of the game?
JOSE QUINTANA: I think the approach never changes, so I just try to target and I checked a lot of videos against them. I've never faced them, but I try to go ahead because it never affects me. But I saw a lot of old scouting reports against them, and my approach is to attack and try to get quick outs and try to get longer, the more I can.

Q. What have you learned from the last two games that you have been a part of and been able to watch, and the environment, of course, in D.C., and even watching how Jon Lester -- I know your styles are different, but how he navigated the lineup.
JOSE QUINTANA: Well, I learn. He's focused, all the guys, these games. I think all the games, we try to do the best, but when you go to the Postseason, a short series, you try to do the best you can. I saw that with Hendricks and Jon, and watching around the field in Washington was great. It's exciting.

John Lackey told me the last couple days, try to do your job. Just hit your spots and never change. The game's the same and you're going to feel the energy around you, so it's really exciting. I've never seen games like this, and it's really fun.

Q. What's is like for you working with Contreras?
JOSE QUINTANA: Well, the first day when I come here, I feel we're on the same page every time. Every pregame, we talk a lot about the hitters we're going to face.

I like his attitude to the game, a lot of emotions sometimes, but it's really good. He's a really good catcher, and I enjoy the time I spend with him. Tomorrow, well, we expect to do our job and get ahead with this series.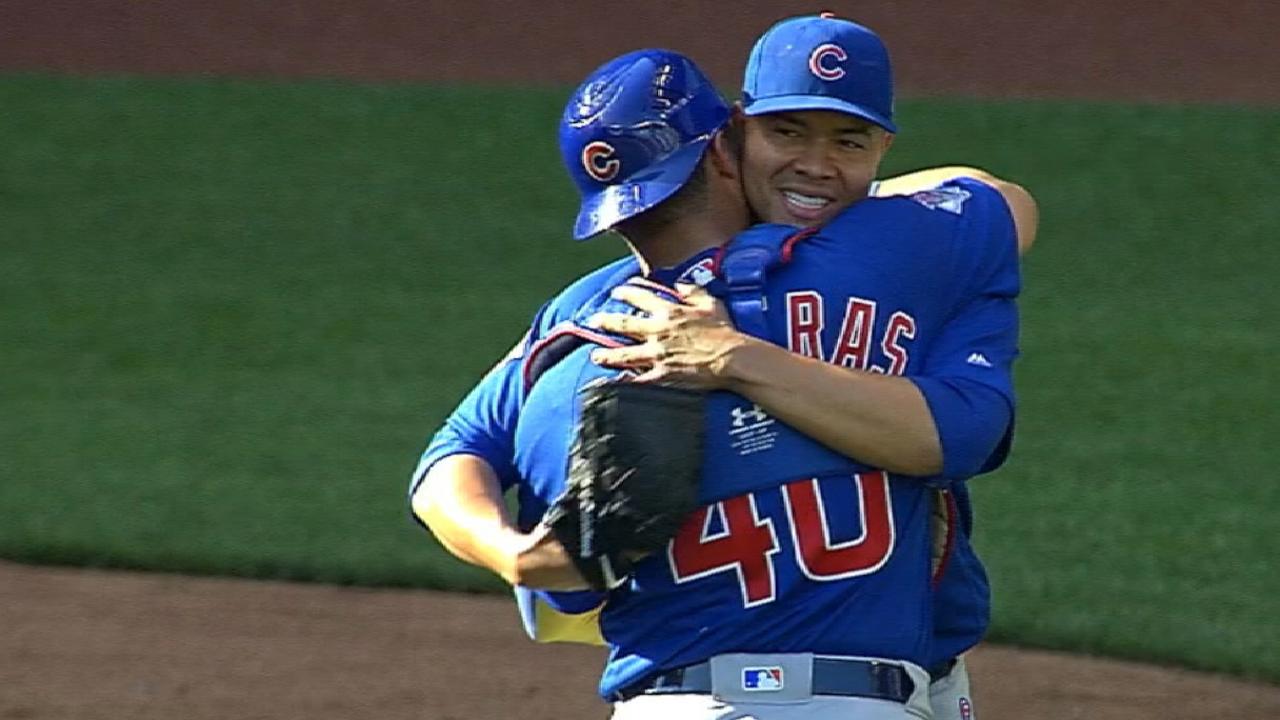 Q. You're a guy who is liked on the south side and the north side; do you think White Sox fans will put that aside, their hate of the Cubs, and root for you in the game?
JOSE QUINTANA: Like --

Q. You know what I'm saying?
JOSE QUINTANA: You can repeat for me, please.

Q. White Sox fans hate the Cubs but they love you. But will they root for the Cubs since you are pitching tomorrow?
JOSE QUINTANA: Well, I'm here on the north side and they push for us. And so, you know, I just want to do my job when I get this opportunity here. I want to win this game tomorrow, and I think the difference with the fans -- I never get the opportunity there to be in Postseason. I'm excited to get that tomorrow.

Q. One of the things Joe Maddon said, the only thing he said, that maybe somewhat concerned him, was just how hyped you will be going into tomorrow. How do you best contain your emotions?
JOSE QUINTANA: That's a good question. Well, like I said before, I just go try and get focused, pitch by pitch. You know, control my emotions every time. I think that's the huge part for me, especially when it's my first time here, and that's it.

You know, the first inning, I'll try to go ahead of the hitters and be focused every time in the game, any situation happen to me. But yeah, for sure, that's the big thing for me.

Q. How do you feel going into this home game, and does it feel any different for you as far as pitching at home? And also, with the series being even, do you feel kind of that extra pressure to help your team take the lead?
JOSE QUINTANA: I don't feel pressure. It's really good to face these guys in our house, especially in Wrigley Field, when every game is like a final. It's like a gift for me to get this opportunity to open the Postseason here at home.

I'm really excited. I'm excited for that. I know tomorrow, we're going to have a lot of fans, and loud every time, so I can't wait for that.

Q. How did coming over to the Cubs and playing in front of a full house every night help you get prepared for if you're going to be on the road in front of a full house? Has that helped you now, because obviously with the White Sox, there weren't a lot of full houses. Now every day, you play in front of 40,000 fans. Does that help you concentrate and put the noise and everything else to the side?
JOSE QUINTANA: It's good when you play with a lot of fans, and any player, you try to do your job and respect all the fans. When you go walk to the mound, you see all the fans around you, so they have got a lot of energy. It's really good baseball every time you play with a lot of fans.

When I see that, the first days when I come here, it was a little different. It was really good. It was really good for me to see, oh, I get this opportunity; so I want to protect that. It's really fun when you play around a lot of fans.

Q. How much did you enjoy having breakfast on the field today and how good was the food?
JOSE QUINTANA: Well, it was good. I've never seen that (smiling). This morning, when I go to the clubhouse, we don't have to do too much today, just go eat on the field. What's that?

Yeah, we spend good time there. I said, oh, that's good. It was really good. My breakfast was still the same, it was good flavor.

Q. What did you have?
JOSE QUINTANA: I had an omelette, and an omelette with pancakes -- waffles. Similar, you know. (Laughter).

But it was good. It was really good. I think it's something different. That helps us.