Well-prepared Greinke set for must-win Gm. 3
Righty looks to regain All-Star form after rough Wild Card outing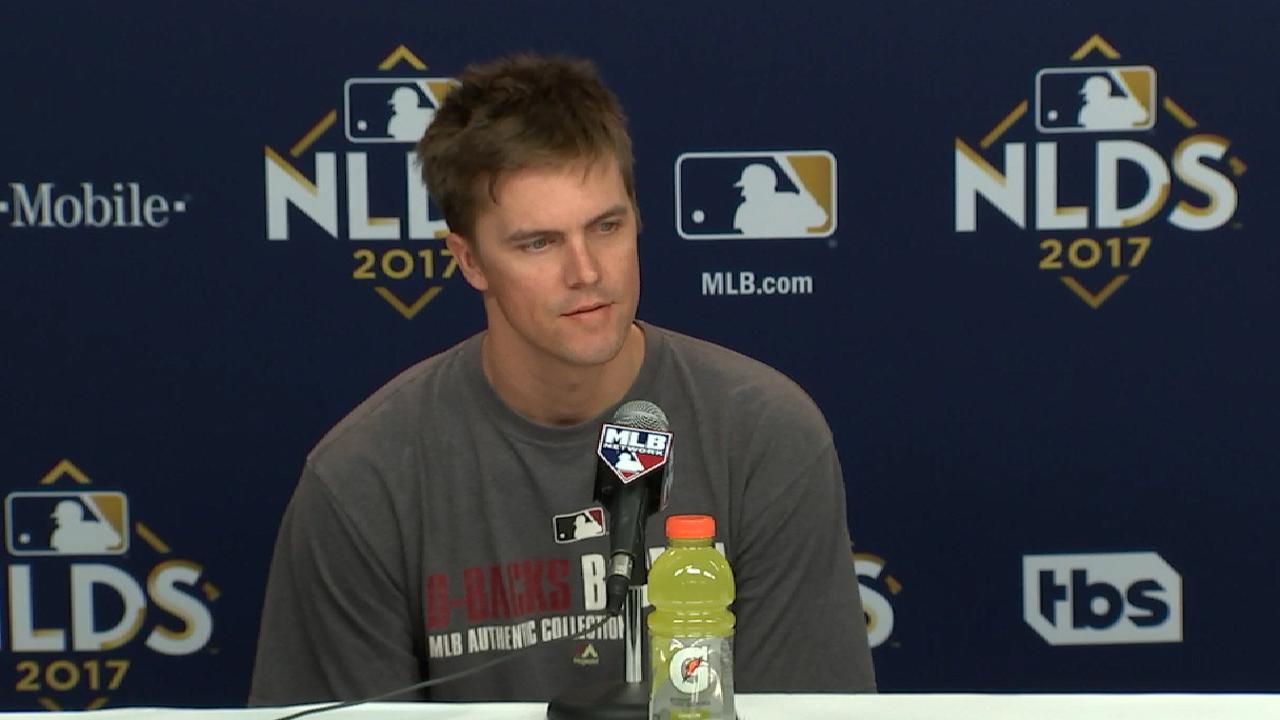 PHOENIX -- D-backs right-hander Zack Greinke's wheels are turning as he heads into Game 3 of the National League Division Series presented by T-Mobile.
His strength is a slider that he can use to touch the thin edge of the strike zone or throw just outside and watch futile swings. But he also knows the Dodgers, in keeping with their performance all year, have won the first two games of the series by not being tempted to swing at pitches off the plate, a strategy that has put the D-backs one loss away from elimination. Los Angeles led the Majors with 649 walks during the regular season.
But he isn't sharing much of his game plan heading into a must-win game tonight at Chase Field.
Asked about the Dodgers' impressive patience on Sunday, he said, "They wait for a pitch to hit, and then it's an ideal way of hitting. You just look for a pitch to hit. If you get it, you hit it as hard as you can. If it's not a pitch to hit, they take it. I mean, it's pretty simple, but it's harder to do than it sounds like."
But pressed on his plan to combat the opponent, Greinke didn't bite. As he left the press conference, Greinke acknowledged that the questions were good. He just wasn't giving away secrets.
"I feel like you guys are trying to get all my game plan tips before the game, and it sounds kind of silly for me to answer some of these questions," he said.
• Shop for D-backs postseason gear
His manager, Torey Lovullo, figures whatever Greinke will unveil tonight will be good.
"I'm not going to speak for Zack, but I know he's had a tremendous year and he's followed a great game plan," Lovullo said. "So what he does in preparation, what everybody is doing right now to prepare for tomorrow, he's going to go out and probably execute the best game plan he possibly can."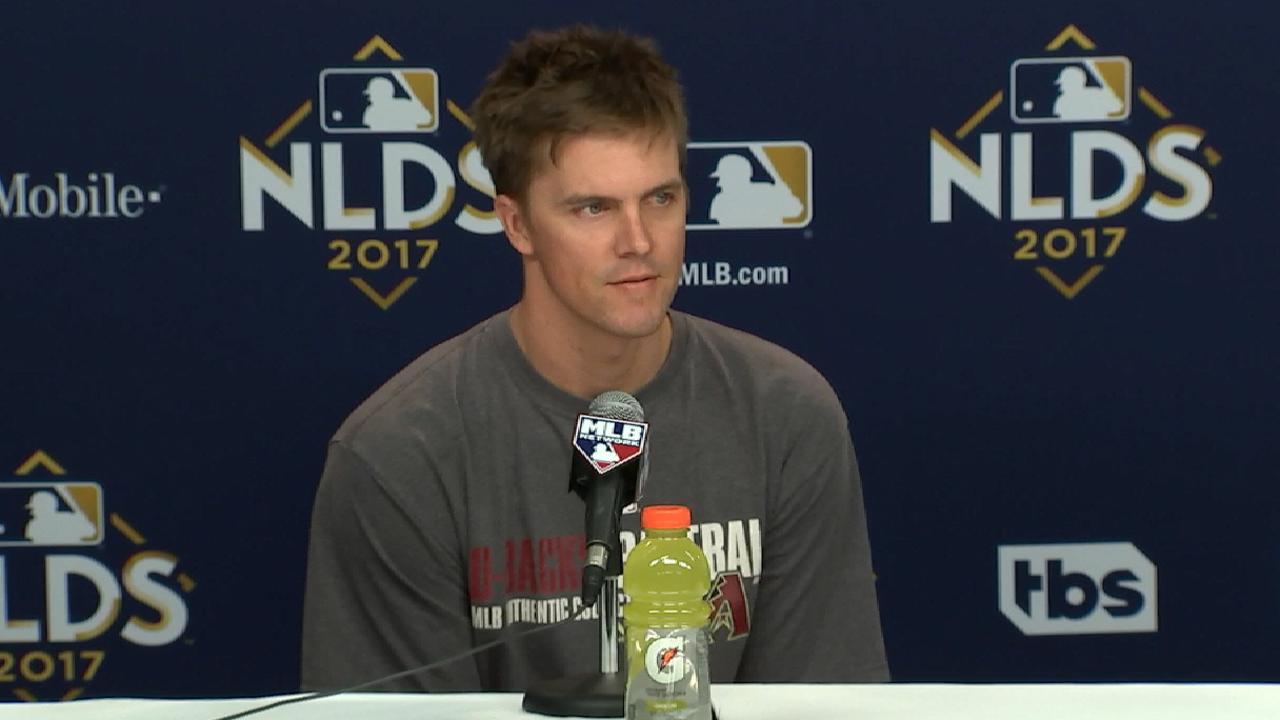 In the first two of his four starts against the Dodgers this season, he yielded eight runs on 14 hits with seven walks in 11 2/3 innings. But in the next two outings, Greinke pitched six innings for a win in an 8-1 victory on Aug. 31 and threw seven innings in a D-backs 3-1 victory on Sept. 5. He gave up one run on four hits in each of those last two starts.
Greinke, who appeared in his fourth All-Star Game this season, had three weeks between his second and third starts vs. Los Angeles this season, so he showed what he can do with fresh information.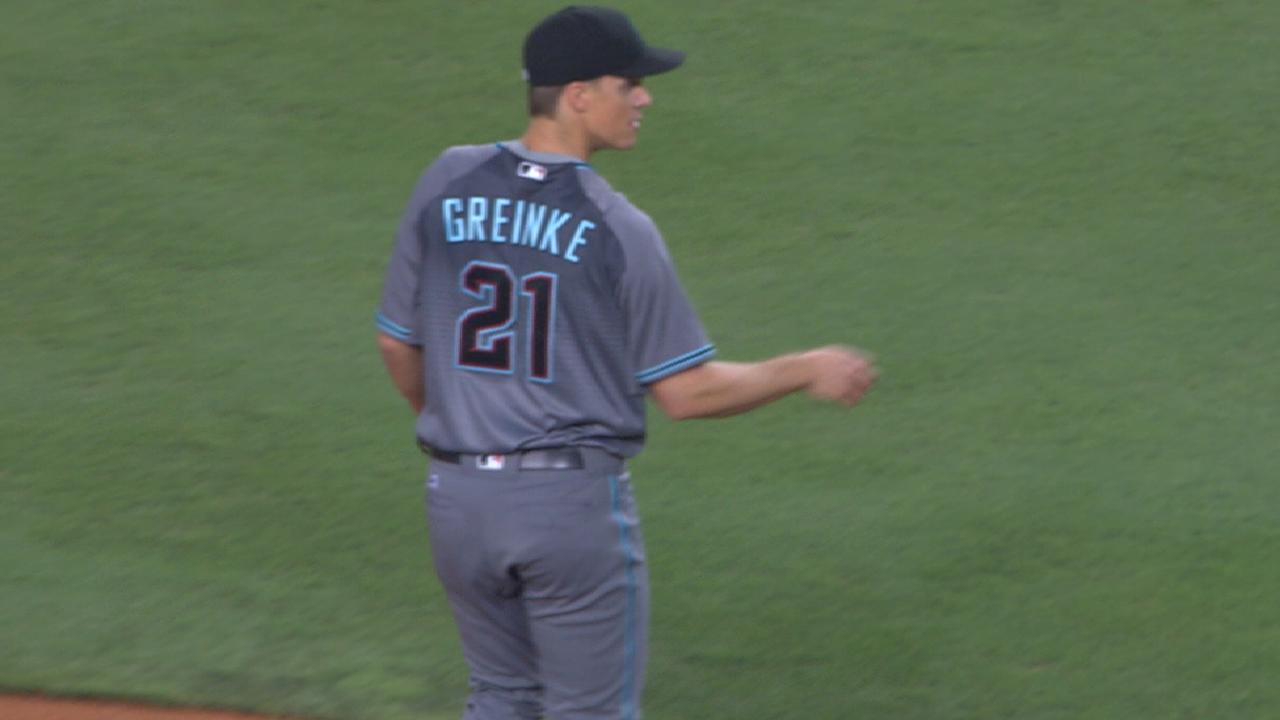 Now Greinke has to make an even quicker adjustment. In Wednesday's NL Wild Card Game against the Rockies, his offense handed him a 6-0 lead, but Greinke gave up four runs in the fourth and saw his night end after 3 2/3 innings.
Greinke's success comes from a slider he uses two different ways -- at the extreme glove-side edge of the strike zone, and beyond and below that same edge. Hitters, not knowing whether that pitch will be a called strike, often swing at a ball that dives beyond the barrel. Greinke's 33.6 percent chase rate was sixth-highest among pitchers who threw a minimum of 1,000 pitches out of the strike zone, according to Statcast™:The Dodgers, however, don't have to be impressed. During the regular season, they chased just 24.2 percent of pitches out of the zone -- per Statcast™ the lowest rate of any team.
The Dodgers' refusal to expand the zone was on display in Game 1, when the first five hitters against Taijuan Walker reached -- and Justin Turner knocked a three-run homer and Yasiel Puig added an RBI double. On several occasions, Walker was ahead in the count but couldn't entice hitters to follow his pitches to the dirt.
Interestingly, the differences between victories and defeat are hard to measure. Statcast™ says Greinke's two losses to the Dodgers were, respectively, the fourth- and second-highest rates of productive contact, or barrels, solid contact or flares/burners. The two games the D-backs won, however, were the sixth- and seventh-highest.
Thomas Harding has been a reporter for MLB.com since 2002. Follow him on Twitter @harding_at_mlb and like his Facebook page. This story was not subject to the approval of Major League Baseball or its clubs.