Corbin likely to start potential Game 4
D-backs use Godley in relief, taking him out of equation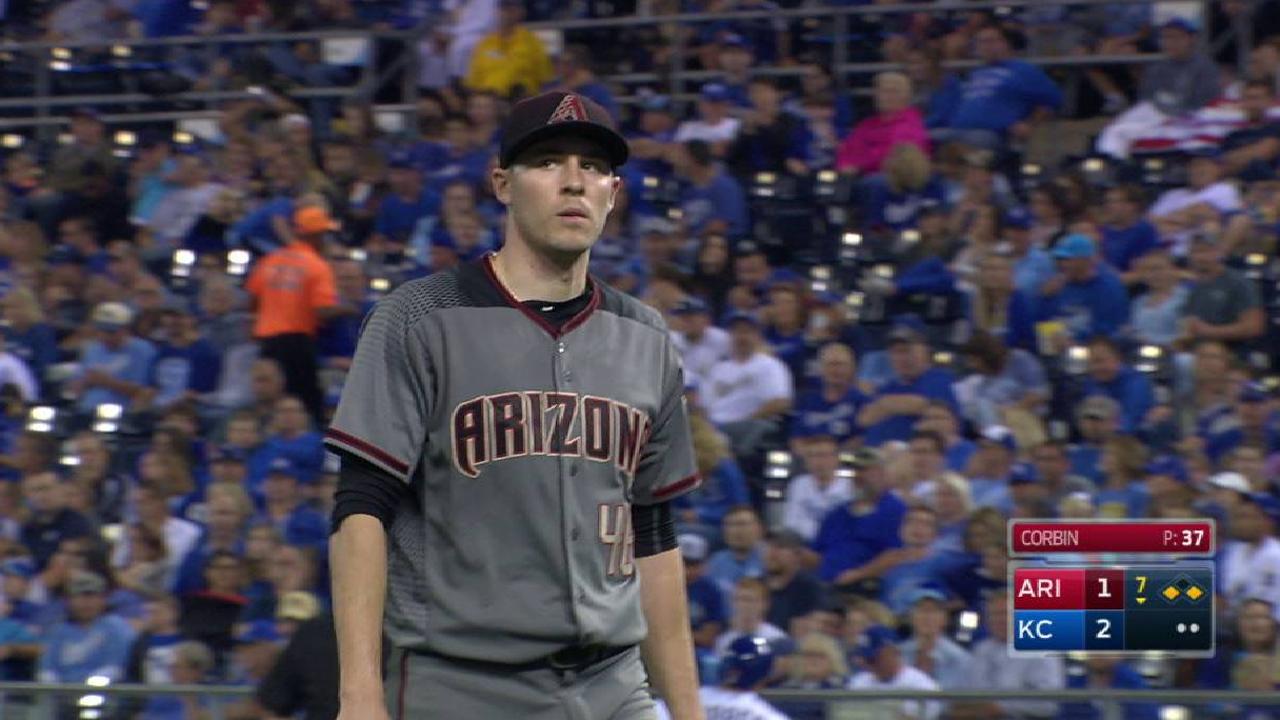 LOS ANGELES -- Left-hander Patrick Corbin will likely be the D-backs' starter in Game 4 of the National League Division Series presented by T-Mobile on Tuesday night at Chase Field, if the series goes to a fourth game. The D-backs lost Game 2 to the Dodgers, 8-5, on Saturday night, and trail two games to none in the best-of-five series.
Arizona manager Torey Lovullo did not say before Game 1 whether Corbin or Zack Godley would be taken out of the rotation and used in relief. Godley pitched five innings out of the bullpen in the NLDS opener, which leaves Corbin as the natural starter for Game 4. Unless, of course, he's needed in relief before that.
"Patrick has had a lot of effectiveness at home against the Dodgers," Lovullo said of the decision to use Godley in relief. "I'm looking at Game 4 as a very pivotal game. I think that's the most important game in a five-game series and I couldn't think of a better candidate than Patrick to be throwing at home."
Speaking of the bullpen: Be ready
D-backs bullpen coach Mike Fetters had a message for the relievers in the bullpen before Game 1: Be ready right from the first pitch.
That was in no way a reflection of the team's confidence level in starter Taijuan Walker. Instead it was just an acknowledgement of the different nature of the postseason when managers don't have a long leash with any of their hurlers.
"All you do is tell those guys to be ready from the beginning because they have no idea when they're going to come in," Fetters said. "It's totally different during the postseason."
As it turned out, the bullpen was needed to start the second as Walker allowed four runs and had to throw a whopping 48 pitches in the first.
But even if a starter pitches well, pitchers might be needed sooner than usual.
"In the regular season, you have your regular roles -- your closer is your closer, your eighth-inning guy is your eighth-inning guy," Fetters said. "But in the postseason sometimes that eighth and ninth inning is the sixth and seventh and then you try to piece it together after that."
Special moment
Lovullo has a long history with rookie reliever Jimmie Sherfy as Sherfy is friends with one of Lovullo's sons.
So, it was a little emotional for Lovullo when he handed the ball to Sherfy in the eighth inning of Game 1.
"I'm from Southern California, born in Santa Monica, raised in the valley," Lovullo said. "Here I am handing a ball off to one of my son's high school teammates that I watched grow up playing baseball. It was a surreal moment for me. I know we made eye contact and I'll never forget what that feeling was like. It was a proud moment. Almost like a parent is handing the ball off to their own child, and that's how I view Jimmie."
Steve Gilbert has covered the D-backs for MLB.com since 2001. Follow him on Twitter @SteveGilbertMLB. This story was not subject to the approval of Major League Baseball or its clubs.