Seeking sweep, LA tabs Darvish for Game 3
Trade Deadline addition acquired precisely for postseason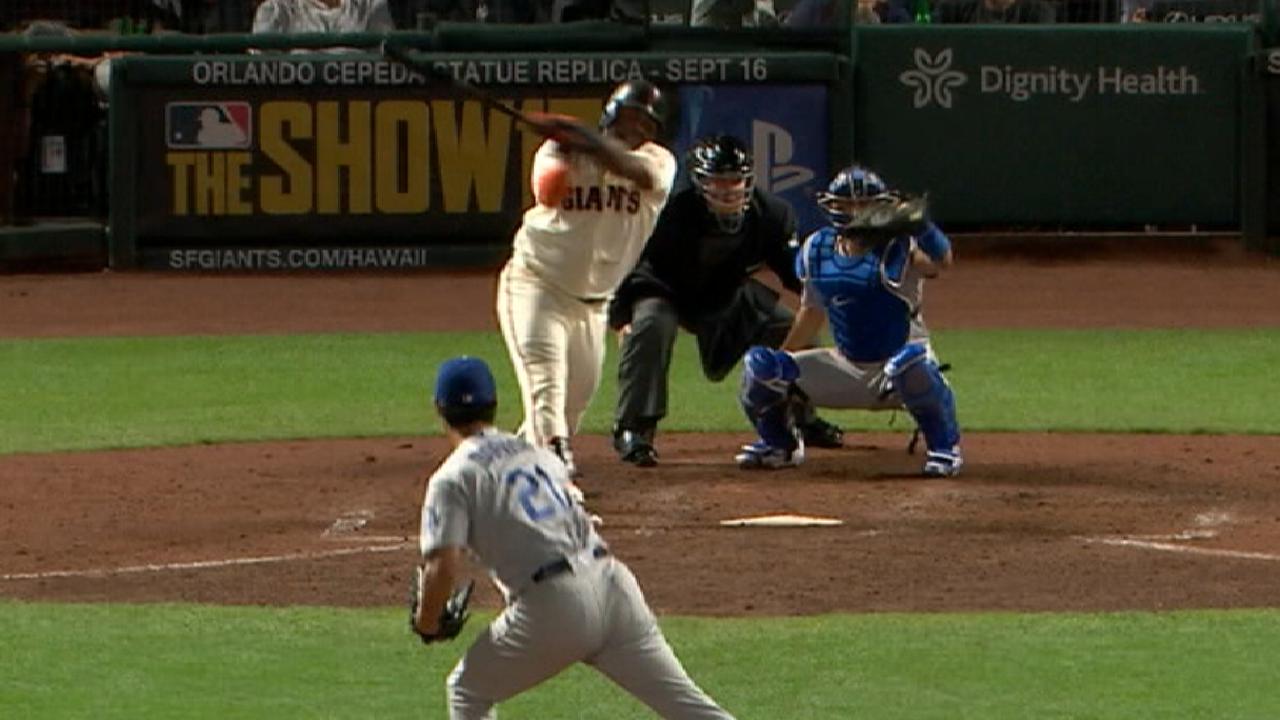 LOS ANGELES -- Forget the nine starts Yu Darvish has already made for Los Angeles. This is the reason the Dodgers' front office went down to the wire at the non-waiver Trade Deadline to acquire him.
Darvish takes the ball opposite Arizona ace Zack Greinke tonight with a chance to deliver a series-clinching victory for the Dodgers in Game 3 of the National League Division Series presented by T-Mobile. L.A. leads 2-0, after a pair of convincing wins at Dodger Stadium.
• NLDS Game 3: Tonight, 10 p.m. ET/7 p.m. PT on TBS
"Just control what I can," said Darvish, when asked for his approach to his third career playoff start. "Because I worked hard today or do something different today, that doesn't necessarily mean I'm going to throw a 110-mile-an-hour fastball."
There are similarities everywhere between this Dodgers roster and those of the past four postseasons. Darvish, arguably, represents the starkest difference.
"You're building to win 11 games in October," Dodgers manager Dave Roberts said. "So to have that front-line guy to win a playoff game, certainly that's why you acquire a guy like Yu."
Since 2013, Los Angeles has thrown Kenta Maeda, Brett Anderson and Hyun-Jin Ryu (twice) in Game 3 of the NLDS. That trio has combined for an ERA of 9.00 and a 1.80 WHIP. The Dodgers lost each of the last three and only beat Atlanta in 2013 when they put up 13 runs in a slugfest.
• Shop for Dodgers postseason gear
Those poor starts forced the hand of Dodgers decision-makers. Clayton Kershaw has started Game 4 on short rest four years in a row, in large part because the club needed it from him.
This year, Roberts is adamant that won't be the case. Darvish's presence is the driving force behind that decision.
Dodgers general manager Farhan Zaidi put it succinctly on July 31 when he landed Darvish from the Rangers for a trio of prospects.
"Having four [starters in October] is better than having three," Zaidi said.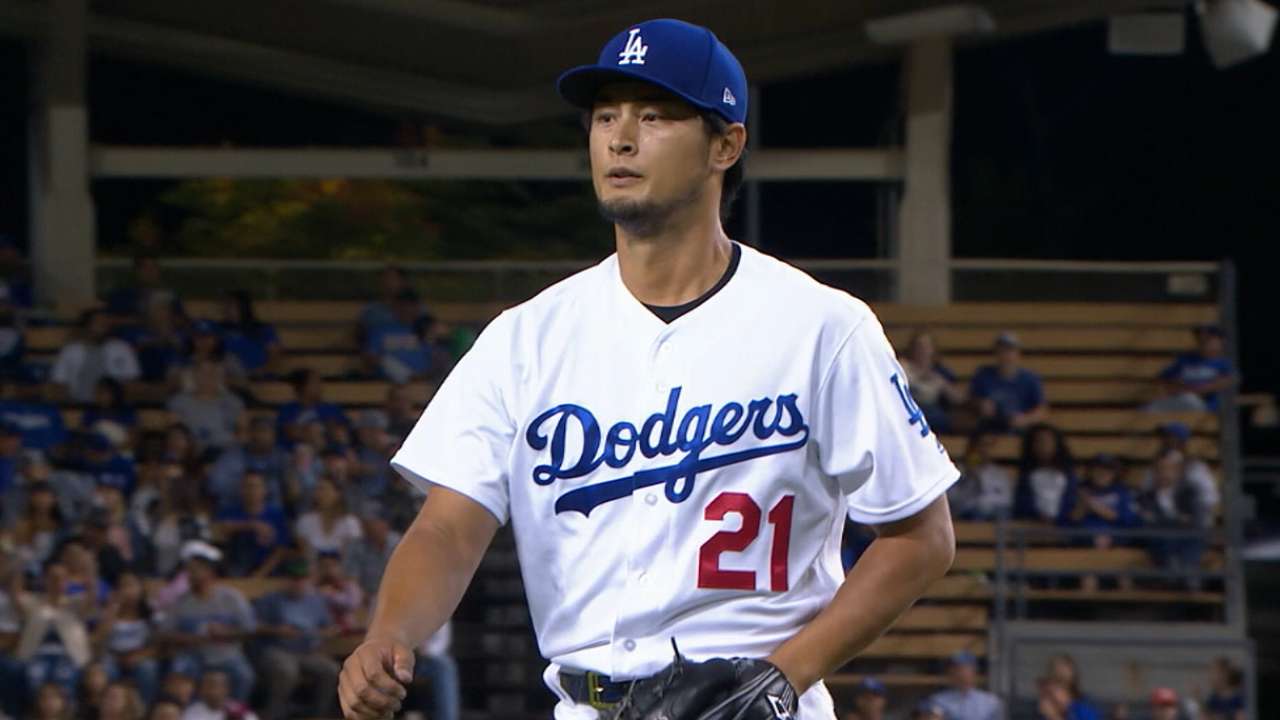 Upon his arrival in Los Angeles, Darvish slumped, posting a 5.34 ERA in his first six outings. Those results were almost beside the point. The Dodgers spent their first month with Darvish tinkering with his arm slot, his delivery and his pitch mix. On Sunday he was asked if there was anything the club didn't want him to change.
"They told me, hey, you should not change your good-looking face," Darvish quipped.
It was a light-hearted joke, sure. But the response was also indicative of just how open Darvish was to those changes.
"When we first got him, he was a guy with a bunch of different toys and didn't really know what to do with them," Roberts said. "So with [pitching coach] Rick [Honeycutt] and the information we've given him, he's found a nice little rhythm."
Darvish came to Los Angeles with a reputation for throwing a half-dozen pitches in virtually all counts. The Dodgers' front office asked him to simplify things, paring down his mix to highlight a couple of go-to offspeed offerings.
"I want to pitch to my strengths," Darvish said. "They gave me information so I [can] pitch basically with my strengths."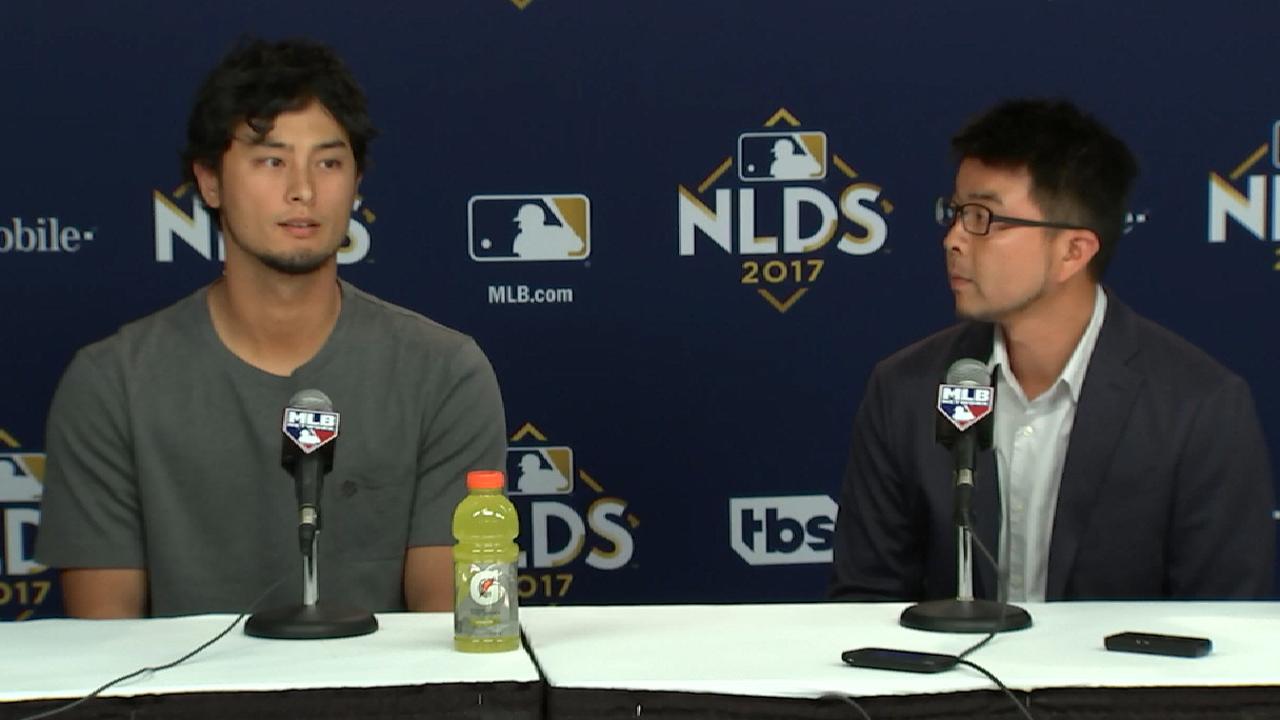 Darvish was fully on board with the plan. In starts against the Giants, Phillies and Padres to finish the year, he allowed one earned run on nine hits over 19 1/3 innings.
Arizona will present a much greater offensive challenge. But Roberts is convinced Darvish is up for it.
"It starts with his confidence," Roberts said of the recent improvements. "I think he's comfortable now with the guys. I think he's comfortable here in the city of Los Angeles. That's a big deal. You've got to appreciate the cultural [aspect], the family moving, the adjustment, riding to the ballpark and knowing where to go to eat, trying to assimilate with guys on the team too.
"Now, you have to go out there and pitch and meet those expectations that a guy like him has to meet, as a Trade Deadline acquisition. There are a lot of things I know I can't [fully] appreciate. But I know that over the last few starts, he's been very good."
The perfect timing isn't exactly a coincidence.
AJ Cassavell is in his seventh season as a reporter for MLB.com. Follow him on Twitter @ajcassavell. This story was not subject to the approval of Major League Baseball or its clubs.