Quintana ready for playoff debut in Game 3
Maddon has 'all the faith in the world' in lefty, who faces Scherzer with NLDS tied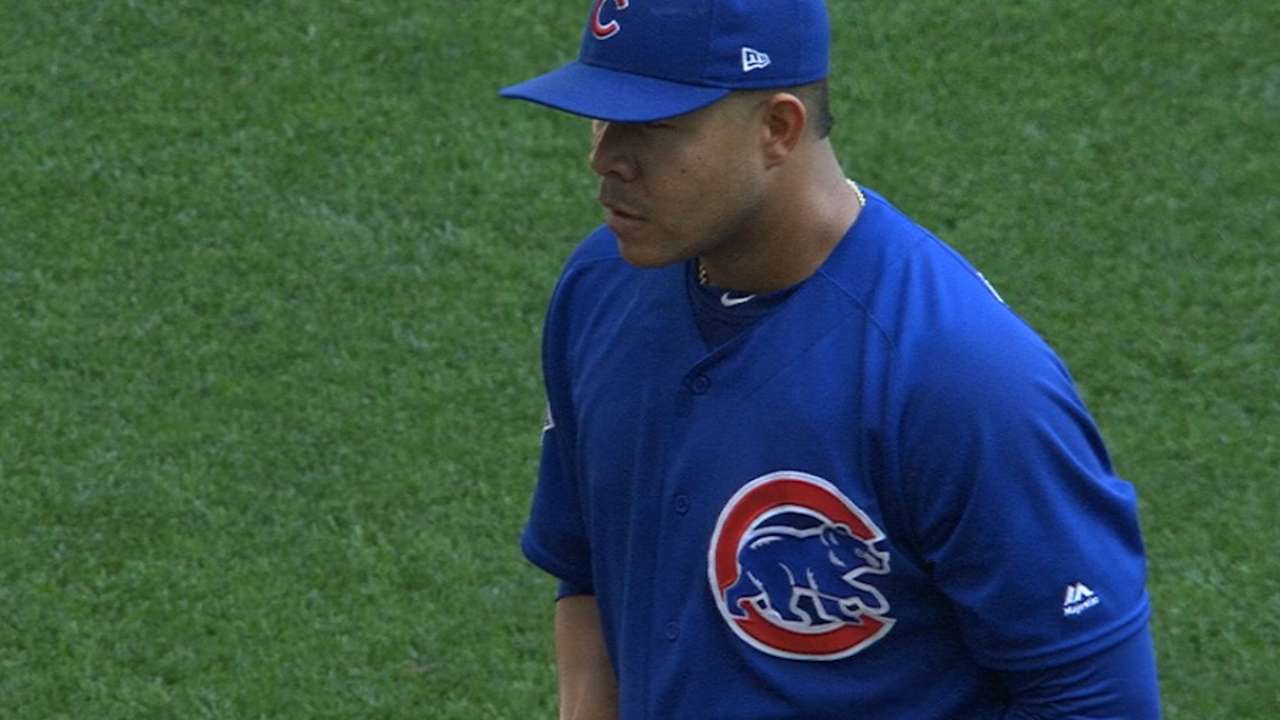 Quintana threw a three-hit, 10-strikeout shutout against the Brewers on Sept. 24 in Milwaukee, capping a four-game series victory that all but officially ended the National League Central race. That, Maddon said, was all he needed to see from Quintana before he makes his true postseason debut at Wrigley Field in Game 3 of the NL Division Series presented by T-Mobile, which is tied at one game apiece after the Cubs dropped Game 2 on Saturday, 6-3.
• Shop for official NL Central champs gear
"I mean that sincerely," Maddon said Saturday. "That game in Milwaukee was a spectacular performance, and that pretty much set us apart at that point. So I know he's going to be ready when we get back home."
It's not as if Quintana is lacking experience. It was the 28-year-old left-hander's track record, in fact, that appealed to the Cubs as they sought to upgrade their rotation for the second half of this season and the next three years that Quintana remains under contractual control.
But the six-year veteran has never thrown a pitch in the postseason. Until the July 13 trade that sent him to the Cubs, Quintana spent his entire Major League career with the White Sox. He had only played for one winning team before this: the '12 White Sox club that went 85-77 and fell short of the playoffs.
"When he first came on board, just talking to him, he was really excited about the potential of going to the playoffs," Maddon said. "Now he's here, for sure.
"I'm really excited for him, because this is a guy that's earned the right to pitch in a game like that, and I really believe -- I know -- he'll be ready for the moment."
So the Cubs' blockbuster deal for Quintana during the All-Star break not only solidified their starting staff heading into next season as they face the potential losses of Jake Arrieta and John Lackey, but it also thrust the perennially underrated Quintana onto a national stage, and he will stand at the center of it against Nationals ace Max Scherzer on Monday.
"Q's in a good spot," Game 2 starter Jon Lester said. "I'm sure he'll be amped up. It's a different experience, especially coming home. I'm excited for him. I know he'll be prepared and he'll give us his best effort. At the end of the day, that's all you can ask."
The cost to acquire Quintana was significant, as one might expect for a pitcher who averaged 204 innings per season with a 3.35 ERA from 2013-16. The Cubs parted with prospects Eloy Jimenez, Dylan Cease, Bryant Flete and Matt Rose to deliver Quintana from the South Side to the North Side of Chicago.
The early returns were uneven. Quintana posted a 2.37 ERA in his first three outings for the Cubs, all quality starts. They won three of his six August starts as he recorded a 5.73 ERA while alternating between five- and six-inning appearances.
But the Cubs won all five of his starts in September, including the dominant outing -- his second career shutout -- that showed Maddon that Quintana was ready for October.
"I have all the faith in the world in this guy," Maddon said. "He is so sincere. His work is so good. He's prepped. He's ready to go every time he plays."
Adam Berry is a reporter for MLB.com. Follow him on Twitter and Facebook and read his blog. This story was not subject to the approval of Major League Baseball or its clubs.