Oct. 7 Masahiro Tanaka workout day interview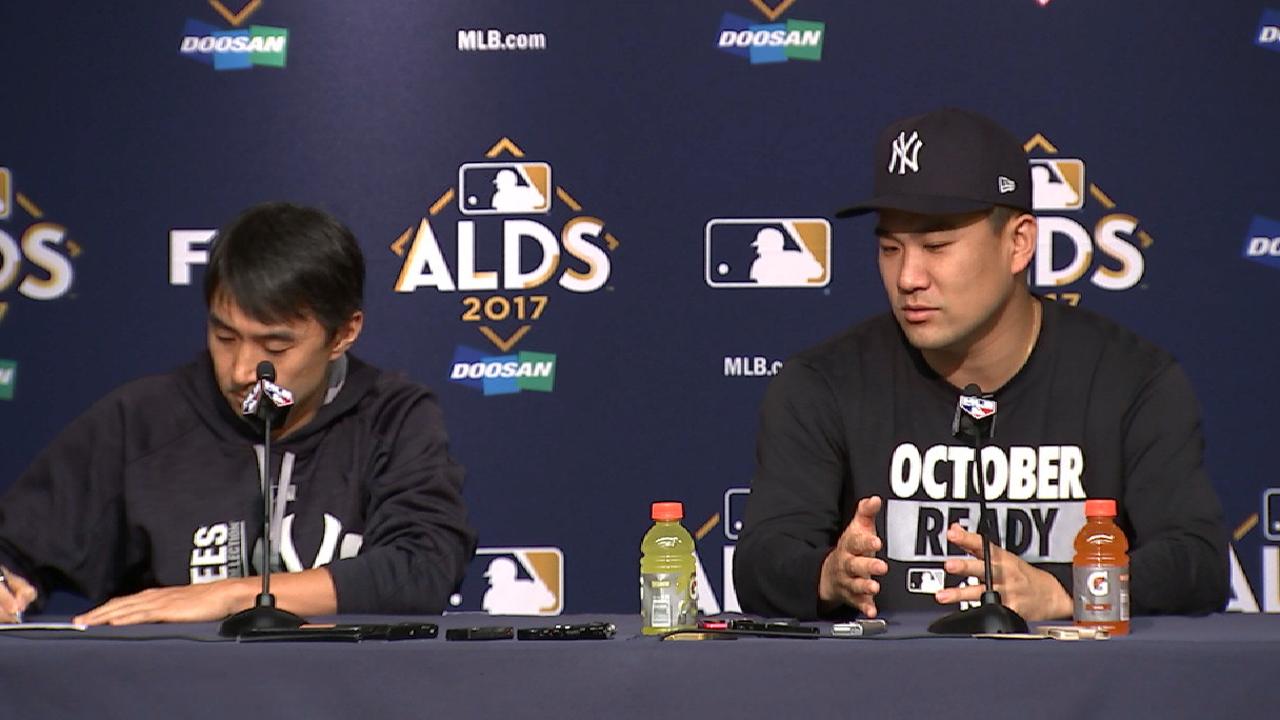 Q. Masahiro, what is your approach going into tomorrow, just given all that's at stake in an elimination game?
MASAHIRO TANAKA: I do have a certain plan going into the game, obviously, against the Cleveland lineup. But obviously, the important thing is going to be just making good pitches, executing pitches, and that's it.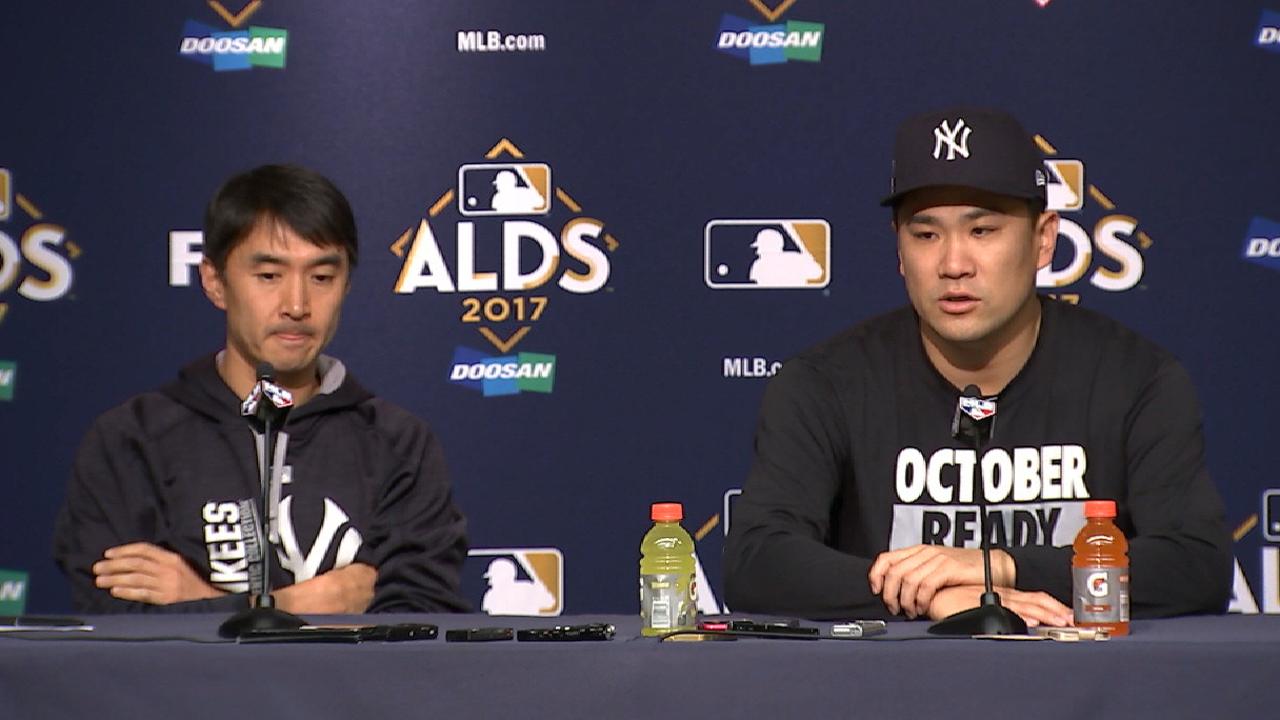 Q. Can you take anything from your experience in the do-or-die Wild Card game a few years ago? That was another game you had to win. Can you carry anything into this game from that?
MASAHIRO TANAKA: I've learned -- I feel like I've learned from that actual game from 2015. Not just that, but some of the big games that I needed to pitch that I had the opportunity to pitch this season and, also, just by observing the games, these postseason games, you get a sense of what needs to be done. So, yes, I'm pretty prepared to go into the game.
Q. Last night, what was your reaction to the Chisenhall at-bat and what followed after that? The non-challenge, the whole situation.
MASAHIRO TANAKA: I think that's part of baseball. And I was actually in the dugout at that time, so from that view you can't really tell if it hit him or not. But my whole take on that is that whole thing is part of baseball today.
Q. You've been much better here at home than on the road this season. Is there something you can attribute that to and will it be tough not to put extra pressure on yourself, given that this is a potential elimination game?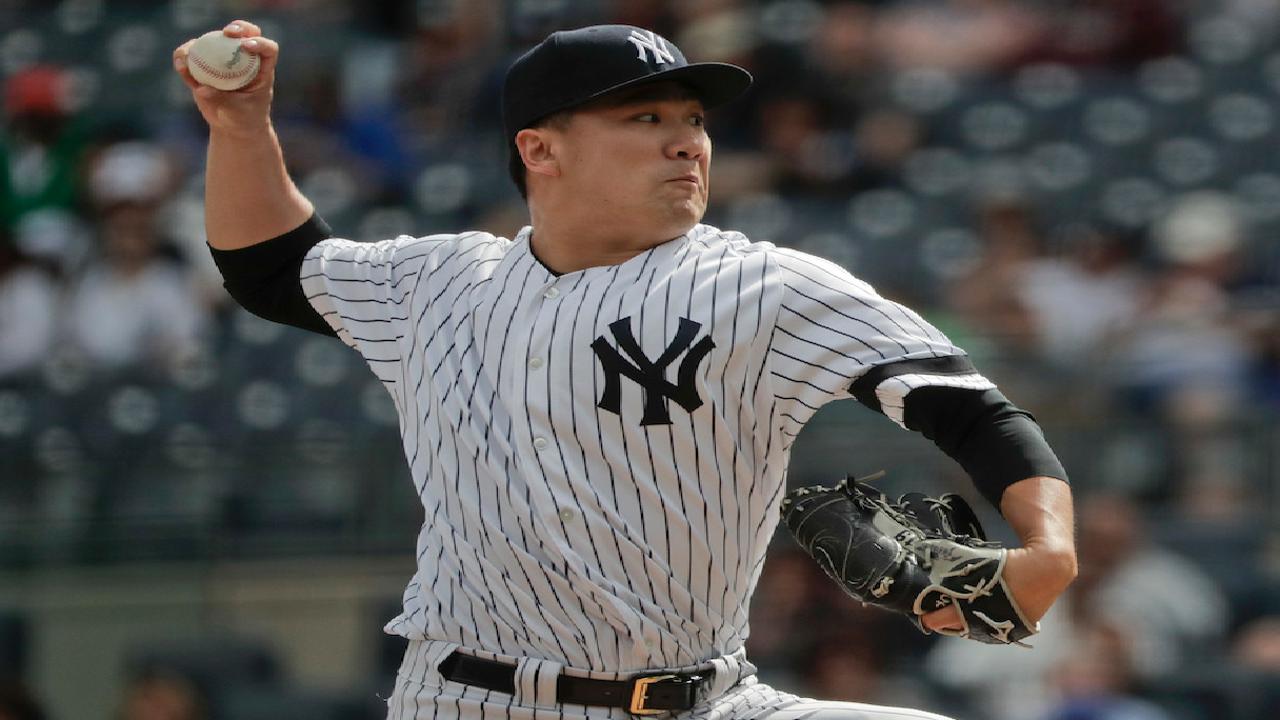 MASAHIRO TANAKA: As far as being better at home, I think in particular this year, it's like that. But I think it kind of depends on the season. Like if you look at it last season, I feel like I was better pitching away. So I can't really give you, you know, a good answer for that, the reason for that.
But as far as feeling the pressure going into tomorrow's game, obviously, yes, there is pressure, but that can't put me away from -- that can't get me away from what I need to do on the mound.
So my goal or my focus is just to go out there and pitch.
Q. Masahiro, you rely in great degree to a splitter that sometimes winds up in the dirt. Considering how much trouble Gary has had blocking that pitch at times, do you have any reluctance about throwing that with runners on base, and is it something you've discussed with him?
MASAHIRO TANAKA: So to answer your question, no, we did not have any kind of conversation. I think just going back through the season, you know, he caught me a whole lot and there's going to be mistakes that are going to happen. It's part of baseball. But I have the full confidence and trust in Gary Sanchez. So I'm going to go full on. I'm not going to hold back anything up on that mound.
Q. You've had a very up-and-down season. What do you take out of your last start with the 15 strikeouts that you hope to carry over into this one?
MASAHIRO TANAKA: Right now, the focus is on tomorrow. I can't really look back and reflect on the season at this point in time. Obviously, there were -- I did have an up-and-down season, but -- and one thing is that I do need to learn from the mistakes that I made going through that season, but the important thing is to really keep on moving forward.
And that said, the most important thing for me right now is to focus on the game that's coming tomorrow.
Q. Masahiro, do you anticipate coming back next year, or are you going to sit down after the season's over and think about whether you want to opt out of your contract?
MASAHIRO TANAKA: I've mentioned this from day one. I'll have the whole off-season to think about what I'll do moving forward, and that has not changed.