Cubs, Nats announce NLDS Game 2 lineups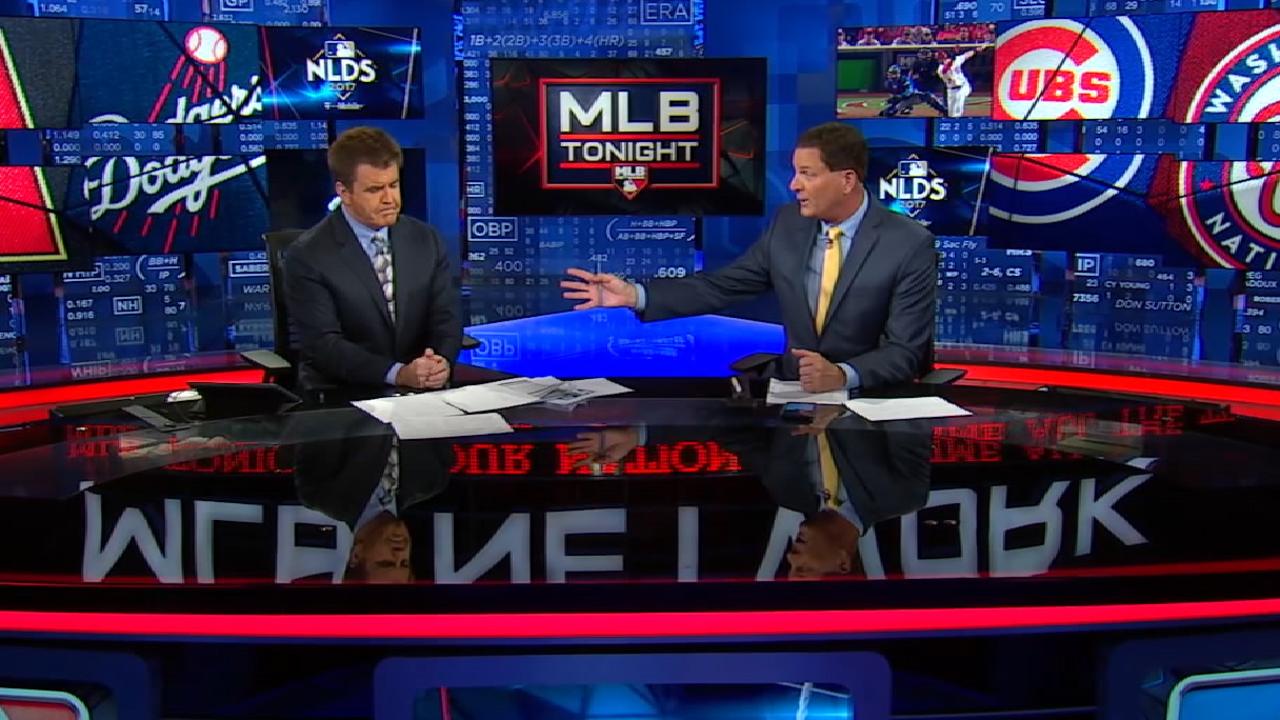 The Cubs and Nationals have revealed their starting lineups for Game 2 of the National League Division Series presented by T-Mobile, scheduled for 5:30 p.m. ET/4:30 p.m. CT on TBS.
The defending World Series champions shut down Washington, 3-0, to take Game 1 of the NLDS on Friday.
Cubs manager Joe Maddon is going with a much different look from a day ago, implementing a right-handed-heavy batting order to counter Washington left-hander Gio Gonzalez, who's starting Game 2 for the Nats.
Maddon placed Albert Almora, Jr. atop the lineup, in center field instead of Jason Heyward, who went 0-for-3 in Game 1. Rookie Ian Happ will play left field in lieu of left-handed slugger Kyle Schwarber, who also came up empty in three at-bats Friday night.
None of the Cubs players in Saturday's lineup has much experience facing Gonzalez. Bryant and Contreras, however, each have a home run off him, as does backup catcher Alex Avila, who has homered off Gonzalez in his lone at-bat against him.
The Nats finished the regular season fifth in the Major Leagues in runs scored with 819, and skipper Dusty Baker is showing no signs of panic despite his club tallying two hits agtainst Cubs starter Kyle Hendricks in Game 1. Baker is rolling with the same lineup he used on Friday, counting on his club to return to its true form going up against Chicago left-hander Jon Lester.
"I think about [changing things]," said Baker. "But if I can't come up with anything different, then why are you going to do it? You don't do it just to be doing it. You know, you're like, OK, is this the best lineup that I have for today, or was yesterday a rare occasion? Or, you know, was yesterday the pitcher's day? You know, sometimes they have their day and it has nothing to do with the lineup that you put out there."
Lester has held Nationals hitters largely in check throughout his career, but catcher Matt Wieters, who has more at-bats against the southpaw than any of his teammates, is 16-for-51 (.314) with four extra-base hits and nine RBIs off him. Harper has the lone home run by any current National off Lester.
Cubs lineup
1. Albert Almora Jr., CF
2. Kris Bryant, 3B
3. Anthony Rizzo, 1B
4. Willson Contreras, C
5. Addison Russell, SS
6. Ben Zobrist, RF
7. Javier Baez, 2B
8. Ian Happ LF
9. Jon Lester, P
Nationals lineup
1. Trea Turner, SS
2. Bryce Harper, RF
3. Anthony Rendon, 3B
4. Daniel Murphy, 2B
5. Ryan Zimmerman, 1B
6. Jayson Werth, LF
7. Matt Wieters, C
8. Michael A. Taylor, CF
9. Gio Gonzalez, P
Oliver Macklin is a reporter for MLB.com based in Washington, D.C. Follow him on Twitter at @OMacklinMLB. This story was not subject to the approval of Major League Baseball or its clubs.