D-backs, LA make changes to Game 2 lineups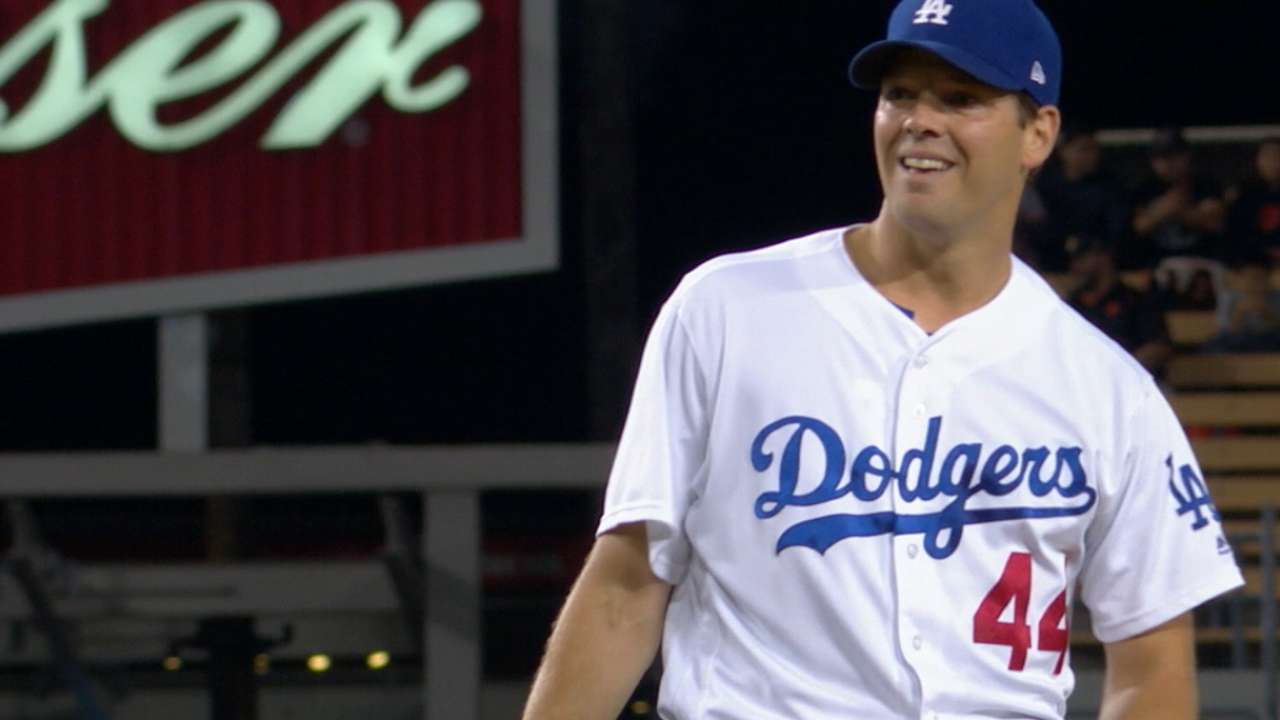 LOS ANGELES -- The D-backs have tweaked their lineup as they look to pull even in Game 2 of the National League Division Series presented by T-Mobile against the Dodgers on Saturday night.
Chris Iannetta, Arizona's regular catcher for starting pitcher Robbie Ray, and Daniel Descalso, who cranked a critical home run in the NL Wild Card Game, have both been installed, as has Jake Lamb, who did not start Friday in large part due to the unfavorable matchup against Clayton Kershaw.
Lamb's struggles against left-handed pitching have been well chronicled. He had a .144/.269/.288 slash line with 54 strikeouts and 20 walks against southpaws in the regular season, though he is a career 2-for-4 with a homer and four walks against Dodgers Game 3 starter Rich Hill, who went 0-3 with a 5.03 ERA in four starts against the D-backs this season.
"I'm aware of the reverse split factor with Rich Hill, and he's a quality pitcher," D-backs manager Torey Lovullo said about his lineup changes. "We're going to look for any type of advantage that we can possibly get. I spoke yesterday about the catching rotation that [Iannetta] was going to get the nod today, so that was going to happen no matter what. But inserting the two lefties in there was a little bit of a strategy."
For the D-backs, Friday's 9-5 loss snapped a six-game winning streak against the Dodgers, though they did tag Kershaw for four homers, a personal high for the four-time Cy Young Award winner in any postseason.
The Dodgers inserted Austin Barnes at catcher and Enrique Hernandez in left field to face Ray. Hernandez, a utility specialist for the Dodgers, has started most of the season vs. lefties and has had success against Ray. Hernandez holds a .269 average against Ray with three homers and five RBIs in his career vs. the southpaw.
"The last few years he's been a lefty killer," Dodgers manager Dave Roberts said about Hernandez.
For Barnes, who will make his first start in the postseason at catcher, he had a .257/.372/.514 slash line vs. lefties this season, and Roberts said the 27-year-old has great chemistry with Hill.
"Austin's had consistent at-bats this year," Roberts said. "I like them. His pitch framing, the rapport with Rich, they have a good rapport, and in the batter's box. Last night, he came in there, pinch-hit lines a ball to right-center field. So just kind of keeping those guys current."
D-backs lineup
David Peralta LF
A.J. Pollock, CF
Paul Goldschmidt, 1B
J.D. Martinez, RF
Daniel Descalso, 2B
Chris Iannetta, C
Jake Lamb, 3B
Ketel Marte, SS
Robbie Ray, P
Dodgers lineup
Chris Taylor, CF
Corey Seager, SS
Justin Turner, 3B
Cody Bellinger, 1B
Enrique Hernandez, LF
Logan Forsythe, 2B
Austin Barnes, C
Yasiel Puig, RF
Rich Hill, P
Joshua Thornton is a reporter for MLB.com based in Los Angeles. This story was not subject to the approval of Major League Baseball or its clubs.