Hill brings perspective, moxie into G2 start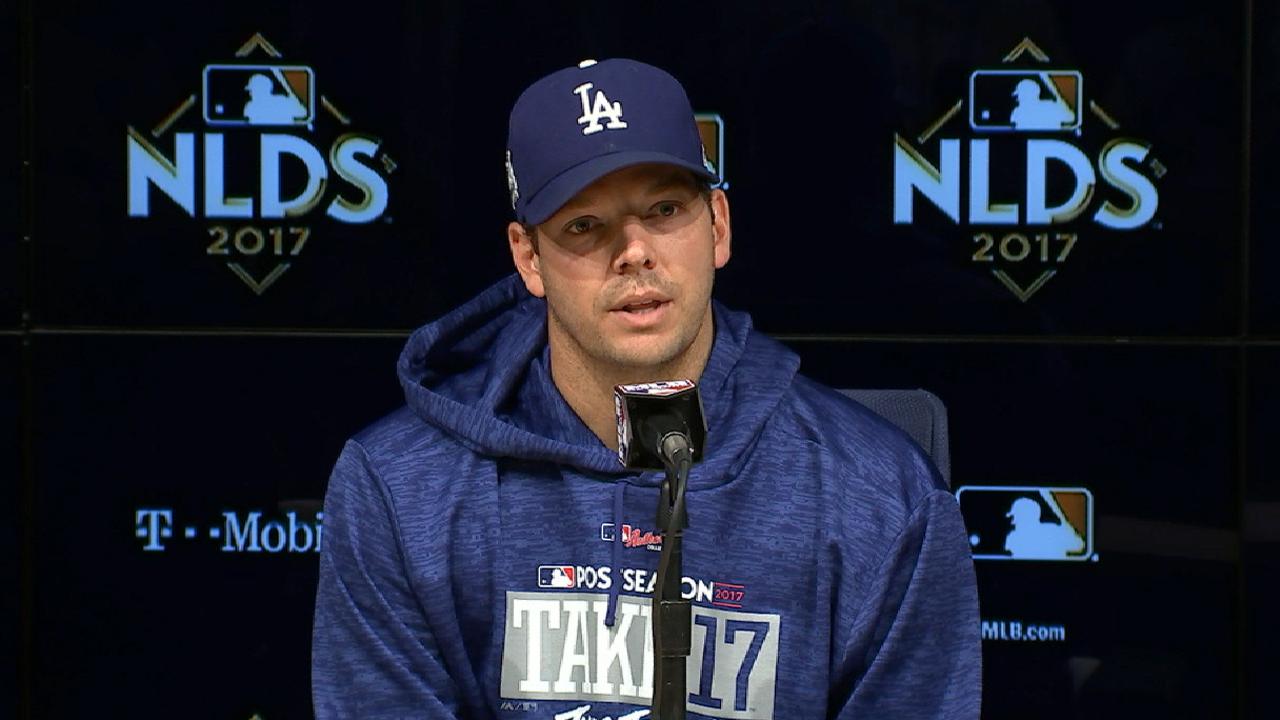 LOS ANGELES -- If he could go back a decade, Rich Hill would have a few words for the 27-year-old version of himself that was knocked around by Arizona in his 2007 playoff debut: "Have more fun."
Older, wiser and a perhaps a bit "wackier" in the words of his skipper, Dave Roberts, Hill is having plenty of fun these days. Sixteen nomadic seasons in professional ball will practically force a player to enjoy the big moments when they finally arrive.
By now, Hill's travels are well documented. He's played for eight big league clubs, and in 2015, he found himself in Long Island, playing independent ball in the Atlantic League. That's when, at 35 years old, Hill reinvented himself into the pitcher he is today -- the pitcher who will start Game 2 of the National League Division Series presented by T-Mobile against the D-backs tonight. He'll look to give the Dodgers a 2-0 advantage after Friday night's 9-5 win over Arizona in Game 1.
Using a fastball/curveball mix that changes eye levels like few others, Hill established himself as one of the sport's most ferocious workers.
"He's a great competitor," said Roberts. "He's whacky on his start days. ... That edge that he brings and the way that this guy prepares is like no other -- he's a baseball player."
Tonight, the 37-year-old version of Hill will face the same club that got the best of him in 2007. That's the extent of the similarities. It's a completely different D-backs roster, and a completely different Rich Hill.
"The 25-, 26-, 27-year-old me would be more result-oriented instead of process-oriented, moment-oriented," Hill said.
He added: "I don't want to make this sound incorrect, but it's not about the outcome. It's about how you go about getting to that outcome, and I firmly believe that. If you can look at yourself in the mirror and say I gave it everything I have on that day, then you can look back and feel good about it."
The Dodgers acquired Hill at the 2016 Trade Deadline, and he made three postseason starts for the club. While dealing with a blister issue, he struggled against Washington in the NLDS. Then, in the NL Championship Series, he dominated the Cubs over six two-hit, shutout innings in Game 3.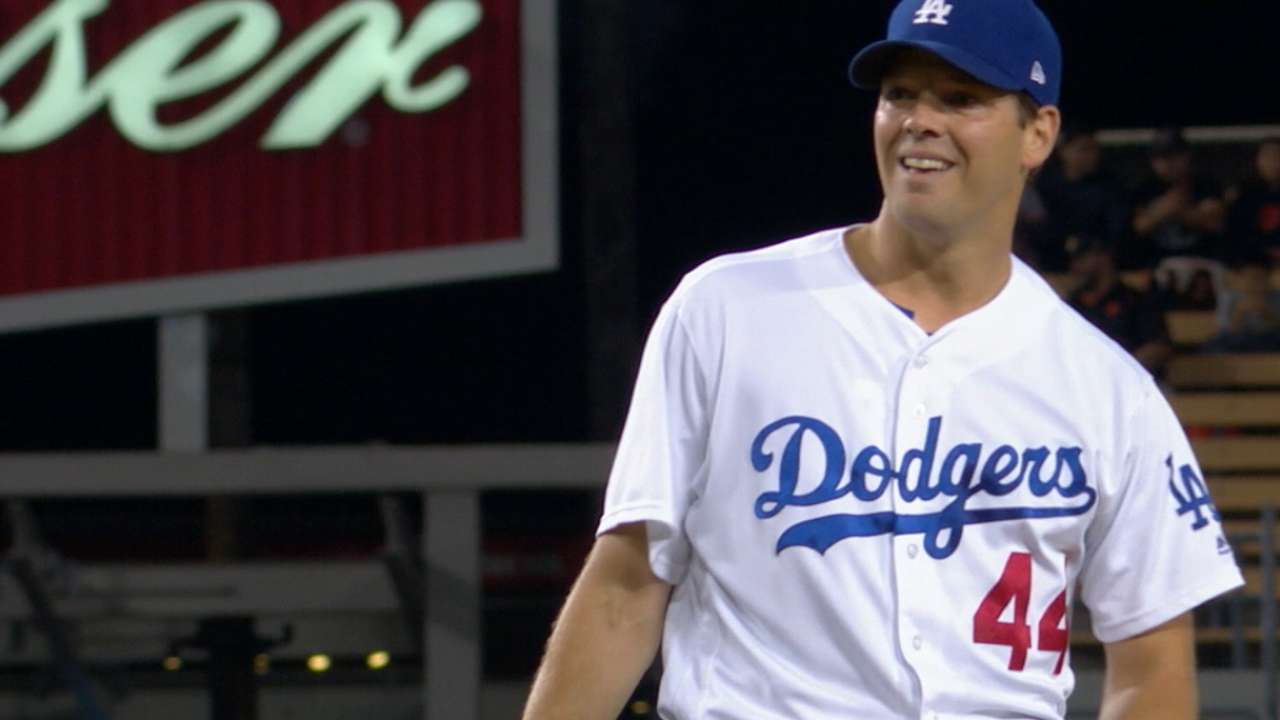 Hill signed a three-year deal to return to Los Angeles during the offseason, and his 2017 campaign quickly began to define itself by those same inconsistencies. On more than one occasion, Hill followed a dominant effort with a dud.
Then, in September, something clicked. Hill posted a 1.86 ERA and a 0.76 WHIP over five starts. And it certainly clicked at the right time.
"The occasion rises to you, instead of you rising to the occasion," Hill said, reiterating one of his favorite mantras.
After Thursday's workout, the Dodgers gathered around the pitcher's mound for a brief team meeting of sorts. Hill, the elder statesman on a roster full with veterans, had a message for the group.
"Bring that intensity, bring the passion, bring that aggressive attitude," Hill said. "When you look back years from now, we're not going to look at it in regret, but look at it in: 'I did everything that I could to succeed.' That's something that I think the playoffs bring out in everyone."
Hill never needed the playoffs to bring that fire out of him. It's been there for quite some time -- since he fought his way from independent ball to the bright lights of October. Because of that, Hill is convinced he'll be able to look back fondly on this month, win or lose.
He'd prefer the former, of course.
AJ Cassavell is in his seventh season as a reporter for MLB.com. Follow him on Twitter @ajcassavell. This story was not subject to the approval of Major League Baseball or its clubs.