MLB.com Columnist
Jonathan Mayo
Blue Jays tapping into new markets for talent
Pardinho and Chavez hail from Brazil and the Bahamas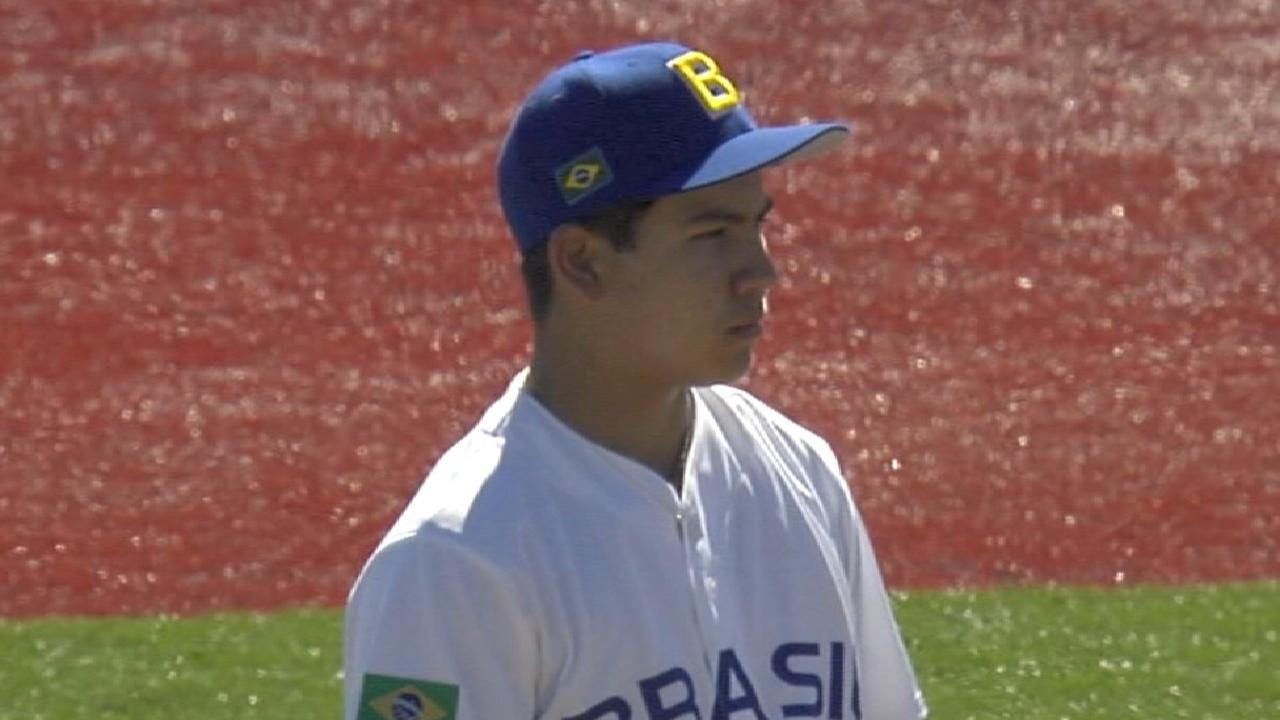 When people think about baseball talent in the Caribbean and South America, it's usually about the Dominican Republic and Venezuela, and rightfully so. But there are some interesting emerging markets starting to produce some exciting young players.
Two of those markets, Brazil and the Bahamas, are represented in Dunedin, Fla., as part of the contingent participating in Blue Jays instructional league play. There were actually four Brazlian players in the big leagues in 2017, with the Mariners' Thyago Vieira and the Braves' Luiz Gohara, both pitchers, making their debuts this season. The Blue Jays hope their Brazilian hurler, Eric Pardinho, will follow in their footsteps.
Toronto signed the right-hander for $1.4 million this past July, the largest bonus ever given to a Brazilian prospect. Pardinho, 16, was the highest-rated pitching prospect in this year's international class, ranked No. 5 on the MLB Pipeline Top 30. Instructs is really his first official action as part of his new organization.
"For one of the youngest guys in camp, he's showing a very solid work ethic, good mound presence and a feel for pitching that is impressive given his age," Blue Jays farm director Gil Kim said. "He's been impressive to watch."
Just 5-foot-10 and listed at 155 pounds, Pardinho doesn't necessarily pass the eye test. But Kim tips his cap to Toronto's international scouts for identifying his arm strength -- he's touched 95 mph with his fastball at times -- and the fact that he isn't a typical teenager from a country where baseball is just starting to grow. Pardinho did show that on the international stage when pitching for his country in the World Baseball Classic qualifier last fall.
"He is more advanced than you'd normally expect," Kim said. "That's probably a result of the development environment he's been in the last several years working with the Brazilian national teams. He's come in here as one of the more advanced guys."
Chavez Young was drafted, in the 39th round of the 2016 Draft, out of a Georgia high school, but the switch-hitting outfielder is a native of the Bahamas. While there hasn't been a big leaguer from there in a while -- Antoan Richardson was the last in 2011 -- there are some up-and-coming Bahamian prospects, including Futures Gamer Lucius Fox of the Rays and the D-backs' Jasrado Chisholm.
"We're seeing more and more players from the Bahamas, a lot went to high school in the United States like he did," Kim said. "He's an athlete who is a hard worker, but has some awareness and needs repetitions and the proper environment to develop."
Young, who turned 20 in August, had a solid season in the rookie-level Appalachian League, hitting .282/.332/.440 to earn a late promotion to short-season Vancouver, where he helped bring home a Northwest League title. He's continued to impress with his performance and demeanor at instructs.
"Since he arrived, he's stood out with his energy and work ethic," Kim said. "That's a big reason why he's been able to continue maximizing his potential. He's emerging as a leader in the organization. He's a very high-energy athlete who approaches each day with a lot of focus to what he's doing. He's a sparkplug with his ability and his personality."
Jonathan Mayo is a reporter for MLBPipeline.com. Follow him on Twitter @JonathanMayo and Facebook, and listen to him on the weekly Pipeline Podcast. This story was not subject to the approval of Major League Baseball or its clubs.