Yanks bank on Tanaka's home numbers for G3
As ALDS heads to Yankee Stadium, Girardi calls on righty in must-win spot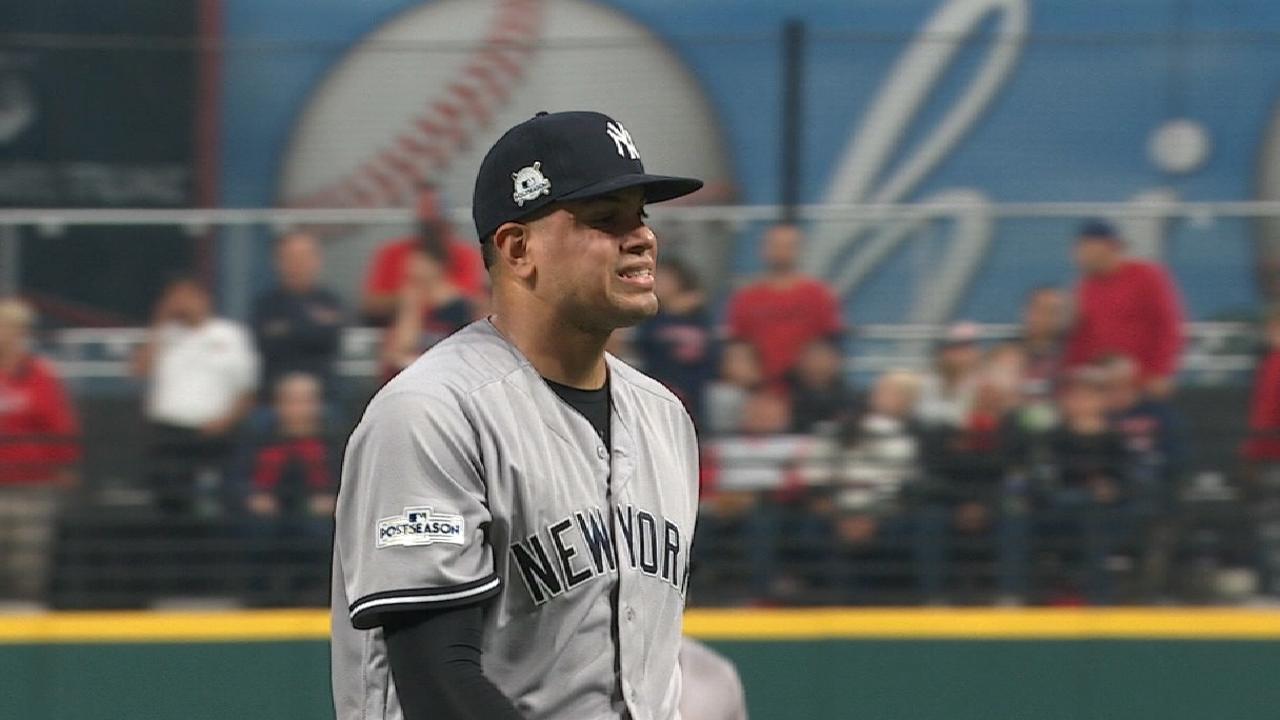 NEW YORK -- The fate of the Yankees' season rests squarely on the broad shoulders of right-handed pitcher Masahiro Tanaka. Down 0-2 in the best-of-five American League Division Series presented by Doosan, No. 19 will try to get New York win No.1 after a pair of frustrating losses in Cleveland.
"Obviously, yes, there is pressure," said Tanaka, who will be opposed by Indians righty Carlos Carrasco tonight. "That can't get me away from what I need to do on the mound. So my goal, or my focus, is just to go out there and pitch."
The Yankees, needing to win three straight against Cleveland, aren't in totally uncharted territory. Of the 56 times a team has fallen behind 0-2 in a five-game Division Series, it has rallied to win seven times -- mostly recently the Blue Jays over the Rangers just two Octobers ago. The Yanks are one of those seven, having done so against the Athletics in 2001.
• Shop for Yankees postseason gear
It is not impossible. But it will require an inconsistent Tanaka to be on top of his game.
"We need him to pitch like he pitched the other day, where he was -- I think he had 15 strikeouts in the game," Yankees manager Joe Girardi said of Tanaka's seven scoreless innings against the Blue Jays on Sept. 29.
"This is a team that's going to grind out at-bats, and he needs to grind out at-bats with them."
Tanaka finished the regular season 13-12 with a 4.74 ERA (including one complete game April 27) in 30 starts. In that Toronto game -- his regular-season finale -- Girardi thought his stuff was as good as he'd seen all season.
But the righty gave up seven earned runs in 5 2/3 innings to the same Blue Jays team in Toronto the week prior, highlighting the biggest challenge he has had all season. Tanaka went 9-5 with a 3.22 ERA in 15 starts at Yankee Stadium, vs. a 4-7 mark with a 6.48 ERA on the road.
"[Tanaka's season has] been up and down," Girardi said. "It's been more consistent the second half than it was the first half, but there's been some up-and-down moments."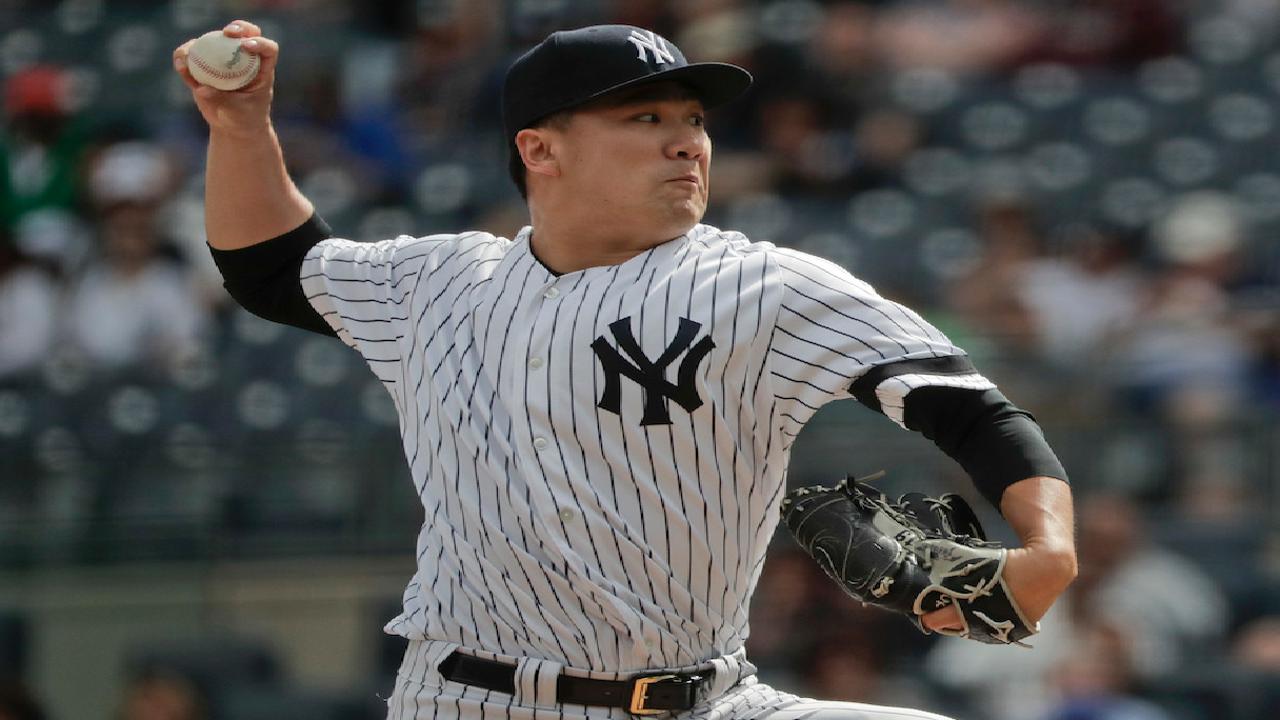 With the Yankees facing elimination, Girardi could have flipped the rotation and slotted in scheduled Monday starter Luis Severino, who recorded just one out in the AL Wild Card Game against the Twins on Tuesday.
Instead, New York will stick with the original plan and hope Tanaka can continue his success at Yankee Stadium and help force a Game 4. The 28-year-old is 1-2 with a 4.63 ERA in four career starts against Cleveland.
In the postseason, Tanaka has made just one prior start: the 2015 AL Wild Card Game against the Astros. That game, also at Yankee Stadium, saw him take the loss and allow two runs on four hits, while striking out three and walking three over five innings.
"I feel like I've learned from that actual game from 2015. Not just that, but some of the big games that I needed to pitch that I had the opportunity to pitch this season," Tanaka said. "And, also, just by observing the games, these postseason games, you get a sense of what needs to be done. So, yes, I'm pretty prepared to go into the game."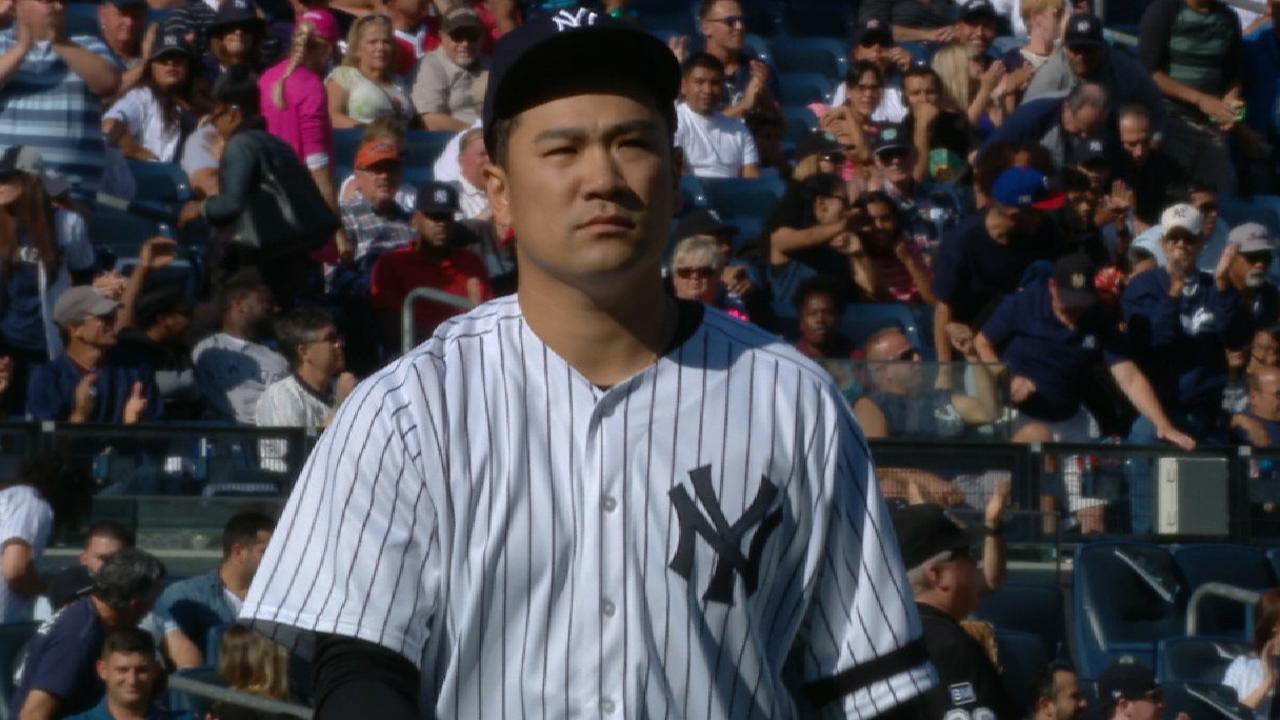 Tanaka -- a high strikeout pitcher -- is an interesting matchup for an Indians team that finished with the second-lowest team strikeout total (1,153) in the AL. Tanaka ranked eighth in the AL in strikeouts with 194, seventh in strikeout/innings pitched ratio (9.79) and fourth in strikeout/walk ratio (4.73). Batters swung at 37.8 percent of his pitches outside the strike zone, which is the highest number in the Majors.
But Tanaka is often victimized by the long ball, allowing 35 homers this year -- tied for third most in the AL -- and tied for the second-highest single-season total in Yanks history
"I don't know if [Tanaka] refers to it as a split, change, whatever you want to call it. But at times it can be a huge weapon for him," Indians manager Terry Francona said. "So we're going to have, one, you gauge how a guy is throwing. Is he pounding the zone with it? Is it in and out of the zone? And then either hit a mistake or lay off the ones that are down and out of the zone.
"The strike-to-ball is the hardest pitch of all. Because he's got so much good deception with it, it's easy to say lay off, but it's another thing when it's actually happening."
Bryan Hoch has covered the Yankees for MLB.com since 2007. Follow him on Twitter @bryanhoch and on Facebook. This story was not subject to the approval of Major League Baseball or its clubs.