Nationals set roster for NLDS vs. Cubs
Speedy top prospect Robles included in OF crew; Baker carries 11 pitchers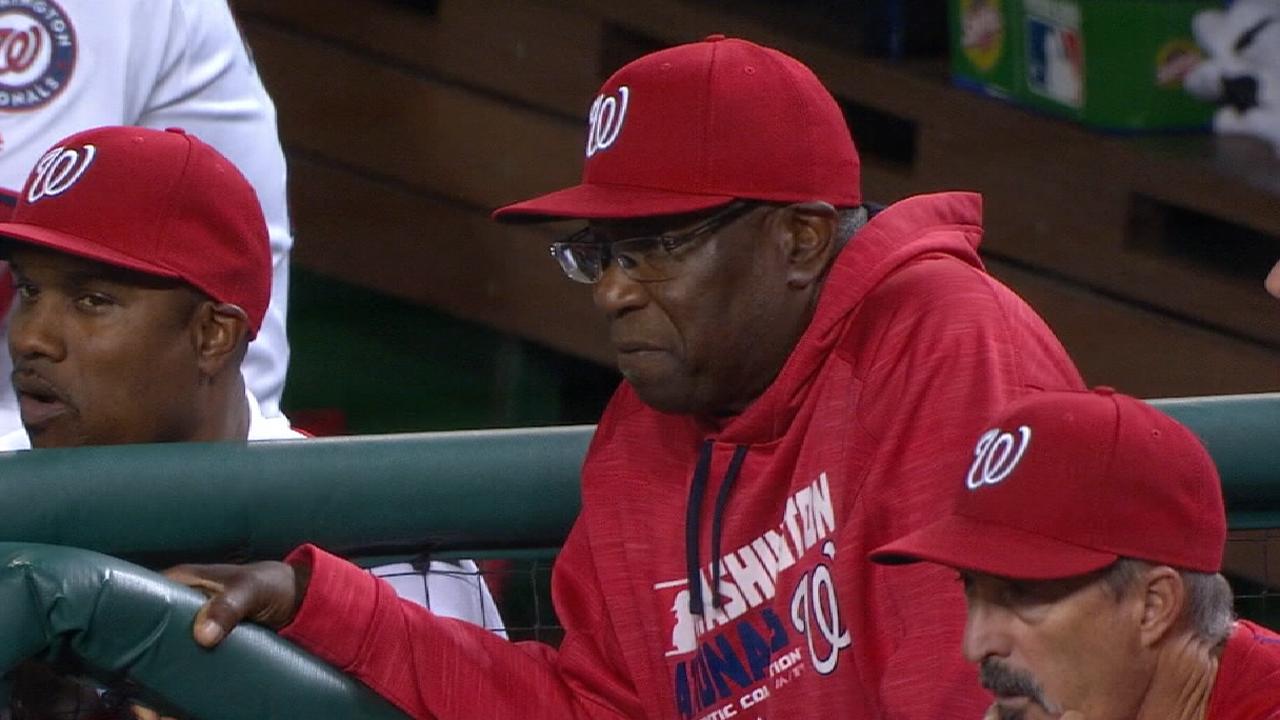 WASHINGTON -- The Nationals announced their roster for the best-of-five National League Division Series presented by T-Mobile, against the Cubs, which opens at Nationals Park in Washington tonight at 7:30 ET/6:30 CT on TBS. Washington kept 11 pitchers and 14 position players, electing to keep an extra bench player instead of an extra reliever.
Two bench spots went to top prospect Victor Robles, who played in just 13 career games, and outfielder Brian Goodwin, who has not played since Aug. 13.
Robles, MLBPipeline.com's No. 2 overall prospect, brings elite speed off the bench for Washington, which could be enticing as a game-changing pinch-runner late in games. He only made his Major League debut as a September callup, but with 27 plate appearances and two triples, he impressed the Nationals enough to see his value as a weapon off the bench.
"We were weighing the need for speed and also the need for defense," manager Dusty Baker said. "Especially if I have to, you know, run for [catcher] Matt Wieters or run for Jose Lobaton. And we were kind of left-handed strong on the bench."
Washington also decided Goodwin was healthy after spending the past week in the Instructional League in West Palm Beach, Fla., rehabbing his groin injury. Before he got injured, Goodwin had been having a solid rookie season, and he said his timing feels good even after missing so much time. Adam Lind, Howie Kendrick, Wilmer Difo and Jose Lobaton make up the remainder of the Nats' postseason bench.
Even with the uncertain status of Max Scherzer's right hamstring, the Nats did not decide to carry an extra reliever.
Of the seven relievers out of the bullpen, four are lefties in Sean Doolittle, Oliver Perez, Sammy Solis and Enny Romero to go along with right-handers Matt Albers, Brandon Kintzler and Ryan Madson. Romero has actually performed better against righties than lefties this season, which could balance out the bullpen.
"We know they have quite a few lefties, and our lefties are pretty good at getting righties out," Baker said. "And we kept the best bullpen that we thought, you know, for this series. I mean, it was a tough decision. It's always tough to leave guys off, especially guys that have helped you get here all year."
PITCHERS (11)
Matt Albers
Sean Doolittle
Gio Gonzalez
Brandon Kintzler
Ryan Madson
Oliver Perez
Tanner Roark
Enny Romero
Max Scherzer
Sammy Solis
Stephen Strasburg
CATCHERS
Jose Lobaton
Matt Wieters
INFIELDERS (6)
Wilmer Difo
Adam Lind
Daniel Murphy
Anthony Rendon
Trea Turner
Ryan Zimmerman
OUTFIELDERS (6)
Brian Goodwin
Bryce Harper
Howie Kendrick
Victor Robles
Michael A. Taylor
Jayson Werth
Jamal Collier covers the Nationals for MLB.com. Follow him on Twitter at @jamalcollier. This story was not subject to the approval of Major League Baseball or its clubs.