D-backs, Dodgers announce NLDS G1 lineups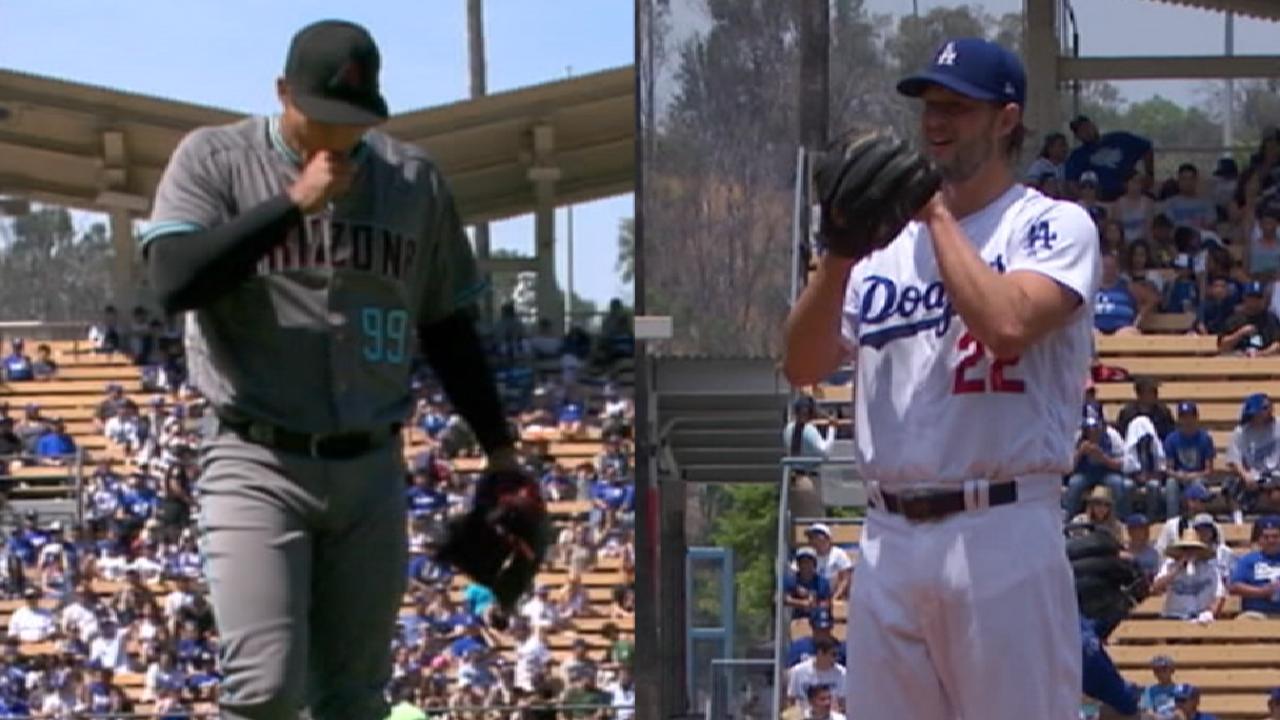 LOS ANGELES -- The D-backs and Dodgers have revealed their starting lineups for Game 1 of the National League Division Series presented by T-Mobile.
Right-hander Taijuan Walker will start for Arizona, and lefty Clayton Kershaw gets the nod for Los Angeles.
Walker will make his postseason debut and was 2-0 with a 3.24 ERA with 17 strikeouts vs. the Dodgers in the regular season.
Kershaw had a 2-0 record with a 0.59 ERA in two starts against the D-backs this season.
Dodgers manager Dave Roberts decided to insert right-handed hitter Logan Forsythe at second base instead of the 15-year veteran and left-handed hitter Chase Utley, because of Forsythe's defensive ability behind Kershaw. Forsythe will also be making his first career postseason appearance, but Roberts hinted at the possibility of Utley pinch-hitting tonight.
"I don't think we could have made a wrong decision," Roberts said about starting Forsythe. "I think there is a tick grade better from defense from Logan. You've got your ace on the mound and the ability to have Chase on the bench I think holds huge value whether to hit for Logan or in the pitcher's spot."
Despite All-Star Jake Lamb having a four-hit night in the NL Wild Card Game on Wednesday, D-backs manager Torey Lovullo went with Adam Rosales at third, with the left-handed Kershaw on the mound.
Lamb does not usually start against lefties. In 149 games he played this season, 28 of those games were started vs. a southpaw.
"He's locked in," Lovullo said about Lamb. "We're built to understand that there were certain reasons I was in line with him and talking to him throughout the whole process, just felt like that was the best option to attack their starting pitcher."
Lamb has never faced Kershaw and Rosales is 1-for-6 vs. the three-time Cy Young Award Winner.
Catcher Chris Iannetta was also not the D-backs' lineup, despite a .296 career average vs. Kershaw, but Lovullo said he felt better with starting Jeff Mathis because of the chemistry he has with Walker.
"The thought is that I like the way Jeff matches up with Taijuan," Lovullo said. "[Iannetta] is going to find himself in the middle of a lot of games. We went with a two catcher combination throughout the year. I wanted to once again stay with the script."
D-backs lineup
David Peralta, LF
A.J. Pollock, CF
Paul Goldschmidt, 1B
J.D. Martinez, RF
Brandon Drury, 2B
Adam Rosales, 3B
Ketel Marte, SS
Jeff Mathis, C
Taijuan Walker, P
Dodgers lineup
Chris Taylor, CF
Corey Seager, SS
Justin Turner, 3B
Cody Bellinger, 1B
Yasiel Puig, RF
Curtis Granderson, LF
Yasmani Grandal, C
Logan Forsythe, 2B
Clayton Kershaw, P
Joshua Thornton is a reporter for MLB.com based in Los Angeles. This story was not subject to the approval of Major League Baseball or its clubs.