Cubs set roster for NLDS vs. Nationals
Club carries 11 pitchers; Rondon left off, while Lackey to serve as long man in 'pen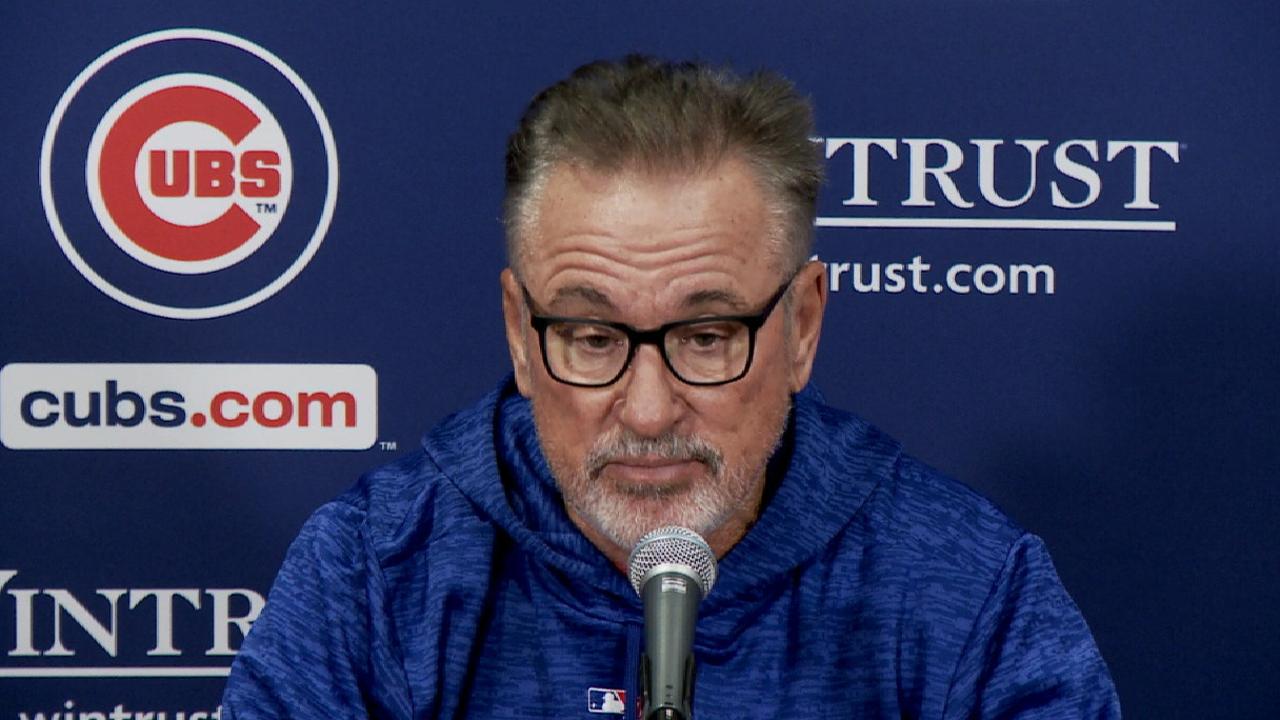 WASHINGTON -- The Cubs did not include reliever Hector Rondon on the National League Division Series roster and kept veteran John Lackey as the designated long man in the bullpen.
The Cubs announced the 25-man roster Friday prior to Game 1 of the best-of-five NLDS presented by T-Mobile against the Nationals, which opened at Nationals Park.
Manager Joe Maddon has plenty of left-handers to choose from in the bullpen, keeping Mike Montgomery, Brian Duensing and Justin Wilson. Rondon posted an 8.64 ERA in August, giving up eight earned runs over 8 1/3 innings.
"The pitching side of it, with [Rondon] versus Wilson, it was based on their lineup construction, and this also frees up Montgomery to be utilized more in the moment as opposed to saving him for a large moment, early or late, if something bad happens early or if it's extra innings," Maddon said. "We can deploy 'Monty' whenever we want because now you have John [Lackey] to do that kind of a job. Lackey's doing kind of what Montgomery's used to do. Monty's in the mix now. With their lineup and all the lefties, and really good lefties, we thought it was wise to keep Justin."
Wilson has struggled at times since joining the Cubs, and entered the postseason with a 5.09 ERA in 23 games.
"I think with Justin, his numbers could be good against anybody if he's throwing strikes," Maddon said of the left-hander, who had a 2.68 ERA in 42 games with the Tigers this season. "It's not about him getting hit. The walk has been an issue, obviously. If we get it together throwing strikes when we want to, it could be very effective."
Rondon, who was the Cubs' closer in 2015 but has been delegated to setup pitcher since, took the news well, Maddon said.
"He was stoic, fine. Of course, he didn't like it," Maddon said. "But [he was] not disrespectful at all. Understood, in a sense. It's anybody else. They're disappointed. And I don't blame him for being disappointed. He's really been pitching well as of late. It was not an easy decision. A lot of it's based on them and what they look like, Washington."
The Cubs wanted to make sure they had insurance in the bullpen if Jake Arrieta is still bothered by his right hamstring, which knocked him out of his Sept. 4 start after 2 1/3 innings. Arrieta has made two starts since then.
"He's feeling really good," Maddon said. "Everything is coming up nicely. He's ready, there's no doubt about that. As of right now, he feels very good."
The only discussion with Lackey, Maddon said, was about how much time the veteran needs to get warmed up.
"When a guy is a starter pretty much his whole career and you throw him out in the bullpen, what do you need to get ready?" Maddon said. "I've gone through this with David Price in 2008, having been a starter -- what do you need to get ready out of the bullpen?"
In the end, the Cubs decided to carry 11 pitchers. Besides the lefties, Lackey and starters Arrieta, Kyle Hendricks, Jon Lester, and Jose Quintana, the other relievers include Carl Edwards Jr., Pedro Strop, and closer Wade Davis.
The list of position players includes Anthony Rizzo, Javier Baez, Ben Zobrist, Addison Russell, Kris Bryant, Albert Almora Jr., Tommy La Stella, Ian Happ, Kyle Schwarber, Alex Avila, Jason Heyward, Leonys Martin, Jon Jay, and Willson Contreras.
The Cubs acquired Martin from the Mariners on Aug. 31, and he gives them a defensive outfielder and baserunning option.
Carrie Muskat has covered the Cubs since 1987, and for MLB.com since 2001. She writes a blog, Muskat Ramblings, and you can follow her on Twitter @CarrieMuskat. This story was not subject to the approval of Major League Baseball or its clubs.