Lind, Albers soaking up 1st playoff experience
34-year-olds set to end dubious droughts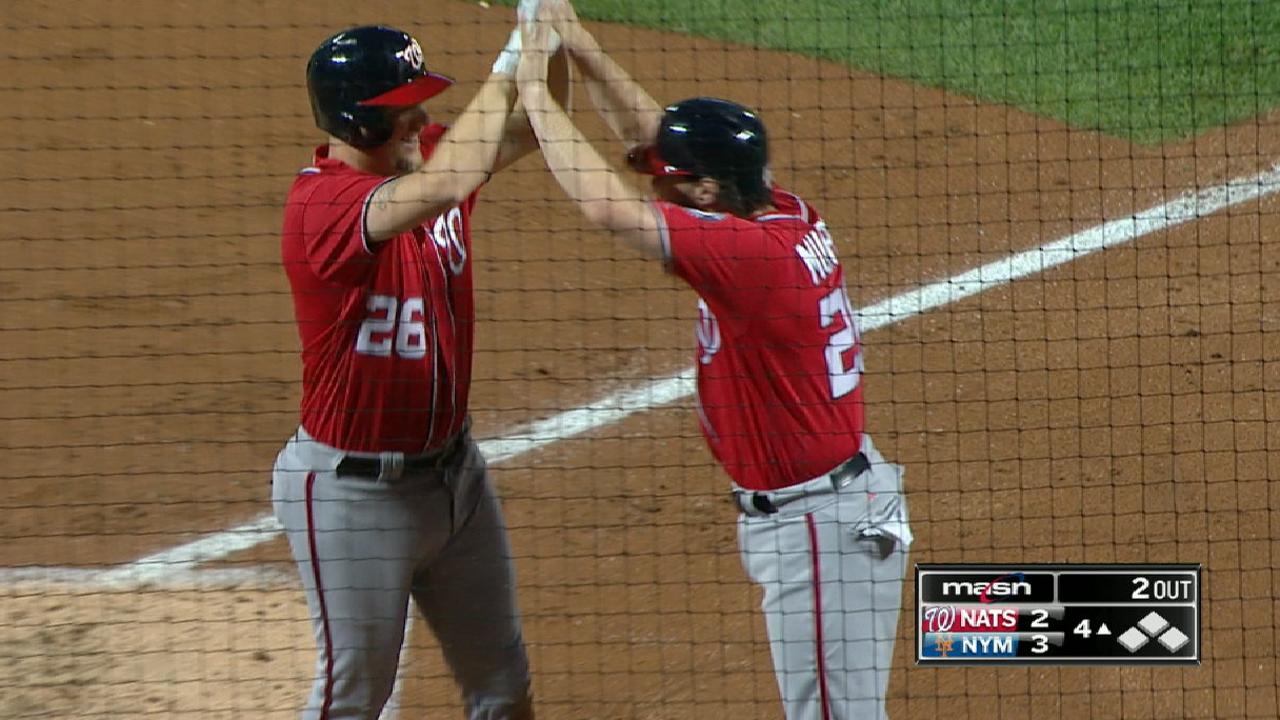 WASHINGTON -- For many of the men who inhabit the home clubhouse at Nationals Park, the postseason is a familiar place.
The Nationals are set to open their fourth postseason in the past six seasons tonight with Game 1 of the National League Division Series presented by T-Mobile against the Cubs, and more than half of the club's roster from the 2016 playoffs is likely to remain the same.
• NLDS Game 1: Tonight, 7:30 p.m. ET on TBS
Two newcomers, however, in reliever Matt Albers and outfielder Adam Lind, who both played integral roles for Washington throughout the regular season, are entering uncharted territory. Despite appearing in a combined 1,859 regular-season contests, the 34-year-old veterans are set to get their first taste of playoff baseball.
Albers (515) and Lind (1,344) lead all active pitchers and position players, respectively, in games played without a postseason appearance. Neither is likely to hold that title much longer.
"I'm just excited," Lind said. "You know, it's been four days [since we last played], so I think everybody's ready to go."
It's been quite the ride for the journeymen, both of whom entered the league in 2006.
Albers began his career with the Astros before playing for the Orioles, Red Sox, D-backs, Indians and the Astros again for eight games in 2014. Following two years with the White Sox, he signed with the Nationals on a Minor League deal with an invite to Spring Training, only to be released on March 27. The club brought him back a little more than a week later.
Lind spent nine years in Toronto, one in Milwaukee and one in Seattle before landing a one-year contract with Washington on Feb. 15.
"I've been on teams that haven't won a lot of games. … Everybody's excited," Albers said recently. "But it's kind of just the beginning."
Albers was three games away from Ryan Webb's record with 105 games finished without a save before locking down his first on May 5 in Philadelphia. Manager Dusty Baker has counted on the right-hander as his closer, setup man and a middle reliever at different times throughout 2017, and he came away with a 1.62 ERA for the season, sixth among qualified MLB relievers.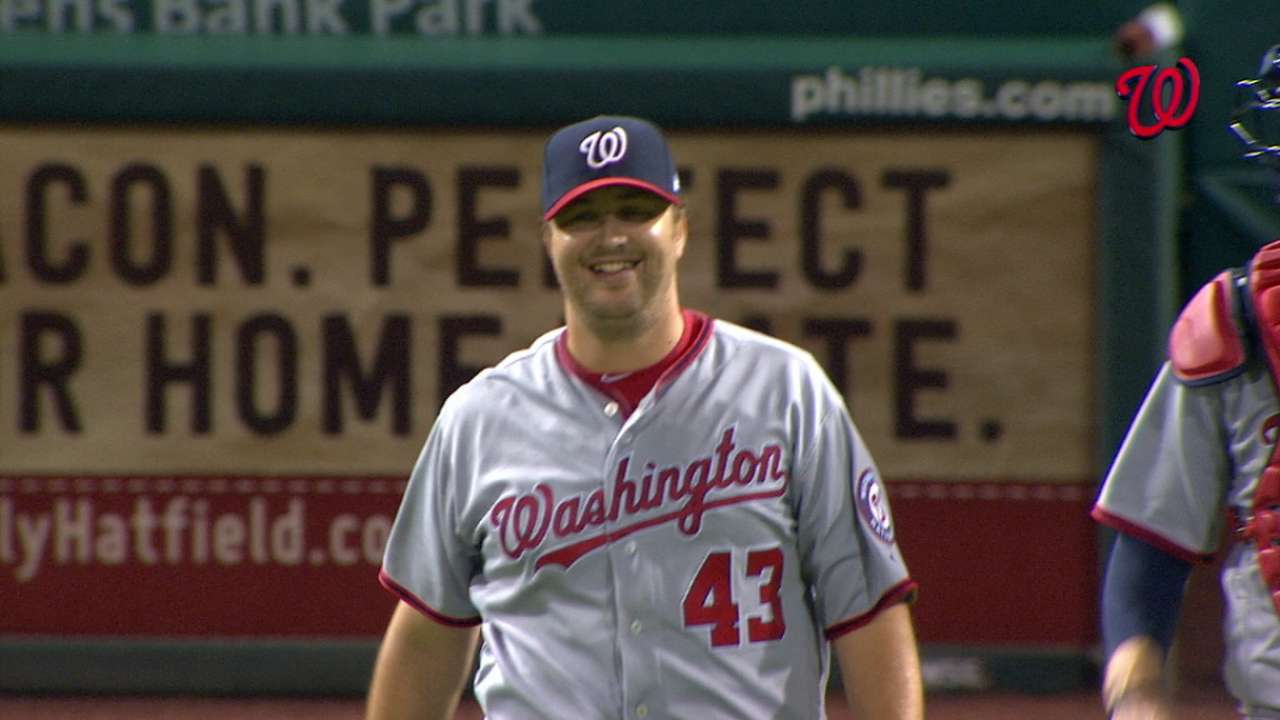 "The adrenaline's there, and it's kind of fun," Albers said. "I think that definitely helped getting those [save situations] early."
Lind's usage has been similar, just on the opposite side of the ball. The left-handed slugger saw time in left field, at first base and as a pinch-hitter this season, batting .303 with 14 homers and 59 RBIs in 116 games. Lind crushed four homers as a pinch-hitter, which already ranks as the most by a Nationals player.
"I played more than I think was originally planned," Lind said. "But with the way this season's gone and how I've platooned the past few years, I'm ready for pinch-hit at-bats."
The moment Albers and Lind have been waiting for since entering the big leagues is one they've been preparing for their entire lives. And perhaps no season has gotten them more ready for it than this one.
"It'll be fun," Lind said. "This is what you play for."
Added Albers: "We're veteran guys who just kind of have the same goal: We just want to win."
Oliver Macklin is a reporter for MLB.com based in Washington, D.C. Follow him on Twitter at @OMacklinMLB. This story was not subject to the approval of Major League Baseball or its clubs.