Yankees, Indians lineups for ALDS Game 1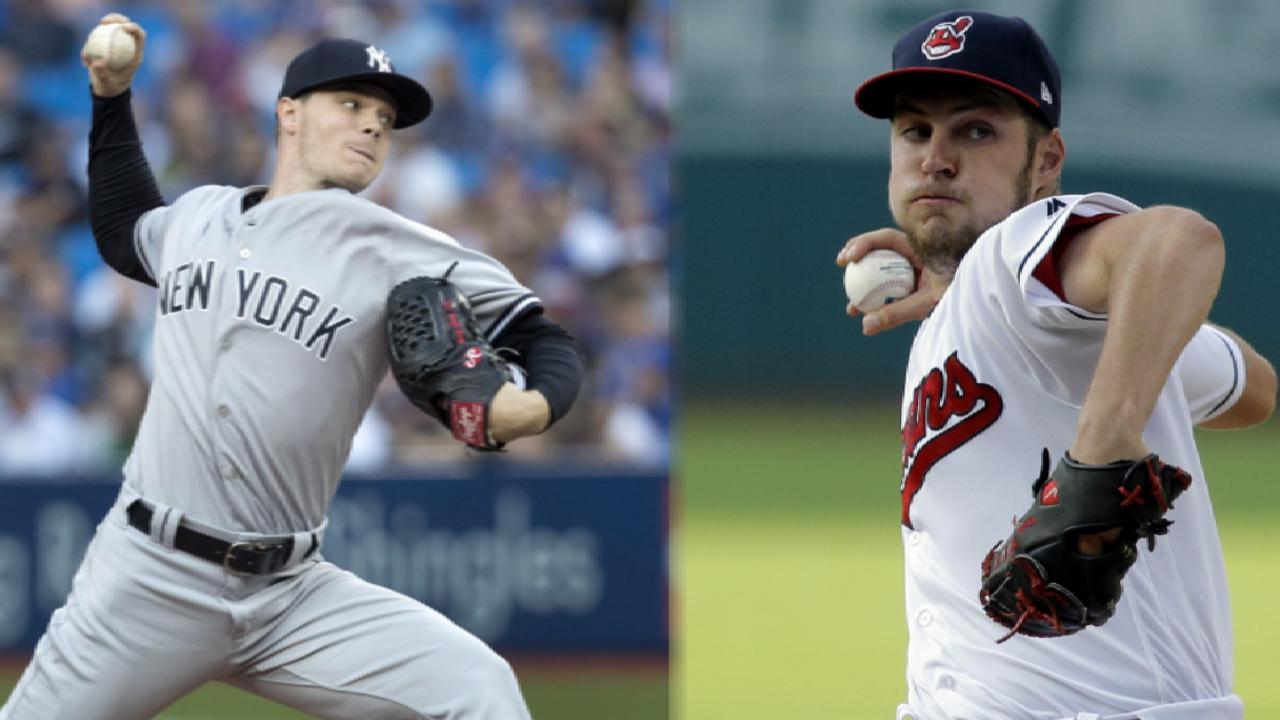 Here are the starting lineups for the Yankees and Indians for Game 1 of the American League Division Series presented by Doosan, scheduled for tonight at Progessive Field in Cleveland, beginning at 7:30 p.m. ET on FS1.
Yankees
1. Brett Gardner, LF
2. Aaron Judge, RF
3. Gary Sanchez, C
4. Didi Gregorius, SS
5. Starlin Castro, 2B
6. Greg Bird, 1B
7. Todd Frazier, 3B
8. Chase Headley, DH
9. Aaron Hicks, CF

Sonny Gray , P
Indians
1. Francisco Lindor, SS
2. Jason Kipnis, CF
3. Jose Ramirez, 2B
4. Edwin Encarnacion, DH
5. Jay Bruce, RF
6. Carlos Santana, 1B
7. Lonnie Chisenhall, LF
8. Roberto Perez, C
9. Giovanny Urshela, 3B
Trevor Bauer, P
Fresh off their dramatic win over the Twins in the AL Wild Card Game, the Yankees will roll out nearly the same lineup. Chase Headley replaces Jacoby Ellsbury at designated hitter, while Todd Frazier moves up to seventh and Aaron Hicks goes to the bottom of the order.
The top four of the Yanks' order presents a major challenge to Cleveland starting pitcher Trevor Bauer, considering all four registered an extra-base hit in the Wild Card Game. Brett Gardner, Aaron Judge and Didi Gregorius all possess batting averages above .300 against Bauer in their careers.
On the Indians' side, the Jason Kipnis experiment in center field rolls on, with the career second baseman batting second and starting in center. This will be his 12th start at the position in his Major League career.
The good news for Yankees starter Sonny Gray is he has seen success against almost the entire Indians lineup. Only Lonnie Chisenhall, batting seventh and playing left field, possesses a career batting average above .250 against the right-hander.
Jack Baer is a reporter for MLB.com. This story was not subject to the approval of Major League Baseball or its clubs.