MLB.com Columnist
Mike Petriello
D-backs-Dodgers: NLDS positional breakdown
Arizona won 11 of 19 meetings between the division foes this season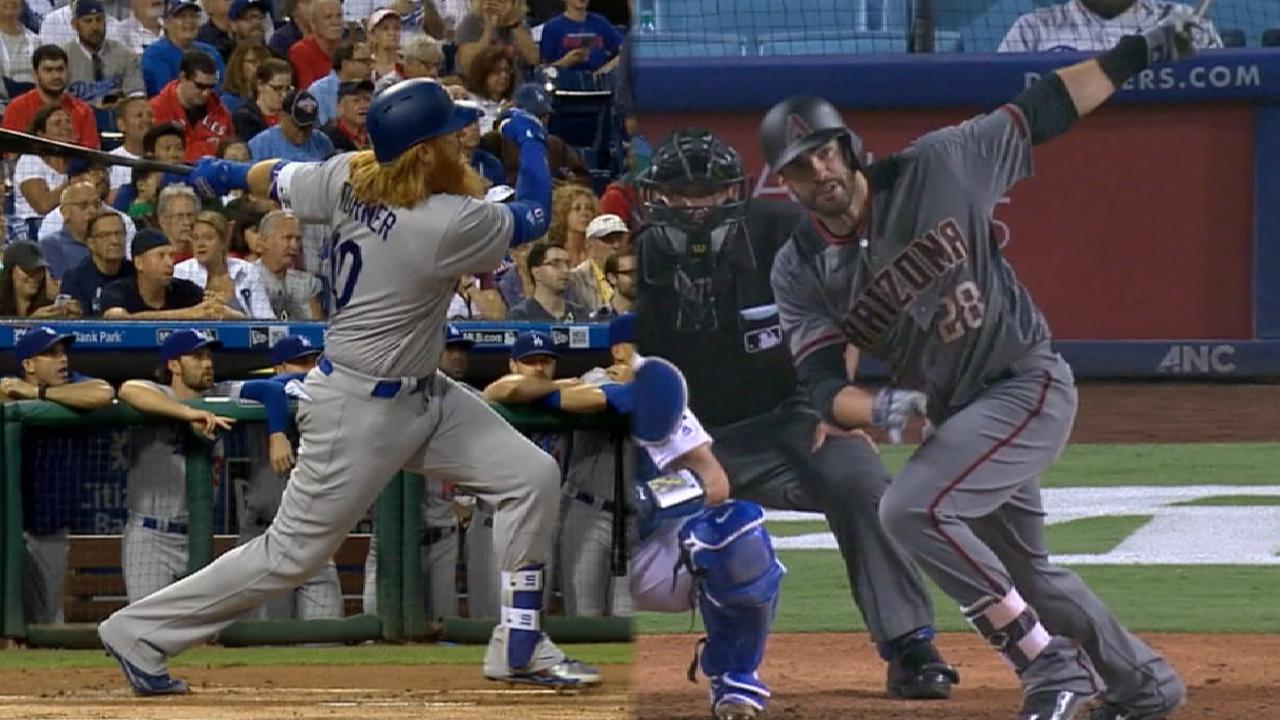 For the first time ever, the Dodgers and D-backs face off in the postseason, though of course they're quite familiar with one another, having played 19 times this year. Arizona won 11 of those games, including sweeping the final two series between them. Of course, that came during the Dodgers' unexpected 5-20 slide, leading to the question of whether the D-backs helped cause that slide or were the fortunate recipients of a Dodgers slump that would have led to losses against anyone.
Still, the D-backs are a dangerous team, possessing two huge sluggers and a strong rotation, though they had to exhaust some of it to get past the Rockies in the Wild Card Game. The Dodgers, meanwhile, won more games than any other team, yet it won't matter if they can't get to the World Series for the first time since 1988.
So who has the edge? Let's break it down position by position. (Batting numbers are presented with traditional BA/OBP/SLG and Weighted Runs Created Plus, or wRC+, a park- and league-adjusted number where 100 is set as "league average" for easy comparison.)
Catcher
While Yasmani Grandal (.247/.308/.459, 102 wRC+) can be frustratingly streaky, it's not a stretch to say that between him and Austin Barnes (.289/.408/.486, 142 wRC+), the Dodgers have argbuably the best catching tandem in baseball. Combined, they had the third-best hitting line among catchers, and they were by far baseball's best pitch-framers (plus-34 runs). While Jeff Mathis is a strong framer as well, he rates behind both Grandal and Barnes, and he's a well below-average hitter (.215/.277/.323, 51 wRC+). Chris Iannetta (.254/.354/.511, 120 wRC+) did pitch in with his best power season, though.
Advantage: Dodgers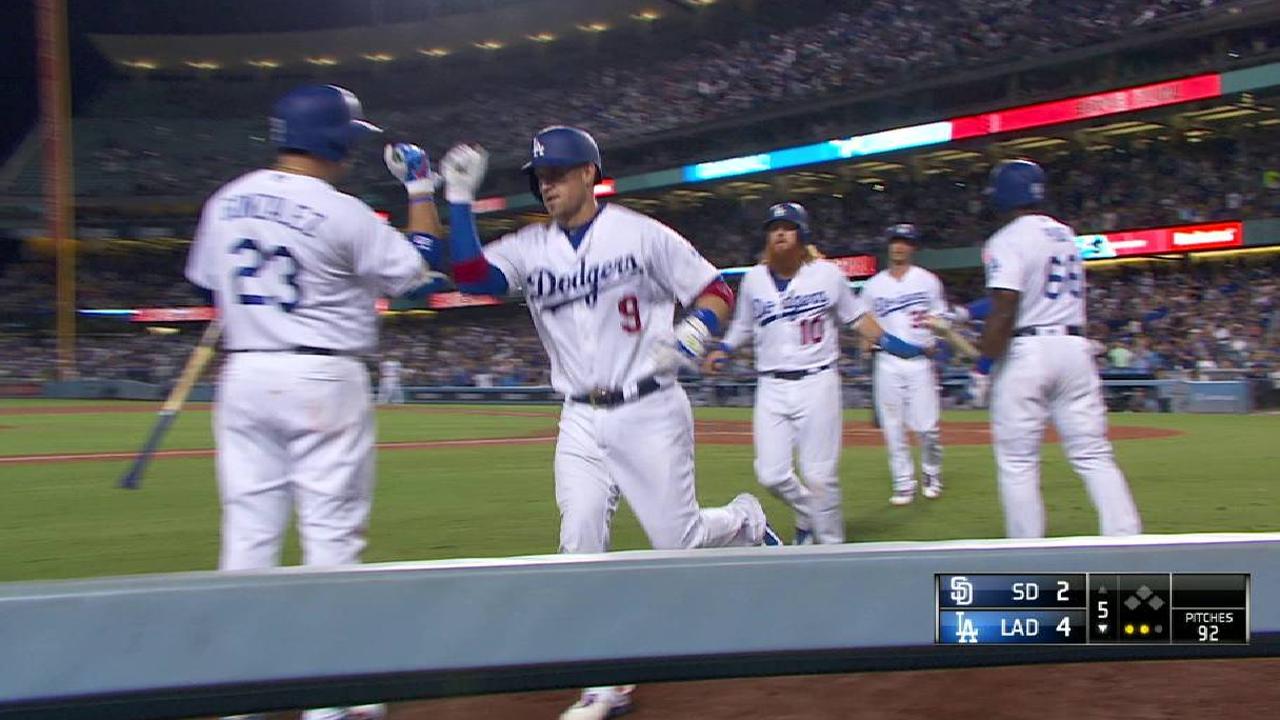 First base
The D-backs have a legitimate NL Most Valuable Player Award candidate in Paul Goldschmidt, who crushed 36 homers to go with a sparkling .297/.404/.563 (142 wRC+) line and strong defense, plus 18 steals. So why isn't this a larger advantage for Arizona? Because the Dodgers have a legitimate MVP candidate of their own in Cody Bellinger, who hit 39 homers to go with a similar .267/.352/.581 (138 wRC+) line, strong defense and 10 steals. And both players are coming off weak September performances, by comparison. We're giving the edge to Goldschmidt due to his track record, but this one is close.
Slight Advantage: D-backs
Second base
Part of the reason this one is a toss-up is because both sides are going to use multiple players, and no one really stands out above the others. Though they got there in different ways, Brandon Drury (.236/.324/.405, 96 wRC+), Daniel Descalso (.233/.332/.395, 88 wRC+), Chase Utley (.267/.317/.447, 92 wRC+) and Logan Forsythe (.224/.351/.327, 90 wRC+) ended up with similar lines that come out to slightly below league average. You'll see a lot of mixing and matching here based on situations and platoons.
Advantage: Tie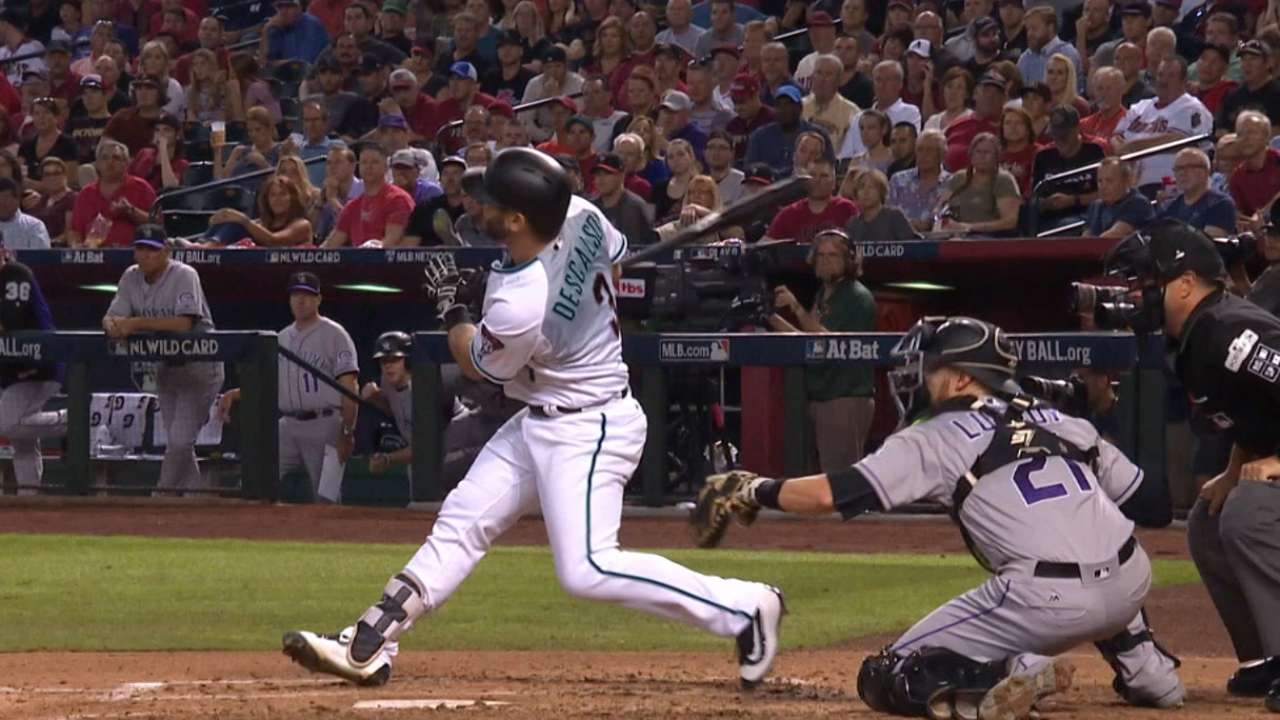 Shortstop
Ketel Marte put any concerns over his sore hamstring to rest when he tripled twice in the National League Wild Card game, and he did a solid enough job filling in (.260/.345/.395, 89 wRC+) after both Nick Ahmed and Chris Owings were injured. Still, Corey Seager remains a perennial MVP candidate, hitting 22 homers with a very good .295/.375/.479 (127 wRC+) line and solid defense, though a late-season elbow issue continues to linger.
Advantage: Dodgers
Third base
Jake Lamb is better than you think, hitting 59 homers with a .248/.345/.498 (112 wRC+) line over the past two years, though his career performance against left-handed pitching (.159/.265/.301, 47 wRC+) has to give Arizona pause against the multiple lefty Dodgers starting pitchers. Either way, Justin Turner remains a star, hitting .322/.415/.530 (151 wRC+), the best OBP and slugging marks of his career, and that's an obvious advantage for the Dodgers here.
Advantage: Dodgers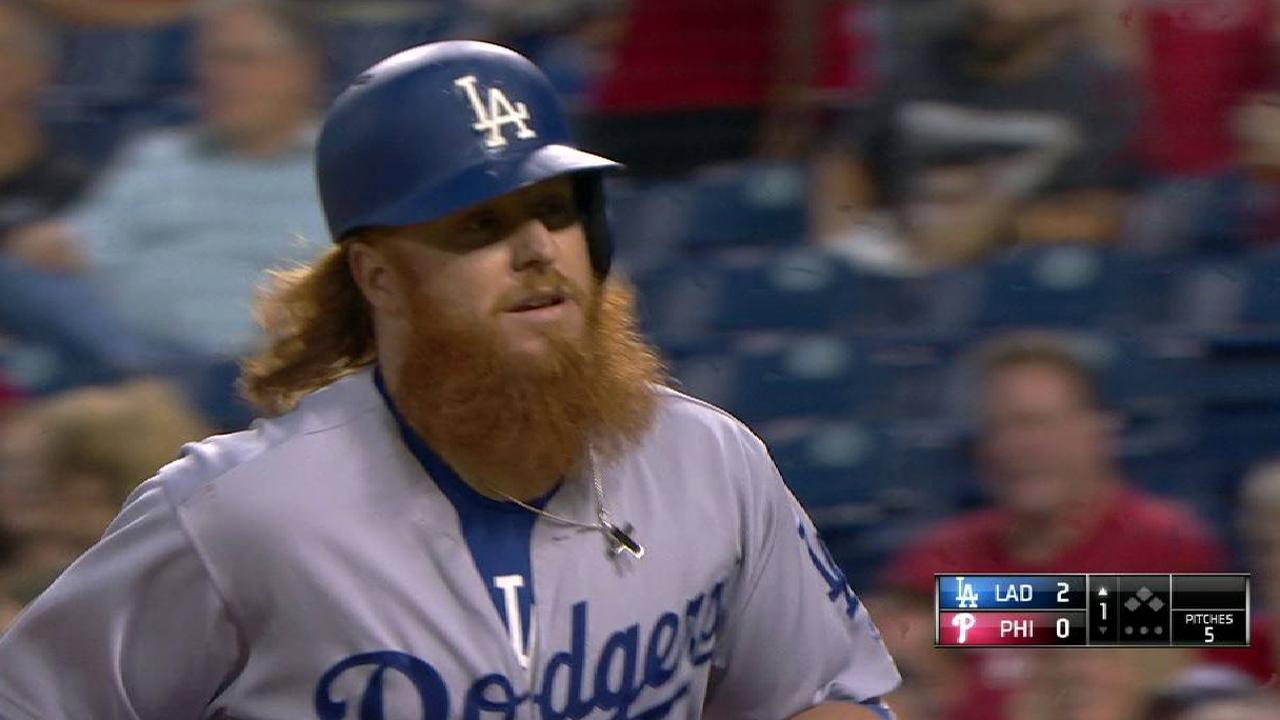 Left field
We know the D-backs will use David Peralta here, and he was basically a solid league-average player in 2017 (.293/.352/.444, 104 wRC+). It's more complicated on the Dodgers' side, however. There's probably going to be a platoon involving Curtis Granderson (.214/.337/.470, 114 wRC+ against righties) and Enrique Hernandez (.270/.367/.579, 144 wRC+ against lefties), except Granderson struggled badly for the Dodgers (.161/.288/.366, 78 wRC+) after a very good year with the Mets, and Andre Ethier could factor in as well despite just 64 plate appearances over his last two injury-plagued seasons. Throw all of this into the blender and it comes out as a toss-up.
Advantage: Tie
Center field
A.J. Pollock performed like a true star from 2013-15, but he was out nearly all of 2016 due to an elbow injury and was league average in 2017, hitting .266/.330/.471 (103 wRC+) with average defensive range (plus-2 Outs Above Average). Still, we've seen the kind of player Pollock once was, so the Dodgers' edge here is a small one. After Joc Pederson lost his job, breakout star Chris Taylor (.288/.354/.496, 126 wRC+) and his 21 homers took over in center field, filling one of the few weak spots Los Angeles had.
Slight Advantage: Dodgers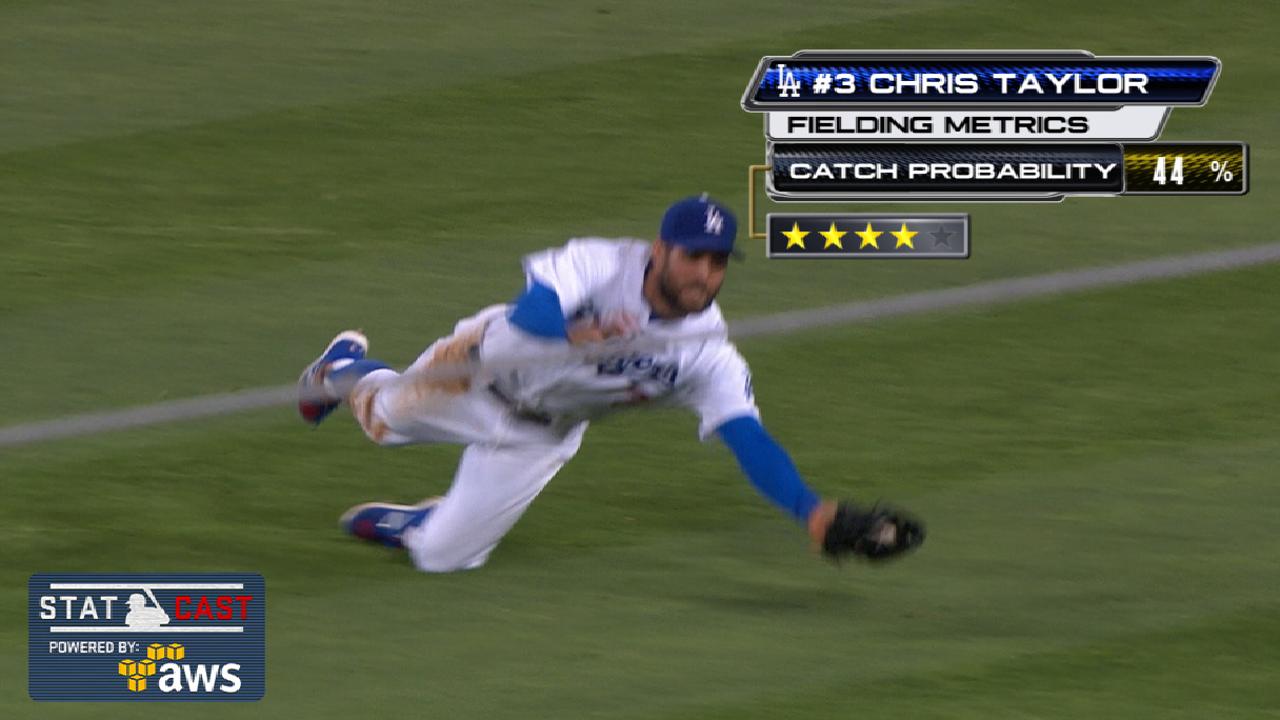 Right field
There are two good players here, because Yasiel Puig had his best year since 2014, hitting a career-high 28 homers with a .263/.346/.487 (117 wRC+) line. Of course, that can't come close to the impact that J.D. Martinez has had on Arizona, hitting a massive .302/.366/.741 (172 wRC+) with 29 homers in 62 games after being traded from Detroit. Sure, Puig is a better defender, but Martinez has game-changing ability -- and it's been barely a month since he hit four homers in one game at Dodger Stadium.
Advantage: D-backs
Starting pitchers
The way D-backs manager Torey Lovullo handled his pitching in the Wild Card Game makes this a little more complicated. Since Robbie Ray had to enter in relief of Zack Greinke, it now seems that Taijuan Walker -- nominally the team's fifth starter, behind Greinke, Ray, Patrick Corbin and Zack Godley -- could end up starting Game 1. Kershaw is still the best pitcher in baseball -- no, his previous postseason games don't have any predictive value -- but Yu Darvish was inconsistent with the Dodgers, and Alex Wood saw his velocity drop as the year went on. The D-backs probably have a slight edge here if all things are equal, but since they had to use Greinke and Ray in the Wild Card Game, this is now pretty much a push.
Advantage: Tie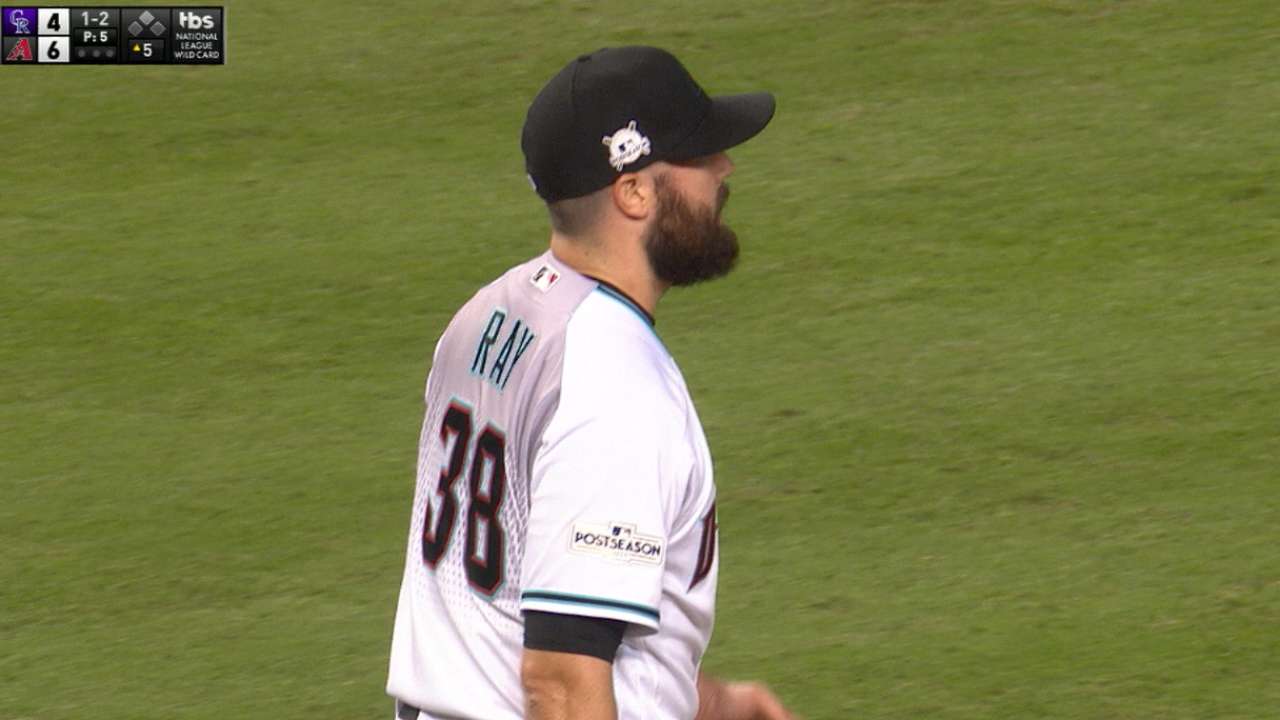 Relief Pitchers
Kenley Jansen is the best closer in baseball, while Fernando Rodney always seems to be walking a tightrope, so right away the Dodgers have the edge. It's true that Archie Bradley is a serious weapon for the D-backs, but the fact that it was Ray who relieved Greinke rather than any other reliever tells something about the confidence Arizona has in arms like Andrew Chafin, Jimmie Sherfy, and David Hernandez. The Dodgers aren't without their own issues, of course, as Pedro Baez faltered down the stretch, though Brandon Morrow (2.06 ERA, 50 strikeouts in 43 2/3 innings) emerged as a reliable setup man for Dodgers manager Dave Roberts. Tony Cingrani, acquired from Cincinnati at the Deadline, quietly turned in solid work (2.79, 28 strikeouts in 23 1/3 innings) as well.
Advantage: Dodgers
Mike Petriello is an analyst for MLB.com and the host of the Statcast podcast. This story was not subject to the approval of Major League Baseball or its clubs.